Mobile Betting on Super Bowl 56 – Tips and Advice for Wagering from Your Phone

If you're wondering how to bet on the Super Bowl from your phone, how about a little advice.
With more than 100 million Americans allowed to legally place bets on Super Bowl 56 on their phones and mobile devices, this is a topic worth covering. After all, is there an easier way to gamble on the Big Game?
I'll leave that question for you to decide. That is, of course, after I explain how to place a bet on the Super Bowl as well as how to wager online on Super Bowl 56, in general.
There are tons of odds and markets for the Big Game doing the rounds. But what is the point of knowing that when you're a novice bettor? Let's get you beginners up to scratch with some pointers for how to do it right.
If you are an expert football bettor, I'd suggest sticking around, too. You might learn something, or even sharpen up those skills of yours by the time you get to the bottom of this page.
Ready when you are.
How Do I Bet on the Super Bowl From My Phone?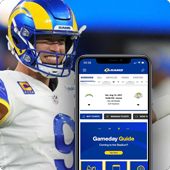 Do you have a phone? Alright. That's the most crucial factor at play here.
Now, we're not talking about placing bets on the Rams vs. the Bengals over the phone. Like, this isn't 1992 where you can just give old Moe's Tavern a tinkle and get your wagers down.
These days, if you're looking for advice on how to bet on the Super Bowl from my phone, the chances are you'll have smartphone football betting in mind.
In other words, you'll want to open your iPhone, Samsung, or whatever device you're using and scroll through the latest Super Bowl 56 betting markets. It doesn't matter whether it's specific player props for the Rams vs. the Bengals you're after, or the best Super Bowl 56 bets you just can't ignore.
The point is that modern technology cuts out a lot of the mush when gambling on the game and you can benefit from that.
It's just so simple to find odds for Super Bowl LVI with these advanced technological tools in your hand. But being honest, just like a caveman with a hammer, things can go awry if you are not careful with your aim.
Before I get into how to bet on Super Bowl 2022 from your phone, here are some recommended sportsbooks to consider for your bets.
These Super Bowl 56 betting sites have all passed our experts' rigorous testing. In addition to being 100% safe and secure, you will have market-leading odds for the Rams vs. the Bengals, as well as a plethora of top-notch markets.
The best part? You can place your mobile Super Bowl 56 bets from the palm of your hand.
What Are the Best Apps for Betting Super Bowl 56 on Mobile?
If you're thinking about how to bet online on the Super Bowl, you will want to use your phone.
Now, this could be the very first time that you have asked how to place a bet on the Super Bowl from your phone. You've looked over the best 2022 Super Bowl betting sites but would prefer to use an online Super Bowl betting app instead.
Well, here's the deal. You have the freedom to gamble on the Big Game with apps, whether native or not, as well as sites. Doing so is very common among bettors, with particular emphasis on those that bet on the move.
Again, I would recommend playing it safe if you are going this way. Before spending too much time dissecting how to bet online on the Super Bowl 56 national anthem props, or whatever, make sure to only wager with the safest sites online.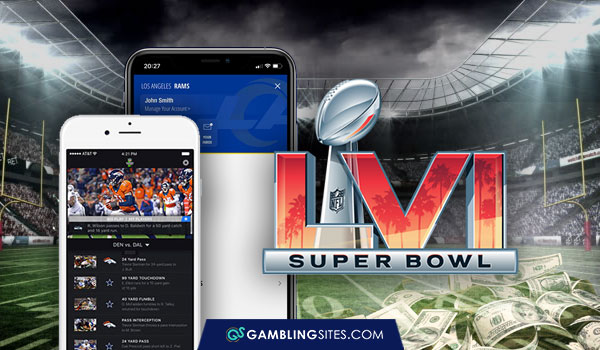 What typically qualifies as a top site applies to the top mobile Super Bowl betting apps, or most sports betting apps, for that matter.
Think stuff like safety and security, a great selection of odds and markets, a top bonus scheme, and multiple deposit methods. Only, you also want a fully immersive experience via a well-designed app or mobile site.
If you're looking for our recommended apps to bet on the Super Bowl online, as well as most other sports and events, the following guide is ground zero.
Betting on the Super Bowl From Your Phone
Renowned philosophers such as Plato or Albert Camus never had the chance to ponder the question "What is the best way to bet on the Super Bowl from my phone?"
But if they did!
All jokes aside, you should never feel reluctant to ask for as many answers relating to real money Super Bowl betting. Especially if those Super Bowl 56 top picks or bets of yours will be placed via phone.
We all start at the same level. But if you're completely new to this way of wagering, the good news is that you can benefit from the experience my colleagues and I have accrued over the years.
Here's a little step-by-step guide to how to bet on the 2022 Super Bowl from your phone.
Step 1 – Choose a Super Bowl Betting Site or App – If you're asking how to bet on the Super Bowl from my phone, I'm afraid it's a no-go. However, if you want to place online Super Bowl 56 bets on your phone, you're gonna need an account. If you haven't already signed up for an app, why not check out Noah's recommendations for the top sites to bet on the Super Bowl by phone or desktop.
Step 2 – Open an Online Account – Before you consider how to bet on Super Bowl 2022 the right way, an account is needed. I'll share with you a little on the details needed for betting on the game a little further down the page. It's basic stuff, really, and opening an account typically takes little more than a couple of minutes these days.
Step 3 – Make Your Deposit – Before anyone can bet real money on the Super Bowl — whether it's me wagering on Super Bowl 56 from my phone, you on yours, or your neighbor on theirs — we all need to deposit funds. Again, this is super easy, and you'll have help from customer support. Providing you use one of the safest sites or mobile phone apps for gambling on Super Bowl 56, that is.
Step 4 – Get Your Super Bowl 56 Mobile Betting Bonus – Everyone loves a freebie. But before I would even consider taking one as part of my strategy in how to bet on the Super Bowl from my phone, I would make sure that the bonus terms and conditions are all good. In other words, the turnover or wagering requirements are acceptable.
Step 5 – Place Your Super Bowl Bets – Wondering how to bet on Super Bowl 2022 with so many crazy props for the Big Game out there? I'm sure you'll make the choices that are right for you, whether that means trying to beat the spread or just taking the moneyline.
Step 6 – It's Time to Cash Out – Most players asking how to bet on Super Bowl 56 from my phone, app, or tablet envisage this final step. It's part of what makes wagering on the Rams or the Bengals exciting. But unless you follow the previous four steps, there's no point in dreaming.
Although I'm sure that you have the hang of things by this point, the following answers will help answer common questions relating to how to bet on the 2022 Super Bowl. I'd recommend checking this next piece out!
How Can I Bet on the Super Bowl Online – What Details Are Needed?
As I mentioned above, top online betting sites and the best phone apps for betting on the Super Bowl need some deets before you can open an account.
Typically, all you will need to provide are the following details. Most of these criteria apply whether you are betting with Bitcoin or not.
Name
Date of Birth
Postal Address
Email Adress
Telephone Number
Banking/Payment Details
Other than the above, there's not much more you will be required to provide.
These sites must comply with appropriate regulations, which means checking you are who you say you are. Furthermore, gambling laws dictate that you must be over a particular age before you wager on those big matchups!
So rather than talk more about how to bet on the Super Bowl from your phone, it's probably advisable to stop here and consider whether you are the legal age to gamble.
Oh, and remember to check if betting is legal in your jurisdiction.
How to Place the Best Super Bowl Bets From Your Phone
I know some readers are still going to ask how to place a bet on the Super Bowl. At this point, you should know how the science behind how it works.
So, I guess we should be moving toward looking at the best types of phone bets for the 2022 Super Bowl. In theory, this isn't a question where there is a solid answer. If there was, I would be spending the millions I would inevitably be set to win in my head already.
It doesn't matter whether you desire no more clarification regarding how to gamble on Super Bowl 56. You should still be swatting up on what bets might work out well for you.
Again, this is gambling, and by nature, you're taking a risk. Even if that Eminem halftime show prop looks a sure thing!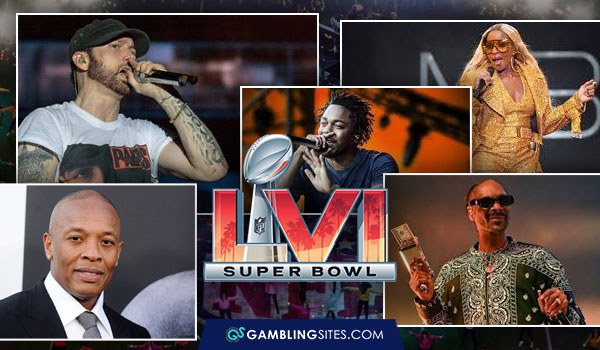 That said, some bets can be attacked with a logical approach. Others are pretty much a 50-50 toss of the coin. Yes, you can literally bet on the coin toss, too. I would recommend looking over as many of the best ways to gamble on Super Bowl 56 on your phone and deciding what works for you.
Luckily, our team has covered pretty much every single angle there is ahead of betting on the Rams vs. the Bengals this Sunday.
Not only have we put together a small library of the best Super Bowl 2022 bets and markets to target for the game; we also have plenty of wagers for the halftime show, the anthems, and, of course, the comprehensive props out there.
Here are some of the best articles on betting the Super Bowl 56 on your mobile phone, desktop, or another device.
Now You Know How to Bet on Super Bowl 56 on Your Mobile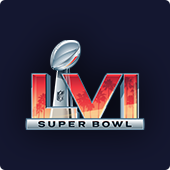 I can throw my cloak over my shoulder and declare that my job here is done!
If you came here asking how to bet on the Super Bowl on your mobile phone, I'd like to think that you now know the ins and outs of how it works.
Furthermore, you have a plethora of betting options available to you that should maximize your chances of finding what are the best bets for Super Bowl 56 on mobile. At least, in my humble opinion.
There's always a chance that you might still have some questions, of course. And there would be a big old clump of egg on my face if I failed to address that before I depart into the sun. Again, you are in luck. Our Super Bowl betting blog is chock-full of material geared toward those looking to make money from this year's Super Bowl.
Failing that, our biggest resource for betting on Super Bowl Sunday can be found, below.
Good luck with your bets!
September
Casino of the Month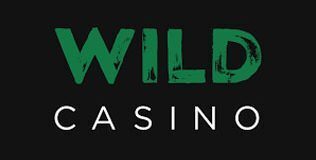 Welcome Bonus
250% up to $5,000