MLS Power Rankings: Timbers Stay on Top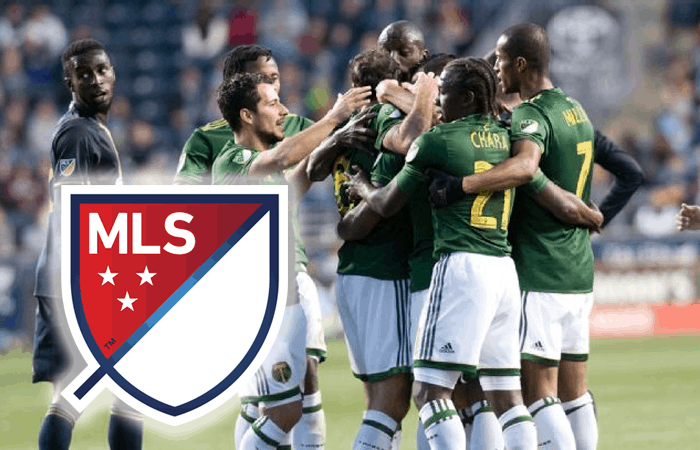 It was a goal-happy week in MLS over the weekend, with a few teams looking rejuvenated after sluggish starts to the season. A couple of the clubs at the top also suffered setbacks, which has the standings still looking fairly jumbled after just a handful of weeks.
At the top, we still have the Portland Timbers, though, who earned their second road win of the season last weekend against Philly.
1. Portland Timbers (4-1-1)
Another week, another road win for the Timbers. Portland is making up for their lackluster title defense campaign by tearing through the league to start 2017. Fanendo Adi scored from the penalty spot in the 88th minute to put a 3-1 win over Philadelphia on ice, and that tally made him Portland's all-time leading goal scorer with 46 goals. He passed John Bain for the franchise's all-time lead, a record that had been held for 35 years.
2. FC Dallas (3-0-1)
After being beaten in heartbreaking fashion by Pachuca in the CONCACAF Champions League last week, FC Dallas rebounded by earning a solid 2-0 win over Minnesota United over the weekend. MNUFC hung around, but a poor giveaway deep in their own end led to a game-sealing goal for Michael Barios. It was far from a convincing effort from FCD, as keeper Jesse Gonzalez was forced to make five saves along the way, but it was good enough to stay unbeaten in MLS play.
3. Houston Dynamo (3-2-0)
The Dynamo suffered a tough setback at New England on Saturday, but Houston will still be thrilled to have grabbed nine points from their first five games of the season. The attack, which found a way to score 11 goals through the first four matches, was frustrated and held scoreless for the first time this season by the Revs. Erick Torres had a golden opportunity to level the score in the second half, only to be thwarted when Revolution keeper Cody Cropper came out to deny him.
4. Columbus Crew (3-2-1)
Columbus was unable to hold off the new-look Fire on Saturday afternoon, but there are still plenty of encouraging signs for Gregg Berhalter's men moving forward. Influential midfielder Federico Higuain missed the Chicago game due to injury, but he's expected to be back in the lineup this weekend against Toronto. Defenders Harrison Afful and Kekutah Manneh also sat out, and both are expected to return this week.
5. Orlando City (3-1-0)
City have benefited from a friendly schedule to this point, with three home games in their first four. They've taken all three points in all three home matches to this point, including a solid 1-0 win over punchless New York Red Bulls last weekend. New York dominated possession, but the Lions were resilient and sturdy in defense.
6. Atlanta United (2-1-2)
ATL United played an expectedly stellar game against Toronto over the weekend, and the two clubs shared the spoils in a 2-2 draw. Hector Villalba scored his second and third goals of the season for the expansion side. Taking a point from the defending Eastern Conference champs on the road is nothing to shake a stick at, and Atlanta continues to look incredibly impressive in their first season. They've now scored 13 goals, which ranks second in the league behind only Portland's 16.
7. Sporting Kansas City (2-0-3)
This season has been quite the slow burn for SKC. They got things started off with three consecutive scoreless draws, but things have started to pick up. Dom Dwyer was right in the thick of Kansas City's easy 3-1 win over Colorado, as he contributed a goal and an assist. The goal was Dwyer's first of the season, and KC's attack goes as he does. Now that they're scoring goals, Sporting looks like a dangerous squad out west.
8. Chicago Fire (2-1-2)
The Fire earned their first win since acquiring decorated German international Bastian Schweinsteiger from Manchester United with a tidy 1-0 win over an undermanned Columbus Crew side. Dax McCarty continues to look every bit the captain of the midfield Chicago expected after snagging him from New York, as he set up the Fire's lone goal of the game with a beautiful, spot-on pass to hit Nemanja Nikolic, who did the rest. Chicago will try to keep it rolling this weekend against New England.
9. San Jose Earthquakes (2-2-1)
The Quakes' renaissance continued over the weekend with a solid 1-1 home draw against the defending MLS Cup champion Seattle Sounders. Things were looking dire for the home team until Chris Wondolowski rescued a point for San Jose with a volley in the 90th minute to even things up. The Earthquakes are now 2-0-1 in their home park this season after being a dismal 15-6-13 at Avaya Stadium over the two seasons prior.
10. New York City FC (2-2-1)
NYCFC was unable to make it two straight wins over DC United when they were beaten 2-1 at RFK Stadium on Saturday afternoon. The road team dominated possession and finished with more shots than United, but were unable to score beyond David Villa's lone strike. They'll look to get back into the win column this week against a bottom-feeding Philadelphia Union side.
11. Seattle Sounders (1-1-3)
The Sounders have struggled a bit out the gates, but they've also had to constantly shuffle the lineup. Seattle started its fifth different starting 11 through five games on Saturday in San Jose, and then lost Roman Torres to a hamstring injury early on. Even so, the Sounders looked home free after Nicolas Lodeiro netted the first goal of the game in the 85th minute before Chris Wondolowski equalized late for San Jose.
12. Toronto FC (1-0-4)
At long last, former MLS MVP Sebastian Giovinco scored his first goal of the season in Toronto's 2-2 draw against Atlanta United last weekend. TFC remains unbeaten on the season, though they've still found the win column just once. It was a promising offensive display for a club that has struggled to score this season, and they'll look go keep the goals coming this week when they take on the rejuvenated Columbus Crew.
13. New York Red Bulls (2-3-1)
For whatever reason, the Red Bulls just can't get it going. The defeat at the hands of Orlando City dropped New York to just 1-3-0 away from home on the young season, and they've been largely impotent along the way. They've mustered just two goals over the last four games and they've scored just three goals for themselves all season long.
14. New England Revolution (2-2-1)
Nobody thought much of the Revs coming into this season, but a formation change has turned the tide a bit. They impressively shut-out a goal-happy Houston side 2-0 on Saturday and are now unbeaten in each of their last three outings. New England's biggest improvement has been defensively. They were one of the most porous defenses in the league in 2016, yet lead the league so far in expected goal differential this year.
15. LA Galaxy (2-3-0)
It's been a wobbly start for new head coach Curt Onalfo's Galaxy to this point, but they did get themselves an encouraging 2-0 victory over Montreal on Friday night at StubHub Center. The Impact were left shorthanded after Marco Donadel saw red just before halftime, but wins are wins. American international Jermaine Jones canned his first goal with his new club in the second half, sealing the win.
16. Colorado Rapids (1-2-1)
The Rapids have been sluggish out the gates after their surprisingly solid 2016 run. Colorado was legitimately outclassed by rival Sporting KC in a 3-1 defeat over the weekend, and the Rapids are left looking for answers in attack. They've scored just four goals through four games, which isn't going to get it done if you have aspirations of playoff contention in the Western Conference.
17. DC United (2-2-1)
DC United was able to get some sweet revenge in beating NYCFC 2-1 on Saturday. The sour taste of NYCFC's 4-0 thrashing of United just a few weeks ago was still fresh, and the midfield of Ian Harkes, Luciano Acosta and Jared Jeffrey was stellar in the win. This looked much more like the DC side we saw scoring goals at will at the end of last season, and hopefully the offense has finally arrived after a sleepy start to the campaign.
18. Real Salt Lake (1-3-2)
In spite of all the chaos surrounding the club, RSL finally got into the win column for the first time this season after beating Vancouver in a blizzardy setting on Saturday night. Salt Lake canned three goals in the clean sheet triumph, which was easily their strongest showing in any game to this point. Designated Player Albert Rusnak scored his first goal since joining RSL, which will hopefully be a step in the right direction.
19. Montreal Impact (0-2-3)
It's been a frustrating start for Mauro Biello's men. They're still winless after a 2-0 defeat at LA Galaxy on Friday, and it certainly doesn't help that they've been without standout midfielder Ignaci, Piatti for each of the last two games. He's the crux of Montreal's counterattacking style, and without him they lack creativity with the ball. They're hopeful Piatti will be able to return to the pitch this weekend when the Impact host Atlanta.
20. Vancouver Whitecaps (1-3-1)
After falling to Tigres in the CONCACAF Champions League midweek, Vancouver was no match for a revived Real Salt Lake side playing in insanely snowy conditions. The 'Caps were never able to find their footing in this one, and now they'll have to really kick things back into gear if they have any hopes of making a run to the playoffs.
21. Minnesota United (1-4-1)
MNUFC were held goalless for the first time as an MLS franchise in a 2-0 setback in Dallas over the weekend. The defeat dropped their goal differential to a league-worst -22 on the season, and the second tally against them was particularly preventable. The Loons had their fair share of chances (13 shots), but were unable to sneak any past in-form FCD keeper Jesse Gonzalez.
22. Philadelphia Union (0-3-2)
What a dismal start for the Union. They're still one of two teams in the league without a win on the season, and they blew an early lead at home against Portland over the weekend to lose, 3-1. They'll be up against it this week, as they try for their first W of 2017 vs. NYCFC this week.