Predictions and Picks for MLB Games on Thursday, June 23rd, 2022

It was another intense day for my MLB predictions. We went 7-3 on Tuesday, but my best bets and player props didn't return a profit. A disappointing performance, but it's hard to be upset after this recent stretch.
We're looking ahead to my MLB picks for Thursday, June 23. We'll examine the MLB odds for eight games, as the St. Louis Cardinals vs. Milwaukee Brewers and Houston Astros vs. New York Yankees aren't on the board.
Let's start the day with the MLB betting odds.
Where to Bet on the MLB Games on Thursday
We can't make our MLB betting picks without examining where to bet on MLB games. These have been the best sites to wager on the MLB throughout the 2022 season. There's no reason to look elsewhere for your MLB odds.
BetOnline has long been my favorite site for MLB betting. They have the odds available before anyone else, giving us early access to the odds. Bettors love placing their bets ahead of time.
It's never a bad idea to check out the top site bonuses before signing up. That could make the difference in where you make your MLB picks today.
MLB Odds for Thursday, June 23rd, 2022
Rockies (+106) vs. Marlins (-116), O/U 8
Giants (+132) vs. Braves (-143), O/U 9.5
Cubs (-108) vs. Pirates (-102), O/U 8.5
Dodgers (-205) vs. Reds (+188), O/U 9
Guardians (+133) vs. Twins (-144), O/U 9.5
Mariners (-114) vs. Athletics (+104), O/U 7
Orioles (+144) vs. White Sox (-156), O/U 9
Phillies (+137) vs. Padres (-148), O/U 7
Thursday's MLB action kicks off with the Colorado Rockies vs. Miami Marlins. Miami is one of five teams in action that rank top 10 against the spread. The Baltimore Orioles hold the best record, going 42-27.
The Los Angeles Dodgers have the best record against the spread among NL teams in action. That's impressive, considering the Dodgers are almost always the favorite.
We have three teams in action that rank bottom ten against the spread. Those teams are the Minnesota Twins, Oakland Athletics, and Pittsburgh Pirates. Will my MLB expert picks have any of them winning?
The Rockies vs. Marlins matchup is the only game featuring two teams that rank among the league leaders at going over their run total.
There are other teams in action that rank top 10 at going over their run total. They include the Philadelphia Phillies, Atlanta Braves, Cincinnati Reds, Cleveland Guardians, and Chicago White Sox. Philadelphia and Atlanta rank first and second.
The Dodgers, Athletics, Padres, and Pirates rank bottom ten at going over their run total. How will that impact the outcome of the Phillies vs. Padres?
It's important to examine the betting trends before making your MLB picks. They can make the difference if you go back and forth with a game. Please read a site review of Bovada before making your MLB picks today.
Bet on the MLB at Bovada
Bovada gives us the odds for the games. Feel free to read a site review before visiting the site.
Top MLB Predictions for Thursday's Games
Rockies Over Marlins
Braves Over Giants
Cubs Over Pirates
Dodgers Over Reds
Guardians Over Twins
Mariners Over Athletics
Orioles Over White Sox
Padres Over Phillies
The Colorado Rockies vs. Miami Marlins was the toughest matchup to predict. There isn't a significant difference between the teams, so I picked the Rockies because they present more value.
We saw a thrilling victory for the San Francisco Giants on Tuesday night. My free MLB picks believe in a bounce-back effort for the Atlanta Braves. Starting pitcher Kyle Wright has a 2.94 ERA in 2022.
There likely won't be much excitement with the Chicago Cubs vs. Pittsburgh Pirates. Pittsburgh has won three in a row, but I like Chicago to score the victory.
The Los Angeles Dodgers continue life without Mookie Betts as he deals with a rib injury. It's a tough loss as the latest 2022 NL MVP odds have Betts as the favorite. Check out his numbers before the injury.
.273 batting average
17 home runs
40 RBIs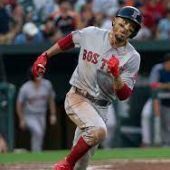 The Cleveland Guardians have taken control of the AL Central after going 16-4 in their last 20 games. They'll have a crucial matchup with the Minnesota Twins, and I believe they'll continue their hot streak.
We move to a pair of matchups with teams outside the playoff picture. My free MLB picks have faith in a Baltimore Orioles team that is better than people think. Baltimore has a better record than the Chicago White Sox since May 26.
There isn't much hope for the Oakland Athletics, as the Seattle Mariners should score the victory.
The San Diego Padres will be without Manny Machado as he deals with an ankle sprain. Starting pitcher, Joe Musgrove gives them the edge over the Philadelphia Phillies.
Best Bets for the MLB Games on 6/23/22
Rockies vs. Marlins Over 8 Runs
-120
We talked about the Chicago Cubs vs. Pittsburgh Pirates not being the most exciting matchup. We can spice things up by putting it at the forefront of my MLB predictions.
Pittsburgh has the edge in the season series, including winning back-to-back games over Chicago. However, they don't have the pitching advantage on Thursday. Overall, Pirates starter Jose Quintana has better numbers, but let's look at the last three starts.
| | | |
| --- | --- | --- |
| Stats | Justin Steele (Cubs) | Jose Quintana (Pirates) |
| ERA | 1.89 | 7.24 |
| WHIP | 1.26 | 1.61 |
| Walks | 6 | 4 |
| Strikeouts | 7 | 14 |
My free MLB picks today believe in another strong performance from Justin Steele.
I mentioned how I struggled to predict the winner between the Colorado Rockies vs. Miami Marlins. However, there was little doubt about this game going over the run total.
For starters, we saw a high-scoring game on Tuesday, with the Marlins scoring a 9-8 victory. I also noted that each team ranks top ten at going over their run total. Lastly, we have to examine the pitching matchup.
Kyle Freeland and Braxton Garrett have an ERA over 4.40. I don't see either pitcher turning things around on Thursday.
Usually, I wouldn't include a team with (-148) odds in my best bets, but I have a ton of faith in the San Diego Padres. That stems from starting pitcher Joe Musgrove.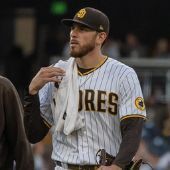 8-0
1.59 ERA
0.92 WHIP
17 Walks
81 Strikeouts
The Philadelphia Phillies have a potent offense, but no one has solved Jos Musgrove. He hasn't allowed more than two runs in 12 starts this season. His performance should offset the loss of Manny Machado.
To top it off, Phillies starter Ranger Suarez has a 4.43 ERA.
Best Player Props for June 23rd, 2022
Jesus Aguilar to Record a Hit
-180
Luis Robert to Record an RBI
+115
Kyle Freeland Under 4.5 Strikeouts
-112
My MLB picks conclude with a trio of player props. Will we see Jesus Aguilar and Luis Robert exhibit power on Thursday?
Aguilar came off the IL on Tuesday, going 2-4 with two runs. He has been solid throughout the season, holding a .256 batting average with nine home runs and 31 RBIs. Ultimately, he makes my free MLB picks for his success against Kyle Freeland.
Aguilar has had his number, going 6-11 with three home runs and seven RBIs. Last season, Aguilar went 2-3 with a double and two RBIs. Hopefully, he'll keep it going with a hit on Thursday.
Luis Robert missed time in late May after going on the COVID-19 injured list. He posted decent numbers in his first few games, but Robert has been teeing off lately. You can argue his numbers in the last two weeks are the best in baseball.
Luis Robert's numbers during his AL-leading 12-game hitting streak 🔥

.352/.379/.463 (19-for-54)
3 doubles
1 home run
15 RBI
10 runs scored pic.twitter.com/VtsphZReXw

— Sox On 35th (@SoxOn35th) June 22, 2022
Robert leads the majors with 15 RBIs in his last 12 games. He has 11 of those 15 RBIs in the last four games. Do you see why my MLB expert picks have faith in Robert?
We talked about Kyle Freeland's struggles against Jesus Aguilar. We'll close my player props by discussing his low strikeout total. He produced big strikeout numbers early in the season, but that has gone away.
Over his last four starts, Freeland has eight strikeouts. It isn't a product of innings, as he's the only player with 25+ innings in his previous four starts to have fewer than 12 strikeouts. I expect another low strikeout game as he faces the Marlins.
Please visit the top MLB betting sites to make your MLB baseball free picks for Thursday's action.