Hide Bonus Offers
| | | | | |
| --- | --- | --- | --- | --- |
| #1 | Bovada Sports | 50% Up To $250 | Visit Site | Bovada Sports |
| #2 | BetUS | 125% Up To $2,500 | Visit Site | BetUS |
| #3 | MyBookie | 100% Up To $1,000 | Visit Site | MyBookie |
| #4 | Everygame | 100% Up To $500 | Visit Site | Everygame |
| #5 | BetOnline Sports | 60% Up To $1,000 | Visit Site | BetOnline Sports |
MLB Division Value Bets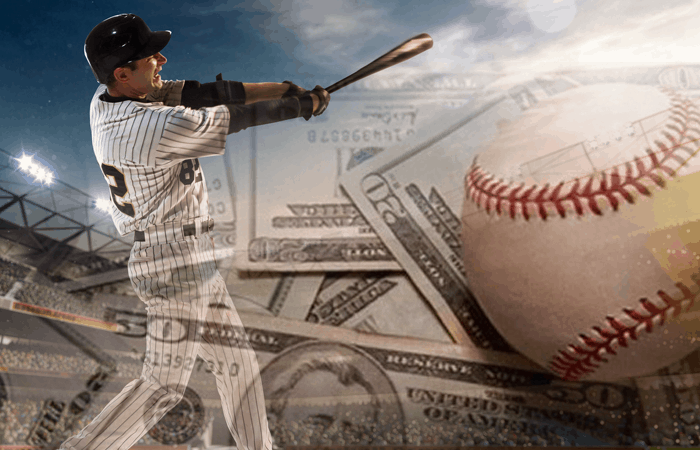 We're now about halfway into June, which means MLB playoff races are beginning to heat up. There are two teams that have essentially already locked up their respective divisions, but each of the other four is still very much in flux. The Houston Astros and Washington Nationals are heavy favorites to come away with the AL West and NL East, respectively, but there is no clear-cut No. 1 team in any other division.
Should presumptive favorites be panicking? Or have they just gotten off to sluggish starts before turning it on when it really starts to count later in the season? Let's go division-by-division and try to find some potential value in the betting odds.
American League West
Houston Astros -6600
Texas Rangers +2500
Los Angeles Angels +3300
Seattle Mariners +5000
Oakland Athletics +8000
The Astros dropped two of three to the Angels over the weekend, yet they still hold a 12-game lead over the second-place Halos entering play on Monday. Anything is possible in baseball, but this division already looks to be out of reach.
Not much value in this one.
American League Central
Cleveland Indians -450
Minnesota Twins +500
Detroit Tigers +850
Kansas City Royals +4000
Chicago White Sox +5000
The Twins currently hold a 1.5-game lead over the Indians in the Central, but Vegas isn't buying it. The Indians are still the heavy favorites to come away with this division, and we tend to agree. Cleveland clearly has the most talent of any of these five teams, and they'll eventually get fully on track after a fairly inauspicious start to '17. They have struggled to string together any sort of winning streak, but the fact that they're still in second place despite hovering around .500 is good news for the Tribe.
The Tigers at +850 are the team to watch here. They're easily the second most talented squad here behind Cleveland, and they're still just 3 ½ back of the Twins. They're a team built to win right now, but if they start to fall back into the pack by the time July rolls around we could see them start to sell off some of their many veteran assets. Rotation problems may be what ultimately dooms the Tigers in the divisional race.
The Twins have managed to stick around for the first two-plus months. Who knows, maybe they have what it takes to stick around long-term? We don't really think so, though. They're a young team that still seems to be at least a year away from legitimately contending for this division. They've been one of baseball's most pleasant surprises, but they'll come back to earth before long.
We just think Cleveland is going to seize control of this thing at some point.
Detroit and Minnesota are slightly intriguing as value plays, but the Indians would appear to be a lock once they kick it into high gear down the stretch.
American League East
New York Yankees -125
Boston Red Sox +170
Toronto Blue Jays +1200
Tampa Bay Rays +1400
Baltimore Orioles +1600
Most are waiting for the other shoe to drop with the Yankees, but we may be past the point of no return here. Their roster is incredibly young, but they've shown zero signs of slowing down. Aaron Judge is continuing to mash baseballs, and Gary Sanchez has really heated up recently, too. The question with New York will likely come down to starting pitching. Luis Severino has emerged as a legitimate ace, but can the likes of Masahiro Tanaka, CC Sabathia, Jordan Montgomery and Michael Pineda hold up? There's no questioning the talent in that rotation, but Pineda in particular has been maddeningly inconsistent throughout his career.
Most expected the Red Sox to run away with this thing. While it's still possible, it doesn't seem like the Yankees are going anywhere. Vegas still clearly thinks Boston is the best team in the division. They're no longer considered the favorites, but they have the best odds of any second-place team in baseball as of now. They're a team built for the playoffs, and now it's just a matter of getting there. Four games is hardly insurmountable, and the Red Sox are clearly a team capable of making up that deficit. There's definite value at Boston +170 here.
Vegas isn't buying what the Blue Jays, Rays or Orioles are selling. Baltimore has been particularly awful of late, yet they're still north of .500 at 31-30. Despite still being in last place, the Jays have the third-best odds of taking the East at +1200. We don't think they'll be able to catch New York or Boston, but they could wind up snagging a Wild Card spot after a tumultuous start to the season.
The value in this division lies with the Red Sox. If you think they catch New York, they're a solid try at +170.
Everything else here can be ignored. You're throwing money away if you take Tampa, Toronto or Baltimore.
National League West
Los Angeles Dodgers -215
Colorado Rockies +250
Arizona Diamondbacks +600
San Francisco Giants +8000
San Diego Padres +50000
The Dodgers may be 1 ½ games back of the first-place Rockies entering play Monday, but Vegas still has LA tabbed as a pretty heavy favorite to finish the year atop this division. And it's easy to see why. No other team in baseball has the kind of depth in the field and on the mound the Dodgers boast. They run a legitimate nine-deep with viable starting pitching options and literally have too many capable position players to put on the field at once. They've started 39-25 despite losing countless key players to injury already. In all likelihood, they're going to win the NL West for the fifth consecutive year.
If anybody other than LA is going to win it, though, it's going to be Colorado. They've been the most pleasant surprise in all of baseball to begin 2017, and they're showing no signs of letting up. They suddenly have a slew of excellent young starting pitchers in the fold, and now they have the type of bullpen necessary to make a deep playoff run. Pitching has long been Colorado's Achilles heel, but they seem to have fortified that this year. Some of the young starters may start to wear down, though, and it'll be fascinating to see how the Rockies cope with that. Still, they may have enough boppers in the lineup to carry them anyway. They're an excellent value at +250.
The only other team in the mix this year is Arizona. In any other division, the D-Backs might be comfortably in first place. In the NL West, though, 39-26 is good for third place. They'd still get a Wild Card spot if the season ended today, but that's rough considering how electric they've been, especially with the bats. They've got capable arms atop the rotation, but the rotation depth is a bit questionable. They're a very strong value at +600, but we can't really imagine them keeping it up. The Dodgers and Rockies are just better.
Colorado is the value pick, though we think the Dodgers wind up champs in the NL West.
National League Central
Chicago Cubs -400
St. Louis Cardinals +600
Milwaukee Brewers +600
Pittsburgh Pirates +3300
Cincinnati Reds +5000
No respect for the Brew Crew! Milwaukee currently holds a one-game lead in the NL Central, but they're tied with the Cardinals for a distant second according to oddsmakers. Of course, we don't actually think Milwaukee will stick around in the long run this year, but they have a boatload of fun young talent all of a sudden. The Brewers have already started to call up some of their top prospects and there are more on the way. This will be a team to watch in 2018 and beyond, but we don't buy them as legitimate contenders in the immediate future. They're a decent value here at +600, but we just can't see it.
For as awful as they've been at times, the Cubs are still just a game out of first place. The defending World Series champs are in the midst of a bit of a championship hangover right now, but they'll snap out of it before long. There's just too much talent here. We don't love what's going on with the starting rotation, though, and Theo Epstein may have to look outside the organization to bring in a reinforcement before the deadline. The offense is deadly, and once some of the bats start to come around this team is fully capable of reeling off a massive winning streak. So, yeah, the Cubs are probably still taking this division.
St. Louis is tied with Milwaukee at +600, but they just may not have enough juice. Outside of Carlos Martinez, nobody in the rotation seems particularly dependable these days. Frankly, we would take the Brewers at +600 before this Cardinals team at the same price. No thanks.
The Cubs will get things together eventually.
Milwaukee as a flier at +600 is decent, but we wouldn't risk it. The Cubs won this division by 17+ games last year.
National League East
Washington Nationals -5000
New York Mets +1600
Miami Marlins +4000
Atlanta Braves +6600
Philadelphia Phillies +20000
Like the Astros, the Nationals essentially have their division under wraps already. They boast a 9.5-game lead over the Mets heading into Monday's action, and there's no reason to believe they won't just run away with this thing. We think their bullpen will eventually cost them in October, but it's tough to imagine a viable challenger for the NL East emerging.
The Mets could make a run now that they're starting to get healthy, but they're in too deep a hole to seriously be thinking about the division title. That said, the path to the Wild Card isn't much easier. They're currently nine back of the second Wild Card spot thanks to the insane three teams atop the NL West. The 2017 playoffs may be a pipedream for the Mets. +1600 for the division looks nice, but they can't make up that ground.
Washington, easily. No value in this division.