Hide Bonus Offers
| | | | | |
| --- | --- | --- | --- | --- |
| #1 | Bovada Sports | 50% Up To $250 | Visit Site | Bovada Sports |
| #2 | BetUS | 125% Up To $2,500 | Visit Site | BetUS |
| #3 | MyBookie | 100% Up To $1,000 | Visit Site | MyBookie |
| #4 | Everygame | 100% Up To $500 | Visit Site | Everygame |
| #5 | BetOnline Sports | 60% Up To $1,000 | Visit Site | BetOnline Sports |
12 Bold Predictions to Happen During the 2022 MLB Season

The 2022 MLB Opening Day is almost here, marking the official beginning of this year's season. It has been a rough ride to get here, but we finally made it. With the season starting before we know it, it's time for our bold MLB predictions for 2022.
We have a solid mix of 12 different bold MLB player predictions and MLB team predictions for you. You can take these predictions and place bets on them to happen or make some of your own.
Bold predictions are unlikely to come true, but unusual and incredible seasons happen every year, and some might happen. Let's see which players and teams could be in for some wild 2022 MLB seasons with my 2022 MLB predictions.
San Francisco Giants Miss the Playoffs This Year
This should be an odd year for the San Francisco Giants. Nobody expected them to be so good last year, but they led the entire MLB in wins with 107. They lost some players over the offseason, which leads to my bold prediction of them missing the playoffs this year.
This bet is available on BetOnline with (+105) odds. If you think the Giants luck runs out this year, head over there to place a bet for a great price.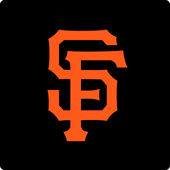 The notable players who won't be returning to the Giants this year include franchise catcher Buster Posey (retirement), Kevin Gausman (free agency), Kris Bryant (free agency), and others.
Posey was their heart and soul for a long time, but now he's decided to call it quits. The Giants have a great replacement in their hopeful NL Rookie of the Year Joey Bart, but he won't be at Posey's level of impact for quite some time.
Last year, Kevin Gausman had a major breakout season and opted to cash in on a big contract to play with the Blue Jays. Gausman was their best starting pitcher and threw 192 innings with an excellent ERA of 2.81.
Kris Bryant came over at the trade deadline and was productive in his time in San Francisco. Combined with no big names coming to this offseason, these players should have the Giants back to reality in 2022.
Mike Trout Goes Full Mike Trout in 2022
Mike Trout was indisputably the best player in baseball for quite some time. More recently, though, his injuries have piled up, and he's missed a large portion of his games the past couple of years or so.
The face of baseball seems to be moving in a different direction, but still in an Angels uniform.
Shohei Ohtani has been taking over the baseball world, which has been incredible. The modern-day Babe Ruth is showing us that he can be one of the best hitters in the game while also being an outstanding pitcher at the same time.
Watching Mike Trout play baseball never gets old. pic.twitter.com/bQaT6eoxSC

— Soto ⚾️ (@SotoP_23) March 29, 2022
That's a hefty argument for being baseball's face, but people shouldn't move on from Mike Trout so fast. If Trout gets a healthy season under his belt, he can close back in on his teammate as the face of baseball in 2022.
Knock on wood, but Ohtani's had some injury problems throughout his young career. If he's the one being out with a long-term injury, Trout can take the reins back over like he never left.
Trout will be able to show baseball that he never left as the face of baseball. He can destroy the MLB if he's healthy enough to play an entire season, and I would rather bet for him than against him.
Trea Turner Breaks Cycles Record, Steals 5 Bases in One Game
The speedster shortstop for the Dodgers is in for a massive year in 2022. He will be a free agent at the end of this season, so he's looking to have the best season of his career.
Trea Turner's speed has allowed him to hit 3 cycles in his seven-year career. That's already tied for the most cycles by an MLB player all time. That means he needs one more to have the record for himself.
At this pace, Turner might set the bar insanely high and be the sole owner of the cycle's record until the next Trea Turner arrives. Until then, Turner should have a great chance to beat the cycle's record and shatter it.
As a bonus for my 2022 MLB predictions, I also have Turner reaching 5 steals in a single game this year. He's gotten 4 steals in one game twice in his career (vs. CHC on 6/27/2017 and vs. NYM on 6/18/2017).
There have been 31 players in MLB history to record 5+ steals in one game, with the most being 7 (George Gore 1881, Billy Hamilton 1894).
Turner's injury history isn't appealing for a season-long bet, but the cycle record and 5+ steals in one game are very reachable for him.
Juan Soto to Get on Base in 50%+ of Plate Appearances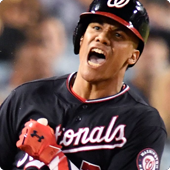 Juan Soto is already a superstar MLB player and turns just 23 years old this year. He's been incredible in his young MLB career and has already notched four seasons under his belt since he made his debut at 19.
This year, Soto will continue to dominate the MLB, and plate discipline is his forte. The best thing about these 2022 MLB predictions is that we see the Soto shuffle all year long.
He's already been close to getting on base in more than half his plate appearances, reaching an incredible .490 on-base percentage in 2020. Yes, that was a shortened season (47 games played), but the point still stands.
In 151 games in 2021, Soto managed to get on base at a very impressive .465 clip. He's already hovering at the .500 on-base percentage mark and isn't even close to his "prime" age, which could still be another 2-3 years.
That means we could have a modern-day Ted Williams or Barry Bonds on our hands in Soto. The Nationals won't have a lot to look forward to in 2022, but Soto will be very fun to watch.
Seattle Mariners to Win the AL West in 2022
Move over Astros and A's; here come the Mariners. This might be the toughest of my bold MLB predictions, but the value is here in the Mariners.
The Astros lost one of their best players to free agency in Carlos Correa, and their leading players are either injured, coming off an injury, or have been gaining more injury prone in the last couple of years.
That's terrible news for the Astros, as their last couple of years of dominance could end sooner than we think.
As for the A's, they didn't spend a single dime in free agency for an extended period. They also traded away two of their very best players in third baseman Matt Chapman (to Blue Jays) and first baseman Matt Olson (to Braves).
The Mariners have had some top prospects in the entire MLB now, and they are finally starting to join The Show. OF Jarred Kelenic made his debut in 2021, while No. 3 ranked prospect on MLB Pipeline OF Julio Rodriguez is set to make his debut in 2022.
Seattle also added 2021 AL Cy Young winner Robbie Ray and Jesse Winker, Adam Frazier, and Eugenio Suarez over this offseason.
They have a solid young core to build around, and they are already starting to do so. If you believe in the Mariners this year, you can take them as (+450) to win the AL West in 2022 on the best MLB betting sites.
Freddie Freeman Wins Two Rings in Two Seasons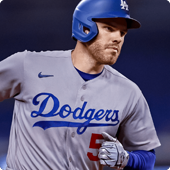 Freddie Freeman could be the special sauce needed to win a World Series ring for the past two years. Freeman won the 2021 World Series with his beloved Atlanta Braves and now heads to the Dodgers this year.
Los Angeles is a heavy favorite to win the 2022 World Series this year at (+500) on BetUS, while no other team is within (+1000).
The Braves made a miraculous run to win the championship last year, and the Dodgers have an incredible chance to win it all this year. They could win the World Series without Freeman, but it does not hurt to have him aboard.
Freddie Freeman homers for the first time in Dodger blue ? @MLB pic.twitter.com/dvfadsoMNO

— B/R Walk-Off (@BRWalkoff) March 26, 2022
The Dodgers have been incredible over their franchise history and the last couple of years. They are consistently grabbing elite players left and right, and the move to sign Freeman wasn't all that surprising in the end.
Los Angeles has made 3 World Series appearances in the last five years but has only managed to win in the 2020 COVID shortened season one.
Freeman could be the exact player they need to seal the deal in 2022.
Vladimir Guerrero Jr. Wins First Triple Crown Since 2012
We haven't had an MLB player win the Triple Crown since 2012's Miguel Cabrera. Cabrera was the first player to do so since 1967 (Carl Yastrzemski). It's a tough thing to do and is very rare to happen in the MLB now, but we might have a shot in 2022.
The Blue Jays have an absolute superstar on their hands with Vladimir Guerrero Jr. Guerrero would have locked up the 2021 AL MVP award if it wasn't for Shohei Ohtani's game-changing season.
Here's how he ranked in the three Triple Crown categories last season.
| | | |
| --- | --- | --- |
| Batting Average (Rank) | Home Runs | RBU |
| .311 (5th, tied) | 48 (1st, tied) | 111 (6th, tied) |
Toronto's first baseman hit a league-leading (tied, Salvador Perez) 48 home runs in 2021 while adding 123 runs, 111 RBI, and slashed .311/.401/.601. He was incredible last year, and his season would have been more in the spotlight if it wasn't for Ohtani.
The Blue Jays added more firepower so Guerrero could see a tick up in his RBI totals this year. If he can repeat his home run performance from 2022 and hit just a little better for average, we can have a Triple Crown winner for the first time in a decade.
Philadelphia Phillies Goes to the NLCS in 2022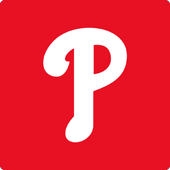 I already made my surprise division winner prediction with the Mariners taking the AL East. This time, I will take it a step further and take the Philadelphia Phillies to make it to the NLCS in 2022.
Philadelphia should be fueled with tons of envy of the Braves after how last year went down. They can make it up to themselves by not taking any opportunity for granted and making it to the NLCS. I don't have them winning the World Series, but they might be a solid dark horse bet here.
They added some offensive firepower this offseason in Nicholas Castellanos and Kyle Schwarber, but the pitching will be the thing to look out for this year. Their defense could be their weakness, which would be put in the spotlight when the pitching is not elite.
The Phillies could be in for a big year behind 2021 NL MVP Winner Bryce Harper.
Hunter Greene Wins NL ROY This Season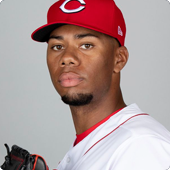 The news with Hunter Greene making the opening roster for the Reds should have people running to place a bet on him to win the NL ROY this season. He was about (+900) a few weeks ago, but his price plummeted to (+550) today.
That reflects Greene's potential this year and makes him an interesting bet to win the NL ROY award in 2022. The Reds selected him in 2017 at No. 2 overall, and now he's finally going to show us what he's capable of.
Greene throws over 100+ MPH easily and can blow by any hitter at the MLB level.
Another notable pitcher who regularly sits at triple digits is Jacob deGrom. Greene will not be deGrom right now, but he could be a dominant player if he can mature quickly in his MLB career.
The talent ceiling is through the roof with Greene, so he could be an interesting bet to win the 2022 NL ROY.
Jacob deGrom Sets New ERA Record (200+ IP)
Speaking of Jacob deGrom, he could set an incredible record this year if his health stays up. He's been untouchable for the last couple of years and can put together an epic 2022 campaign.
deGrom was only able to throw 92 innings in 2021, but they were impressive. His ERA was lower than low at 1.08, and he struck out 14.28 batters per 9 innings. Usually, when you see such a high K/9, high walks come with it.
Not in deGrom's case, who allowed an incredible 1.08 walks per 9 innings. He's got a solid chance to go down as one of the best pitchers in MLB history, and it would be incredible for him to get an entire season in.
If he can reach 200 innings, he can set the record for the lowest ERA with at least that many innings.
Dutch Leonard (1914) has the lowest recorded earned run average with more than 200 innings pitched (224.2) at a shining 0.961. deGrom's 1.08 in 92 innings was incredible last year, and if he can keep it up for 200+ innings, he could have a real shot at this.
New York Yankees Break Single-Season HR Record
Heading over to the other New York team, I have the Yankees with the potential to break the home run record set by an MLB team. That record is currently held by the 2019 Minnesota Twins, who hit a whopping 307 that year.
The team with the second-most home runs in a single season ever? The 2019 New York Yankees with 306, right on their tail.
Here's how their roster looked in the long-ball department in that incredible season.
| | |
| --- | --- |
| Player | # Of Home Runs |
| Gleyber Torres | 38 |
| Gary Sanchez | 34 |
| Brett Gardner | 28 |
| Aaron Judge | 27 |
| DJ LeMahieu | 26 |
| Luke Voit | 21 |
| Gio Urshela | 21 |
So, in a year where Aaron Judge missed 60 games and Giancarlo Stanton missed 144 games and combined for just 30 home runs, the Yankees almost broke the record for most home runs by a team in a single season.
Maybe they will get into their groove in 2022 with some moving pieces this year. Anthony Rizzo returned after looking in free agency, while they also added the "Bringer of Rain" in Josh Donaldson.
A healthy Yankees team could be launching home runs left and right in 2022, which would be very exciting for baseball to see.
Joe Ryan Wins AL MVP in 2022
The last of my bold MLB predictions will be an underdog to win the AL MVP award. The front runner is Bobby Witt Jr. of the Kansas City Royals at (+250), while Joe Ryan is way behind him at (+2000).
Ryan has some serious potential, and the AL MVP award race could be interesting with Witt not currently guaranteed a roster spot to begin the 2022 season.
That could open the window for a longshot bet to win the award in 2022. Joe Ryan was recently named the Opening Day starter for the Twins, so it's safe to say they are excited about having him this year.
Last year, Ryan came over from the huge Nelson Cruz trade from Tampa Bay and had some big shoes to fill.
This year, he's got a great fastball that he will look to blow by opposing hitters. If he can keep the long ball to a minimum, he could be the winner of this award as a longshot bet to start the year.
Bold Predictions for the 2022 MLB Season
These bold MLB predictions for 2022 could be wrong. The offseason could have indicated how this season goes, and the word I'm thinking of is "unpredictable."
Baseball is a wild sport and can be very difficult to predict, but it isn't impossible to land one or two of these bold predictions. Shohei Ohtani shocked the baseball world in 2021, so who's turn will it be this year?
If you need some additional help with your MLB and baseball betting, check out the baseball betting strategy guide below.