MLB Betting: The Way Too Early 2018 World Series Odds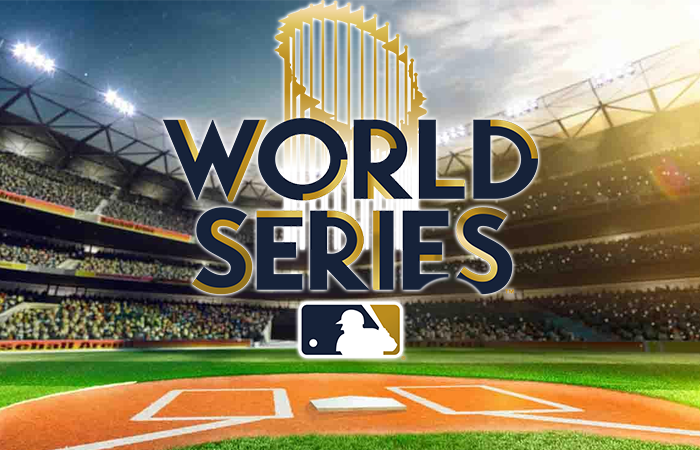 The 2017 World Series got underway Tuesday night between the Dodgers and Astros, providing the latest evidence that you'll always find your best value on World Series futures before the season begins.
Going into the 2017 campaign, the Dodgers were +1200 to win the 2017 Fall Classic while the Astros, coming off their 10th non-playoff season in 11 years, paid a fat +2000. By comparison, BetOnline listed Los Angeles as a -165 favorite to win the World Series when the first pitch flew at Chavez Ravine, while the Astros paid +145.
(After LA's 3-1 win over Houston in Game 1, the Dodgers are now -261 at BetOnline to claim the MLB championship. The Astros, who are very slight underdogs in Game 2 despite having Justin Verlander on the hill, are +221 to overcome the opening-game loss and rally to win the World Series.)
Obviously, the World Series odds get sliced dramatically when you only have 1 team standing in your way like the Dodgers and Astros do. And the baseball playoffs are about as predictable as a roulette wheel when the randomness of the sport is accentuated by a 1-game playoff to determine the wild card, followed by a best-of-5 division series.
But the point still remains that if you can identify potential contenders well before they emerge, you can cash some huge tickets, even with teams loaded with as much talent as the Dodgers and Astros.
With that said, BetOnline has already put up odds for which team will win the Fall Classic next October. So let's take a look at the way too early (but never too early) 2018 World Series odds.
2018 World Series Odds At BetOnline
Arizona Diamondbacks: +2000
Atlanta Braves: +8000
Baltimore Orioles: +5000
Boston Red Sox: +1000
Chicago Cubs: +750
Chicago White Sox: +8000
Cincinnati Reds: +10000
Cleveland Indians: +750
Colorado Rockies: +2500
Detroit Tigers: +15000
Houston Astros: +600
Kansas City Royals: +6600
Los Angeles Angels: +3300
Los Angeles Dodgers: +550
Miami Marlins: +10000
Milwaukee Brewers: +2500
Minnesota Twins: +3300
New York Mets: +3300
New York Yankees: +750
Oakland Athletics: +10000
Philadelphia Phillies: +8000
Pittsburgh Pirates: +6600
San Diego Padres: +15000
San Francisco Giants: +3300
Seattle Mariners: +3300
Louis Cardinals: +2000
Tampa Bay Rays: +5000
Texas Rangers: +3300
Toronto Blue Jays: +2200
Washington Nationals: +1000
The Favorites
It's no surprise to see the 2 combatants in this year's World Series listed as the 2 favorites to win it all in 2018. Most bettors are swayed by what they see last, so the final teams standing in 2017 naturally look like the best bets to win it all next year.

1. Los Angeles Dodgers (+550)
What's not to like about the Dodgers' chances next season? Other than Yu Darvish and 38-year-old Chase Utley, their most important players are all under contract for 2018. They'll also start the year with Cody Bellinger at first base (remember, he didn't join the Dodgers until 3 weeks into the year, when the Dodgers were 9-11).
Unless he completely blows up in this year's World Series, Clayton Kershaw has shed the label of a regular-season stud who can't get the job done in the postseason. The Dodgers' starting rotation is loaded, their bullpen is also lights out, and Utley is the only regular position player over the age of 32.
The Dodgers can also shed themselves of the $17 million contract they're currently paying Andre Ethier, enabling them to replace Darvish (if he departs), Utley or any other hole on their roster.

2. Houston Astros (+600)
The Astros are also poised to be pretty good for a long time. Jose Altuve, Carlos Correa, George Springer and Alex Bregman are all under 28 years of age, and they keyed an offense that ranked first in all of baseball this season in runs per game, batting average and OPS.
The pitching staff needs a bit of work to merit this short price, however. Justin Verlander has been incredible since coming to Houston, but he will be 35 next year and he has the option to opt out of his contract. Charlie Morton, Mike Fiers and Collin McHugh are also on the wrong side of 30, and even Dallas Keuchel turns 30 next year. Not that being 30 means you belong in an old age home, but it probably does make you more susceptible to injury.
It'll also be interesting to see if this year's success goes to the heads of the Astros' young core talent, especially if they win it all. We saw how slow the Cubs came out of the gate this year after ending Chicago's World Series drought in 2016.
Best Values

1. Chicago Cubs (+750)
Getting +750 with the Cubs right now is a pretty good bargain for a team that entered 2017 as the World Series favorite at +400.
They've still got the core of a loaded lineup in Anthony Rizzo, Kris Bryant, Javier Baez, Willson Contreras, Addison Russell and Jason Heyward, plus utility men like Ben Zobrist and Jon Jay to plug into holes. Even better, they won't enter next year with the World Series hangover that I alluded to earlier. Going into this past season's all-star break, the Cubs were on pace to suffer one of the largest dropoffs in run differential by a World Series champion.
The only thing to worry about on the north side of Chicago (and it's a big thing) is the Cubs' pitching. Jake Arrieta is expected to depart as a free agent and John Lackey is likely to retire, leaving Chicago not much in the starting rotation behind Kyle Hendrix, Jon Lester and Jose Quintana.
That's still a nice top 3, but is it enough to carry a team to a division title in a 162-game season? Especially with a bullpen that proved to have a lot of issues in the postseason and could potentially lose closer Wade Davis to free agency.

2. New York Yankees (+750)
There's nothing but positives to build on for a young Yankees club that arrived a year ahead of schedule, coming within 1 game of reaching the World Series.
Aaron Judge put up MVP-caliber numbers as a 25-year-old rookie, and his ability to adjust to the way opponents have pitched him throughout his minor league career suggests he'll be even better next year. Anchored by Judge and 24-year-old catcher Gary Sanchez (33 homers, 90 RBI in 122 games), the Yankees led all of baseball in home runs, were second in runs per game and ranked third in OPS.
Like Houston and the Cubs, the Yankees have some holes to fill in their rotation. C.C. Sabathia is a free agent (though he has said he'd like to return), Masahiro Tanaka has the ability to opt out of his contract, and Michael Pineda could be done in New York after undergoing Tommy John surgery.
But New York has the money to fill those holes, particularly with the huge contracts of Sabathia, Alex Rodriguez (yes, the Yankees are still paying him), Matt Holliday and Pineda set to come off the books and freeing up close to $70 million. New York's toned down it's spending in recent years, but look for the Yanks to be aggressive once again in free agency now that they're on the brink again.

3. Cleveland Indians (+750)
After the Indians blew a 2-0 lead in the division series to bow out in 5 games to the Yankees, it's easy to forget how good this Cleveland team really was in 2017.
Despite injuries to several of their top players, the Indians finished with the second-best record in all of MLB, highlighted by a 22-game winning streak. The Tribe was also +254 in run differential, proving that their 102-60 record was no fluke. If anything, Cleveland's record probably should have been better.
Most of their top players are already under contract for next season, including ace Corey Kluber, stud reliever Andrew Miller and slugger Edwin Encarnacion. The Indians also exercise team control over a lot of their top young talent, including Francisco Lindor, and though closer Cody Allen is arbitration-eligible, I don't see him leaving Cleveland either.
All that pitching, plus having arguably the most-balanced lineup in baseball, make the Indians the team to beat in the American League next year in my opinion.

4. Washington Nationals (+1000)
On paper, the Nationals have everything you look for in a World Series futures bet.
Max Scherzer and Stephen Strasburg anchor a tremendous rotation; Bryce Harper, Daniel Murphy, Anthony Rendon and Ryan Zimmerman lead a dynamite lineup; their bullpen was drastically improved over the course of the 2017 regular season; and they play in a weak division, giving them a great chance at having home field advantage in the division series.
They've also got some money to play with as Jayson Werth's huge contract comes off the books, and the urgency to win now with the potential of Harper leaving town after 2018.
But it's impossible to ignore those playoff ghosts. Washington hasn't won a postseason series in franchise history (even dating back to its days as the Montreal Expos), and the pressure only grows with every early playoff exit. The Nats already look like a great bet to win the NL East once again next year, but until they get the first-round playoff monkey off their back, I'm leery of wagering on them having any postseason success.

5. Boston Red Sox (+1000)
The Bosox have won 2 straight AL East titles, but the firing of manager John Farrell reflects that things aren't perfect in Beantown.
On paper, lefties Chris Sale and David Price provide a lethal 1-2 punch at the top of the rotation, but Sale has shown a tendency to struggle down the stretch of seasons while Price's history of postseason struggles (as a starter, at least) have been well documented. I'm not sold on the rest of their rotation either, especially after Rick Porcello regressed badly this past season from his Cy Young form in 2016.
There are also concerns about the offense, specifically Boston's inability to fill the power void left by David Ortiz's retirement. Long-time sparkplug Dustin Pedroia is getting up there in age as well and might need offseason surgery on his knee.
With the Yankees' rapid ascension in the AL East and the potential of the Blue Jays, Orioles or Rays to also contend, the Red Sox look like a pretty iffy World Series bet at these odds.
Sleepers To Keep An Eye On

Arizona Diamondbacks (+2000)
If it weren't for the Dodgers running away with the NL West by the all-star break, we would have taken notice of the Diamondbacks a lot more. Arizona's 93-69 record was the sixth-best in baseball, they averaged more than 5 runs per game and their pitching staff posted the third-best ERA in MLB.
J.D. Martinez is a free agent and there's a good chance he signs elsewhere, but the D-Backs were already doing pretty well before acquiring him from the Tigers at the trade deadline. Other than that, the roster will return pretty much intact next year, and most of their players are in the prime years of their careers.
Unfortunately for Arizona, a wild card spot is probably the best-case scenario once again with how good and deep the Dodgers are. However, the +2000 price on the Diamondbacks looks like pretty fair compensation for the likelihood of having to win a wild-card game just to get into the division series.

Los Angeles Angels (+3300)
LA was a factor in the AL wild-card race until the final couple weeks of the season, and that was with perennial MVP candidate Mike Trout missing nearly a third of the campaign.
If Trout can put together a full season next year (which seems likely, given that he'd played 157 games or more in each of his 4 previous seasons), the Angels could be a team to watch out for in the AL West. If Garrett Richards can stay healthy (that's a much bigger "if" than Trout), he's got the stuff to be the ace of a postseason contender, and Matt Shoemaker is a pretty solid #2. Parker Bridwell won the most games of any AL rookie starter this past season, and J.C. Ramirez and Alex Meyer also emerged this year as legitimate starting pitchers.
Other than Houston, the AL West looks pretty mediocre, and the Astros came back to earth quickly in 2016 after winning the division the previous year. LA would have to stay a lot healthier next year, but the Angels are a darkhorse to keep an eye on, especially if they are active in free agency over the winter.
2018 World Series Betting Prediction
Like the title of this article suggests, it's "way too early" to make any significant wagers on who will win the 2018 World Series.
Even the outcome of the current Fall Classic could help shape the motivation levels of the Dodgers and Astros for next year, and there's always a ton of offseason roster movement that will give us a better sense of each club's objectives for 2018.
Personally, I'll be keeping a close eye on these odds as the free agency signing period starts shortly after the 2017 World Series concludes. Oddsmakers will be quick to make adjustments to these lines as soon as any major signings are announced, but if you can beat them to the punch, you might be able to scoop up some great value.
But if I had to place a bet right now at the current odds, my money would be on the Indians at +750. I know they just lost the ALDS to the Yankees, but their regular-season dominance (especially after the all-star break) is a better indicator of how good they are than a best-of-5 series. +750 odds seems like great value when you consider the Indians' returning cast of elite pitching and offensive depth.