Hide Bonus Offers
| | | | | |
| --- | --- | --- | --- | --- |
| #1 | Bovada Sports | 50% Up To $250 | Visit Site | Bovada Sports |
| #2 | BetUS | 125% Up To $2,500 | Visit Site | BetUS |
| #3 | MyBookie | 100% Up To $1,000 | Visit Site | MyBookie |
| #4 | Everygame | 100% Up To $500 | Visit Site | Everygame |
| #5 | BetOnline Sports | 60% Up To $1,000 | Visit Site | BetOnline Sports |
MLB Betting: When Will Albert Pujols hit his 600th Home Run?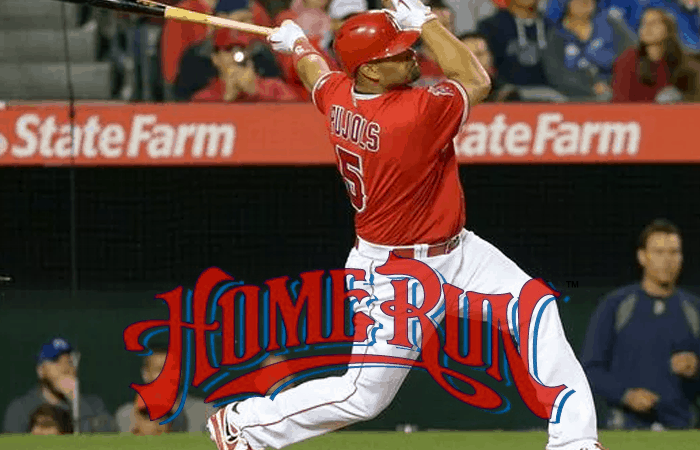 Monday was not a great day if you're the Los Angeles Angels of Anaheim. The Halos dropped their series opener against the Atlanta Braves, 6-3, and also got news that superstar outfielder Mike Trout will miss the next 6-8 weeks after tearing a ligament in his thumb. With the presumptive American League Most Valuable Player on the shelf for the next month or two, it could be tough sledding for the Angels for a while.
However, Memorial Day wasn't all bad for them. Veteran first baseman Albert Pujols cranked his seventh homer of the season in the aforementioned loss to the Braves. The dong was the 598th of Pujols' storied career, which, if my math is correct, puts him just two away from the monumental 600 home run plateau.
As of now, Pujols is already ninth on Major League Baseball's all-time home run list. The eight ahead of him have all hit 600 or more, and he'll move into eighth place if and when he pulls ahead of Sammy Sosa's 609 mark. Against which team will Pujols hit his 600th career homer? BetOnline has odds posted. Let's break them down and pick a winner, shall we?
Here's the list:
Atlanta Braves +1400
Minnesota Twins +400
Detroit Tigers +300
Houston Astros +275
New York Yankees +275
Kansas City Royals +350
Field (any other team) +800
So, the list obviously coincides with the Angels' upcoming schedule. They have two more games in their current series with the Braves before the Twins come to town for a four-game set this weekend. After that, the Halos will head out on the road to take on Detroit and Houston before coming back home to host the Yankees and Royals in mid-June. The Angels then head to New York to face the Yankees once again.
Math?
Obviously, dingers can strike at any time. Even the most random of players are capable of slugging multiple dongs in a single game. It just happens, and they tend to be somewhat unpredictable. Obviously, considering he's already got 598 of them, Pujols has enjoyed many a multi-dinger night himself during his career. In fact, he has hit two homers in a game 51 times, and three homers in a game four times. So, yeah, he could certainly get to 600 in style with his 52nd career double dong game.
Pujols doesn't have a multi-homer game so far this year, but he did have three of them in 2016 and three in 2015. At some point, it's going to happen. He may not be the insane power threat he was in his prime, but we know the 37-year-old is still capable of producing runs in a hurry.
So far this season, Pujols' seven long balls have come in 199 plate appearances. If we do a little quick division, that comes out to one homer every 28 (or so) plate appearances. His early 2017 numbers indicate the power isn't quite what it was last season. Pujols hit 31 homers last year in 593 plate appearances, or one dong every 19 PAs. In 2015, he hit a homer every 15 PAs. Pujols is 37. We can cut him some slack.
He could always heat up, but let's say he continues at the current pace of one HR every 28 PAs. Typically, Albert will step to the dish four or five times per game. His 598th homer came in his second of four plate appearances on Monday, which means, based on the aforementioned formula, that we are just 54 plate appearances from Albert's 600th. So, clearly that takes the Braves out of the mix, as he'll probably get eight or nine chances to hit two homers against them this week. If he gets eight more at-bats vs. Atlanta, we're down to 46 until No. 600. This weekend against the Twins, he'll probably bat 16 times if he plays every day and gets four PAs per game. So, we're down to 30.
Three games in Detroit likely means we can slash another 12 PAs from the list. 18 left. Three games in Houston, another 12 PAs gone. Down to six. That brings us to the Yankees series against the Angels in Anaheim from June 12-14. From today, Pujols' 54th plate appearance should come during the second game of that midweek series against New York.
So, if math is your thing, take the Yankees at +275. They also get the added bonus of facing the Angels twice within the span of a week. So, Pujols will face the Yankees six times, while facing no other team on this list more than four times. Take that for what it's worth.
History vs. Pitchers
If you don't buy the math, maybe a little batter-vs.-pitcher history is more up your alley. I'm not a believer in BvP being predictive of future results, but to each their own. Let's take a look at a few pitchers against which Pujols has had some success in the past.
Pujols has four career home runs against pitchers currently on the Braves' staff. That includes two dongs against fellow elder statesman Bartolo Colon in 22 at-bats. Colon will toe the rubber for the Braves on Tuesday night. Colon has been atrocious this season, posting a 6.96 ERA in his age-44 season. That includes nine home runs allowed. Colon essentially throws nothing but low-90s fastballs at this stage of his career, and that's one thing we know Pujols is capable of hitting. Albert could certainly take Big Bart deep twice tonight and get this No. 600 stuff over with.
Pujols has also homered once in four at-bats against Braves closer Jim Johnson.
He has taken current Twins pitchers deep five times in the past. Two of those have come against Kyle Gibson, who is tentatively scheduled to start Friday's game against the Angels. Another came against ex-teammate Ervin Santana, who is slated to start Saturday. Pujols has six dongs against Tiger pitching, including two against homer-happy Jordan Zimmermann. Another came at the hands of Justin Verlander.
After that, the Angels face the Astros. It would be quite appropriate for Pujols to accomplish the feat down in Houston. He has homered a whopping 55 times against Astros pitching in the past, which is second to only the Cubs (56) in his career. Nine of Albert's 598 homers have come against pitchers currently on Houston's staff. Three have come off former Cy Young winner Dallas Keuchel, and two have come off of another homer-happy pitcher in Mike Fiers. His five HR against current Yankee pitchers came against CC Sabathia, Dellin Betances, Aroldis Chapman and Tyler Clippard (twice).
So if you think that Pujols' BvP numbers will come into play here, perhaps he will get the job done tonight against Colon and the Braves.
When Will Pujols Hit No. 600?
In addition to team-by-team odds, BetOnline also has odds on whether Pujols will accomplish the feat before or after June 14th. Of course, it's easy to see where they came up with that date. They're using the HR/PA number that we mentioned previously. Based on his season-long number of a homer every 28 plate appearances, we predicted No. 600 would be hit on June 13 against the Yankees.
Before June 14 is listed at -160, while after June 14 is at +130. Obviously after June 14 is the value bet, but we do believe Pujols will get to 600 before that date.
As mentioned previously, the Yankees are the best bet here. They get to face Pujols six times in the near future, and the fact that Albert hasn't exactly been tearing the cover off the ball so far this season leads us to believe it could take him a while to hit two more over the fence. +275 is a fun and logical value play here, so jump on it while you can.