Minnesota Gophers vs. Georgia Tech Yellow Jackets – Odds, Predictions, and Pick for Betting the 2018 Quick Lane Bowl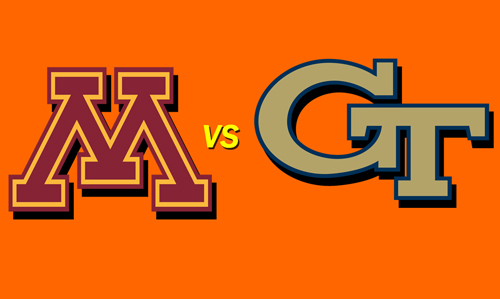 There are a couple notable storylines heading into Wednesday night's Quick Lane Bowl that bettors should be aware of.
For Georgia Tech, this will be Paul Johnson's final game at the helm after an illustrious career in Atlanta.
The Yellow Jackets rallied by winning four straight ACC games down the stretch – just to ensure that Johnson's swan song would come during postseason play.
Flip the coin, and you'll realize that Minnesota is elated just to be here.
The Gophers beat Wisconsin on the road in the final game of the year to take back the coveted Paul Bunyan Axe, and it also gave them an opportunity to be playing in a bowl game.
Getting to 6-6 on the year and clinching bowl eligibility was enough for the University of Minnesota to extend head coach P.J. Fleck's current deal, so things are good in the Land of 10,000 Lakes.
But they could get a lot better should they pull off the upset and win the Quick Lane Bowl the day after Christmas.
Can Minnesota get it done, or will Paul Johnson get to ride off into the sunset in style?
The 2018 Quick Lane Bowl
Records: Minnesota Gophers (6-6), Georgia Tech Yellow Jackets (7-5)
Where: Ford Field – Detroit, Michigan
When: Wednesday, December 26th – 5:15 pm EST – ESPN
If the Gophers are going to be successful in this game, they'll have to figure out a way to somehow slow down what is the #1-ranked rushing attack in all of college football.
As if that task wasn't going to be difficult enough, Minnesota will be without the services of their top defensive player, linebacker Blake Cashman.
The senior local talent from Eden Prairie has decided to skip the Quick Lane Bowl and focus on preparing for the NFL Draft.
And unfortunately, he's not the only player on P.J. Fleck's roster to make this decision. Donnell Greene, the 6'7" 320-pound mammoth-sized starting left tackle has also moved on to start prepping for his future at the next level.
This leaves a couple enormous holes to fill for a team who was already "borderline" when it comes to execution and consistency. Redshirt freshman QB Tanner Morgan has been filling in for an injured Zack Annexstad during the second half of the year and has done a decent job, but he was a redshirt and a backup for a reason.
A 7/6 TD/INT ratio and a 59% completion percentage aren't really cutting it, in my opinion, not to mention the fact that in six games as a starter, he's rushed 38 times for just 48 yards.
Mohamed Ibrahim has been fantastic since assuming the full-time load in the backfield, and junior wideout Tyler Johnson is capable of making plenty of big plays.
I'm just not sure how many scoring opportunities the Gophers will have if the Yellow Jackets end up draining out the clock due to their unique style of play.
Here's a team who averages 334.9 rushing yards per game while only throwing for 84.3 yards each time out. This means that the clock will be running, and the Gophers offense will spend an inordinate amount of time on the sidelines.
TaQuon Marshall and Tobias Oliver head the ground game for Paul Johnson's squad, but Jordan Mason and Jerry Howard each carried the ball 100+ times this season as well.
The fact that Minnesota didn't face a team who ran the option all season long certainly has me feeling wary about how solidly they'll be able to defend it on Wednesday.
Minnesota Gophers vs. Georgia Tech Yellow Jackets Lines and Pick
Maryland and Nebraska were both able to light the Gophers up for more than 300 rushing yards when they competed head-to-head. So was Illinois. That leads me to believe that the Yellow Jackets should have a field day doing what they do best.
And before I get to my betting pick, I'll leave you with one more piece of vital information.
During "The North Star State's" six victories, Minnesota is +5 in the turnover margin. During their six losses, they are -10. Case in point, the Gophers perform infinitely better when they win the turnover battle.
Considering that Ga. Tech hasn't thrown an interception since September 15th, and they're +9 on the season in turnover margin, I see the Gophers having a tough time winning this tussle.
I think the Yellow Jackets pound away and take care of biz, allowing Coach Johnson to walk away from the game of football with a good taste in his mouth.
PICK
Georgia Tech (-5)
-110
Going Away
Betting the Quick Lane Bowl is a good way to jumpstart your post-Christmas activities, as I'm sure many of you will be taking advantage of the holiday season.
Why not spice things up by placing a wager on this football game or any of the other bowl games taking place over the festive period?
Check out my guide to all the college football bowl games so that you stay in the loop with what's going on around you. You'll find some pointers for bets to consider there.
And when you're ready to place your wagers, simply head to any of the best college football betting sites and get your money down. Then sit back and enjoy the games while hoping your bets come in.