Hide Bonus Offers
| | | | | |
| --- | --- | --- | --- | --- |
| #1 | BetOnline Sports | 60% Up To $1,000 | Visit Site | BetOnline Sports |
| #2 | Bovada Sports | 50% Up To $250 | Visit Site | Bovada Sports |
| #3 | BetUS | 125% Up To $2,500 | Visit Site | BetUS |
| #4 | Everygame | 100% Up To $500 | Visit Site | Everygame |
| #5 | MyBookie | 100% Up To $1,000 | Visit Site | MyBookie |
Is Mike Tyson Overrated or an All-Time Boxing Great?

Is Mike Tyson the greatest boxer of all time? Absolutely not.
In fact, Tyson is not the greatest heavyweight of all time or even the best of his era. Still, you will hear some fans still argue that he was the best fighter of all time.
But was Tyson up there with the all-time greats? That's a tougher question to answer off the bat, especially with the obsession with this mystical "Prime" Tyson figure.
Sure, that has become something of a running joke. But behind the laughter, there is a serious debate to be had. Was Tyson an all-time great fighter? Or did he waste his talent?
Undoubtedly a phenomenal fighter and a box office megastar, were his achievements inside the ropes worthy of an iconic legacy? Were his victories enough to thrust him into the pantheon of all-time legends?
Facts don't care about feelings. Whether Mike Tyson is overrated or not will depend on what he has achieved in his career.
Today, I'm going to answer the "is Tyson overrated" question once and for all. So, strap in and we'll get started.
Is "Prime" Mike Tyson a Myth?
Is Mike Tyson overrated?
Before we get to the bottom of that question, we need to figure out just how good he was. To be more specific, taking a look at his early days up to the "Prime" Tyson period which many believe to have ended with his loss to James "Buster" Douglas in 1990.
Before we can say that Tyson was a tragic waste of talent, let's take it back to the beginning.
A phenomenal athlete, Tyson emerged as a machine under the tutelage of the great Cus D'Amato.
He joined the legendary Italian American in Catskills in 1980, where he would become the last chance that the aging trainer had at creating another world champion. Like his other world champions, Floyd Patterson and Jose Torres, Tyson would use the "Peek-a-Boo" defense trained into him by D'Amato.
With Kevin Rooney and Teddy Atlas on either side of the youngster, he had some of the boxing brains in the game behind him. He was an incredible physical specimen that put the fear of God into his opponents.
That's despite standing at just 5'10" with a 71″ reach.
By the mid-80s, Tyson was the biggest name in the sport. A terrifying cocktail of speed and power, the native of Brownsville, New York knocked out opponent after opponent with the eyes of the world watching.
But the death of D'Amato in November 1985, a man who Tyson considered a father figure, was the first warning sign that an avalanche was headed his way.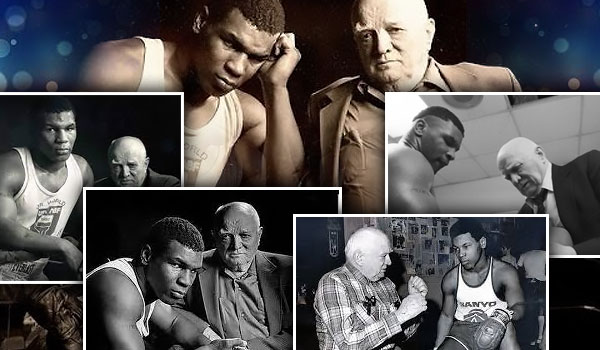 When Was Tyson's Prime?
Tyson fulfilled D'Amato's prophecy that he would be a world champion, by beating Trevor Berbick in November 1986 to win the WBC strap.
In doing so, he became the youngest heavyweight titlist of all time at 20 years, four months, and 22 days. So far, you can't say that Tyson wasted his potential.
Adding the IBF and WBA titles to his collection, the rapid puncher would put together a run of nine successive wins after Berbick.
Mike Tyson's Prime
Date
Opponent
Method of Victory
Round Ended
Feb 25, 1989
Frank Bruno
TKO
5
Jun 27, 1988
Michael Spinks
KO
1
Mar 21, 1988
Tony Tubbs
TKO
2
Jan 22, 1988
Larry Holmes
TKO
4
Oct 16, 1987
Tyrell Biggs
TKO
7
Aug 1, 1987
Tony Tucker
UD
12
May 30, 1987
Pinklon Thomas
TKO
12
Among his victims were Larry Holmes, Frank Bruno, and the previously undefeated Michael Spinks.
Spinks allegedly didn't want to leave his dressing room and looked absolutely terrified in the pre-fight face-off. More on him later.
So, let's say that Tyson's prime was between May 1987 and February 1989. Between these years, he was phenomenal and no heavyweight on the planet would have beaten him.
But was Tyson overrated throughout this period, too? If this was "Iron Mike" in his prime, this should the defining period of his career.
So let's see what great fighters he beat.
Did Mike Tyson Ever Beat a Great?
Yes, Mike Tyson did beat a great heavyweight boxer.
In fact, Tyson beat a legend in Larry Holmes in 1988. But (and this is an incredibly significant but) Holmes was a few good years out of his prime.
Holmes looked out of shape and hadn't fought since losing to Michael Spinks in April 1986, nearly two years before he faced Tyson in January 1988.
This somewhat diminishes the win over Holmes, but I don't think it should be completely written off.
First, if you are going to ask if Mike Tyson is overrated on the basis that he beat an older and less effective Holmes, you have to consider the following.
Holmes fought 24 times after the Tyson loss.
Holmes lost just three of those 24 fights.
He was beaten by Evander Holyfield, Oliver McCall, and Brian Nielsen.
The Easton Assassin retired 14 years after the Tyson fight, in 2002.
Tyson is the only fighter to ever knock out Larry Holmes.
This doesn't exactly stand as proof that Tyson was not overrated. But it does provide food for thought for anyone quick to dismiss the way he smashed Holmes around the ring that night as an assault on some defenseless old man.
So, once again, was Mike Tyson overrated for the fact that his only major win over a top heavyweight was against Holmes?
No, but it's certainly not the major win some of his fans promote it as.
Holmes is a historic great, sure, but he was in Tyson's shoes once. The boxer earned one of his biggest wins over a faded and over the hill Muhammad Ali in 1980.
So, there was an element of karmic retribution involved in this one.
What Was Tyson's Greatest Win?
I was tempted to frame the question above as "What legends did Tyson beat," but thought it better to look at his best wins.
Why? Because Tyson never beat a heavyweight legend in their prime.
Don't believe me? Take a look through his resume of the fighters he blasted through and you'll come to the conclusion that there aren't many big names that stand out. How could that be?
If Mike Tyson is overrated, surely this is proof?
Yes, Tyson is synonymous with the likes of Evander Holyfield and Lennox Lewis. But from three combined fights against the pair, he lost them all.
So, if you want to continue to build your case for why Tyson was overrated, try picking out his best win.
Tyson's crowning victory, if you like, came against Michael Spinks. Now, Spinks was a great fighter, but not at heavyweight.
The St Louis man won an Olympic gold medal at middleweight before establishing himself as one of the best light heavyweights of all time.
Ultimately, he had no business being in there with Tyson, and his retirement from boxing straight after his knockout loss says it all.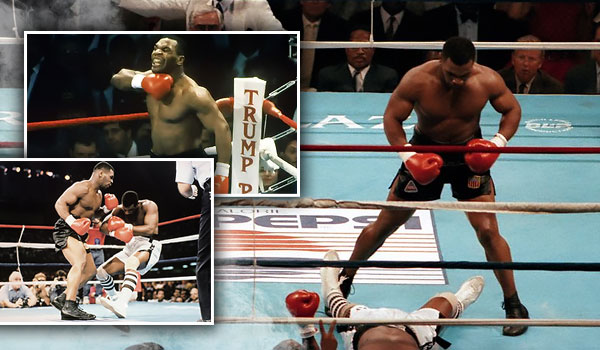 So, is this win enough to ask was Tyson the top heavyweight of all time? Can we really put Tyson up there with the likes of Muhammad Ali, Joe Louis, Jack Johnson, George Foreman, Jack Dempsey, and Joe Frazier?
How about a big, hard no.
Anyone who claims with confidence that Mike Tyson was the greatest of all time — or that Tyson was the best heavyweight in history — clearly knows nothing about the sport of boxing.
Harsh? I don't think so. After all, this assessment is based on Tyson's greatest achievements.
What other metric is there to judge a fighter some people believe to be better than Muhammad Ali on? Potential?
Ali beat Sonny Liston, George Foreman, Joe Frazier, Floyd Patterson, Ken Norton, Cleveland Williams, Henry Cooper.
Tyson's best wins were against Michael Spinks, Larry Holmes, Tony Tucker, and Donovan "Razor" Ruddock.
You can add Pinklon Thomas in there, too, but given his private struggles around this time, he wasn't the same boxer that he had been just a couple of years before he faced the former "Kid Dynamite."
If you are still asking me to explain why Tyson is not the greatest of all time, keep reading.
What Do Mike Tyson's Losses Tell Us?
Did Mike Tyson waste his talent? If so, why is Tyson overrated in some fans' eyes?
Look, Tyson's extracurricular activities and various controversies and scandals contributed to his downfall.There is no doubt about that.
But if we are trying to answer whether Tyson was overrated or not, we can't excuse his losses.
Sure, Tyson's highlights and lowlights were the most extreme of any boxer in history, given that he was probably the most recognizable face in sports and one of the most famous men on the planet.
But boxing is littered with tales of great fighters that came from extreme poverty and suffered horrendous tragedies. And the bottom line is we still take their losses into account when judging them as fighters.
So, let's take a look at all of Mike Tyson's losses inside the ropes.
Mike Tyson's Losses
Opponent
Round Ended
Date
Kevin McBride
RTD (Round 6 )
Jun. 11, 2005
Danny Williams
KO (Round 4)
Jul. 30, 2004
Lennox Lewis
KO (Round 8)
Jun 8. 2002
Evander Holyfield
DQ (Round 3)
Jun 28., 1997
Evander Holyfield
TKO (Round 11)
Nov 9., 1996
James "Buster" Douglas
KO (Round 10)
Feb 11., 1990
Tyson's first loss came to James "Buster" Douglas, a solid heavyweight that was guilty of being profligate with his talents.
Douglas was a 42-1 underdog that had just lost his mother to cancer. What's worse, his marriage was going down the toilet and the mother of his child was hospitalized with a kidney disorder.
Against all odds, Douglas knocked out Tyson. The champ, who had reportedly been up all-night partying with Bobby Brown and Japanese girls, didn't take Buster seriously and paid the price.
The next of his losses came to Evander Holyfield following a stint in prison and a few tune-ups.
The bully was bullied in this fight, with Holyfield clearly coming out on top and winning by TKO. The second fight ended in DQ for Iron Mike, as a result of him biting a chunk out of Holyfield's ear.
There is no shame in losing to Holyfield, who is an all-time great.
Yes, Tyson was clearly a shadow of his former self when he was brutalized by Lennox Lewis in 2002. Once again, no shame in losing to another heavyweight legend.
Tyson's Worst Losses
But Tyson's losses to Danny Williams and Kevin McBride were embarrassing, to say the least.
Sure, he just wanted the paydays. His mental state was so bad that he didn't care about his legacy. But unfortunately, they still count.
If you still trying to figure out why Tyson was the greatest of all time, despite the information above, I don't think I can help you.
However, if you're still asking if Tyson was overrated as a boxer, you should be close to your answer.
Did Mike Tyson Waste His Talent?
Tyson remains one of the most intriguing sports figures of all time. He is still talked about in bars, cafes, and living rooms around the world.
Is Tyson overrated as a boxer? Well, you could say that but you can't deny that he made something from absolutely nothing.
A poor kid from an unfortunate background that hit the genetic lottery and became the face of boxing.
He reignited the passion in the sport, catching lightning in a bottle despite the odds working against him. He had more money in his bank account than the defense budget of a small country and enjoyed the excess and luxury that his phenomenal talent deserved.
One of the greatest trash talkers in history, Tyson knew how to sell a fight. He made everything so exciting for fans.
Ultimately, Tyson was a victim of a series of poor choices. Like any human being that has had something significant and lost it, lamenting on what could have been only natural.
Well, what could have been for Tyson is down to speculation and guess. Was Mike Tyson the greatest of all time? No. Could Tyson have been the greatest of all time? Who knows.
It's unlikely, but he probably should have achieved more inside the ropes than he did.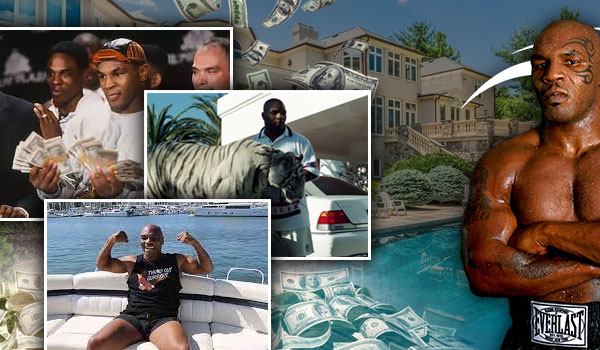 This sounds ridiculous, given the guy was the undisputed champion of the world and reportedly earned $685 million in his career.
Was Tyson overrated or a huge waste of talent? I think you can argue in favor of both.
He was an exciting, once-in-a-lifetime talent. But to say Tyson is not overrated is to deny the truth.
Why is Tyson Overrated?
To pit it simply, Iron Mike just doesn't have the wins to justify putting him next to the all-time greats. And I say that as someone that was, like many others, a huge fan of Tyson since childhood.
We can make excuses for Tyson's losses, but the simple fact of the matter is that the true luminaries of the heavyweight division would not have lost to Danny Williams or Kevin McBride.
All respect goes to those two men, but the only way they are getting into the Boxing Hall of Fame is through the gift shop.
I don't deny that Tyson wasted his potential. And it's not fair to look past some of the factors that contributed to his career not turning out the way he, or some others, would have wanted it to.
But in an unforgiving sport like boxing, you are judged on merits and accomplishments. What you do, and who you do, is what ultimately counts.
And that's why Mike Tyson is overrated.
Check out some more of our popular boxing content, below.