Hide Bonus Offers
| | | | | |
| --- | --- | --- | --- | --- |
| #1 | Bovada Sports | 50% Up To $250 | Visit Site | Bovada Sports |
| #2 | BetUS | 125% Up To $2,500 | Visit Site | BetUS |
| #3 | MyBookie | 100% Up To $1,000 | Visit Site | MyBookie |
| #4 | Everygame | 100% Up To $500 | Visit Site | Everygame |
| #5 | BetOnline Sports | 60% Up To $1,000 | Visit Site | BetOnline Sports |
Michigan State Spartans vs. Oregon Ducks – Odds, Predictions, and Pick for Betting the 2018 Redbox Bowl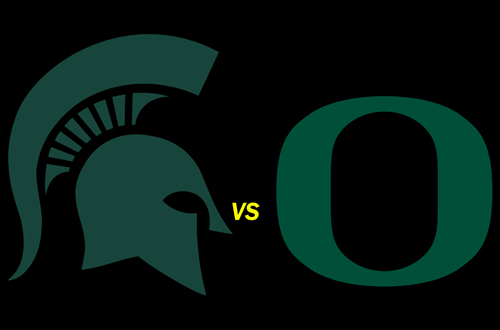 There's a ton of excitement brewing in Eugene surrounding the Oregon Ducks football team. Mario Cristobal landed the nation's #1 recruit in Kayvon Thibodeaux, sending next year's expectations through the roof.
A win in the Redbox Bowl over Michigan State on New Year's Eve would just be the cherry on top for what promises to be an even better year in 2019.
Meanwhile, the Spartans limp into this game after losing to Nebraska and barely beating Rutgers at home by four, despite being a 24-point favorite.
Mark Dantonio and his squad have been up and down all season long, leaving me a bit perplexed as to which Spartans team will show up in Santa Clara.
Will it be the one that went to Happy Valley and beat the eighth-ranked Nittany Lions, or will we see the same lame-duck group take the field that was dreadful their last time out?
Let's start diving into the Redbox Bowl and find out.
The 2018 Redbox Bowl
Records: Michigan State Spartans (7-5), Oregon Ducks (8-4)
Where: Levi's Stadium – Santa Clara, California
When: Monday, December 31st – 3:00 pm EST – FOX
I already told you about the Ducks inking the nation's number-one prospect during the early signing period, cementing their 2019 incoming recruit class ahead of the likes of Michigan and Oklahoma. But let me tell you why else the fan base in Eugene should be jacked up.
They'll have an opportunity on Monday afternoon on Fox in front of millions of viewers to showcase the talent they already have.
Junior quarterback Justin Herbert still has to decide if he wants to forgo his senior season and have a chance to be the top pick in the 2019 NFL Draft, so the Redbox Bowl could potentially be his last time in a Duck uniform.
To be quite honest, his numbers seem a bit underwhelming for someone to be considered so highly, as the 6'6" 233-pounder completed under 60% of his passes in 2018. His 28/9 TD/INT ratio was solid, but taking 19 sacks tells me his mobility and awareness need some work.
Expect Justin to look toward wideout Dillon Mitchell early and often in this one. The speedster from Memphis, TN, hauled in 69 passes for 1,114 yards and nine touchdowns during his junior campaign, and I'll tell you what's going to make life a lot easier for Mitchell in this one.
Michigan State star cornerback Justin Layne has left the program to focus on preparing for the Draft, opting to skip the team's bowl game in California. Coach Dantonio has already voiced his displeasure.
"Yeah, disappointing. Everybody these days has a different philosophy on how these things are working out. My philosophy is you finish. You finish the season, that includes bowl games or playoff games.
The good news for Cristobal is that no player on his roster has made the decision to skip the Redbox Bowl, meaning the Ducks should be at full strength when they show up at Levi's Stadium.
The last time Oregon played a game on this field was the 2014 PAC-12 Championship game when they stomped on Arizona 51-14. The only time the Spartans even traveled west of Texas this season was when they went to Tempe and lost to the Sun Devils.
The Ducks took care of Herm Edwards' team when they played last month, adding another wrinkle into the matchup on hand.
Michigan State Spartans vs. Oregon Ducks Lines and Pick
Michigan State (+2.5)
-110
Let me tell you what's really standing out in this matchup. I'd tell you that the Michigan State offense isn't very good and has underperformed all season, but that would be stating the obvious. The truth is, this offense stinks.
Ranked 116th in overall production, the Spartans managed to score just 26 points over their final three games. They finished near the very bottom in almost all offensive statistics, including 122nd (out of 130 FBS I-A teams) in yards per play.
Oregon scored 55 the last they played, and that was on the road.
I know the Spartans rushing defense is all-world and has shut down nearly everyone they have played, but Oregon's passing attack should be able to move the chains.
Unfortunately for MSU, they just don't do a good job of that. Regardless of if it was Brian Lewerke taking snaps or Rocky Lombardi under center, Michigan State quarterbacks threw 12 touchdowns compared to 13 picks and completed just 51% of all passes attempted.
Watching this offense play is like watching paint dry. It's boring, it's uneventful, and we rarely see anything even remotely exciting.
Even if Dantonio's defense is able to hold the Oregon skilled players in check for the most part, I just don't see Michigan State being able to score enough points to win this game.
I'm not counting on the most electrifying atmosphere or the most exhilarating bowl game of all. But I suspect that Oregon handles business and gets a jump start on setting the bar higher for 2019.
Enjoy Your New Year's Eve Treats!
There is a six-pack of college football bowl games coming at you full speed on New Year's Eve!
I'll be back to give you some more individual game previews over the holidays, but I don't think you'll want to pass up this wagering opportunity. Oregon has a lot of positive momentum right now, and it's safe to say that Michigan State is on the heels of playing their worst football of the year.
And a final tip.
Make sure you shop your line here among the top college football betting sites. That way, you get the added incentive of laying 2.5 points instead of 3!