Betting on McGregor vs. Nurmagomedov – Prop Bets to Take Advantage of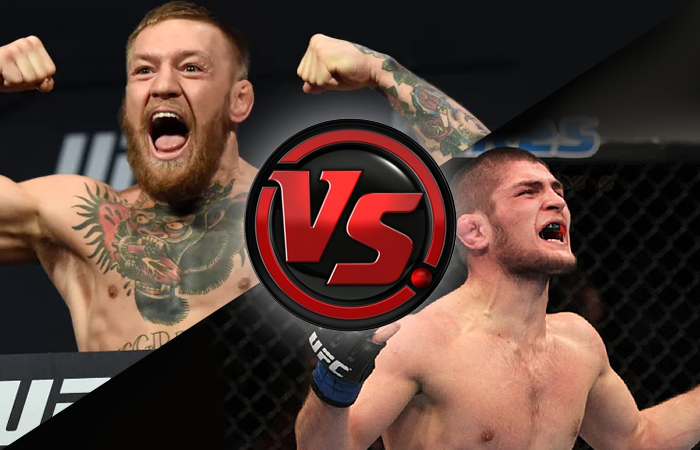 Surprise, surprise, the KING is back!
That's right, folks. The Conor McGregor holdout officially ended at 693 days. Come October 6, 2018, at the T-Mobile Arena in Las Vegas, Nevada, UFC's biggest star will make his much-anticipated return to the octagon.
The new Lightweight World Champion of the UFC, Khabib "The Eagle" Nurmagomedov will be waiting to defend his belt against the previous 155 champ who was stripped of his title due to inactivity.
It'd be easy to take you down a path of who I think is going to win the fight. But I'd rather shine some light on some prop bets that have me seeing some great value.
In a sport where I have often felt that lines can be taken advantage of, here are some bets with the potential to make some betting profit.
McGregor Method of Victory
The first props that caught my eye were both ones that see Conor McGregor winning the fight. Even though he's far from a lock, the following two bets are definitely worth considering, in my opinion.
McGregor to Win by Decision
+865
McGregor to Win Inside 5 Rounds
+200
Personally, I don't see Conor winning by decision. But then again, I didn't think Stipe vs. Ngannou would go the distance, and it did.
At the odds available, I think this bet has to represent some value. When you consider how evenly matched these two fighters are, it would hardly be a major shock if it ended up going the distance.
However, the +200 for a McGregor win inside of 5 rounds is really the bet that I want to book here. I really like the value this offers.
When considering that the line for McGregor to win is +150, I'll take my chances on him to get the win before the 5 rounds are up. I recommend you do the same, although I wouldn't advise against also placing a small wager on Conor winning by decision.
PICK
McGregor to Win Inside 5 Rounds
+200
Nurmagomedov Method of Victory
This fight is so close that you can't be too stubborn to ignore one complete side of the fight. So, if you're favoring Khabib to get the victory here, here are some prop bets for you to consider.
Nurmagomedov to Win by Decision
+380
Nurmagomedov to Win by KO or TKO
+400
Nurmagomedov to Win by Submission
+220
From what I have seen, experts say this fight is going to go one of two ways. Either McGregor is going to connect a left hand and put Khabib to sleep, or Khabib is going to dominate by taking Conor to the ground and pounding his face until he gives up.
I wouldn't go against the experts too strongly, but another outcome I could see happening is Khabib taking his time and "changing Conor's face" like he has stated.
Conor looks light and has put emphasis on cardio during his training camp. This makes me feel that Conor has known this fight was coming for more than the 60-day build-up after the fight was announced and that's he making sure he's ready to go the distance.
And there's no doubt that Khabib could fight for 10 rounds with his grappling dominance and stamina.
McGregor certainly stands a good chance of getting the judges' decision if the fight does go the distance, but I also think Khabib will benefit the longer the fight goes. I'd expect him to move forward, push Conor against the cage, and take him to the ground.
If Conor can avoid tapping out in these circumstances, I don't think Khabib has the power to put him away.
If the fight does get to the later stages, Nurmagomedov to win by decision will be looking like a pretty smart bet. Especially when you consider that the unbeaten fighter has claimed five of his last seven victories with this method.
I can't actively recommend a bet here when I've so confidently gone for McGregor to win in the first five rounds. But if you do like Khabib to win, then backing him to win by decision is probably the way to go.
Will McGregor Land a First-Round Knockdown?
Let's look at how the two options for this prop are priced up.
I want to focus on a key word in this prop. Knockdown.
Not knockout or TKO. This is a huge difference. You are telling me I can get 4 to 1 odds that Conor is going to land a left hand in the first 5 minutes of the fight? Count me in on this one!
This is one of the top arguments for Conor to win the fight. Khabib only knows moving forward. I hope he is ready to eat a left or two as he is coming in to take Conor down. I'd be willing to bet that the Irishman has dreamed and visualized Khabib charging forward eager to take Conor to the ground and Conor timing his left perfectly.
Now getting back to that key word of knockdown.
Conor doesn't have to put Khabib to sleep; he just has to connect on one left, and Khabib will be knocked down. This doesn't mean Khabib will be finished, but just like in Conor's rematch with Nate Diaz, Conor was able to put him on the canvas early with his left.
Conor throws just under 30 strikes per round looking back at his averages for his previous UFC fights, with about 15-20 left-handed strikes per round. If I just need him to land one to get Khabib to fall to the canvas, and I'm getting 4 to 1 odds that one of those 15 strikes connects, is there not value there?
I definitely see enough that I will throw some money on this bet.
How Many Takedowns Will Nurmagomedov Score?
We've got four options with this bet, as follows.
Many experts have pointed out that one of Conor's weaknesses is his takedown defense, and I'm inclined to agree. Khabib happens to be arguably the best wrestler in the game, too, so he's going to look to exploit that weakness as much as he can.
Khabib scoring takedowns in this fight is just as inevitable for me as Conor landing an early knockdown. The question is, how MANY will he score?
Conor has been training with as many wrestlers as he can get into his camp, so it's clear he's expecting to be taken down throughout the fight. I'm not sure he's going to be able to avoid it, though, however well prepared he is.
The +700 line for 6 or more takedowns is tempting, but that's probably a little risky. 5-6 is worth considering, too, but I think we'll probably see less than that. Let's stay away from those lines and get some even money action on Khabib taking Conor down 2-4 times.
Conclusion
We are just a few weeks away from what will become one of the biggest events in Las Vegas' entertainment history. No matter who you are rooting for in this fight, you have to be excited. This is the fight we have all been waiting for ever since Conor threw a dolly through the window of Khabib's bus at UFC 223.
With pay per view projections said to be approaching 2 million buys, this fight takes the UFC to another level. This is the fight William Morris Endeavor dreamed about when they dished out 4 billion dollars to buy the UFC.
Conor McGregor is the Michael Jordan of the UFC. He moves the needle unlike anyone that has fought in the octagon, and he's BACK! Throw in an undefeated champ in Khabib Nurmagomedov, and UFC has the perfect formula needed to revive the sport that has had a difficult time trying to replace Conor McGregor.
Picking a side is tough enough with two opponents so evenly matched. Actually, it's even harder for the ones who think they know. We don't know what is going to happen when these two enter the octagon.
But hopefully after looking at some possible scenarios, we can take advantage of these props that present us with some seriously appealing value.