Why Mayweather vs. Pacquiao II Will Be a Let-Down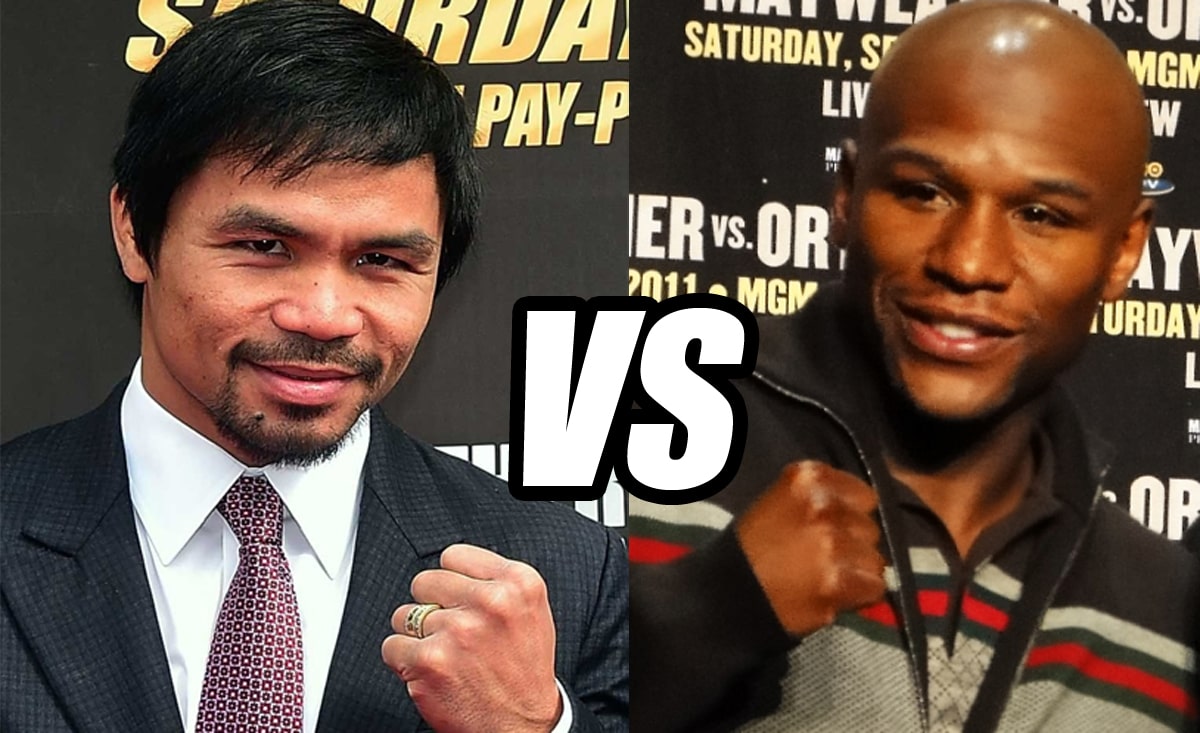 Mayweather vs. Pacquiao II. Who wants it?
Well, other than Floyd Mayweather Jr., Manny Pacquiao, and those with a financial interest in a rematch, that is.
You can bet your bottom dollar that boxing's most high-profile quadragenarians see a nice little boost to their retirement funds should this one be given the thumbs up.
After all, neither man has a better chance to earn a payday anywhere near what they could probably pull from this bout.
Their first encounter in 2015 saw a record-breaking 4.6 million pay-per-view buys and $72.2 million picked up on the gate. Serious numbers.
If a rematch is commissioned, it's not expected to do as well as the first fight. However, there is plenty to suggest that it is likely to be a financial success.
Mayweather, now 42, earned approximately $300 million in his glorified exhibition bout against the UFC superstar Conor McGregor in August 2017.
Following this bout, an official exhibition under the Rizin banner went down on New Year's Eve 2018, with Mayweather's purse alone worth $9 million against Japanese kickboxer Tenshin Nasukawa.
Once again, serious numbers. The former 5-weight world champion has proven that his ability to generate big money has not waned with age. That being said, Mayweather's opportunities for massive paydays have and will further decrease as Father Time continues to catch up with him.
Pacquiao, who is now 40 years old, is also staring down the barrel of retirement. He is also believed to still owe tens of millions of dollars to the IRS.
Despite a recent return to form that has seen the Filipino legend beat Lucas Matthysse and Adrien Broner (a fight some argued was a tune-up for a rematch with Mayweather), "Pac Man" would need no convincing to agree to a rematch.
For the kind of money that he could make against Mayweather, is it any surprise?
Would it be a safe bet to assume that fans will need a little more convincing to shell out for what is likely to be another costly pay-per-view? Absolutely. Will fans be able to ignore the call to watch another 12-rounder featuring these legendary boxers? I would not back against it.
Speaking of bets, let's take a look at the latest odds for Mayweather vs. Pacquiao II.
Mayweather vs. Pacquiao II Latest Odds
Floyd Mayweather Jr. to Win
-250
Manny Pacquiao to Win
+200
Odds provided by MyBookie are accurate as of February 26, 2019.
Both Mayweather and Pacquiao's odds for a rematch are pretty much in line with those from the first fight. In 2015's "Fight of the Century," Mayweather was a -225 favorite with Pacquiao coming in as a +225 underdog.
Mayweather, with a record of 50-0, is the clear favorite ahead of the (yet to be confirmed) rematch. Pacquiao, who has a record of 61-7-2, finds himself as an underdog yet again, albeit with slightly shorter odds.
Anyone who considers themselves even a casual boxing fan will take notice when this fight is confirmed. After all, there is a long history between both men.
A Brief History of Mayweather vs. Pacquiao
Cast your mind back to 2009, when Floyd Mayweather Jr. was the pound-for-pound king of boxing.
Right behind him, in second place, was Manny Pacquiao.
In bars, clubs, living rooms, schools, prisons, and pretty much everywhere else across the world, boxing fans debated who was the better of the two. We all did.
Pacquiao, who had blasted through every division from super featherweight to light welterweight, seemed on a collision course with Mayweather.
Having beaten the best of the best in Marco Antonio Barrera, Erik Morales, Juan Manuel Marquez, Oscar De La Hoya, and Ricky Hatton, subsequent wins over Miguel Cotto and Antonio Margarito saw him crowned as the first eight-division champion in boxing history.
Pacquiao was unstoppable, or so it seemed. Then again, Mayweather was immovable.
It seemed a perfect clash of styles. Mayweather, the consummate boxer, defensive genius, and overall ring technician vs. Pacquiao, the pulsating, attacking boxer-puncher.
Of course, the logical conclusion to finding out who was the best was to put both men in the ring. As we all found out, once again, logic and boxing seldom go hand in hand. As the years went by, this fight, it seemed, would never happen.
Despite some accepting a fight between both boxers in their prime was about as likely to happen as Lady Gaga playing quarterback for the Patriots, others were not quite ready to give up just yet.
Failed Negotiations
Flashback to May 2, 2009.
On the same day that Pacquiao knocked out Ricky Hatton, "Money" Mayweather announced that he was returning to fight Juan Manuel Marquez, having retired in 2007 following his own victory over Hatton.
In September of that year, Mayweather proved he was as good as ever, even with almost two years of absence from the ring. His victory over Marquez sent fans' hopes into orbit.
When Leonard Ellerbe, the charismatic Mayweather Promotions CEO, claimed Pacquiao was Mayweather's "next obvious choice from a marketing standpoint," it seemed time to get excited.
And our excitement was very short-lived, wasn't it?
In December 2009, Pacquiao denied claims that a contract was signed for a fight against Mayweather. His coach, Freddie Roach, then claimed that Mayweather wanted Olympic-style drug testing ahead of any agreement.
Pacquiao was having none of it, and negotiations broke down.
As a further kick in the teeth to fans, Pacquiao's next outing would be a routine victory against Joshua Clottey while Mayweather would coast to a win (following a minor scare) against Shane Mosley.
Dead in the Water?
Following a couple of years of back and forth, claims and rebuttals, refusals and bickering, it seemed clear this fight was never going to happen.
George Michael would have lost faith.
The lead singer from Journey would have stopped believing a long time ago.
Grown adults would have put their money on the legitimacy of the Easter Bunny's existence before they would have backed a fight between Mayweather and Pacquiao happening.
Why was this fight so difficult to put together? Was it that both fighters were on top of their game and did not want to run the risk of financial losses in the event of being beaten by the other man?
That could have been the case.
As fate would have it, back-to-back losses for the Filipino icon would be the key to the fight coming to fruition in 2015.
However, by this point, the magic of Manny had dissipated somewhat, leading to the buzz around the fight — which was seen as around five years too late — not being anywhere near what it would have been in 2009 or 2010.
To use a word from the great philosopher, Homer (Simpson), it was a case of "meh."
Mayweather vs. Pacquiao I: We (Finally) Had Ourselves a Fight
Well, kind of.
The fight was finally announced to go down on May 2, 2015, in the MGM Grand Garden Arena in Las Vegas.
While the fight that no one expected to happen was finally upon us, the boxers inside the ropes were not quite what we had wanted.
Mayweather was still the defensive master he always was but had lost a little of the snap that he had a few years prior.
Pacquiao was now 36 and had two losses on his record in his five previous bouts. The electrifying speed and power that many saw as too much for Mayweather at the end of the following decade were gone.
He also hadn't stopped an opponent for six years.
You could argue that the pay-per-view price should have reflected this, but of course, it did not. After the fight, the grumblings echoed the world over. Fans were not happy with the event.
It seems likely that a considerable percentage of those who purchased the $100 PPV were boxing "casuals" who had not factored in such things to their purchase. As such, they were probably expecting a lot more from the fight than they got.
Mayweather outboxed a faded Pacquiao on the night to claim a convincing victory on the judges' scorecards.
Anyone who had expected more from the fight had not done their homework.
Those who had backed Mayweather to win at -225 would have earned themselves some "free money" as a result.
Why This Fight Will Be a Disappointment
While I don't expect the revenue for this fight to be near the record-breaking levels of the first meeting of the two, the rematch will definitely make a lot of money.
Fans are not really going to see a cent of that. As such, do we care how much money it makes? I, for one, do not. The only money that I am interested in when it comes to this bout is how much can be made from betting on it. I'll cover that a little later.
I ask myself why I am not excited about this fight, and the answers come to me thick and fast.
Here are a few.
Both Mayweather and Pacquiao are well past the prime of their careers
We have seen what happens when Mayweather and Pacquiao get into the ring
This isn't 2009
This is nothing but a cash grab for both men
The pay-per-view price is going to be sky high
There is little justification for a rematch (other than money)
Of course, there are other things that put me off getting excited for this one.
If I am to be completely honest here, I'm still disappointed that this fight never got made when it should have (from 2009 to 2011).
I was hardly jumping for joy when the fight was announced in 2015, so you can imagine how apathetic I will be when the second installment comes to fruition.
That being said, can I honestly turn my back on watching the fight? Will I shell out what is likely to be anything between $59.99 and $100 to watch two legends of the game go at it?
Will I be ensnared in the build-up and pre-fight hype that is almost certainly going to be construed in order to seduce boxing fans across the globe into parting with their hard, earned cash?
I don't know.
Betting on the fight seems a more attractive option than watching it, however.
Betting on Mayweather vs. Pacquiao II
See an opportunity to make some money on Mayweather vs. Pacquiao part 2?
I certainly do.
I also believe that there is a lot to be learned from the previous fight. After all, both men are not getting any better. Mayweather and Pacquiao are both in their 40s. With age, attributes fade. That's a given.
As such, you should consider the individual attributes that define both fighters when betting on the Mayweather vs. Pacquiao rematch.
Even though it's been almost four years since the first bout, there is definitely a lot to learn from that contest.
Is Pacquiao's speed going to provide problems for Mayweather? If it didn't in 2015, it's unlikely to now.
Will Mayweather's impregnable defense be as impervious this time around? In 50 fights, it has been watertight. What are the chances of a 40-year-old Manny Pacquiao gaining the upper hand this time?
When betting on the fight, these are very basic things to take into account. Of course, watching the first fight between the two is going to give you the knowledge you need when placing your bets on the rematch.
Why? Well, the fight is pretty much going to go the same way as the first encounter and practically every other one of Mayweather's fights in the past decade.
Where Is the Value?
At odds of -250, a bet on Mayweather might not indicate value. When we consider the prowess and technical superiority of the 50-0 legend, things start to look a bit better.
Any fight featuring Manny Pacquiao at odds of +200 is always worth a look. However, backing against Mayweather has never, ever worked out for any gambler. Not once.
As such, I am inclined to say that the only bet worth thinking about here is on Mayweather.
Mayweather vs. Pacquiao II – The Prediction
So, let's assume that the fight is set to be announced within the next couple of months.
That is a fair assumption, given the age of both men and the fact that they will want to get this one done as soon as possible. As their first fight clearly demonstrated, both men are capable of coming to an agreement. It will happen, even if it is not as straightforward as the negotiations prior to the 2015 bout.
Speaking of straightforward, in terms of predictions, I believe this fight is among the easiest out there to forecast.
Mayweather is now 42, making him the (slightly) older fighter, but he has not taken as much punishment as Pacquiao.
The Filipino ring legend is, in that case, more aged in an athletic sense. Although he looked good against former Mayweather protégé Adrien Broner in his last bout — a fighter that was the perfect tune-up for a second crack at "Money" — he is nowhere near powerful or fast enough to trouble his rival in a rematch.
As such, I expect Mayweather to deal with everything that Pacquiao has to throw. He'll demonstrate his positioning, footwork, distance management, and superb ring IQ throughout the 12 rounds against Pacquiao.
"Pac Man" landed just 81 of 429 punches in the first fight, and while I expect him to be slightly more successful this time around, he will be lucky to win more than three rounds on the night.
Mayweather will use his defensive genius to evade and frustrate Pacquiao. He will be aware of the threats that the 40-year-old brings but will have ample answers to the questions he asks of the former pound-for-pound number 1.
Just as in their first meeting, Pacquiao will find it very hard to close the distance against Mayweather. When he does cut off the ring, Mayweather will use his nous to evade Pacquiao's blitzes by bobbing, weaving, and holding.
This fight doesn't sound too exciting, does it?
Mayweather landed 148 of 435 punches in the first bout. He rarely threw anything other than jabs and his esteemed straight right, especially on the occasions where he was under pressure.
More than anything, I believe this fight will be as close to a carbon copy of the first match as you can get.
Expect Mayweather to refuse to display any aggression against Pacquiao and to work his way towards a unanimous decision with surgical precision.
PICK
Floyd Mayweather Jr. to Win
-250
Final Thoughts
Against popular opinion, I actually enjoyed the first fight.
Well, not as much as I would have if it went down in 2009 or 2010.
What I did like was watching Mayweather's defensive masterclass, or should I say, the boxing geek inside me did. I had little to no expectations of the fight being a classic — and it certainly turned out to be nothing in the form of a great contest — so I was not as disappointed as many were.
Especially the casual fans who expected some kind of brawl or punch fest.
I believe this fight will be another let-down to fans who expect things to be different, as, quite simply, it won't be.
Regardless of the pre-fight hype or narrative around Pacquiao's shoulder or re-emergence as a fighter that can finally beat "Money," I am expecting the same old story when the final bell goes at the end of a Mayweather fight — his hand will soon be raised in victory.