Hide Bonus Offers
| | | | | |
| --- | --- | --- | --- | --- |
| #1 | Bovada Sports | 50% Up To $250 | Visit Site | Bovada Sports |
| #2 | BetUS | 125% Up To $2,500 | Visit Site | BetUS |
| #3 | MyBookie | 100% Up To $1,000 | Visit Site | MyBookie |
| #4 | Everygame | 100% Up To $500 | Visit Site | Everygame |
| #5 | BetOnline Sports | 60% Up To $1,000 | Visit Site | BetOnline Sports |
Max Holloway vs. Frankie Edgar at UFC 240 – Full Betting Preview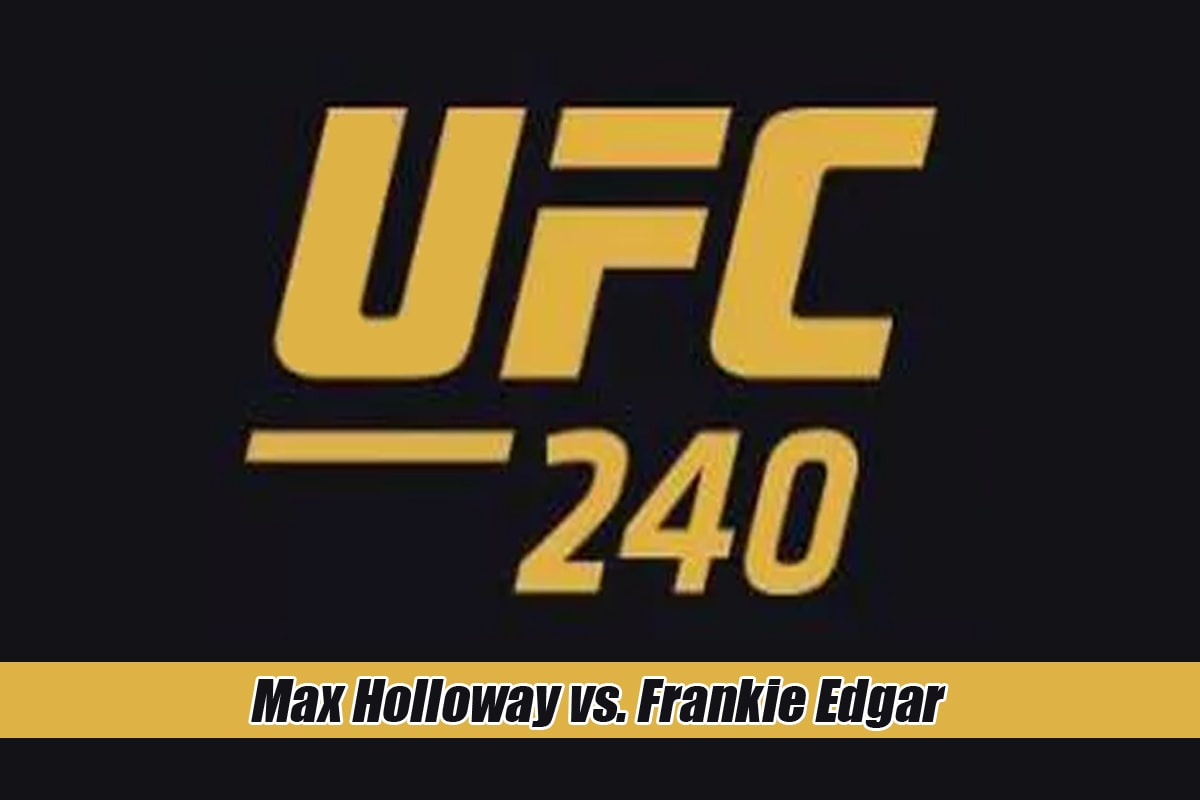 At UFC 240 on July 27, UFC featherweight champion Max Holloway will return to the division where he has made his home.
And Frankie Edgar will be waiting for him at the door like a trusty mutt, wagging his tail in anticipation.
Holloway lost to Dustin Poirier in his maiden UFC bout at 155 pounds and drops back down to defend his featherweight strap for the third time. The Hawaiian will be well aware that the former lightweight champion, Edgar, will be giving him anything but a warm welcome.
Edgar wants that belt. He wants it bad. And he's going to do everything he can to rip it from the clutches of Holloway.
So, with that in mind, ladies and gentlemen, we have ourselves a fight.
But is everyone pleased?
Ha! Not by a long stretch. Just don't mention the "V" name…
You see, some UFC betting fans will be more than excited at the prospect of this one, given that it was previously penciled in for both UFC 218 and UFC 222. Others will be a little pissed that Edgar — who is not the number-one contender — got the nod.
Why? Well, UFC fans are a funny old bunch. Fickle, at times, sure. But following and betting on MMA is rarely plain sailing, so you have to cut them some slack.
Even those dreaded "casuals."
Latest Holloway vs. Edgar Odds
The odds above come courtesy of MyBookie.ag, one of our highest recommended UFC betting sites. These odds are accurate at the time of writing though subject to change.
Naturally, my job is to make things a little easy for you guys when it comes to betting on UFC bouts. Yes, all of you. And I try my best to continually do just that.
While I can't petition the UFC matchmakers on your behalf to change Holloway's opponent, I can try to convince you why this one is a great fight to bet on.
These are two top-class fighters who fear nothing and no one. This is going to be a balls to the wall contest as long as it carries on. Why the hell wouldn't you want to watch this bout and get involved in the action? Have you asked yourself that?
To those of you who aren't aware of who Max Holloway (how has life been under that rock?) and Frankie Edgar are, allow me to introduce you to both.
Trust me, this will help you when betting on this fight.
Max Holloway – Breaking Down the Champ
Is there anyone who doesn't like Max Holloway?
The UFC's 145-pound king is such an extraordinary fighter, sure, but his attitude and demeanor also speak volumes about him as a person. He is the consummate professional and an absolute gentleman.
Holloway has lost one fight in his last 14. That, of course, came against Dustin Poirier at lightweight in their UFC 236 interim-title fight in April. Like many observers that night, I had the fight closer than the unanimous decision that was given to Poirier.
Still, how Holloway conducted himself after that bout was a shining example to other fighters who could learn a thing or two from one of the consensus best featherweights of all time.
Or the best featherweight of all time, if you want my opinion.
Striking
Max Holloway's game is built on striking first.
With solid boxing fundamentals and an excellent understanding of range, Holloway's basic jabs, straights, and body shots may not look like much on paper.
However, with an engine like a V8, the champ's pressure game and high-volume output can overwhelm his opponents. Given that he has torn through the featherweight division with the ferocity of a tornado, Holloway's style appears to be working, eh?
You can expect Holloway to be aware of Edgar's solid boxing in this bout and will be using feints and rolls to close the distance. Holloway will then look to utilize his jab, cross, lead hooks, and straights/hooks to the body to sap the older man's gas tank.
Although he used to kick a lot more in the past, Holloway still uses the roundhouse and spinning back kick. Both of these kicks are useful to anyone targeting the body, which is a key part of his game.
Defensively, Holloway is sound. His chin is solid, and his awareness of distance and range help him to no end.
Wrestling
Holloway is not known for his wrestling offense, but he is a very difficult man to take down.
His takedown defense is 83%, which is not too shabby at all.
His positioning and transference of weight are spot on, making it a difficult task to take him to the mat. His hip control and sprawls are always done well.
One thing that will play into the hands of Holloway against any aggressive wrestler is the champ's stamina. Wrestling takes up a lot of energy, but the Hawaiian can keep going and going… and going.
If you have gone a few rounds with Max Holloway, the chances are that he has been putting in a good shift on the body. Sometimes, it can be draining to repeatedly target him with wrestling.
That is if you can get him to the ground… from where he'll just scramble until he is back on his feet anyway.
BJJ
Holloway has two submission wins in his career, which came against Andre Fili in 2014 and Cub Swanson in 2015.
As you can probably guess, Holloway's submission game isn't among the most feared in the promotion. He is a BJJ purple belt and has a solid understanding of offensive and defensive fundamentals.
That said, we have not seen a great deal from his submission offense or defense in over five years.
I'm not sure we'll see much against Edgar.
Frankie Edgar – Assessing the Legend
Frankie Edgar will turn 38 in October, so it's fair to say that we may not have much time left with this MMA icon.
You can bet that this will be the last time Edgar has a chance of winning another title, too. It's painful to think that the former 155-pound titlist is approaching his final days in the promotion.
Yup, sad times indeed.
Although, on the flipside, if Edgar manages to beat Holloway — a fighter that is 10 years younger than him — he will join the elite club of UFC two-weight champions.
Edgar has had opportunities for gold at 145 pounds in the past but ultimately lost in his efforts to win the title (proper) and interim title against Jose Aldo.
This fight is a great opportunity for Edgar to show what he's got.
Striking
Edgar has been one of the consistently best boxers in the UFC over the past decade or so.
A slick boxer, Edgar's striking strength lies in his ability to throw solid right hands, hooks, and body shots behind a very cultured jab. His circling and angles of attack give him an edge over many in the division.
I have always liked how Edgar retains composure and patience before picking his shots and mixing them up with some solid takedowns.
While he is 37, Edgar's style of fighting is very efficient when it comes to using energy. He will need to use his strong footwork and defensive prowess to have any chance of getting to Holloway.
Quite simply, Edgar will have to be at his best to disrupt Holloway's rhythm on July 27.
Wrestling
MMA fans are more than aware of Edgar's wrestling skills.
A collegiate wrestler, Edgar has also proven himself on the floor against many of the promotion's best fighters. The New Jersey native was a collegiate wrestler who made the nationals every year in college and also worked as an assistant coach at Rutger's University.
He knows a little about wrestling.
In MMA, however, closing the distance and getting your opponent down is not something that is always easy to do. Still, Edgar's smart wrestling can often give him just the ticket.
While fond of the single leg, Edgar has a very convincing double leg takedown, too, which he tends to use when an opponent is bursting forward. Holloway will need to be careful when advancing, in that case.
BJJ
Just like Max Holloway, Edgar's last submission win came against Cub Swanson. "The Answer" subbed Swanson in 2014 and hasn't registered one since.
Unlike Holloway, Edgar is a black belt in BJJ under Ricardo Almeida. He has also been known to train with legendary jiu-jitsu wizard Renzo Gracie.
Edgar is known for his guillotine and has this particular skill down to an art.
Defensively, Edgar is an incredibly difficult fighter to sub. I can't really see Holloway even considering bringing his opponent to the ground, however, so the older man will not have too much to worry about in this department at all.
Betting on Holloway vs. Edgar
So, there you have it. I hope you feel like you know both fighters a little better now.
Just don't get creepy and start emailing them for favors or turning up at their doors like a long-lost uncle. These guys are fighters, after all, so play it safe, okay?
Now that we've got that out of the way, you're probably going to want to know who I think will win this fight, right? You want me to tell you who is going to win what could be an absolute war between two of the promotion's biggest fan favorites.
Well, I will say this — I can see both men capable of causing the other damage.
The key factors in this fight are going to be as follows.
Edgar's reach disadvantage and how he gets inside of Max
Holloway finding his rhythm early and piecing Edgar up
If Edgar can deal with the intensity Max brings
If Frankie can land takedowns against Holloway and stifle him
The age gap between both guys
While I'm a huge fan of both fighters, I just don't see things working out in Edgar's advantage.
Holloway will be keen to get back into the winning column following his first loss since 2013. I don't think he will have an easy fight but will outwork the New Jersey native with volume and varied head and body shots.
Edgar's age is against him here, as is his reach.
Holloway is a tough cookie, but he is also a master of deception when it comes to pacing and range. He creates opportunities out of pressure and usually overwhelms his opponents by giving them no time to breathe.
He is comfortable on the back foot, too, and is capable of catching Frankie on his way in and potentially hurting him.
Look, Edgar got knocked out for the first time in his career against Brian Ortega last year, and I can see him potentially being stopped in this one. It all depends on how well "The Answer" can respond to the questions that Max Holloway asks of him.
This could be the last time we see Frankie Edgar inside the Octagon. If that is the case, let's hope he goes out like a warrior.
Final Thoughts
Max Holloway and Frankie Edgar are two of the true good guys of MMA and as tough as they come.
Having seen two previous matchups fall through between these guys, fans will be hoping this one goes through without any snags.
The UFC featherweight title has been in the possession of Holloway since June 2017, and Edgar is looking to give it a new home. The only problem is that I can't see that happening.
Hey! I love Edgar, so don't read this in that tone of voice…
At UFC 240 on July 27 at Rogers Place in Edmonton, Alberta, we will see who leaves with the featherweight strap.
Looking for a fight a little sooner? Why don't you check out my Amanda Nunes vs. Holly Holm betting preview?