Hide Bonus Offers
| | | | | |
| --- | --- | --- | --- | --- |
| #1 | Bovada Sports | 50% Up To $250 | Visit Site | Bovada Sports |
| #2 | BetUS | 125% Up To $2,500 | Visit Site | BetUS |
| #3 | MyBookie | 100% Up To $1,000 | Visit Site | MyBookie |
| #4 | Everygame | 100% Up To $500 | Visit Site | Everygame |
| #5 | BetOnline Sports | 60% Up To $1,000 | Visit Site | BetOnline Sports |
Sports Betting Tips: Matched Betting Using Free Bets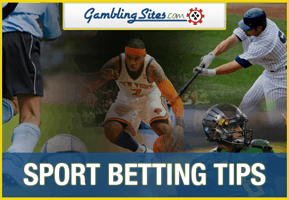 I'm often asked about matched betting using free bets, and whether it is really possible to make a guaranteed profit from it. Although the answer is yes, it's not something I generally encourage. In my view it's simply too much effort for the potential returns. However, I have first-hand experience that suggests plenty of people are interested in the technique so I thought I'd write a blog post about it.
If you're not familiar with matched betting, don't worry. I'll explain exactly what it is in this post, and also provide a step by step guide to what you need to do to guarantee a profit from using this technique.
Please note that this post is targeted primarily at our British readers. If you're from another region you may still be able to take advantage of this technique, but it depends on the sign up offers at betting sites you can join. If you live in the United States, for example, the sign up offers available to you tend to work differently and are not really suitable for this process.
What Is Matched Betting?
Matched betting is effectively betting on both sides of a possible outcome (i.e. betting that it will happen and also betting that it won't). A simple example is betting on a soccer team to win a match, and then betting on that team not to win the same match. Obviously this doesn't make a lot of sense on the face of it, but it's a technique that can make a guaranteed profit when used in the right way.
For matched betting to be effective, you need to combine the technique with the use of the free bets that some online betting sites offer to new customers. These are offered as an incentive to encourage you to open an account, and they are technically not really "free" as you have to risk some of your own money to get them. However, with matched betting you can actually remove the element of risk and make some money.
What You Need To Do
I'm going to try to keep this guide on what to do as simple as possible rather than go into any kind of in-depth detail. It should be enough for you to understand exactly what's involved though, and I'm going to use real examples to demonstrate that matched betting really can guarantee profits.
Step 1 – Join a Betting Site with a Free Bet Offer
To start with, you need to join a betting site which has a free bet offer. Please note that this must be a site that you don't already have an account with. For the sake of this example I'm going to use William Hill. This is a very well-known and reputable betting site that is actually one of our top recommendations.
The free bet offer at William Hill changes from time to time, but you currently get two £10 free bets for placing an initial bet of £10. You can visit the William Hill website here, where you will find instructions on how to join and claim the free bet offer. You'll then need to make a deposit after you've opened your account.
Step 2 – Place Your Initial Bet
Now you need to place your £10 bet in order to qualify for the free bets. There are some upcoming soccer matches that should serve the purpose just fine. This is how the betting markets look at the time of writing this post.

It doesn't matter a huge amount what you choose to bet on here, providing the odds are not too high (you'll see why shortly), as you're not specifically trying to win this bet. I'm going to go for a bet on Swindon to win their match against Sheffield United.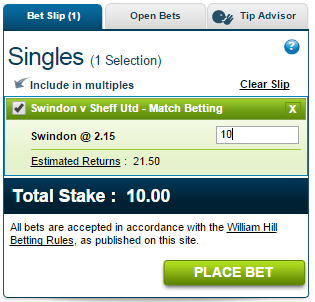 As you can see from the above screenshot, there's a potential return of £21.50 (including the initial stake). At this point, you would stand to win £11.50 if Swindon wins or lose £10 if they don't.
Step 3 – Lay the Same Bet
This step is where things get a little more complicated. What you now need to do is lay the bet you've just made. Laying is basically acting as the bookmaker; taking a bet at agreed odds and being liable for the potential winnings if the bet should win, but winning the initial stake if the bet should lose. By laying Swindon to win, you'll stand to lose money if they do win. You're effectively betting against them winning.
You'll need to use a betting exchange, such as Betfair, to lay this bet. The market for Swindon against Sheffield United currently looks like this.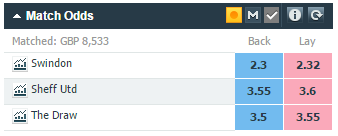 You'll see that the odds are higher here than at William Hill. This is usually the case at Betfair, but you do pay a commission on any winnings you make. The reason I earlier suggested placing the initial bet at low odds is because there is typically only a small difference between a bookmaker's odds and Betfair's odds when the odds are low. Ideally, you want the difference to be as small as possible as this can increase your guaranteed profits.
You'll want to lay Swindon at £10, to match the initial £10 bet made on Swindon to win.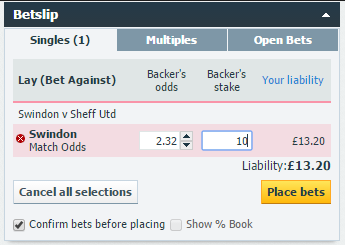 By laying this bet, you'll have given yourself a liability of £13.20. That's how much you'll lose if Swindon wins. You'll have the £11.50 winnings from William Hill to offset that though, so your total losses will only be £1.70 (£13.20 – £11.50).
If Swindon doesn't win however, you'll win the £10 you've laid less Betfair's commission of 5%. This will give you a £9.50 win at Betfair, but a £10 loss at William Hill will mean a total loss of £0.50. So whatever happens you're going to have made a loss at this stage. However, once the match is over you'll have earned your two £10 free bets at William Hill for a net cost of either £0.50 or £1.70. It will then be time to move on to the next step.
Step 4 – Use the Free Bets
The idea now is to use the above technique of betting on an outcome and then laying that same outcome on the exchange, but using the free bets you've just earned. This is where you can make your guaranteed profits.
You must now find two similar opportunities to the Swindon versus Sheffield United match. You can then place your two free bets with William Hill on the outcome of these different matches, and lay a smaller amount on those two outcomes at Betfair. Whatever happens, you're going to make some money. There are two upcoming matches which will work for this; Tottenham versus Hull and Southampton versus Aston Villa.
William Hill's odds on Tottenham winning are 1.65, and you can lay Tottenham at Betfair at odds of 1.79. Your first free £10 bet at William Hill will give you a potential win of £6.50, with no potential loss as it's a free bet. A £5 lay at Betfair will give you a potential loss of £3.95, and a potential win of £4.75. The following outcomes are possible.
Tottenham wins. £6.50 win at William Hill, £3.95 loss at Betfair. Net win of £2.55.
Tottenham doesn't win. £0 loss at William Hill. £4.75 win at Betfair. Net win of £4.75.
William Hill's odds on Southampton winning are 1.70, and you can lay Southampton at Betfair at odds of 1.85. Your second free £10 bet at William Hill will give you a potential win of £7.00, with no potential loss. A £5 lay at Betfair will give you a potential loss of £4.45, and potential win of £4.75. The following outcomes are possible.
Southampton wins. £7.00 win at William Hill, £4.45 loss at Betfair. Net win of £2.55.
Southampton doesn't win. £0 loss at William Hill, £4.75 win at Betfair. Net win of £4.75.
The worst case scenario here is that you lose £1.70 on your first bet made in Step 2, then win the smallest possible amounts in Step 4 (£2.55 x 2 = £5.10), for a total win of £3.40. The best case scenario is that you lose £0.50 from Step 2, then win the largest possible amounts in Step 4 (£4.75 x 2 = £9.50) for a total win of £9.
Is it Worth It?
I deliberately kept things simple in my guide, but if you are prepared to go to a bit more effort to find better opportunities and work out the optimal amounts to lay at Betfair then you may be able to guarantee better results than I demonstrated. A total return of £15 or even a little higher is perfectly possible. The whole process should take you less than half an hour, so it's not a terrible hourly rate by any means.
You can repeat the process at different betting sites too, and make guaranteed profits several times over. It's also worth noting that some sites offer bigger free bets, so you may be able to make higher profits at those.
Whether or not the time and effort is worth the returns is really for you to decide. I personally think you would be better off spending the time looking for good value bets and trying to make a profit that way, but if you're looking to make a bit of money without taking any risk then this technique is clearly worth considering.