Masters Power Rankings Update – Who Rose and Who Fell During the WGC-Match Play?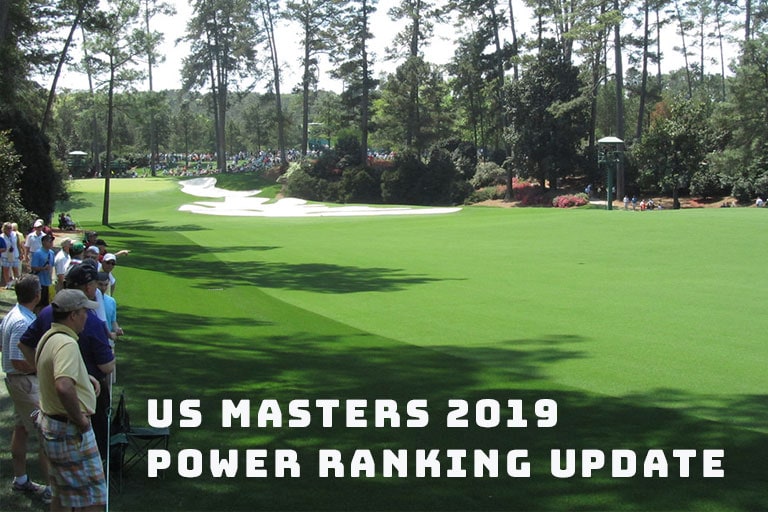 We're officially just one week away from the 2019 Masters.
Most of the household names you'd expect to contend at Augusta are taking the week off to prepare, while guys like Rickie Fowler and Jordan Spieth are trying to pick up some positive momentum in San Antonio.
I released the first iteration of my Masters Power Rankings last week, and I promise to create an expansive betting guide for the year's first major next week.
This week is about checking in on the PGA Tour and finding out whose stock rose and whose stock fell over the past several days.
Here are my updated Masters Power Rankings following the WGC-Match Play,
Last Week's Masters Power Rankings
This is what they looked like on March 28th.
Rory McIlroy
Dustin Johnson
Tiger Woods
Justin Rose
Justin Thomas
Jason Day
Rickie Fowler
Tommy Fleetwood
Jon Rahm
Brooks Koepka
Phil Mickelson
Paul Casey
Bubba Watson
Xander Schauffele
Adam Scott
Francesco Molinari
Jordan Spieth
Sergio Garcia
Hideki Matsuyama
Bryson DeChambeau
Certainly, Kevin Kisner's impressive performance at Austin Country Club has moved him into consideration. The humble 35-year-old from Aiken, South Carolina, is no longer a dark horse pick to win the Masters.
Perhaps I didn't respect Francesco Molinari enough when I originally pegged him as #16 on my initial Masters power rankings. He sure looked outstanding at the Match Play.
But there are some other names I want to get as well.
I'm Sliding Tony Finau into My Top 20?
Looking back, I may have made a mistake by not including Tony Finau in the first edition of my Masters power rankings that I introduced last Thursday.
Finau competed in his first-ever Masters in 2018, and many remember him for unforgettably dislocating his ankle after acing the 7th hole during Wednesday's par-three contest. But many of those same individuals forget that Tony inexplicably came out and shot 68 the next morning and was in a tie for second place.
Re-live that miraculous 24 hours in the short clip below.
More importantly, Tony wound up tying for 10th in his Masters debut, and the momentum he left Augusta with in 2018 is undeniable.
Level-par through 11 holes during the final round, the long-hitting Utah native birdied six consecutive holes (12-17) on the back nine on Sunday. If that doesn't prove that he knows how to make some noise when it counts, I'm not sure what would.
I love the fact that Tony rode three straight top 25s into the WGC-Match Play event, and I think playing this week in Texas will help him get in a groove.
If you have an account with MyBookie.ag, forget about betting on Finau at +4000 to win the Masters. You can latch on at +4500 instead.
Can We Trust Phil Mickelson at Age 48?
Slotted 11th in the early version of my Power Rankings, Phil's lackluster play since winning at Pebble Beach could warrant a move down a few notches. Perhaps I remove him from the top 20 altogether.
It's hard to get excited about a player who hasn't logged a finish better than 37th in more than six weeks. At the same time, Phil's history at Augusta is so spectacular that the form he enters with doesn't always matter.
We know Lefty has three green jackets on his resume already, and his 11 top-5s at the Masters are tied with Tiger Woods for the second-most of all time, trailing only the great Jack Nicklaus. But Phil isn't a young gun chasing his first major anymore.
Mickelson is now 48 and hasn't finished better than a tie for 22nd at the Masters since he was the runner-up in 2015. Phil's short game and course knowledge are the two things we can't ignore, but he's ranked 116th in strokes gained: putting and is searching to find something that works.
He has toyed around with a conventional grip while ultimately reverting back to "the claw," but it's obvious he hasn't been comfortable on the greens since the West Coast swing ended in mid-February.
We saw Nicklaus win the Masters in 1986 at the age of 46, and like Phil, Jack hadn't shown any signs of good play leading into the week. On the other hand, Mickelson will turn 49 in a couple of months, not to mention that the field is stacked with guys who are more than capable of being the last man standing.
As nice of a story as it'd be and as terrific as Phil has played at Augusta over the years, I can't seem to feel good about endorsing a bet. But if you can't help yourself and crave some action on Mickelson, head over to Bovada.lv.
You'll find Phil at +4000 to win the Masters, as opposed to +3300 and +3500 like he is listed at most online sportsbooks.
Is Louis Oosthuizen Worth a Look?
Whether you are talking about betting on golfers to win or discussing players to include in your DFS lineups, it's easy to want to flock to the popular names and the guys we love to root for.
That may mean the average American golf fan is going to gloss right over Louis Oosthuizen and not think twice. Here's why you shouldn't do that.
Oosthuizen has one of the prettiest swings on tour and seems to always hit the ball solidly. Louis ranks 4th in total driving and is actually chipping and pitching much better, clocking in at 5th in strokes gained: around-the-green.
Where the 2010 Open Champ tends to struggle is on the putting surfaces, where he ranks 150th in one-putt percentage and 102nd in three-putt avoidance. The good news is even Louis can get hot with the flat stick during a four-day period, plus we've seen him contend at Augusta before.
Oosthuizen lost in a playoff to Bubba Watson at the 2012 Masters, and he could have won it had Bubba not heroically played that miraculous hook shot from the pine straw on no. 10. Louis has landed in the top 25 four times in all at the year's first major, including a T-12th last year.
If you plan on playing the Masters Millionaire Maker on DraftKings, I recommend flirting with the idea of inserting Louis at $8,100. I reckon he won't be as high-owned as some of the guys at a similar price point.
Don't Sleep on Ian Poulter
Here are some discrepancies I can't help but reveal to all of you now.
Ian Poulter is listed at +6600 to win the Masters at BetOnline.ag, and he can be found at +8000 on XBet.ag. but if you head over to Bovada.lv, you can invest in Ian winning the Masters at the captivating price of +12500!
If you are searching for a golfer who has been playing tremendously all season, look no further than Ian Poulter. Looking for a dude who can make putts when it counts and has shown consistency on this layout before?
Ian is your guy.
In eight PGA Tour starts this season, Poulter has made all eight cuts and finished inside the 25 on six occasions. He played fantastically in the Middle East during the winter and has never finished worse than 33rd in five appearances at Augusta.
If you don't place at least a few bucks on Ian Poulter to win the Masters at +12500, you may want to rethink your betting process.
This is extreme value — and it's staring you right in the face!
My Updated Masters Power Rankings
You know how loaded the field will be next week at Augusta? Defending champ Patrick Reed didn't even make the cut for my top 20 contenders, nor did a red-hot Matt Kuchar. I'm sure Kevin Kisner will receive tons of attention after winning the Match Play, and I know Patrick Cantlay is on the radar of many.
For crying out loud, Henrik Stenson and Marc Leishman are guys that could undoubtedly win the 2019 Masters, yet you will see they are nowhere to be found.
The golfers who dropped out from last week's model are Hideki Matsuyama (19), Adam Scott (15), and Phil Mickelson (11).
I've replaced them with Louis Oosthuizen (20), Ian Poulter (15), and Tony Finau (13). Several others have played a bit of "musical chairs" as far as the pecking order goes.
Check out my updated power rankings directly below, with last week's rankings in parentheses.
Rory McIlroy
(4) Justin Rose
Tiger Woods
(2) Dustin Johnson
Justin Thomas
(7) Rickie Fowler
(8) Tommy Fleetwood
(9) Jon Rahm
(10) Brooks Koepka
(16) Francesco Molinari
(6) Jason Day
(14) Xander Schauffele
(NR) Tony Finau
(18) Sergio Garcia
(NR) Ian Poulter
(13) Bubba Watson
(12) Paul Casey
(17) Jordan Spieth
(20) Bryson DeChambeau
(NR) Louis Oosthuizen
You can see some minor fluctuation with some golfers while others remained intact. Just because Rory's putter let him down during his match against Tiger doesn't mean I'm going to have a knee-jerk reaction and demote him down my list.
McIlroy is still the man to beat in my eyes.
I swapped Justin Rose with DJ as I think Rosey's game is slightly better suited for Augusta at this point. For example, if you are playing DK and have to decide between the two, I think you are better off rostering Rose and saving the $500 in salary.
We're Almost There
It won't be long until the Golden Bear and the Black Knight are teeing it up on the first hole at Augusta for their ceremonial tee shots. Once Jack and Gary get those balls airborne, the 2019 Masters golf tournament will formally be underway.
There are going to be ample ways to bet on the Masters, and I plan on covering them all by the time next Thursday arrives. You can see what my power rankings look like now, although things could change pending on the outcome of the Valero Texas Open.
For example, you'd better hope Finau doesn't do anything too special in San Antonio. Otherwise, you can kiss his +4500 price tag to win the Masters goodbye!