Masters Millionaire Maker Preparation – Who to Ride and Who to Fade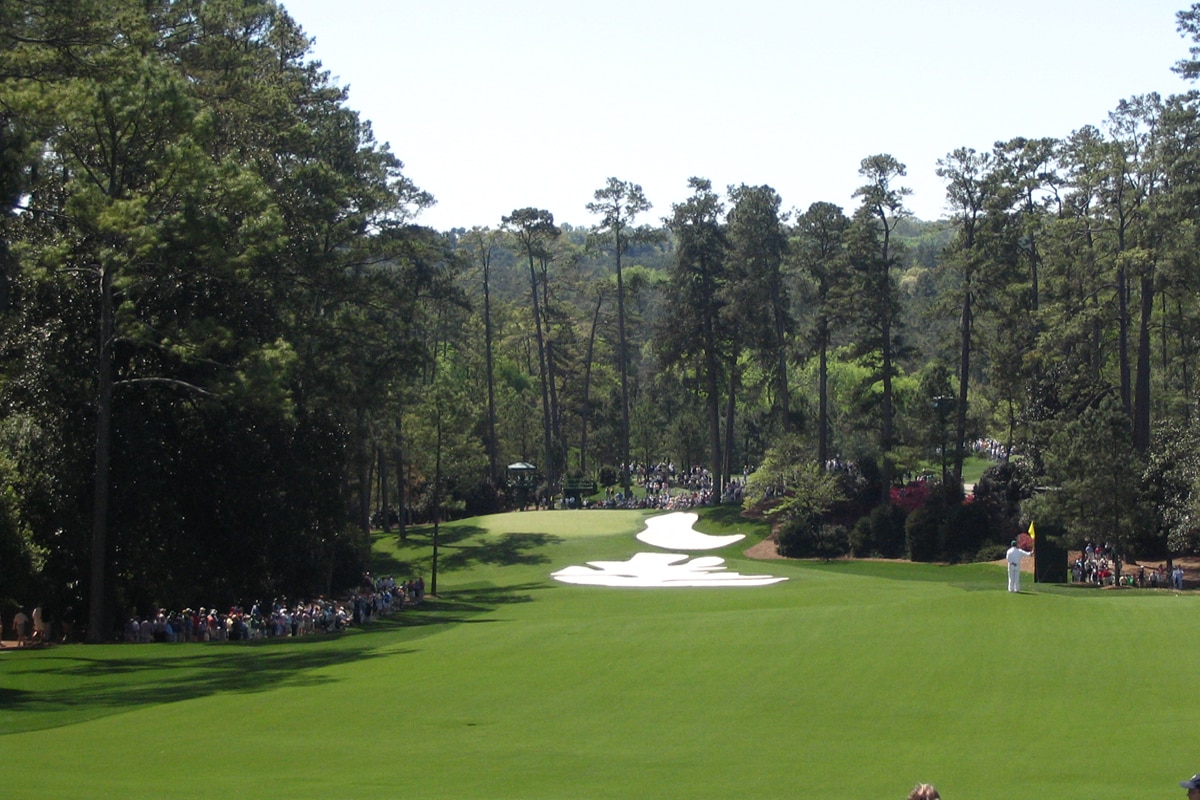 The Masters Milly Maker on DraftKings is back, and it's better than ever.
Imagine spending 20 bucks and having the chance to win $1 million — and all you had to do was pick six golfers you anticipate playing well at Augusta. Those of you familiar with playing GPPs on DK know all about how to set a lineup, while others might just be getting their feet wet in the world of daily fantasy sports.
I'm here to help you out no matter which category you fall into because we're all here for the same reason. We all want to create the best lineup we can and have a chance at the grand prize.
Everyone expects guys like Rory McIlroy and Dustin Johnson to contend for a green jacket. It doesn't take a rocket scientist to figure out that Tiger Woods and Phil Mickelson have tremendous course history.
But turning a profit and having a chance at a massive score requires you to nail some mid- and low-tier plays as well. In other words, where does all the betting value lie at the 2019 Masters?
Let's take a look, first starting with the names I like at the top.
Top-Tier Plays
Just 12 players are priced at $9,000 or higher, with Rory McIlroy's gaudy $11.6K price tag topping the entire board. If you want to check out my 2019 Masters power rankings, you'll quickly find out that I agree that McIlroy deserves to be the top dog.
However, that doesn't mean that rostering him in a large-field GPP on DraftKings is the most logical thing to do. When you combine Rory's price and expected ownership that promises to be bloated, you lock yourself into a situation where he essentially has to win the tournament in order to pay off value.
That's why as much as I love McIlroy's chances, fading him in the Millionaire Maker might not be the worst idea. Same goes for guys like Dustin and Tiger, and even Justin Rose and Justin Thomas. I expect the casual fans to flock to these first five names on the price sheet, which is why I recommend finding your "horses" in the next crop of golfers.
Jon Rahm – $10,200
Perhaps Jon Rahm hasn't won a PGA Tour event this season, but his consistency is something to marvel at. In eight starts since the calendar turned to 2019, Rahm has finished 12th or better an astonishing seven times.
Ranked second on the tour in strokes gained: off-the-tee, Rahm's ability to drive the ball long and straight should allow him to attack certain hole locations at Augusta National that the average player won't be able to access.
Rahm shot 10 under over the final 36 holes to finish 4th at the 2018 Masters.
Rickie Fowler – $9,700
The runner-up showing at the 2018 Masters marked the fourth time Rickie has logged a top-12 finish at Augusta in the last five years. Fowler won early in the season at TPC Scottsdale and added a second at the Honda Classic.
The fact that the 30-year-old California native skipped the Dell Technologies Match Play might bode well here, as many recreational DFS players fall victim to the "what have you done for me lately" idea a bit too much. Being that Rickie tallied a couple of pedestrian-like finishes in March (40th at the API, 47th at THE PLAYERS), we might be able to snag Fowler at depressed ownership.
Makes up for average ball striking stats with the flat stick. Ranked 7th in strokes-gained: putting and 9th in birdie average.
Brooks Koepka – $9,500
Zero top 10s at Augusta, and he missed last year's Masters, but don't expect people to suddenly forget that Brooks Koepka has won three of the last six majors he has participated in. Nothing really stands out statistics-wise in 2019, and he's coming off an MC at Bay Hill and a 56th-place finish at Sawgrass.
But this dude just seems to raise his concentration level when he shows up at major championships. I know Koepka's shot shape of choice is a baby fade, but he hits it plenty high and plenty far.
$9,500 could end up being a "major" discount.
Not among the betting favorites and listed as the 8th-most-expensive player on DK, watch out for Brooks when he has a chip on his shoulder.
Bryson DeChambeau – $9,300
Due to the anticipated popularity of some players directly above and below DeChambeau on the price sheet, there's a chance you can roster Bryson and be in the minority. The fact that he finished 38th last year during his first Masters as a professional could end up steering people away.
However, you should be interested in a guy who clocks in at fourth in total driving and second in par-5 scoring, not to mention has as much self-belief as any player on tour.
Bryson bounces back from a bogey with a birdie or better 36.23% of the time, the second-highest percentage on the PGA Tour.
Tommy Fleetwood – $9,200
Tommy might just be my early pick to win the 2019 Masters. The Englishman literally possesses no weaknesses in his game, and he's absolutely oozing to taste a victory on the PGA Tour. My biggest concern is that his recent string of stellar finishes might swell his ownership to the point where rostering him in GPPs becomes a bit dicey.
As of now, though, building your Milly Maker roster around Fleetwood as your "A" player still makes tons of sense. He's a full $1,000 cheaper than Justin Thomas and more than $2k cheaper than DJ.
Fleetwood is building a ton of momentum right now. He's ranked fifth in strokes gained: total.
Jason Day – $9,100
I'm more than okay if Jason Day ends up getting bounced early from the WGC-Match Play event. If people see that he withdrew at the Valspar and played sluggishly in Austin, there's a good chance those same individuals will be scared to click on his name when they're setting a Masters lineup on DraftKings.
While they're busy sleeping on the 31-year-old Aussie, I'm remembering that he's one of the best putters on the PGA Tour, on top of being ranked 6th in the strokes gained: off-the-tee department.
Already with a 2nd and 3rd under his belt at Augusta, Day has landed inside the top 28 in each of the last six Masters tournaments.
Paul Casey – $9,000
The fact that he's only $9,000 and he just won the Valspar Championship is likely going to make Paul Casey a fairly popular play.
What I like about Paul's potential at the 2019 Masters is the fact that he's one of the more dependable ball strikers around, and he has been killing the par fives this season.
Casey has top 20s in each of the past three Masters, and his confidence is riding higher than it has ever been.
Exploiting Value at the Mid-Tier Level
One of the best things about the majors on DraftKings is that we can find so many qualified and capable individuals priced way, way lower than they would typically be for a regular PGA Tour event.
I'll use the last two green jacket winners as a perfect example.
Sergio Garcia and Patrick Reed were valued at $10,100 and $9,500 respectively last week at the Valspar Championship. However, Reed is down at $8,000 for the 2019 Masters, and Garcia is discounted even more heavily, sitting at $7,700.
Allow me to point out the players in the mid-level tier ($7,500-$8,900) I believe can not only win the golf tournament but that also hopefully won't be extremely high-owned. This way, you can differentiate your lineup.
Hideki Matsuyama – $8,700
Think about this for a second. Masters winners Jordan Spieth and Bubba Watson are priced right above Hideki, and Francesco Molinari is available for $100 cheaper. Phil Mickelson is down at $8,300, and we know how much the general public loves to pull for Lefty at Augusta.
I'm thinking Hideki Matsuyama is going to be relatively low-owned in the Masters Millionaire Maker.
As much as everyone will tell you how important putting and chipping are at the Masters (and they most definitely are), hitting crisp iron shots and controlling your distance on your approach shots are absolutely vital to having success.
Matsuyama ranks second on the PGA Tour in strokes gained: approach-the-green.
Xander Schauffele – $8,500
Anytime the 9th-ranked player in the world is the 17th-most-expensive golfer on DraftKings, you need to at least consider the obvious value he presents.
In this case, Xander Schauffele has won twice already this season and has a knack for playing well in major championships. Despite only playing in seven majors total, Xander has already amassed a trio of top-six finishes.
Schauffele's well-rounded game is evidenced by being in the top four in the strokes gained: total category.
Sergio Garcia AND Patrick Cantlay – $7,700
Try rostering these two studs both in the same lineup — I think it has some merit. Garcia and Cantlay are the lone two golfers priced at $7,700, meaning many will find themselves in the predicament of trying to pick one over the other.
Sergio has won a green jacket and has quietly been gaining confidence. Patrick has an incredible amount of talent, and his stoic mannerisms bode well for dealing with the pressure and atmosphere of a major championship.
Try starting with both Garcia and Cantlay and try preserving a few hundred bucks. That'll make your lineup unique — something very important in large-field GPPs.
Gary Woodland – $7,500
Gary has played tremendously all season long, and he just won his first two matches in Austin. If he continues his rock-solid play and makes some noise over the weekend, his ownership on DraftKings during the Masters could become a bit extreme.
However, it's hard to ignore Gary at $7,500 when you take into account that he's sixth in greens in regulation (GIR) and second in birdie average. The dude can straight fill it up.
I should title this one "buyers beware" because Woodland has missed the cut in each of the last three Masters he has played.
Who Are Some Cheap Plays to Consider?
The number of highly-skilled golfers found lurking in the bottom tier of DraftKings for the Masters is quite astounding. In all likelihood, at least one of them, if not more, will wind up on page one of the leaderboard when the 2019 Masters comes to a close.
Here are three I'd keep an eye on.
Haotong Li – $ 7,200
Unless Haotong Li advances from pool play and makes a name for himself in Texas, the informal golf fan is going to look at his 2019 PGA Tour game log and find zero finishes inside the top 30. However, the 23-year-old Chinese golfer is more than capable of performing well on the big stage.
The two-time winner on the European Tour finished third at the 2017 Open Championship in just his second career start at a major.
Li placed 32nd at his first-ever Masters in 2018. He'll return with invaluable experience gained from his first time around.
Tyrrell Hatton – $ 7,200
I'm not a fan of his antics on the golf course, but it doesn't change the fact that Hatton recorded a pair of top 10s at the 2018 majors.
For someone who hits it this solid day in and day out and is extremely feisty around the greens, $7,200 seems like a bit of a bargain.
Tyrrell ranks sixth in the par 4 birdie or better stat and 11th in strokes gained: around-the-green.
Charles Howell – $ 7,000
You'll certainly need to be cautious of the exposure to Charles Howell III getting a bit out of hand on DK. I expected to see Charles priced much closer to $8,000, leading me to believe he's almost too valuable to pass up at just $7,000.
The fact of the matter is he's currently in the top five in the FedEx Cup Point standings, and he's second in GIR.
Few players have been as steady as Chucky Three Sticks has been over the last five months.
This will be Howell's first trip back to his stomping grounds since 2012 when he finished in a tie for 19th.
Closing out With Two High Risk/High Reward Plays
I see Kevin Kisner at $6,700, but I'm guessing many will flock to insert Kevin in at the back end of their Masters lineups. Other former green jacket winners like Danny Willett and Zach Johnson are among this price point, Charley Hoffman always tends to play well at Augusta, and Keith Mitchell will certainly be a popular play.
But if you can find a guy in the 1-3% ownership range who pops off for a top-10 finish, you have a chance to separate your lineup.
You can afford to be a bit risky with your GPP lineup as opposed to setting one for cash because the goal isn't to come in around the middle of the pack — not in these top-heavy massive-field GPPs. The goal is to create a lineup that combines sensibility and a bit of idiosyncrasy!
J.B. Holmes – $ 6,800
Holmes didn't play in the 2018 Masters, and he finished 50th in 2017. For those reasons, a lot of people don't recall that J.B. finished fourth during the first major of the year in 2016.
Holmes is wildly inconsistent and favors hitting a left-to-right cut shot — two reasons to want to steer clear of him at Augusta. But if J.B. catches a hot putter, he can make as many or more birdies than any guy in the field.
With Keith Mitchell and Charley Hoffman also looming at $6,800, the Milly Maker is the perfect time to roster J.B. Holmes.
Aaron Wise – $ 6,600
Aaron Wise has never competed in a Masters. Tiger Woods beat him on national television, and he got smoked by Patrick Cantlay yesterday afternoon.
Nobody is going to feel confident rostering Aaron Wise, which is exactly why you should be considering taking a shot on him at the Masters. Especially with Emiliano Grillo priced identically at $6,600, Wise makes a lot of sense in GPPs.
The 2018 PGA Tour Rookie of the Year ranks 10th in birdie average and bombs a high draw off the tee. He's the perfect boom-or-bust play to help fill out your Masters lineup.
It's Time to Set My Masters Millionaire Maker Lineup
There are infinite ways you can go about setting your lineup, which can either be a good thing or a bad thing.
The good news is we can be different and try out combinations of six golfers that may not be repeated. The bad news is it leaves us open to making multiple "mistakes" when deciding who to roster and who to leave out.
With all of that being said, some of you may only be taking one shot at this thing, meaning you're going to have to make some difficult decisions. Sadly, I live in a state that excludes me from participating on DraftKings, but if I could fire a single lineup into this thing, here's what it would look like.
Brooks Koepka $9,500
Tommy Fleetwood $9,200
Jason Day $9,100
Sergio Garcia $7,700
Patrick Cantlay $7,700
J.B. Holmes $6,800
I don't expect Brooks to be nearly as high-owned as anyone else ranked inside the top 5 in the world. I also suspect that Jason Day's recent slide should push a ton of people away.
Having both of the "$7,700 players" on board and throwing J.B. into the mix should give this lineup a chance to stand out.
After all, that's one of the main objectives in these things when it's all said and done!