Hide Bonus Offers
| | | | | |
| --- | --- | --- | --- | --- |
| #1 | Bovada Sports | 50% Up To $250 | Visit Site | Bovada Sports |
| #2 | BetUS | 125% Up To $2,500 | Visit Site | BetUS |
| #3 | MyBookie | 100% Up To $1,000 | Visit Site | MyBookie |
| #4 | Everygame | 100% Up To $500 | Visit Site | Everygame |
| #5 | BetOnline Sports | 60% Up To $1,000 | Visit Site | BetOnline Sports |
Marvelous Mahomes – From a Kid in Texas to the Face of the NFL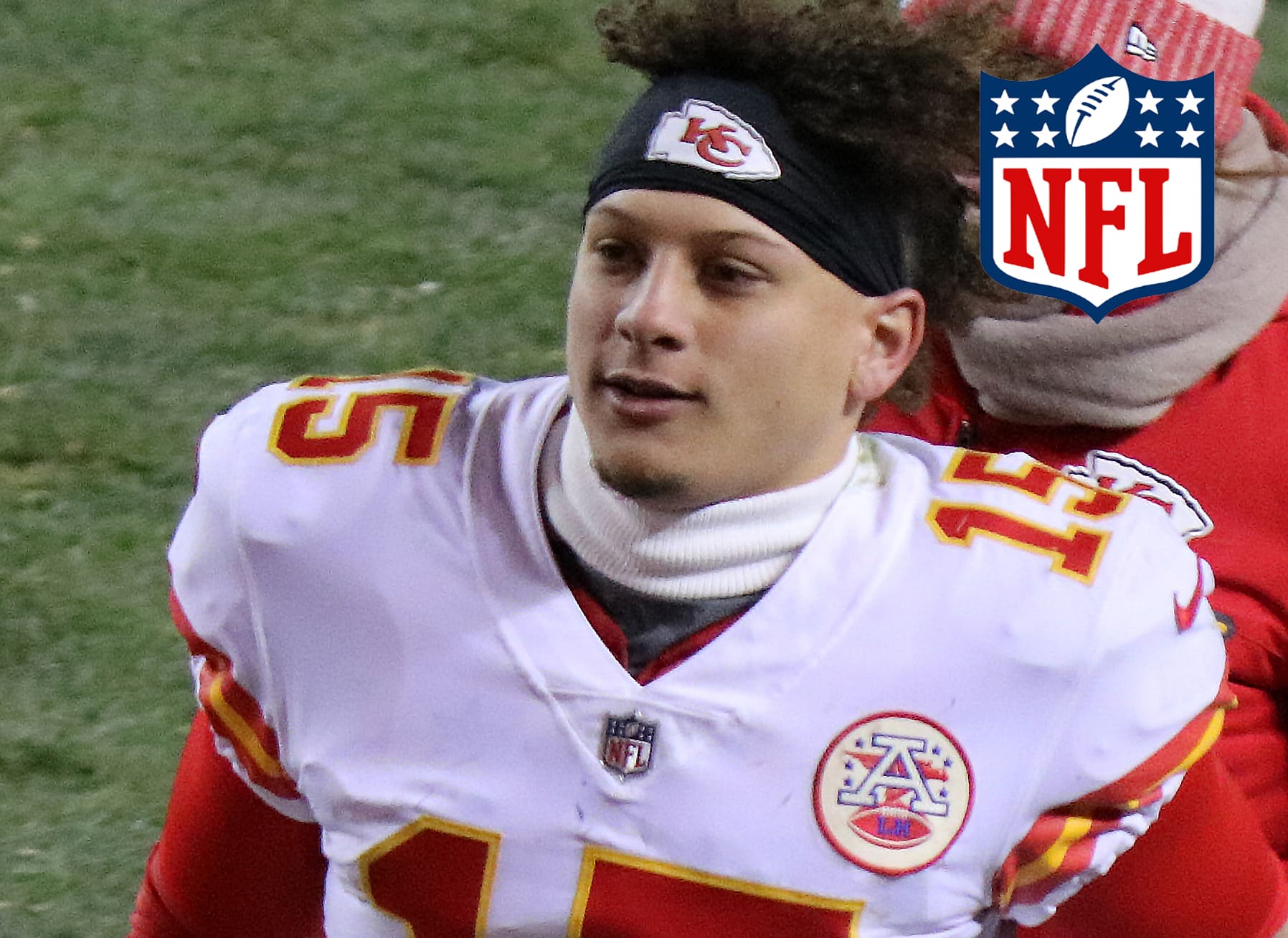 It won't become official until February 2nd, but the writing is already on the wall. And as far as I'm concerned, it has been known that Patrick Mahomes is going to win the 2018 NFL MVP Award for quite some time now, regardless of what any Drew Brees fans have to say.
Allow me to take you on the journey of how a kid born into a baseball family turned out to be the sickest flamethrower to step foot on the gridiron. Seriously, if you think Brett Favre had arm talent, I dare you to watch highlights of Patrick Mahomes.
It'll make Favre look like he's throwing a wounded duck. And if you thought Aaron Rodgers was endowed with a brilliant right arm, I've got news for you. Imagine if Aaron had an even stronger arm, better footwork, and provided more leadership qualities.
Only then would I feel comfortable comparing him to Patrick Mahomes. Trust me, folks, the 23-year-old Texas native is on a fast track to superstardom, and it's all unfolding before our very eyes.
Here's how it all came to be.
The Son of an MLB Pitcher
Patrick Mahomes grew up in Whitehouse, Texas, a tiny city about two hours east of Dallas.
Pat and Randi Mahomes knew their son Patrick had a special gift from a very early age. Perhaps from watching his father pitch in the Majors, Patrick had an affinity for throwing a ball, and it was obvious to those around him that he was destined for greatness.
By the time he was a senior prepping at Whitehouse High School, everybody else in the state of Texas started catching on as well.
The MaxPreps Male Athlete of the year in 2013-2014 played basketball, but it's what he accomplished on the baseball diamond and on the football field that made everyone around him take notice.
Like when Mahomes tossed a 16-strikeout no-hitter during his senior year, frequently seeing his fastball being clocked at 96 mph. And that was after he completed a fall season in which he threw 50 touchdowns and ran for 15 more, accumulating a whopping 5,567 yards running and throwing the football.
But despite his prowess throwing the pigskin, Mahomes was only given the tag of a "three-star recruit" and slotted as just the 12th-best dual-threat QB in his high school class.
And although the Detroit Tigers opted to draft Mahomes in the 2014 MLB Draft, he made it clear to the organization that his intention was to play football. And what a decision that turned out to be.
Texas Tech – 2014-2016
Mahomes was slated to be Davis Webb's backup during his freshman year in Lubbock, but those plans were nixed when Webb got hurt mid-season. During Patrick's second career start, which was against the Oklahoma Sooners, he threw for 393 yards and four scores and flashed his skills for the college football world to see.
He lit Baylor up in the final game of his freshman year to the tune of 598 passing yards and six touchdowns, and he's never really looked back since.
The 6'3" 230-pound specimen toyed with the idea of playing both baseball and football for the Red Raiders and was even utilized as a relief pitcher during his freshman year on campus. But by the time his sophomore campaign ended, it was clear that baseball was going to be placed on the back burner.
Over his sophomore and junior seasons playing football, Mahomes compiled a remarkable 9,705 yards and 77 touchdowns through the air. This included the unforgettable game against Baker Mayfield and Oklahoma when Patrick set an NCAA FBS record for most yards of total offense in a single contest with 819. His 734 passing yards that night tied the record set by Connor Halliday in 2014, and it still stands today.
But even with all these incredible accolades, many scouts were wary as to how his freakishly unique arm talent would translate to the NFL, given his other "deficiencies."
I actually went back and pulled up what some NFL executives had to say about Mahomes during his pre-draft process, and I must say, it's pretty amusing. Whoever was in charge of setting up his profile on NFL.com's combine page and had the nerve and audacity to compare him to Jay Cutler should be relieved of his or her duties immediately.
My favorite one was when an executive of a team in the NFC chimed in with this poppycock.
"He is going to drive his head coach crazy for the first couple years and there is no getting around that."
Let's ask Andy Reid just how crazy Mahomes has driven him and find out how that idiotic statement panned out.
Andy Reid Takes a Chance
Alex Smith had a career year in Kansas City under Andy Reid in 2017, statistically putting up his best numbers as a pro.
He even led them to the playoffs by way of winning the AFC West Division, and it was hard to fault Alex for anything he did. But even after throwing for more than 4,000 yards and exhibiting a wonderful 26/5 TD/INT ratio, Andy Reid still had the inkling inside that it was time to turn the program over to Patrick Mahomes.
It wasn't a popular decision at first, because as previously stated, Alex Smith was playing really solid football and leading his team to victories. But Andy knew deep down that Alex wasn't going to be able to get this team over the hump. He knew that in order to become a serious Super Bowl contender, he had to make a change.
Plus, the Chiefs had a QB-in-waiting who the front office was oozing with excitement to see take the field.
Chiefs current general manager Brett Veach, who was originally hired in Philadelphia by Andy Reid, was the lead scout for Kansas City in early 2017. And he wasn't just in love with Mahomes during the pre-Draft process in 2017 – he was completely infatuated. As Kansascity.com recently reported,
"With a certain gleam in his eye, Veach couldn't emphasize enough that Mahomes was 'special,' perhaps even transformational."
They traded up to draft Mahomes with the tenth pick in the 2017 NFL Draft, and it was clear that Mahomes was just waiting his turn to take control of the Kansas City offense. Patrick finally got the nod in a meaningless Week 17 game at Denver, and I guess you could say the rest is history.
His Magical 2018 Season
There were rumblings during the preseason that the Kansas City offense, under the direction of Andy Reid and with Patrick Mahomes under center, could be one of the highest-octane groups in the entire NFL.
But even the faithful fan base in KC couldn't have dreamt up what was about to happen. Here's Patrick Mahomes 2018 Regular Season by the numbers
5,097 passing yards
50 passing touchdowns
66% completion rate
8 passer rating.
Not a lot of commotion was made when he threw for 256 yards and four scores in a 10-point victory at Los Angeles (Chargers) to start the year, but things changed after a Week 2 victory at Heinz Field.
Mahomes scorched the Steelers for 326 yards and six touchdowns, turning the heads of nearly everyone associated with the National Football League.
Before we could even blink, two weeks into the season, Mahomes was already at ten touchdown passes and no interceptions. Another 300+ yard game with three more touchdowns and no interceptions in Week 3 against San Francisco, and he officially had caught the attention of all NFL fans around the world.
It was throws like this one below that got people like myself really amped up about what this kid was capable of doing.
By the time the Week 11 Monday Night showdown with the Rams arrived, Mahomes had the Chiefs sitting at 10-1 and atop the AFC Conference, and his passing stats could only be compared to a character you created in a video game.
Once he tossed six touchdowns against the Rams and another four in Oakland following the bye week, the "race to 50" was on.
And when his team needed him most, like they did when they were down 7 to Baltimore with under 90 seconds remaining, boy, did Patrick come through in the clutch. Tell me how many other quarterbacks could make this play on fourth down, because I don't see any.
Let me help you put Patrick's season in perspective because only two men had previously ever thrown for 50 touchdowns in a single season. And you may have heard of them. Their names are Peyton Manning and Tom Brady.
Some may point to the bloated passing stats in the NFL this season, but guess what?
No other quarterback even reached 40 TD passes this year, so don't try to take anything away from Mahomes' historical season.
I know it's a bit early, as the AFC Championship game at Arrowhead Stadium this Sunday against the Patriots will be just his 19th start as an NFL quarterback. But this dude has passed every test with flying colors and is only going to get better as he continues to develop his game and understand how to attack the different coverages.
When I think about his potential and where he might land in terms of ranking the best quarterbacks of all time, it's scary to think of how great he could wind up being. I know I've shown you a couple of his signature throws, and I'm sure they probably made you shake your head in disbelief.
But I actually saved the most impressive one for last.
If you are wondering why you don't hear Cris Collinsworth say anything right away, it's because he is stunned and speechless at the athletic ability displayed by Mahomes on that throw. Patrick found the open receiver, he contorted his body like he was made out of rubber, and he somehow came up with an arm angle to be able to pull this throw off.
Like Collinsworth, I too was left speechless.
The Future Is Bright
I'd like to rephrase that and say that Patrick Mahomes' future is "beaming with shimmering light." I can't say I have seen an NFL quarterback with this high of a ceiling and this much raw potential in, well, ever.
Understanding a bit of his background and how he arrived as the Chiefs' starting quarterback allows you to gain some context.
It reminds us all that even an excruciatingly large amount of hard work and complete dedication put into your craft doesn't solve everything. To be truly exceptional, it takes a God-given gift.
In the case of Patrick Mahomes, his right arm was his.