Hide Bonus Offers
| | | | | |
| --- | --- | --- | --- | --- |
| #1 | Bovada Sports | 50% Up To $250 | Visit Site | Bovada Sports |
| #2 | BetUS | 125% Up To $2,500 | Visit Site | BetUS |
| #3 | MyBookie | 100% Up To $1,000 | Visit Site | MyBookie |
| #4 | Everygame | 100% Up To $500 | Visit Site | Everygame |
| #5 | BetOnline Sports | 60% Up To $1,000 | Visit Site | BetOnline Sports |
Marshawn Lynch vs. Adrian Peterson: Who Will Be Better in 2017?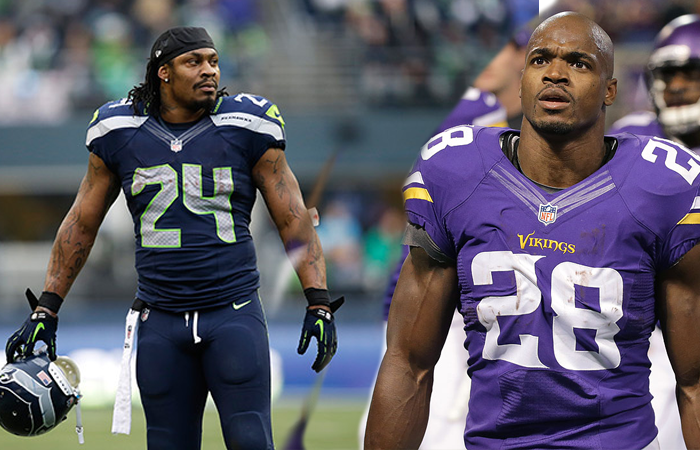 If we look back on both of their careers, there's little denying that Adrian Peterson was the more dominant running back compared to Marshawn Lynch. The gap isn't that wide statistically, however, while the man known as "Beast Mode" was arguably far more successful as a whole, helping his Seattle Seahawks get to two (and win one) Super Bowls.
Peterson wasn't without his accomplishments, as he has put up huge numbers (including a 2,000+ yard season) and helped the Minnesota Vikings get to the NFC title game at one point in his career. Both running backs have gone past the age of 30 at the pro level, however, and in 2017 will no longer be donning the jerseys that made them famous and saw them enjoy their finest seasons.
Both of these stud rushers won't just be in new cities (Lynch in Oakland and Peterson in New Orleans), but it's tough to know what to expect out of them. Peterson flamed out in 2016 due to injuries, while Lynch sat out of last season due to an early retirement.
Lynch decided to return to help his hometown Oakland Raiders get over the hump and make a run at a title, while Peterson didn't find many takers on the open market before finally latching on with the Saints.
Adrian Peterson vs. Marshawn Lynch Prop Bets
Even in their new situations and with some doubt surrounding them, it's fair to wonder which player will provide the bigger impact for their respective team and how each will do statistically. Better than just wondering or making bold predictions for bragging rights amongst your friends, we can actually make money betting on which of these two iconic running backs will perform better in 2017, thanks to some fun NFL prop bets at BetOnline:
Both Running Backs Lead Teams in Rushing Yards
This isn't a terrible bet to take, as Lynch looks like the top rusher for the Raiders and all Peterson needs is a Mark Ingram injury and he's the go-to runner in New Orleans. It's still a risky bet, however, as Ingram likely begins 2017 as the top back and the Saints traditionally use three running backs in specific roles throughout the year.
Peterson is a living legend and is going to be out to prove he still "has it", so this is a viable bet with some upside. He even fits this system perfectly. I just don't think both running backs are locks to pull this off.
Either Running Back Gets Traded During Season
Nobody even knew Lynch wanted to continue playing pro football a couple of months ago, while it looks like the Saints were the only team willing to sign Adrian Peterson after a disastrous 2016 season. The Raiders went out of their way to bring Lynch in, so they're not turning around and randomly trading him away.
Ditto for Peterson, who has no trade value at the moment. If either of these guys garnered trade value it'd probably be because they're wrecking and helping their teams win. It's highly unlikely either gets moved after latching on with their new teams this offseason.
Who Runs For 20+ Yard Gain First?
This is a weird one, because it could depend largely on luck and our only basis is how these guys both performed during the 2015 season. Lynch was actually hurt half of that year, so even that's not a fair way to assess this bet.
Regardless, in 2015 Peterson ranked third in the league with 10 runs of 20+ yards and Lynch ranked 69th with one. Lynch was far healthier the year before, however, when he ranked 11th with seven runs over 20 yards. Peterson can't be fairly judged for this season, as he missed 15 games due to a child abuse scandal.
Part of the problem is we don't know how explosive these guys truly are right now. Based on history and playing styles, though, Peterson is the obvious pick. You're not making much money off these odds anyways, so it doesn't make much sense to get cute by picking Lynch.
First Touchdown Scored
This one could easily go either way, as both of these running backs have a long history of success near the goal-line and in short yardage situations. Lynch holds the edge just because he's going to be playing for a better team, has a more locked in role and should have more opportunities.
All bets are off for the first score, however. Peterson could easily bust a long run for a score or spell Mark Ingram and punch one in on the Saints' first drive of the year. Lynch feels like the safer play, but Peterson is just as capable of winning you this bet and carries more playable odds. Chase the upside here with Peterson.
Longest Run in 2017
It's the opposite over here, as Peterson remains the more explosive runner with a much better history of long runs, but Lynch offers more upside with his odds. Besides, it's quite possible Peterson is limited by his role and natural regression due to age and injuries. Unless Peterson is the Peterson of old and busts off a ton of long runs in 2017, Lynch looks like a viable bet in this spot.
Most Rushing Attempts in 2017
Peterson (+44.5) -115
Lynch (-44.5) -115
There isn't much value either way in this bet, so we might as well just roll with logic, and that's Lynch having the more steady role with the better team. Peterson should still see 100+ carries if he's effective with the Saints, but New Orleans loves to throw the ball and has other running backs they'll want to use.
The only trick here is Lynch not only needs to finish the regular season with more rushing attempts, but he needs to finish with 45 more than Peterson. We can start to assess this bet by looking at how the Saints split up their running back carries a year ago – 205 for Mark Ingram and 133 for Tim Hightower. If Ingram is healthy and effective he should see a mild bump, while Peterson would take Hightower's role and could see 125-150 carries.
Lynch is coming to Oakland to be the Raiders' top rusher, which takes the place of the old role Latavius Murray had (195 rushes in 2016 and 266 rushed in 2015). Lynch has been a monster workhorse in the past, but due to his age and mileage the Raiders might try to keep him somewhere in between where they've had Murray the last two years. Of course, Lynch could go all out with the knowledge that he will be playing just one or two more years and the Raiders could try to ride him to a title.
Either way, a conservative estimate should have Lynch easily topping Peterson's carry total. The only way that changes is if Peterson is way too good to keep off the field, Lynch gets hurt and/or Ingram goes down with an injury. There isn't any betting value with this bet, but Lynch is the logical choice.
Most Rushing Yardage in 2017
Peterson (+174.5) -130
Lynch (-174.5) +100
If we are to assume Lynch is in line for a bigger role than Peterson, we can probably expect a considerable edge in the rushing department, as well. Peterson was also not effective and couldn't stay healthy last year, so we're asking a lot for him to top Lynch's production in virtually any regard this season.
This isn't that big of a gap, either, as this bet is only asking Lynch to top Peterson by 175 yards. For some reason that still gives us a playable bet with some upside, so it's the easy call.
Most Touchdowns Scored in 2017
Peterson (+2.5) -130
Lynch (-2.5) +100
The last Lynch vs. Peterson prop bet comes down to touchdowns and who will score more of them in 2017. Peterson is absolutely in play due to a rich history of scoring touchdowns, both from big gains and short plunges.
Peterson is a viable bet here, but he wasn't good in 2016 and has his work cut out for him in a lot of respects to prove his critics wrong going into 2017. He has added competition in a less friendly environment than Lynch and it's arguable that Lynch will be more well rested and ready to produce at a high level after spending 2016 out of football.
With the bigger role in the better setting, Lynch is a solid bet to score more touchdowns than Peterson in 2017. Better yet, you even get solid value here and all Lynch needs to do is score three more times than Peterson this year.
Super Bowl Odds
One other bet we can consider that involves both running backs is just how big of an impact either will have with their new team. Can Peterson's bruising and explosive running turn the Saints into a legit title contender? Will Beast Mode get the Raiders over the hump and into serious title contention?
It's tough to know, as running back wasn't the only concern for either the Saints or Raiders. Oakland still has a maturing defense and has to worry about getting past the Patriots and Steelers once in the playoffs, while the Saints also have had major defensive issues and also need to find a way to win consistently on the road.
Peterson doesn't feel like a missing link for a Saints team that already had a strong offense and could run the ball with Mark Ingram. He might give their Super Bowl 52 odds (+4000 at Bovada) a slight boost if all goes well, but Lynch will probably be needed more and joins a team that already is being looked at as a potential title threat (+1200 Super Bowl odds).
Of the two, Lynch is setup to have a bigger impact and should have a greater chance of helping his team get to or win a title this year.