March Madness: 5 Simple Ways to Win Your Bracket Challenge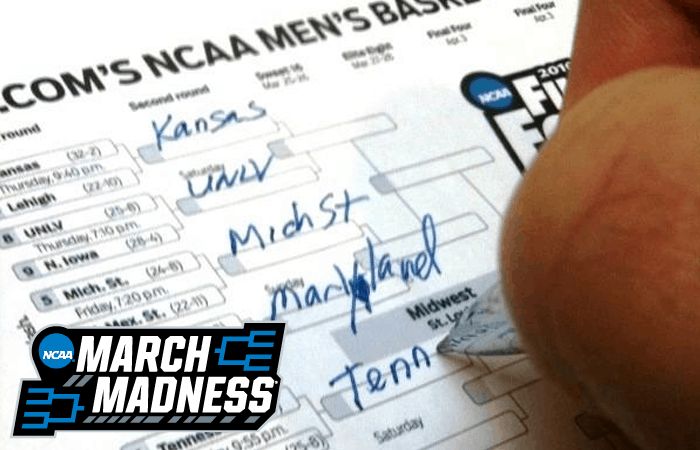 March Madness gets its name for a litany of reasons. The most obvious is the ups and downs of the best tournament in sports, with some of the best teams being toppled early by unlikely underdogs.
That gives way to magical "cinderella" runs through the tournament and can even result in a low seed defying the odds en route to the Final Four.
It also can be applied to the craziness of the March Madness betting world, as favorites drop like flies and wild underdogs can deliver huge wins.
This tournament can flip the script as is, so make sure you're also protected by using the best March Madness betting sites the internet has to offer:
The other way March Madness lives up to it's ever so fitting name? The process of filling out a bracket and watching it stay alive longer than expected or get busted with the very first game of the tournament.
The latter is the one that applies to everyone. Whether you have rooting interest in the Final Four tournament or have money tied into a specific wager, chances are you've at least filled out a March Madness bracket just for the fun of it.
Fortunately it's not just for fun these days, as all kinds of companies and websites offer huge tournament promotions with big cash prizes. You can even join a variety of March Madness league pools where you compete against friends, family and/or people you don't even know.
The end game is always the same; get as many picks correct as you can so you get a score high enough to either place in the green or actually win your entire pool.
Depending on what your pool awards for prizes, your earning upside can be vastly different.
What's always the same, however, is the desire to nail as many picks as possible. Here's five NCAA tournament bracket tips to help you do that en route to winning your bracket challenge this year:
Don't Bet Against #1 Seeds
No 16-seed has ever taken down a #1 seed in the history of the Final Four tournament and it's probably not going to happen anytime soon.
It seems each season does produce a new 1-seed that could be weak enough to finally break this streak, but the talent gap is usually so massive in these spots that it would take an unreal performance from the underdog and a terrible showing from the favorite for it to happen.
Even when that has happened, the #1 seeds till pull it out due to superior coaching, way more talent and the natural drive to avoid being the first #1 seed to suffer this unfortunate fate.
I'm sure the future will bring a crazy upset with a 16-seed over a 1-seed down the road, but it's not something you want to start your bracket with.
Don't Ride Them Blindly, Though
While you can pretty much auto-pick your four #1 seeds into round two, you do need to hit the pause button for a second once you get to that point.
History has seen the top seeds fall as quickly as that second game, while many have been taken out well before the Final Four over the years.
That being said, the top seeds have earned their way to those seeds due to their elite talent, impressive records and tough schedules. They usually really are the best teams in the nation and the odds are good that at least one of them will make it to the Final Four.
Suffice to say, betting against #1 seeds just to pull for upsets probably isn't a winning strategy.
Back the top seeds early and slowly start to map out where their path to the championship could feasibly go wrong.
You can have one falling in round two or three and another falling deep into their regional, but picking three or four to fall well before the Final Four probably isn't the best way to rack up points in your March Madness bracket challenge.
Pay Attention to Regions
One thing that often gets overlooked is precisely how the Final Four tourney is set up. The top seeds (not just the #1's) tend to be favored when it comes to who they're playing, but also where.
This can't possibly be the case with everyone, but the people responsible for creating the brackets do try to give the better teams a deserved edge. They're the superior team and are supposed to win, so it only makes sense that their early games (and some later on as they advance) would feel like borderline home games.
Whether that benefit kicks in right away or as the tourney marches on, you'll want to factor in which team has an edge in regards to where the game is.
If that's a massive favorite, the odds are pretty decent they're not going to lay an egg in front of the home crowd.
If the underdog is the one with more fans flocking in and they're better rested due to less travel and familiarity, that could be one good reason to convince you for picking a surprise upset.
Star Players Don't Always Win
There are bound to be star players taking down the nets in the Final Four each year. The best teams that become champions do have amazing players, after all, so one way or another, stars do win.
That being said, there is a long history of some of the most iconic basketball players and some of the best teams falling woefully short on college basketball's biggest stage.
For every Carmelo Anthony or Michael Jordan that led their team to a national title, there might be 20 more guys like Kevin Durant, Jimmer Fredette, Stephen Curry and so many others that didn't.
Aside from just big names, the thing you want to avoid is targeting teams simply because of one big name player.
These high volume players drum up draft chatter, create interest in their respective team and play a huge hand in getting their team into the tourney.
However, once the games start, the better overall teams and the ones that go the farthest are the ones that can collectively shoot the lights out, defend and come up big in the clutch.
The more a team relies on just one guy to get the job done, the less likely they are to advance very far.
The NCAA basketball tournament is about as tough as sports can get, so putting all that pressure on one elite scorer just isn't fair. And in the end, it rarely leads to much winning.
Needless to say, picking teams just because they boast elite scorers or a big name player could be a losing strategy.
Matchups Tell the Story
One other huge key to accurately predicting your March Madness bracket is paying close attention to the matchups.
Size, outside shooting, defense, pace, strength of schedule and free throw shooting are all massive pieces to the puzzle when correctly nailing upsets or picking between two giants.
Usually when you see a powerhouse like North Carolina, Duke or Villanova, you feel inclined to click them through, pretty much regardless of who they're facing.
However, if these teams face a team that runs a similar style of offense, can shoot from long range and is bigger or plays stingier defense, there might be a problem here.
Just like you shouldn't be making picks solely based on star talent, you can't even rely on school recognition, records or trends just as blindly, either.
The data really can help in some of these matchups and even when the favorite still pulls out the win, you can see just how useful the numbers are when those games end up being rather tight.
Dissecting the matchups won't always lead you to a win and it surely won't lead to a perfect bracket, but putting in the extra work does keep you informed. The more informed you are, the better chance you have to nail the upset nobody else sees coming.
Pick Your Spots Wisely
Lastly, once you go over all of the information and factor in these March Madness bracket tips, you're going to want to be careful as to how and when you take out top seeds.
You probably will want to take a chance or two on some high seeds falling as early as round one, but overloading on upsets is a bad idea. Not only are you likely to get too many of them wrong, but sometimes the first round isn't as crazy as fans want it to be.
If you're not buying a ton of first round upsets, stick to your guns and fight off that temptation. In addition, you're going to want to refrain from knocking out any teams early that you truly feel have a great chance to go really far in the tournament.
Villanova could have a tough road to the Final Four, but if they're the best team in your mind, why bet against them? That would lock you in on the Wildcats all the way to the title game, or at least further than a knee-jerk early round upset would put them in your bracket.
In general, you should take your time with your bracket. A lot of people just enjoy the thrill of cruising through the bracket (it's fun to click all of the teams all the way through!), but when they do that they're overlooking a lot of teams.
The biggest mistake is simply having no clue what every team has to offer. That's where my section on matchups comes in and the more you know these teams, the more accurately you can predict when and where they'll come through for you.
Overall, just take your time and do your best to pick your spots wisely.
Refrain from knocking out too many elite teams early on, lock in on the teams you feel will make a deep run, come to terms with the top seeds you don't trust and let your research dictate a handful of underdogs you think can land big upsets (or even two or three).
In the end, your March Madness bracket challenge is largely about the thrill of filling out the bracket and following along with the live action. With each win or loss, you'll have extra conversation to join in on with friends, exciting finishes to watch and if you put down some cash, maybe even some earnings to transfer to the bank.
Whether you lay down your own money or not, though, you can still win during March Madness. Following these Final Four bracket tips could help you do just that.