March Madness Props: Overtime and Buzzer Beater Wagers to Target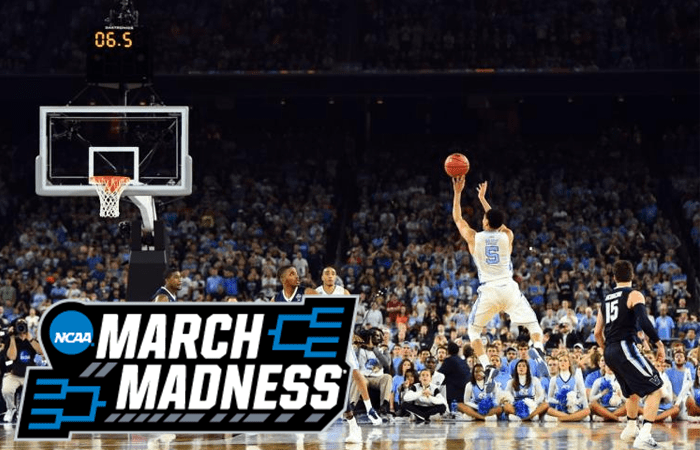 The only thing more exciting than the single-elimination format of the March Madness tournament is when games go right down to the wire.
Unless your favorite team is involved and every possession feels like a kick to the stomach, most of us are cheering for games to feature dramatic endings like overtime or a buzzer-beating shot that advances one team to the next round while sending another home.
BetOnline has catered to our appetite for memorable finishes by posting various props involving overtime and buzzer beaters in this year's tournament. While I don't recommend betting any serious amount of money on them because they're much more of a guessing game than an individual matchup that you can handicap on the point spread, they're still a lot of fun to wager on and will keep you on the edge of your seat throughout the entire tournament.
With that in mind, let's take a look at the overtime and buzzer-beater props BetOnline has made available for the 2018 NCAA Tournament.
All odds that are referenced in this article were taken from BetOnline.ag at 2 p.m eastern on March 13, 2018. These odds may have changed since the time of this writing.
March Madness Overtime Props
BetOnline has posted odds for 6 different bets involving overtime games taking place during this year's March Madness tournament. But before we get into those, the first thing we should do is take a look back at recent NCAA Tournaments to see how many OT games typically take place.
Here's a recap of how many overtime games have been played in each of the last 10 March Madness tournaments:
2017: 1 (Florida/Wisconsin in Sweet Sixteen)
2016: 3 (Arkansas-Little Rock/Purdue and Iowa/Temple in First Round, Texas A&M/Northern Iowa In Second Round)
2015: 1 (Notre Dame/Butler In Third Round)
2014: 6 (Tennessee/Iowa In First Four, Stephen F. Austin/VCU, Connecticut/St. Joseph's, North Dakota State/Oklahoma, San Diego State/New Mexico State and Saint Louis/NC State In First Round, Arizona/Wisconsin In Elite Eight)
2013: 1 (Michigan/Kansas In Sweet Sixteen)
2012: 1 (North Carolina/Ohio In Sweet Sixteen)
2011: 5 (UNC-Asheville/Arkansas-Little Rock In First Four, San Diego State/Temple In Second Round, VCU/Florida State and Florida/BYU In Sweet Sixteen, Butler/Florida In Elite Eight
2010: 3 (BYU/Florida In First Round, Purdue/Texas A&M In Second Round, Kansas State/Xavier In Sweet Sixteen)
2009: 2 (Siena/Ohio State and Wisconsin/Florida State In First Round)
2008: 6 (Western Kentucky/Drake and San Diego/Connecticut In First Round, Tennessee/Butler and Stanford/Marquette In Second Round, Xavier/West Virginia In Sweet Sixteen, Kansas/Memphis in National Championship)
It'd obviously be ideal to go back even further than that, but I think there are enough trends from this 10-year sample size that we can apply to make some intelligent projections about what to expect in this year's tournament. Now let's take a look at each of the overtime props at BetOnline to see where the best value is.

1. How Many Games Will Go To Overtime?
Over 1.5 -450, Under 1.5: +325
Over 2.5 -165, Under 2.5 +135
Over 3.5 +190, Under 3.5 -240
The biggest trend that jumped out to me from reviewing the last 10 tournaments is that there was at least 1 overtime game in each of them. That would make it seem pretty likely that there will be at least 1 OT contest in the 2018 tournament, especially with this year's field being described as one of the most competitive in recent memory. Unfortunately, however, the Over 0.5 on overtime games in 2018 March Madness isn't an option for us here.
While there has been a total of 29 overtime games played in the last 10 NCAA tournaments, 17 of them came in 3 tournaments combined (2014, 2011 and 2008). It's worth noting that 5 of those tournaments saw 2 or less OT games, which makes me believe there's value in the Under 2.5 OT games at the current +135 price.
If you want to bet the Over on any of these overtime props, I'd suggest the Over 3.5 at +190. Overtime games in the NCAA tournament seem to come in bunches, and I'd rather have the shot at plus money instead of laying juice in the hopes of having 3 games to go an extra session.

2. Will A Game Go To Multiple Overtimes?
Double Overtime: Yes +135, No -165
Triple Overtime: Yes +600, No -1000
Quadruple Overtime: Yes: +2000, No -5000
Over the last 10 NCAA tournaments, only 6 of the 29 games that went to overtime required a second OT session to determine a winner. 4 of those 6 games came in the same year, meaning that we've only seen a double OT game in 4 of the last 10 tournaments.
Based on that small sample size, there's a 40% probability that a game will go to double overtime during the 2018 NCAA Tournament. That means there really isn't much value in taking the 'Yes' to at least one double OT game this year if you're only getting +135 return, and the 'No' actually seems priced pretty favorably to bettors at just -165 juice.
The big returns on triple OT and quadruple OT taking place are much more enticing, but you're really asking for a lot. Only twice in the history of the NCAA tournament has a game gone to quadruple overtime, and both occasions (Canisius/North Carolina State in 1956 and St. Joseph's/Utah in 1961) were more than half a century ago.
To be getting fair value on the +2000 on 'Yes' for a quadruple-overtime game, 1 in every 20 tournaments would need feature at least 1 game that went to four extra sessions. Since it hasn't happened in more than 50 years, the value in this prop actually appears to be a lot more towards the 'No' at +5000.
Unless you've got more money than you know what to do with or you want to torture yourself by praying that no games require 3- 4 overtimes to decide, you're not going to be laying -heavy juice here. If you absolutely feel a need to beat this prop, I'd suggest parlaying the 'No' with a few of your tournament futures or point spread bets to increase their payouts just a little bit, but you're best to pass on either side of the triple overtime or quadruple overtime prop.
March Madness Buzzer Beater Props
Buzzer-beating shots to win games account for many of the most memorable moments in March Madness history. Whether it was Christian Laettner's turn-around jumper from the top of the key to lift Duke over Connecticut in the Elite Eight in 1990, Lorenzo Charles' dunk as time expired to give NC State a dramatic win over Houston in the 1983 championship game or Kris Jenkins' 3-pointer at the buzzer that clinched the 2016 national title for Villanova, shots that decide the game in the last seconds are heard all the way around the world.
Last year's tournament final wasn't determined at the buzzer, but there were still several notable game-winners in the dying seconds earlier in the tournament. Florida's Chris Chiozza accomplished the double dramatic by beating Wisconsin with an overtime buzzer beater in the Sweet Sixteen, and North Carolina's Luke Maye knocked down a jumper from the elbow with 0.2 seconds left to beat Kentucky in the Elite Eight.

How Many Buzzer Beaters Will There Be In The 2018 Tournament?
Will there be similar moments in 2018? Oddsmakers are banking on at least one of them, judging by the odds they've posted for the number of buzzer-beaters in this year's tournament:
Over 0.5 -350, Under 0.5 +260
Over 1.5 -115, Under 1.5 -115
Over 2.5 +325, Under 2.5 -450
I'm actually pleasantly surprised to see just -115 odds on the Over 1.5 here. As mentioned earlier, the 2018 NCAA Tournament is being billed as one of the most wide open and competitive fields we've seen in a long time, leaving potential for a lot of games to be decided on the final possession.
At the time of writing, 6 of the 16 first-round games slated for Thursday featured point spreads of 4 points or lower, while another 5 games on Friday had similarly tight lines. It's not out of the question to see at least 2 games decided at the buzzer before this tournament advances to the second round.
The best bets to make are the ones that are both fun and likely to win, and I honestly think the Over 1.5 buzzer-beaters at -115 odds accomplishes both.
Conclusion
Overtimes and game-winning shots at the buzzer are a big part of why March Madness is so special. Not only are teams' entire seasons riding on the outcome of a single game, they're often decided by what happens on the final possession.
Once again, I don't recommend wagering any significant amounts of money on the overtime and buzzer-beater props that have been posted by BetOnline. In most cases, the betting odds aren't favorable to what we want to see the most, and it's pretty hard to handicap the endings to games when we don't even know what the matchups will be like after the opening round.
However, you can't deny that these are fun wagers to make. If you want to bet on a certain amount of overtime games taking place in the 2018 March Madness tournament, I recommend taking a shot at the +190 being offered on the Over 3.5 games going to overtime. And when it comes to buzzer beaters, I recommend betting the Over 1.5 at what looks like a pretty fair -115 price. Neither of those bets will result in you losing your shirt if you're wrong, and they'll keep you on the edge of your seat throughout the entire tournament – unless you cash those bets before the tournament is over, of course.