Hide Bonus Offers
| | | | | |
| --- | --- | --- | --- | --- |
| #1 | Bovada Sports | 50% Up To $250 | Visit Site | Bovada Sports |
| #2 | BetUS | 125% Up To $2,500 | Visit Site | BetUS |
| #3 | MyBookie | 100% Up To $1,000 | Visit Site | MyBookie |
| #4 | Everygame | 100% Up To $500 | Visit Site | Everygame |
| #5 | BetOnline Sports | 60% Up To $1,000 | Visit Site | BetOnline Sports |
March Madness 2022 Printable Bracket – 8 Free PDFs

March Madness 2022 is just around the corner, and I'm sure that many of you can't wait for the event.
There are plenty of ways to enjoy the 2022 NCAA basketball tournament, but one of the best things about March Madness is the opportunity to earn bragging rights over friends, family, and colleagues.
I'm talking about all the pools and side games you can get involved in. The most popular of all of them is filling out a March Madness bracket.
That's why I've prepared this post with eight free printable March Madness 2022 brackets. They all come in PDF format, so you can download and print them and prepare to fight for the bragging rights over the next year.
The classic March Madness 2022 printable bracket is included, of course, along with several other variations.
Classic Printable March Madness 2022 Bracket
First in line is the most popular printable March Madness 2022 bracket that includes all games from the NCAA tournaments. You have all regions and all rounds here, as well as the dates for this year's March Madness.
Just use the PDF file to download the free brackets and print the number of copies you will need for the game against your colleagues, friends, or family members.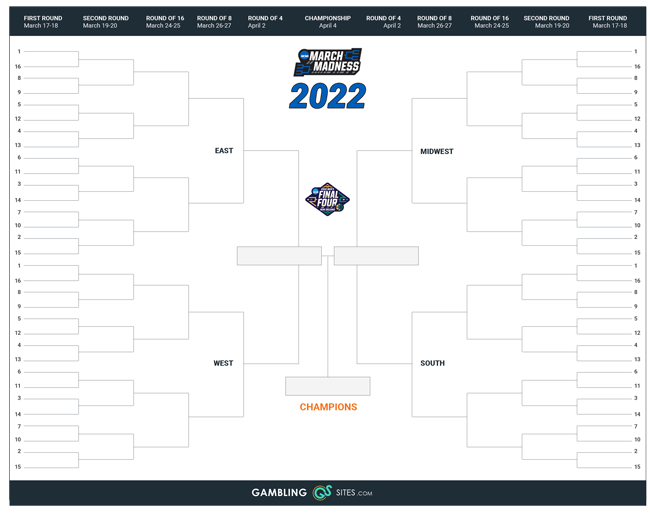 March Madness 2022 Printable Brackets for Each Region
The NCAA basketball men's divisions include hundreds of different teams. You can't know all of them well unless you're a genuine super fan. Even knowing all of the teams that make March Madness is tough, which is why you might want to focus on a specific region for your bracket game.
If you want to test your knowledge using a printable 2022 March Madness bracket for any of the different regional stages, use one of the following.
East Bracket
Here's the bracket for the Eastern Region of March Madness 2022.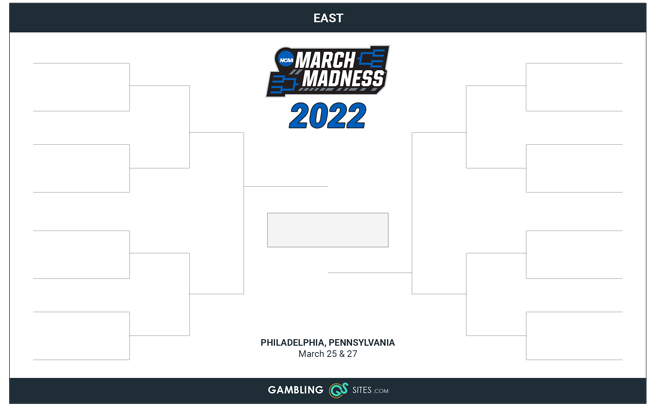 Midwest Bracket
For the Midwestern Region, use the printable bracket below.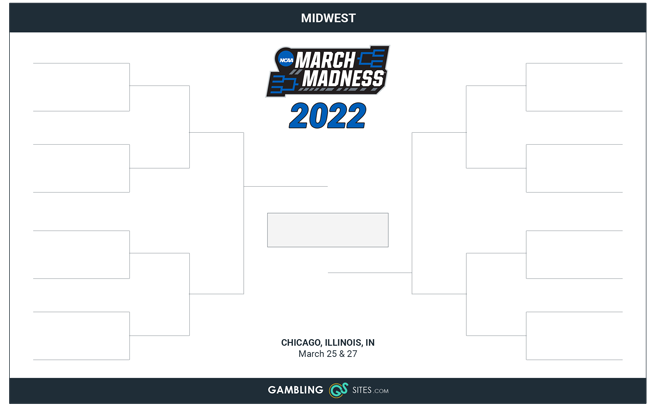 West Bracket
Here's what you need for the Western Region of the NCAAB tournament.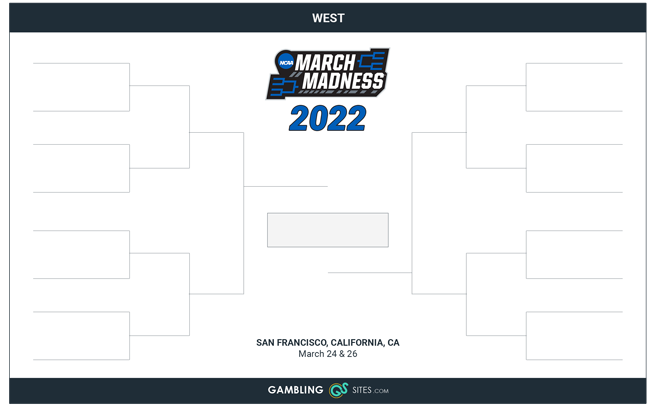 South Bracket
And, finally, enjoy the South Region March Madness bracket for 2022.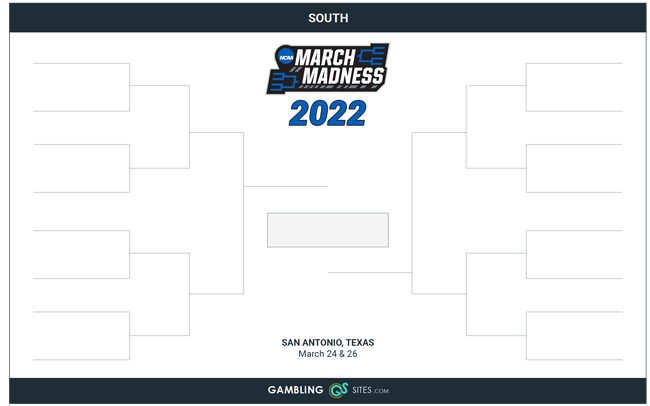 Printable 2022 March Madness Brackets by Round
Most people go for the full March Madness bracket, but I think that separating the different rounds makes a lot of sense for various reasons I explain below.
That's why we prepared free printable brackets for the different stages of the tournament.
Round 1 Bracket
If you don't want to wait for several weeks to determine a winner, you should certainly try our NCAA March Madness printable bracket for the first round.
It features all 32 opening games, and it will be over in two days once the competition starts.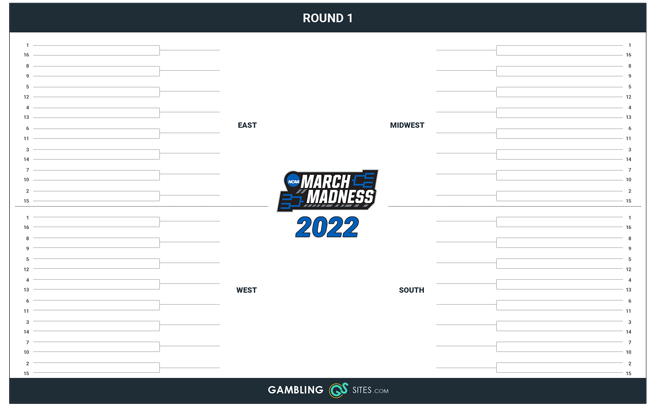 Round 2 Bracket
Another interesting alternative is the round 2 March Madness 2022 printable bracket. Sometimes, you can get beaten hard in the opening phase to the point that you have no chance to win the game.
Even if you are in the lead, the fun might be spoiled if no one else can challenge you after the first round. That's where the round 2 March Madness brackets 2022 come into play. They allow the game to start after the first round, ignoring the initial results.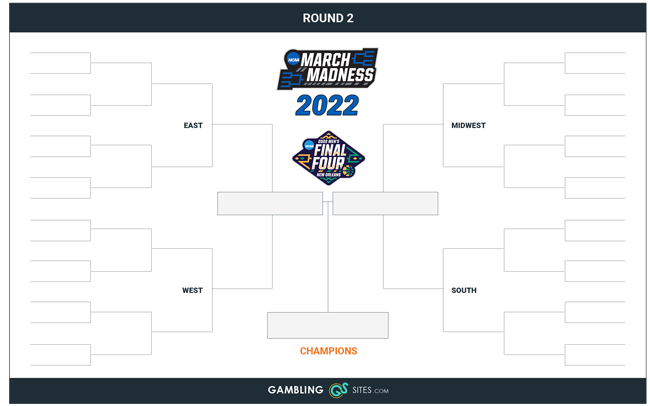 Sweet 16 Bracket
The logic behind the Sweet 16 bracket is similar. It starts after rounds 1 and 2 are completed, so you can enjoy the rest of the March Madness experience, whether your bracket is busted or not.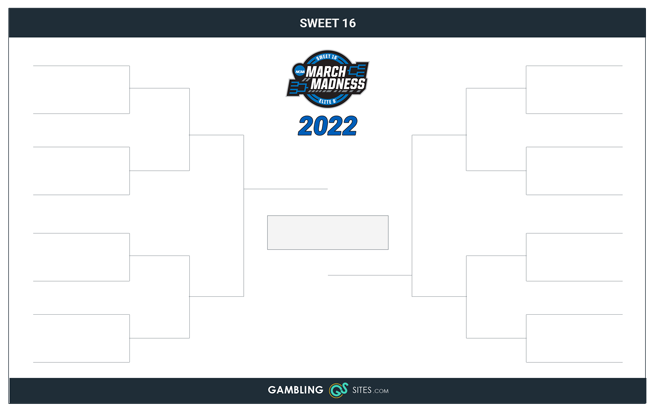 2022 March Madness Bracketology
If you don't know how to fill in your 2022 March Madness bracket, I'm here to help with several basic tips that will give you a chance to win.
The Seeds Matter
One of the most important rules in March Madness bracketology is to stick to the favorites. Remember that you are going for the most points, and the number of games is huge. The better teams will win most of them, so don't try anything too crazy.
A good example is the stats for the meetings between the top seeds and the number 16 seeds in the first round. There was only one case in the whole history of the NCAA tournament when the underdog won. That was when top seed Virginia fell to UMBC.
Stick to most of the favorites for the early rounds. You can throw a couple of surprises in there, but only when there's solid reasoning behind them.
Pay Attention to the Locations
Every time a college is playing at home or at least close to home, that adds an extra advantage. The crowd can be a powerful factor during March Madness, and this is something you should always consider when filling out your 2022 brackets.
Strong Defensive Teams Have a Higher Chance to Reach the Later Stages
It's essential to remember that March Madness is a knockout tournament. One bad night, and any team can be eliminated. That's why the defense usually has more value during the competition.
It's more consistent over the course of multiple close games. If you count on your shooters too much, you will eventually get into trouble.
Coaches Are More Important Than Stars
Most of you probably are used to the NBA standards where the superstars are the most important factor. Having a player like LeBron or Kawhi on your roster is the key to success in the pro league, but that's not the case in college basketball.
Even the best players often lack the confidence and experience of grown men with years of high-level basketball behind them. That's why the coaches play a bigger role, and you should always include them in your analysis.
There's a reason why many of the top head coaches in NCAA men's basketball earn millions every season.
Fill Out Your March Madness Bracket Online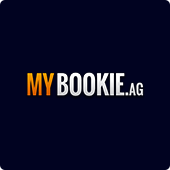 I know that many of you won't bother to use a 2022 March Madness printable bracket and would prefer the online version of the game. It's easier and more convenient. Fortunately for you, many websites offer a solution.
ESPN and other big sports websites have their own free March Madness 2022 brackets online, so that's one way to go about it. There are countless others, however, with CBS Sports and many others offering free March Madness bracket contests. You can start your own game or join some of the existing ones.
Even better, however, is joining one of our top-rated college basketball betting sites, where you can compete in March Madness brackets for money.
One great site to check out is MyBookie. The online bookmaker offers multiple 2022 March Madness brackets online with real-money prizes. Some of them are free to enter, while others require a small fee.
Make the Most of March Madness 2022
We have many basketball fans on our team, and we are all eager to see what happens during March Madness 2022. Of course, we will have our own March Madness 2022 bracket printable sheet ready to go for the competition.
We will also keep adding more exciting content around the tournament, including betting picks, previews, bracketology advice, and so much more.
Whether you're just here to download some free March Madness printable brackets, or you could use some extra advice heading into the tournament, consider stopping by our March Madness betting guide. Our guide will get you ready for the Big Dance, whether you plan on betting this year or not.
Guide for Betting on March Madness