Hide Bonus Offers
| | | | | |
| --- | --- | --- | --- | --- |
| #1 | Bovada Sports | 50% Up To $250 | Visit Site | Bovada Sports |
| #2 | BetUS | 125% Up To $2,500 | Visit Site | BetUS |
| #3 | MyBookie | 100% Up To $1,000 | Visit Site | MyBookie |
| #4 | Everygame | 100% Up To $500 | Visit Site | Everygame |
| #5 | BetOnline Sports | 60% Up To $1,000 | Visit Site | BetOnline Sports |
Manchester City vs. Watford Betting Preview – Odds and Predictions for the 2019 FA Cup Final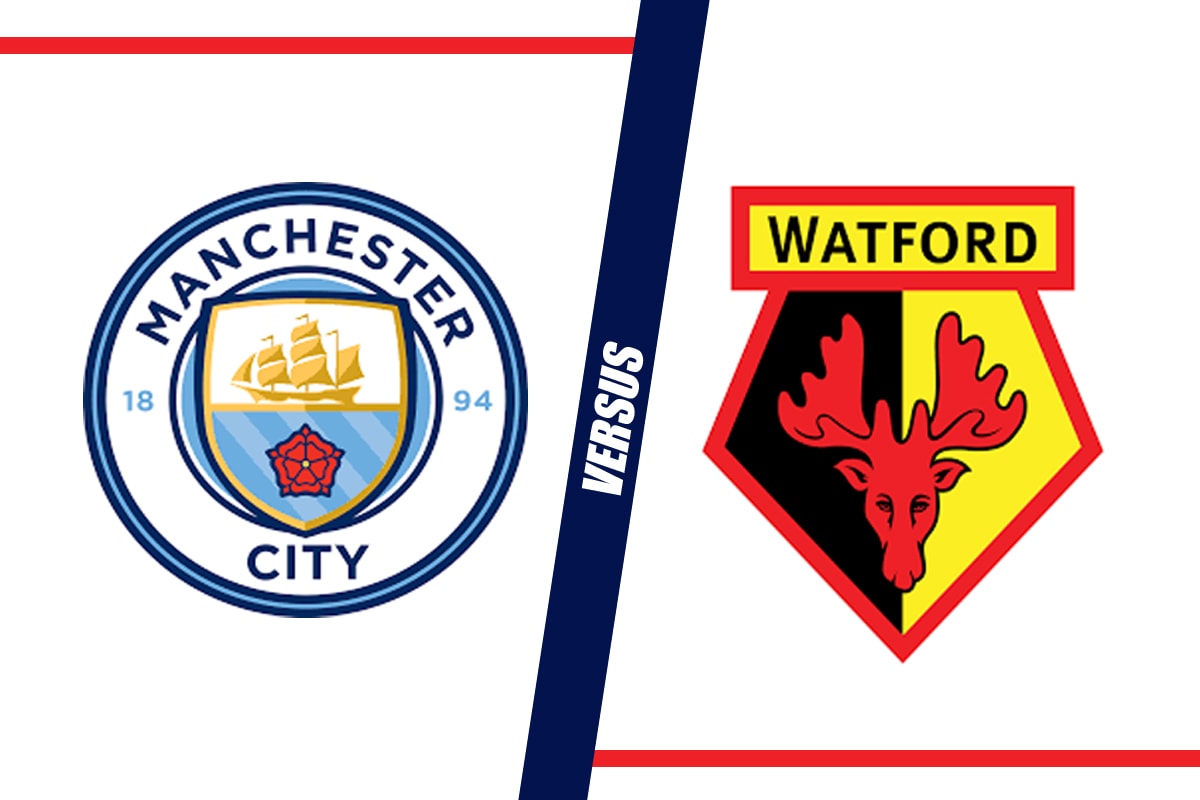 On May 18, 2019, at Wembley Stadium, London, the 138th edition of the FA Cup will be played between Manchester City and Watford.
This season, City was seeking an unprecedented league and cup quadruple before they were kicked out of Europe by a dogged Tottenham Hotspur.
While the mood might be a little glum around the Etihad Stadium, not all is lost for Pep Guardiola's men.
They won the Carabao Cup, are currently second in the league table behind Liverpool with a game in hand, and will meet Watford on May 18 in the FA Cup Final.
While they will have to wait until next year for another crack at the Champions League title, they have more than enough to play for over the next five games.
Watford, on the other hand, is playing for the only trophy they can win this year.
Aside from a potential FA Cup victory, Watford can also qualify for the Europa League even if they lose to City on the day. A seventh-place EPL finish is likely to see them make their first foray into European soccer since the 1983-84 season.
Still, Watford will be aiming to do better than that same season when they made the FA Cup Final but lost 2-0 to Everton on the day.
For those betting on Watford to win the FA Cup, there are some tasty odds available on the best sports betting sites for backing The Hornets.
Let's start this Manchester City vs. Watford betting preview with a look at the latest FA Cup Final 2019 odds. Then I'll move on to my analysis and predictions.
Latest FA Cup Final Odds
It's no surprise to see City as the standout favorites for this game at -800.
The EPL champions have arguably the best team in Europe and play such an effective brand of soccer. If Watford can beat Guardiola's men, it will be seen as a very big upset, considering that they currently sit 37 points behind them in the league table.
Of course, if you are betting on Watford to win the FA Cup, your bravery will be rewarded by odds of +500.
This is knockout soccer, after all, and anything can happen, right?
Maybe.
Why Bet on the FA Cup Final?
Betting on the FA Cup final is a lot of fun for many reasons.
As a soccer betting fan, you will struggle to find many games that have both the huge sense of occasion and the history that the FA Cup Final has.
Did you know that this is the oldest cup tournament in the world? Well, if you didn't before, you certainly do now.
What makes the FA Cup so special to soccer fans is more than just the history. It's the spectacle itself. It has long been regarded as the premier domestic cup competition in world soccer, pulling in global viewing figures of close to 100 million in over 100 different countries.
London's iconic Wembley Stadium hosts the final, which has often seen a matchup between a standout favorite and an unlikely giant killer. Over the years, the FA Cup has become somewhat synonymous for this type of game.
While 2019's final between Man City and Watford features two English Premier League (EPL) clubs, the latter is by far the underdog. However, with that underdog tag comes the support of many of the neutrals that tune in religiously to watch the game every year.
Placing your bets on the FA Cup Final can certainly make you feel part of the big day and enhance your fun — and hopefully, your bankroll, too.
What Bets Can I Place on the FA Cup Final?
You can place a number of bets on the FA Cup final.
Most of the markets available to bet on are the same as what you can expect to find for any other soccer match. This is effectively a 90-minute game, and there is no real difference from any other type of soccer game other than the fact that it is a final.
A final in soccer, of course, carries with it the possibility of extra time and penalties if both teams cannot be separated after regular time. This is an important distinction to make when betting on the FA Cup Final, as many game bets will be void if the match does end up going to extra time.
Aside from this, you will find pretty much every other type of soccer bet you can think of, including:
Match winner bets
First goalscorer bets
Last goalscorer bets
Anytime goalscorer bets
In-play bets
Over/under bets
And many more.
If you are unfamiliar with betting on soccer, you should certainly check out our dedicated expert's guide to betting on soccer.
Here, you will find everything you need to get you up and running with soccer betting ahead of the 2019 FA Cup Final, including the best bets to place and much, much more.
Now, with that covered, let's take a closer look at this year's big game between Manchester City and Watford, starting with their head-to-head history.
Manchester City vs. Watford – Head to Head History and Recent Form
It's safe to say that Man City enjoy playing Watford.
Over the course of their last ten meetings — with the results you can find below — City has a record of 10 wins and 0 losses.
However, Watford has enjoyed their greatest season in the top flight this year and is definitely a stronger team than they have been before.
January 5, 2013: Manchester City vs. Watford W 3-0 FA Cup
January 25, 2014: Manchester City vs. Watford W 4-2 FA Cup
August 29, 2015: Manchester City vs. Watford W 2-0 EPL
January 2, 2016: Watford vs. Manchester City W 1-2 EPL
December 14, 2016: Manchester City vs. Watford W 2-0 EPL
May 21, 2017:Watford vs. Manchester City W 0-5 EPL
September 16, 2017: Watford vs. Manchester City W 0-6 EPL
January 2, 2018: Manchester City vs. Watford W 3-1 EPL
December 4, 2018:Watford vs. Manchester City W 1-2 EPL
March 9, 2019: Manchester City vs. WatfordW 3-1 EPL
The entire head-to-head history of Man City and Watford tells us that City has triumphed 17 times, drawn on five occasions, and lost six games in the history of meetings between the two.
You have to go all the way back to 1989 to find Watford's last win over City, which was a 1-0 win in the old League Division Two.
Both teams have had mixed success over the past month or so in their results. Let's take a look at both teams' recent form, starting with Manchester City.
Manchester City's Recent Form
As you can see from the results below, City has been worked very hard in such a short space of time.
This has been the case throughout most of the season, especially since they have been involved in the three domestic tournaments and the Champions League.
In their last eight games, City has won seven and lost just once (to Tottenham in the Champions League).
On just two occasions has City managed to win a game by more than one goal. Their loss to Tottenham came down to one goal, too.
Another interesting stat about City, especially as it relates to the FA Cup, is that their last four cup games have ended with just one goal to separate both teams.
Is this something that could be useful when betting on Man City vs. Watford in the FA Cup final?
| Date | Competition | Result |
| --- | --- | --- |
| April 20, 2019 | EPL | Manchester City 1-0 Tottenham Hotspur FT |
| April 17, 2019 | UEFA Champions League | Manchester City 4-3 Tottenham Hotspur |
| April 14, 2019 | EPL | Crystal Palace 1-3 Manchester City |
| April 9, 2019 | UEFA Champions League | Tottenham Hotspur 1-0 Manchester City |
| April 6, 2019 | The FA Cup | Manchester City 1-0 Brighton and Hove Albion |
| April 3, 2019 | EPL | Manchester City 2-0 Cardiff City |
| March 30, 2019 | EPL | Fulham 0-2 Manchester City |
| March 16, 2019 | The FA Cup | Swansea City 2-3 Manchester City |
Watford's Recent Form
Watford has been in solid form and looks as though they could just about squeeze seventh place in this season's EPL table.
Over their last nine games, they have won five, lost three, and drawn one.
All three of their losses have come to teams placed above them in the table, with Manchester United, Arsenal, and Man City all taking the three points in their recent games.
An interesting statistic — and one that ties into Man City's recent performances — is that six of Watford's last nine games have been settled by just one goal.
Much like Man City, they have either nicked games by one or lost by the finest margin possible.
| Date | Competition | Result |
| --- | --- | --- |
| April 23, 2019 | EPL | Watford 1-1 Southampton |
| April 20, 2019 | EPL | Huddersfield Town 1-2 Watford |
| April 15, 2019 | EPL | Watford 0-1 Arsenal |
| April 7, 2019 | The FA Cup | Watford 3-2 Wolverhampton Wanderers |
| April 2, 2019 | Premier League | Watford 4-1 Fulham |
| March 30, 2019 | Premier League | Manchester United 2-1 Watford |
| March 16, 2019 | The FA Cup | Watford 2-1 Crystal Palace |
| March 9, 2019 | Premier League | Manchester City 3-1 Watford |
| March 3, 2019 | Premier League | Watford 2-1 Leicester City |
FA Cup Final 2019 Preview – Man City vs. Watford
In many ways, you can argue that the FA Cup suddenly looks a whole lot more attractive to Man City's team and supporters than it did before the morning of April 18.
The previous evening, City was knocked out of the Champions League by Spurs in an absolute epic at the Etihad. With the title no longer left to play for, the blue eyes of Manchester will be looking a little closer to home for silverware.
Although City players and fans will be presumably quite happy to forsake the FA Cup in favor of securing the EPL title over Liverpool this season, it would be a much nicer scenario to win both.
Understandably, City is confident of doing just that and adding their first-ever domestic treble to their growing list of achievements.
Standing in their way will be Watford, who is enjoying their own mini-renaissance in the EPL. Close to securing European soccer for the first time since Prince topped the charts with "When Doves Cry," there will be certainly a few tears spilled at Vicarage Road if Watford ends up empty-handed after such an encouraging season.
As this is the final game of the tournament, they will be confident of showing everyone in world soccer that they can put it up to any team on their day.
Man City's Quality
This season might not have seen the type of dominance in the league that City displayed last year. Then again, the team has been kept very busy outside of the task of defending their domestic title.
There is simply so much quality in the Man City ranks that it is almost unfair at times. In Sergio Aguero, they have arguably the best player in the league. On his day, the Argentine can pull rabbits out of hats — he is simply a joy to watch.
Raheem Sterling, a player that is a solid candidate for the Ballon d'Or, has enjoyed a terrific campaign, too.
Then comes the Prince Harry lookalike himself, Kevin de Bruyne. The Belgian maestro has suffered from an injury-plagued season and might miss the rest of the campaign, which will be a huge boost to Watford, given the talent City's playmaker has.
Add the likes of David Silva, Leroy Sane, Vincent Kompany, and Gabriel Jesus, and you have an exceptional clan of players that should really be winning this game.
Watford's Ambitions
Watford's Gerard Deulofeu, Troy Deeney, Abdoulaye Doucoure, Etienne Capoue, and a number of others have really made this season count.
Heading for their highest-ever EPL finish of seventh means that there is a lot of confidence running through the squad.
Having made just their second FA Cup Final of all time, Watford is repaying their loyal fans for decades of mediocrity. That said, there was little to expect from a team that never really had the financial clout to challenge with the big guns.
If 2018/19 does anything for the club, it should help everyone involved understand that they are capable of achieving. This season can act as a platform towards the type of incremental progression that sees a team eventually shake up the establishment in the EPL.
Watford wants to be that team. If Leicester proved anything in 2015/16, it was that the unthinkable can be achieved with the right players and a strong team ethos.
What would make their efforts a little more substantial is if they could capture the FA Cup this year and cement their place in Europe for the first time since the 1980s.
It can be done.
Man City vs. Watford – FA Cup Final 2019 Prediction
Everyone loves to root for the underdog, and I am sure that this year will be no different. The neutrals will likely gravitate to Watford in this one, which is not exactly surprising.
The FA Cup has a rich history of underdog triumphs and "Cinderella stories," but seldom does the weaker team triumph on the big day.
Here's a stat that will certainly pique the interest of those thinking of betting on Watford.
The most recent example of an unlikely FA Cup winner was in 2013 when Wigan won the trophy, then got relegated just days later. The big team Wigan beat in the final was none other than Manchester City.
Quite a remarkable feat. This one is certainly a fond memory for soccer fans in England.
Well, unless you are a Man City fan, of course.
That said, this Manchester City team is certainly a stronger outfit and has the means to put a big score on Watford.
Sure, we can look at both teams' recent form and find a trend to support the argument that this game might come down to just one goal. But with the nature of the game being a cup final, surely City will be revved up for this one and out to prove a point.
As will Watford, though, right?
City's Quality to Shine Through
Although I expect the game to be close for the first 60 minutes or so, I can see City pulling away in the final half hour to secure their first FA Cup win since 2011.
Expect a big effort from the Watford boys, but in the end, they will simply have no answer for the slick attack of City. In order to win this game, they will need something very special, and I don't think even their best performance of the season against a City that is playing to 85% of their potential is enough.
Pep Guardiola will be gunning to win this cup and will make it clear to everyone involved in a blue shirt that there is no margin for error.
I believe this one will end 3-1 to Man City.
Yes, the odds of -800 are probably enough to deter many away from this bet. However, if you look through the markets available, you might find something that resembles better value than just backing them to win.
Final Thoughts
The FA Cup is an occasion that no true soccer or betting fan should miss.
Whether you are betting on Man City to lift the cup or fancy Watford for the upset, you are bound to get carried away with the occasion when it hits our screens on May 18.
This competition is essentially the godfather of soccer tournaments, and there is nothing that quite comes close to it for entertainment value.
Regardless of who you are backing this year, I'm sure we can all agree on one thing — let's hope it's a great game!