Hide Bonus Offers
| | | | | |
| --- | --- | --- | --- | --- |
| #1 | Bovada Sports | 50% Up To $250 | Visit Site | Bovada Sports |
| #2 | BetUS | 125% Up To $2,500 | Visit Site | BetUS |
| #3 | MyBookie | 100% Up To $1,000 | Visit Site | MyBookie |
| #4 | Everygame | 100% Up To $500 | Visit Site | Everygame |
| #5 | BetOnline Sports | 60% Up To $1,000 | Visit Site | BetOnline Sports |
Make a Living with Daily Fantasy Baseball: Earn a Six Figure Salary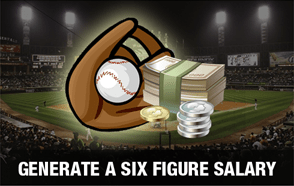 Winning in daily fantasy baseball isn't particularly easy. Winning big is even harder. That doesn't stop millions of players from trying on the big DFS sites like DraftKings and FanDuel, however.
It's easy to see why, too. Everyone is watching and researching the same MLB players and teams. With all of the data and logic for everyone to see on virtually the same level, most people take on the "why not me?" logic and toss some money into daily fantasy baseball leagues.
It really can be as easy as that, too. Truly, if luck is on your side, you can go blindly into a giant GPP (guaranteed prize pool) tournament and come away winning hundreds, thousands or even millions of dollars.
It's just not overly likely.
That isn't to say you can't win big in daily fantasy baseball, though. With the right strategy and enough luck, just about anyone can find success in DFS baseball. The trick is the right approach and staying the course.
That offers two ways to get rich via daily fantasy baseball: getting lucky in GPP tourneys or taking your time to build up your bankroll in cash games. Let's break down both routes and see which is your best bet to fast track your way to the big time:
First Thing's First
Before we even take a look at both paths to DFS baseball success, let's appreciate the basics. Short of just depositing cash at your favorite DFS site, throwing a random team into a huge GPP and hitting submit, you may actually want to know what you're doing.
Play on DK & FD
A great first step is to fully understand roster and scoring settings on the top DFS sites. For what it's worth, you really should only be dealing with DraftKings and FanDuel. They offer the most games, the best variety and the biggest cash prizes.
Starting with DK and/or FD gives you the most options and upside, but you may want to choose between the two, as they're very different – especially when it comes to daily fantasy baseball strategy.
The roster setup is completely different, the scoring is miles apart and the site restrictions also aren't the same. It's up to you to know the sites from top to bottom, but here are some of the most glaring differences you'll want to consider before choosing a side:
Late Swap
Dual Pitchers
Pitcher Wins and Stats
Stacking
Late Swap
DraftKings gets the nod from a lot of DFS gamers simply based off of their late swap element, which allows you to make changes throughout the MLB slate, provided a game hasn't started yet. This is crucial for late scratches, games being PPD and teams switching rosters up to counter matchups.
FanDuel does not offer the late swap option, which if used correctly can actually be an advantage for you. However, you can get stuck with bad matchups or zeros if you don't pay close attention to news and injury reports.
Pitching Differences
Another big aspect to both sites is how they treat the pitcher position. DK requires two pitchers, which increases the risk of your roster. Not only are pitchers super expensive, but it's also an extremely volatile position. Adding another pitcher increases the possibility of you getting burned due to a poor outing and negative points.
How pitchers accrue points in general favors FanDuel in a big way, too. FD only asks you to roster one pitcher, plus they don't take away many points for bad pitching plays (hits, etc). Instead, you just need to pick one quality pitcher and hope they can get a good amount of strikeouts, avoid giving up a ton of runs and also get the win.
That win is where FD steps far away from DK, as pitchers who earn the win at FD get a whopping 12 points. On DK, winning pitchers get just 4 fantasy points. Needless to say, FD values pitching more and doesn't assume nearly as much risk at the position.
Stacking
There are a lot of things that go into both sites for daily fantasy baseball, but one other huge difference is your stacking options. This is another area where DraftKings wins out, as DK allows you to stack five players from the same team, while FanDuel lets you use just four players from the same team (including the pitcher).
In other words, if you love Boston's insanely hot offense, you can use their pitcher on the night and the five batters you like the most from their squad (at DK). Meanwhile, on FD, if you want the Red Sox pitcher, you can only use three of Boston's batters.
DraftKings has the edge in stacking and overall carries the edge when you factor in the late swap. Many players like both sites and play on both, though, so often you can just let salary pricing and the slate (the games of the schedule) dictate which site you play on during any given night.
Now that you know where you're playing, you can start to research and strategize. And that's really the next step: not winging it and actually putting some time in to logically piece together a daily fantasy baseball team that can actually win.
So, to recap:
Pick a DFS site
Research
Form a Strategy
Win Big!
Striking it Big in GPPs
Okay, so it sounds a lot easier that it actually is, right? Well, if you're planning to win a GPP, you need to do all of those things, just at a higher level. Plus, no matter how much research or strategy you include, you absolutely need some luck to be on your side to win big – let alone actually take first place in a giant GPP.
For even the smallest of chances, though, you do need a sound strategy. That begins with the following:
Park Knowledge
Splits
Team/Player Trends
Home vs. Away
Prospect Talent
Ball Hit Rate
There truly are countless things to take into account in daily fantasy baseball, but these are the big ones.
In general, it's always good to know which MLB stadiums give up the most home runs, run production in general and which ones are really safe places for pitchers. If you're stacking a weak offense in a pitcher's park against a solid arm, you're probably asking for a really low score. If you're trying that same offense against a rookie pitcher in a hitter's park, you just might be onto something.
Knowing the stadiums is very key, and from there you can see how certain pitchers and hitters fare in those stadiums. Then you can note player splits – the handedness of pitchers and bats and how they perform versus right and left-handed foes.
For instance, if the pitcher you're using is amazing against left-handed batters and the team he's facing is full of lefties, you're probably in a good spot. However, you'll want to be sure that team doesn't bench a bunch of their left-handed guys just to get some righties in the starting lineup. If so, your awesome play could quickly turn sour potentially.
It works the other way, too. If a pitcher is awful against right-handed hitting, regardless of the park or situation, you may want to consider the righty batters on that team.
All of these bits of information need to be molded together to find the perfect team. Does a pitcher or team stink it up on the road? Are they hot or untouchable in front of their home crowd? Is a certain player smacking the heck out of the ball lately? Is your pitcher giving up a ton of hits but the hits are all ground balls?
This data and more can be extremely helpful in aiding your finalized DFS squad.
Of course, this is just the information and statistical part of preparing your daily fantasy baseball team for success. In addition to the stats you need to pay attention to, especially for GPPs, you may want to consider some of these strategies:
Stacking
Contrarian Picks
Chalk Picks
Batter vs. Hitter
These are just a few strategies you can implement to help you win big in GPPs. We already touched on stacking, where you pinpoint a really hot offense or one that has a favorable matchup, and you pick a slew of hitters to use from that team.
With or without a stack, you'll also want to consider interesting contrarian picks, as well as chalk picks that everyone is on. Contrarian means to target a player or two you think will do really well, but also think few people will be using. Chalk picks are just the opposite, as they figure to be such a lock for success that a ton of DFS players will be rostering them. Depending on the situation, sometimes going chalk is flat out necessary.
You can also get really weird with it and lean on less than reliable data such as batter vs. hitter stats, droughts, hot runs and batter positioning results. All of this data is fleeting and doesn't guarantee you success, but it could potentially help you discover a contrarian play or help separate two players you're high on.
So what's the big takeaway after all of this data, research and strategy?
It still might not get you that big cash prize in a daily fantasy baseball GPP.
The reality is DFS baseball is super volatile and even the best pitchers can bomb, while even the most elite mashers can go 0-4 and get you absolutely nothing.
The idea in the big GPP is to combine all the logic you can, throw in some contrarian thinking and then hope for the best.
Winning GPPs Consistently
Okay, so far you know how to enter a GPP and how to maybe, somehow win a ton of money once every 100 times you play. Heck, your success rate might not even be that good. In fact, depending on how much time and money you put it, it might be an endless string of bad beats.
There are ways to maximize your earnings, though:
Single Entry GPPs
Higher Entry Fees
Multiple Lineups
One really good way to increase your chances of winning a GPP is to join Single Entry games. A huge reason why people lose in GPPs is because sharks reside in the murky waters and they simply have more time, money and resources at their disposal. This allows them to funnel cash into multiple teams and giving them more teams (and better odds) at placing high in GPPs.
Single Entry games eliminate those extra lineups and simply puts your best team against everyone else's. Then it's down to how many DFS users you're up against and whether you put together a good team or not.
You can also off-set this by entering your team into a higher entry fee game, where the player pool and cash prize will be smaller, but your odds will be better to place higher or even win.
If you want all of the upside of the giant GPPs, you can try to be a shark yourself and put a ton of teams in at one time. Just make sure a few are random and they're mostly different from each other. This allows you to cover a lot of bases and hedge your bets a bit.
The Grind – Straight Cash, Homey
If you want to give yourself the best chance to win in daily fantasy baseball, taking up cash games is a good idea. The allure to the big cash prizes doesn't exit in cash games, which typically give you roughly a 50% chance of winning, either against one other opponent or an entire field where around 50% of the teams with the best records cash out.
The most popular cash games to enter are as follows:
Head to Head (H2H)
50/50
Double Ups
Head to Head games pit you against one other DFS user and whoever wins gets the pot. Your entry fee dictates how much you'll win, while the DFS site takes a small rake. For instance, if you play a $5 game and you win, you would earn $9. In this case you're putting up $5 for the right to win back an additional $4.
The risk is low, but so is the reward.
This is why a lot of DFS gamers prefer 50/50 or Double Up leagues. The field is bigger, which can increase your chances of missing on a cash out, but more places get paid and instead of beating one DFS user that might be better than you, you simply need to finish in the top half of your league.
These two cash games are a little different, of course, with Double Up leagues literally doubling your entry fee ($5 entry fee rewards winners with $10) while 50/50 leagues merely account for the top 50% of the league. In 50/50 tournaments, you also can win $10 but often the winning is just $9.
The research and data is all still needed here, and most of the strategy is also necessary. However, you don't need to be nearly as contrarian in cash games and you'll want to assume less risk. The idea is you just need to beat one person or 50% of the field, so where you place doesn't matter as long as it's in the green (in the money).
With placing high not an objective, you needn't take crazy risks to increase your roster's upside. Playing it a little safer makes for a poor GPP strategy, but it should lead to solid results in cash games if you know what you're doing.
Getting to $100k
Okay, so it's about time to we touched on the elephant in the room (or article): the $100,000 in winnings our title refers to.
If you're lucky, you can play one GPP and boom! You're set. $100k or more, right in your pocket.
However, for most people – It's not that easy.
So, what we instead need to consider is a long grind, one way or the other. So, what is the better route – playing GPPs each day or winning cash games each night.
The path is going to be different for everyone. You might be that lucky person who wins it all on your first try (believe me, it happens). You could also be that unfortunate soul that deposits $100, loses every game and screams to the gods in terror (we hope not).
Odds are, if you play it right, you'll be somewhere in the middle. But we need a starting point, so for the average gamer, let's say you deposit $100 and ration your gaming to $10 per day.
That daily wager can and will grow as you win, but starting out, you don't want to spend a big portion. We suggest no more than 10% of your bankroll per day, just to keep your bankroll together and to limit losses.
We'd even suggest starting out smaller per day ($5 probably), but let's map it out with $10 per day in GPP versus $10 per day in cash games. For argument's sake, let's say you play 10 days straight in daily fantasy baseball leagues.
GPP
For GPP, the downside is you lose your $10 entry every single day and 10 days later, you're out of money. The maximum upside is you strike it huge (hundreds, thousands, etc) and then can completely re-tool how you want to manage a huge bankroll.
You could also land somewhere in the middle, where you place, say 30% of the time. Considering most big GPPs only cash out around 20% of the league, that's being quite generous.
Obviously if you win big, this is a great DFS route. But let's say your success is just moderate, where you double your money three out of 10 times. In this case, you win $20 three times and lose $10 seven times.
After just 10 days, you don't win a big cash prize and your bankroll has dwindled to $90. It felt like you were winning a lot when you doubled your money three times, but you lost over twice as much as you won, putting you in the negative, overall.
Over 10 days, losing $10 isn't bad. If you keep that up, you could obviously still have a decent shot at winning much more. Then again, you could also endure a winless stretch during the next nine days, which would suddenly leave you with no money.
With the cash games, you're looking at a solid 50% payout rate each time out. With $100, in 10 days if you're betting $10 each time and you're not terrible, you're giving yourself a chance to cover some solid ground. You lose $50 during the five days you lose $10 per day, but if you cash out the other five times, you get $20 back. That's $100 in winnings, plus the $50 you hadn't lost.
Just by winning half the time in cash games, you're profiting $50 ($150 total) and coming out $60+ during that 10-day stretch over the average person who plays GPPs and is moderately successful.
It can still go either way, too. You could cash all 10 days in your GPP, with winnings stemming from doubling up ($20 in this case) to hundreds, if not thousands. You could also whiff on all of your cash game tries. Needless to say, there is upside and downside to both methods and you need to decide if you prefer the safety of slowly winning a small amount of money, or hoping to quickly win a large sum of money.
It's the odds we need to consider the most, though. The GPP offers the upside cash games simply cannot, but for a giant GPP on DraftKings where the top prize is $5,000, you're facing around 59,000 competitors. For the big tourneys where the entry is relatively small and the prize is even bigger ($50k or $100k), you're looking at hundreds of thousands of DFS users going up against you.
That's more exciting than a more likely (but smaller) cash out, but is it sustainable success? In most cases, certainly not.
Perfect Blend
If you're thinking about the long game, playing cash games is the best route in daily fantasy baseball. You have a higher win probability, you're risking less money and you are building safer, more reliable rosters. Still, it's tough to flat out pick a side, which has us pointing to one other option: blending the two.
While going for the big money is way more rewarding when successful, it doesn't happen on a daily or even weekly basis.
That's why the best practice is to play mostly cash games, where at worst each time out you're giving yourself a 50% shot at cashing out.
You can still chase that upside in GPPs, though. Just do it less frequently and at less volume. A good practice is to do 98% of your spending in cash games and maybe 2% in GPP lineups.
A great way to start is go through all of your research, data and strategy and come away with that one lineup that you love above all others. It should be relatively safe, consisting of value and few options that represent boom/bust or major risk. This is your cash game team.
You'll always want to toss that cash game team into the majority of your cash game entries, and then once or twice into a tournament. That cash game lineup often ends up being your best squad, and there's nothing worse than finishing 1st in a 50/50 or Double Up tournament and not using it in a GPP.
With that work done, then you can play around with a few variations of your favorite roster or even a couple of random teams and throw them in a few GPPs. Just make sure most of the money you're spending is on the safer games, which will limit the amount you're likely to lose each night.
Summary
Ultimately, there isn't really a perfect science to winning in daily fantasy baseball – let alone getting rich quick. However, the best way is to work the grind, keeping yourself in the game with small, steady gains and routinely giving yourself a shot to fight another day.
Each day that you find success, you're slowly building up your bankroll and every time out you're also taking a shot or three at a GPP, which naturally can yield bigger payouts. It's the tortoise that wins the race in the end, after all.