Major League Soccer's Highest-Paid Players in 2021 – Vela, Higuain, and More

For the first time since 2019, the Major League Soccer Players Association (MLSPA) has released player salaries this year. So, it only makes sense to look at the highest-paid MLS players in 2021, right?
Before we dive into Major League Soccer's top earners, it is worth noting that the MLSPA annualizes bonuses across contracts, meaning sponsorships and endorsements are considered.
For example, Atlanta United's Josef Martinez has a base salary of $3.5 million, but his guaranteed compensation will obviously be higher than that.
Without further ado, here are the highest-paid Major League Soccer players in 2021.
10. Franco Jara – FC Dallas
Guaranteed Compensation in 2021: $2.98m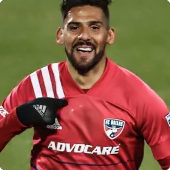 Given that Franco Jara joined the league in 2020, nobody was quite sure how much the Argentine DP was earning at FC Dallas, as the MLSPA did not release any salary information last year.
But following May's announcement, we now know that Jara is among the top ten highest-paid MLS players in 2021.
The former Pachuca forward enjoyed a solid maiden campaign in Major League Soccer, netting seven goals in 19 regular season matches last term. Considering that he takes home almost $3m a year, he will be expected to better that tally in 2021.
The 2021 FC Dallas roster comprises two Designated Players, although Honduran midfielder Bryan Acosta is not included in the top 10 MLS earners this year.
9. Victor Wanyama – CF Montreal
Guaranteed Compensation in 2021: $3.09m
With over 150 English Premier League appearances to his name, you probably won't be surprised to learn that Victor Wanyama is one of the highest paid Major League Soccer players in 2021.
The combative Kenyan midfielder swapped Tottenham for Montreal in 2020 and has since become a key figure for the Canadian outfit.
CF Montreal only has the eleventh-highest wage ball in MLS, behind big spinners such as Inter Miami and Toronto FC. However, the Quebec club still pays Wanyama enough to see him bank just over $3m a year.
Funnily enough, I named Wanyama as one of the Designated Players who needed to step up in 2021. Check out the post below to discover the other top MLS earners that I included on that list.
8. Maxi Moralez – New York City FC
Guaranteed Compensation in 2021: $3.29m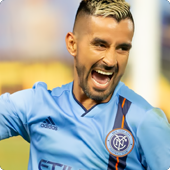 When you look at New York City's history of signing big-name stars, it is slightly surprising that Maxi Moralez is the only NYCFC player among Major League Soccer's biggest earners in 2021.
I mean, New York City is responsible for attracting some of the best overseas players in MLS history to the US, including David Villa, Andrea Pirlo, and Frank Lampard.
The veteran attacking midfielder has made well over 100 appearances for the Boys in Blue, contributing more than 60 goal involvements along the way.
Considering those statistics, few would argue that Moralez does not deserve to be one of the highest paid MLS players.
7. Rodolfo Pizarro – Inter Miami
Guaranteed Compensation in 2021: $3.35m
Boasting a market value of $12m, Rodolfo Pizarro is one of the most valuable Major League Soccer players today. Naturally, he also finds himself amid the top earners in MLS in 2021.
Having dominated Mexican soccer (winning four domestic titles and two CONCACAF Champions League trophies), Pizarro joined Inter Miami in 2020 and played a pivotal role throughout the expansion club's maiden campaign.
Although the gifted playmaker earns $3.35m a year, he is not Inter Miami's highest paid player. No prizes for guessing who holds that accolade!
Below is a list of Pizzaro's club and international achievements.
Liga MX (Clausura): 2016, 2017
Liga MX (Apertura): 2019
Copa MX (Clausura): 2017
CONCACAF Champions League: 2018, 2019
CONCACAF Gold Cup: 2019
6. Jozy Altidore – Toronto FC
Guaranteed Compensation in 2021: $3.60m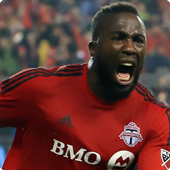 The fact that Jozy Altidore is the only American on this list speaks volumes about the guy's ability.
The New Jersey native started his professional career with the Red Bulls before joining Spanish side Villarreal in 2008. Following subsequent spells in England, Turkey, and the Netherlands, Altidore returned to his homeland in 2015.
The 31-year-old then guided Toronto to Supporters' Shield and MLS Cup glory in 2017 and has been one of the highest paid players in the league ever since.
Just like Pizarro, Altidore isn't the biggest earner at his respective club. Keep reading to find out which TFC star earns more than Altidore.
5. Josef Martinez – Atlanta United
Guaranteed Compensation in 2021: $3.89m
Atlanta United only has one representative in the top 30 highest paid MLS players in 2021. Unsurprisingly, that representative is Josef Martinez.
The Venezuelan goal machine scored 19 goals in 20 regular-season appearances during his debut MLS campaign in 2017. A year later, he netted 31 goals in 34 matches – firing the Five Stripes to their first-ever MLS Cup.
Following another stellar season in 2019 (27 goals in 29 games), Martinez spent the entirety of 2020 sidelined through injury. But he is now back on the field and is literally earning his keep.
Martinez's exploits in 2018 also saw him produce one of the most prolific Golden Boot-winning seasons in MLS history.
4. Alejandro Pozuelo – Toronto FC
Guaranteed Compensation in 2021: $4.69m
It is only fair that the reigning MVP has one of the biggest player salaries in Major League Soccer, right?
After racking up nine goals and nine assists last year, Alejandro Pozuelo was named the 2020 Most Valuable Player. As a result, he will take home an estimated $4.69m in 2021.
Pozuelo has a base salary of $3.8m but will bank almost $1m more in guaranteed compensation. If the 29-year-old can emulate last term's displays and lead TFC to silverware this season, he could earn even more next year.
3. Gonzalo Higuain – Inter Miami
Guaranteed Compensation in 2021: $5.79m
Claiming a base salary of $5.1m, Gonzalo Higuain boasts the third-highest salary in MLS in 2021. On top of that, he earns almost $0.7m through endorsements and sponsorships.
Sure, he may be 33, but when you consider what Higuain has achieved across his glittering career, it is hardly surprising that Inter Miami pay the veteran striker so much.
Having scored just one goal in nine appearances during his maiden MLS campaign, it is fair to say that Higuain struggled to adapt to the US game. However, he has set about proving his worth this year – netting four goals in his first five matches in 2021.
As the table below shows, Higuain has played for some of the biggest clubs in world soccer. His current $5.1m salary must feel pretty small compared with some of his previous paychecks!
GONZALO HIGUAIN'S RECORD IN EUROPEAN CLUB SOCCER
Club
Games
Goals
Assists
Real Madrid
264
121
56
Juventus
149
66
16
Napoli
146
91
26
AC Milan
22
8
3
Chelsea
18
5
–
2. Javier Hernandez – LA Galaxy
Guaranteed Compensation in 2021: $6.00m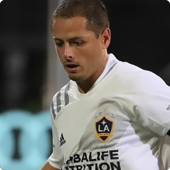 Javier Hernandez will probably be grateful that the MLSPA chose not to release salary information last year. After all, the LA Galaxy DP managed to score just two goals in 757 minutes of play during his debut season in America.
As it turns out, "Chicharito" is currently the second-highest paid player in Major League Soccer.
Thankfully, the former Manchester United and Real Madrid forward has lived up to his valuation so far this year. He bagged seven goals across his first five appearances in 2021 and has been at the heart of the Galaxy's revival under Greg Vanney.
If he can continue to score at a rapid rate, both the Galaxy and Hernandez could achieve something special this season.
1. Carlos Vela – LAFC
Guaranteed Compensation in 2021: $6.30m
Coming in just ahead of fellow Mexican Hernandez, LAFC's Carlos Vela is officially the highest-paid Major League Soccer player in 2021.
Interestingly, the 32-year-old does not actually have the biggest MLS salary, as Los Angeles FC pays Vela a $4.5m base salary. That means Hernandez and Higuain's base salaries are higher than Vela's.
But when it comes to overall guaranteed compensation for the year, no player in Major League Soccer earns more money than Vela.
Since arriving in California from Real Sociedad in 2018, the former Arsenal playmaker has been nothing short of immense. Not only has he chalked up over 60 goals in less than 100 appearances for LAFC, but he has also contributed 25 assists.
Considering what the 2019 MVP and Golden Boot winner has achieved at LAFC, he deserves to be Major League Soccer's highest-paid player in 2021.
Closing Thoughts on the Top MLS Earners in 2021
Only two teams – Inter Miami and Toronto FC – have more than one name among the top 10 highest paid MLS players in 2021.
It is also worth pointing out that seven of the ten players on the list hail from Latin America, with three Mexicans, three Argentines, and one Venezuelan making the cut.
Wanyama (Kenya), Altidore (USA), and Pozuelo (Spain) are the only non-Latin American names that feature in the top ten highest-paid Major League Soccer players in 2021.
If you think MLS players earn a lot of money, wait until you find out how much the biggest earners in the English Premier League take home!
September
Casino of the Month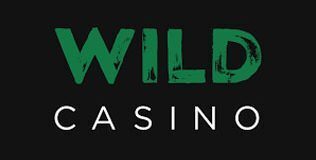 Welcome Bonus
250% up to $5,000