Madden 2018: 10 Times the Game Got This Year's Players Ratings Totally Wrong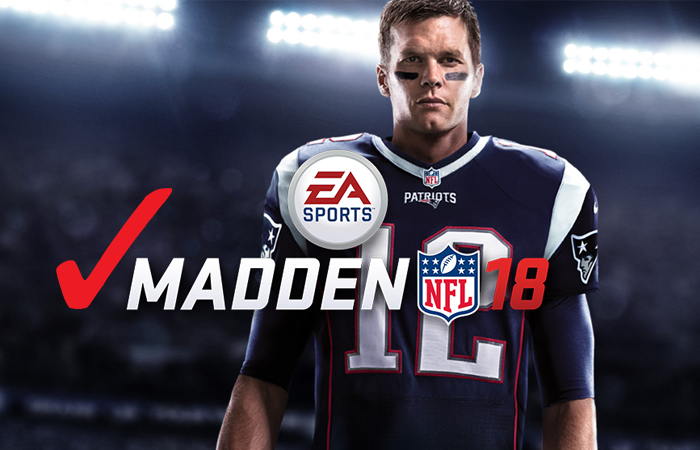 Every year gamers race to find out how the new edition of Madden rates their favorite players. Whether it's the best of the best, incoming rookies or players that endured down years, it's always interesting to see where players stand.
We are usually offered a sneak peek before the new version of Madden is released and the franchise has incoming rookies give the thumbs up or shake their head at their player rating. Sometimes a player gets a harsh knock or too much praise for awareness or accuracy, but the two rating categories that tend to draw the most feedback are player's speed and overall ratings.
It's no different with Madden 2018 arriving online at midnight on August 22nd, as the game is officially out there for all to see. And just like past installments, the Madden show runners once again delivered a few gaffes.
Whether it's a player's overall rating or a specific attribute that helps define them, we sorted through the rosters and handpicked our favorite mistakes.
It's opinion-based and more fun than finite, but here are our 10 Madden 2018 player ratings that we think the creators got wrong:
Cam Newton, QB, Carolina Panthers (88 Overall)
I'm not sure what the deal here is with Newton, who was the league MVP and in the Super Bowl two years ago. One down year with injuries and the best dual threat quarterback in the league can't even crack 90?
This feels a bit too low, especially considering Newton is rated one point higher than Kirk Cousins and just two points higher than Philip Rivers. This ranking isn't taking into account how he can impact a game in more than one way and perhaps is being too much prisoner of the moment.
Derek Carr was awesome last year, but he's listed as a 90 Overall, which trumps arguably the better talent in Newton. That doesn't seem right.
Marcus Mariota, QB, Tennessee Titans (83 Overall)
We can drop down and find another snub, as Mariota should probably be higher than 83 Overall. Both he and Jameis Winston (also 83) are better than this, as they've made serious strides as game-changing passers and have lifted their teams to fringe playoff status.
I don't expect these guys to be approaching the 90 range just yet, but to barely be ahead of rookies like Mitchell Trubisky and Deshaun Watson seems like a mild slap in the face.
Marshawn Lynch, RB, Oakland Raiders (87 Overall)
Madden 2018 really gets it wrong with several running back grades. Beast Mode is the weirdest one, as the new Raider is approaching a 90 Overall despite some serious red flags. I get his return has greatly improved the Oakland Raiders' Super Bowl odds, but come on.
For one, the dude just came out of retirement and was out of football for the past year. He's also 31 years old and the last time we saw him play, he was either banged up or not quite as effective in 2015. Are we suddenly to believe he's the exact same guy with no rust or regression? Okay, Madden.
It doesn't stop at Lynch, sadly, as we can lump several odd running back ratings into this one spot. Aging veterans like Adrian Peterson (86), Frank Gore (86) and Jamaal Charles (85) seem to be surviving on name recognition here and Madden refuses to downgrade them appropriately.
Travis Kelce, TE, Kansas City Chiefs (99 Overall)
The position with the most glaring player rating issues might be tight end, and there might not be a better spot to start than Kelce at 99 Overall.
This is the highest Madden player rating you can get, which arguably should be reserved for the best of the best, and it's fair to suggest just the truly best (#1) player at each position deserves this score.
Rob Gronkowski is still the best tight end in the NFL and the game gives him a 99 rating, yet Kelce gets the same exact grade. That has us thinking Madden 2018 creators think they're equally good? That simply isn't the case.
Jason Witten, TE, Dallas Cowboys (94 Overall)
Tight end is just flat out inflated in Madden 2018 and few things show that as well as a rapidly aging Witten almost scoring a 95 player rating.
Witten is a gritty veteran who catches balls thrown his way, runs good routes and blocks well, but he is no longer an elite player in virtually any facet. He's still solid (I'd be fine with a rating up to MAYBE 90), but putting him this high suggests he's still some dominant force and that just isn't the case.
Jared Cook, TE, Oakland Raiders (90 Overall)
We seriously could go on and on at tight end. Delanie Walker is a 94, an aging Antonio Gates is a 91 and so on. Let's wrap it up with Cook, who might very well be the most overrated player in this entire game.
Cook has nice speed and overall athleticism for the tight end position, but he's never really put it all together in the NFL. He has the size and speed combination coaches crave, but he didn't put up staggering numbers in 2016 (or any year) and is not an asset as a blocker.
On top of all of that, Cook has long had issues with drops, bad routes, general inconsistency, and health. It seems like he's rated largely on his upside and his awesome catch in the playoffs last year.
Keenan Allen, WR, Los Angeles Chargers (90 Overall)
If we're downgrading Cam Newton because he was banged up and not quite the same guy in 2016, shouldn't we do the same across the board? Huh, Madden?
I would think so, but Madden 18 doesn't really do that with the oft-injured Allen, so remains a strong talent for the Bolts but is about as unreliable as it gets. Allen runs pristine routes and is a reliable receiver, but he's never been all that explosive and he's missed a lot of time due to serious injuries.
The missed game count is up to 26 games over a short four-year career. Allen is still just 25 and is set to be a huge part of what L.A. does if healthy and the same guy, but how does his player rating not dip?
Not only can he not be trusted to stay healthy, but we have to brace for some mild regression thanks to all of these injuries. Madden 2018 clearly hasn't considered that with his current grade.
Randall Cobb, WR, Green Bay Packers (88 Overall)
Cobb is still being graded as a borderline elite NFL wide receiver, although it's arguable he hasn't been close to that in years – if ever, really.
Cobb benefits from a great system and an elite quarterback in Aaron Rodgers, but he's always been more quick than fast and his size keeps him from being a big deep threat or red-zone terror. He's a useful weapon, but at this stage, he shouldn't be closely rated to Jordy Nelson and he shouldn't be regarded as Green Bay's second best receiver over the more talented Davante Adams.
That's what is being done here, though. If it were up to us, we'd drop Cobb's speed and acceleration mildly and put more of a focus on his agility, catching, route-running and vision. One way or another, his Overall would surely drop by a few points.
After all, if Cam Newton gets downgraded for a down 2016, shouldn't Cobb take a hit after posting a meager 60-610-4 line? We think so.
Eric Decker, WR, Tennessee Titans (Overall 88)
It might be worse with Decker, who remains a very solid NFL wide receiver but will have to prove himself after missing most of 2016 with a shoulder issue.
Anytime a player is coming off a season-ending injury there is cause for pause, while it's always a little more sketchy when that guy is on the verge of exiting his prime.
Decker is still a highly skilled receiver that should prove to be a good get for the Titans, but he's 30 years old and missed 13 games a year ago. It's pretty arguable his player rating would have made more sense at around 84 or 85 – if not a little lower.
Sammy Watkins, WR, Los Angeles Rams (92 Speed)
Our last issue with the Madden 2018 player ratings lies with a player's speed. Sammy Watkins can be knocked for his health or consistency, but the one thing this guy does well is display his speed as one of the better deep ball guys in the NFL.
To be clear, a 92-speed rating isn't terrible. It's not even bad. It's actually quite good, but if a rookie like Curtis Samuel gets a 95-speed rating, we need to calibrate here and ponder why a guy who has actually proven himself like Watkins doesn't.
The argument doesn't need to get much more intense than this; Watkins once posted a 4.34 40-time, while Samuel ran a 4.31 40-time. Those are both staggeringly amazing times and both of these players are about as fast and explosive as it gets. But really, they have the same speed levels and their ratings shouldn't be much different – if different at all.
I would put Watkins right where Samuel is, maybe one notch higher or one notch lower. Where Watkins is at right now isn't bad, but for a guy that has always been a burner and technically hasn't even reached his prime yet at just 24, it's a little insulting.
We focused mostly on the bigger names on the offensive side of the ball, but there are more Madden 18 player ratings that got bungled.
Also, for some reason, Colin Kaepernick was on the Miami Dolphins when we first logged on. Madden is a little presumptuous in more than just player ratings, it appears.