Hide Bonus Offers
| | | | | |
| --- | --- | --- | --- | --- |
| #1 | Bovada Sports | 50% Up To $250 | Visit Site | Bovada Sports |
| #2 | BetUS | 125% Up To $2,500 | Visit Site | BetUS |
| #3 | MyBookie | 100% Up To $1,000 | Visit Site | MyBookie |
| #4 | Everygame | 100% Up To $500 | Visit Site | Everygame |
| #5 | BetOnline Sports | 60% Up To $1,000 | Visit Site | BetOnline Sports |
Luke Walton and Other NBA Head Coaches at Risk of Being Fired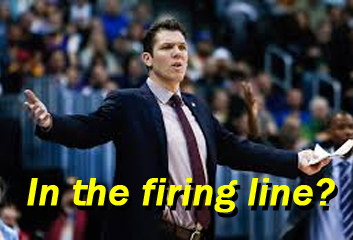 The job of NBA head coach tends to be a pretty volatile thing. Unless you're a seasoned icon like Gregg Popovich, you have to assume any day could be your last.
Tyronn Lue knows that reality all too well. The Cleveland Cavaliers didn't love a slow start (one that has now ballooned to a ghastly 2-11 record) and canned him before he could ever try to turn things around.
The weird part there is that was never going to happen, regardless of who was on the sidelines. Looking back, the Cavs were always going to be a shell of the team that made Finals runs with LeBron James, and keeping/firing Lue wasn't going to change a thing.
Still, NBA owners are always looking for that spark and trying to find the perfect fit. That's why a slew of coaches are still very much on the hot seat and could be handed a pink slip before the year is up.
Who is next to place their head on the chopping block, though?
All odds referenced in this post were taken from MyBookie.ag on 11/13/2018. These odds may have changed since the time of this writing.
NBA Coaches on the Hot Seat
The last time I took a look at NBA coaches that could be fired, Minnesota's Tom Thibodeau led the way for me.
I wasn't looking at the most obvious candidates at the time but was really trying to gauge which coaches really had to prove themselves in a hurry or could be at risk of being let go.
Thibs wasn't the first NBA head coach to get fired, but he's still a guy that should be on high alert.
The Jimmy Butler drama probably saves him for this year at this point, but an ugly start to the 2018-19 NBA season certainly places him among the sideline screamers that could be shown the door.
If you're eyeing the next NBA coach to get fired, it's probably going to be someone that has not been getting the job done and/or possibly is already in rumors to be canned.
Here are my top picks for the moment.
Tom Thibodeau – Minnesota Timberwolves
Brett Brown – Philadelphia 76ers
Fred Hoiberg – Chicago Bulls
Mike D'Antoni – Houston Rockets
Scott Brooks – Washington Wizards
Luke Walton – Los Angeles Lakers
Obviously, if I felt Thibs was at risk before the season started, I can't imagine he's fully safe after an ugly 5-9 start. However, it's not his fault Jimmy Butler forced his way out of town.
I imagine the Butler fiasco earned Thibs at least the rest of the year to try to build a winner, and the Wolves can decide his fate after that.
I reckon Brett Brown and Fred Hoiberg will get the same luxury. That doesn't mean they're completely safe, though. The Sixers are just 9-6, and the Bulls are as bad as anyone (4-10), so impatient ownership could always shock us.
Brown had to deal with two shooters leaving in free agency and the front office demanding to play Markelle Fultz, who is quickly shaping up to be a huge bust. Brown gets a break for all of that, while this Butler trade probably gives him a couple of months – if not the entire year – to figure things out.
Hoiberg is on somewhat shakier ground. Chicago is clearly in a full-blown rebuilding phase, but Hoiberg didn't deliver great production even when he had a cast of viable veterans leading the charge.
You could actually argue he's done a fantastic job given the tough breaks he's endured this year, but the Bulls could always opt to pull the plug if the struggles continue.
These aforementioned guys at least need to be looked at, but the guys really underperforming and figure to be at much greater risk are D'Antoni, Brooks, and Walton.
Luke Walton Prop Bets
There used to be NBA head coach firing odds, but they've been wiped off the internet. Now all that's out there are two different wagers at MyBookie dealing with Luke Walton.
Walton rose up the ranks as a brilliant assistant with the Golden State Warriors, and he's done all he could to build up a bad Lakers franchise. He was doing a decent enough job trudging along with a bunch of young players, but the second LeBron James arrived in La La Land, he inherited (gulp) expectations.
Suffice it to say, there are whispers out there already that if Walton doesn't play a key hand in the Lake Show really turning it on soon, he could be the scapegoat.
I mean, it's not like King James hasn't gotten his coaches fired before.
Due to that, there are two Luke Walton prop bets. The first is pretty blunt: will he be fired by December 1st?
I think "no" is the easy call there. Not only does that only leave the Lakers a couple of weeks to see where they'll be at by the time the wager expires, but they've already begun turning the corner.
Walton doesn't deserve all of the credit, nor did he at any point deserve all of the blame. Still, the Lakers have won three games in a row and are above .500. If they keep progressing, it'd be really bad PR to fire Walton for no reason.
The other Luke Walton wager at MyBookie.ag is based on his potential replacement.
This wager is also pretty strictly tied to December 1st. I don't buy that timeline right now, but if you do, I'd double down here by betting on the "yes" at +350 and then trying to predict who the Lakers bring in.
Here are your options.
Lue makes a lot of sense to lead the way here. Cleveland fired him not too long ago, and he was a hand-picked favorite to help LeBron get his title while he was still with the Cavs.
Playing for the Lakers back in the day doesn't hurt Lue's chances here, either. If you need to pick a name here, he probably leads the way, and his +500 price is pretty alluring.
Kidd and Jackson are big names, but they don't make that much sense. Jackson has a comfortable television gig and was pretty erratic as the coach of the Warriors. Kidd hasn't drawn positive reviews for his time on the sidelines with the Nets or Bucks, either.
I'd be more inclined to roll the dice on Any/Field.
That could include an assistant stepping up from behind Luke Walton or anyone Magic Johnson and LeBron James see eye to eye on. Lue is the pivot play here, but the Field bet is probably my favorite.
Which NBA Coach Will Get Fired Next?
In the end, I tend to think Luke Walton is safe for this year. I'm not so sure James listens no matter who is coaching, so as long as Walton can adapt on the fly and keep the Lakers from imploding, he'll make it until the summer.
The Lakers might part with him at that point if Bron Bron thinks they should, but they might be making a bad move if they do.
Regardless, Scott Brooks is the guy I'd be most worried about.
The former Thunder coach has helped his Washington Wizards reach postseason play in his previous two years on the job, but he has just one series win, and the franchise has regressed sharply in back-to-back seasons.
This year is the worst it's been in some time in DC.
The Wizards just don't make sense anymore, as the team can't stop anyone defensively, and they're not even always in sync offensively.
There could be chemistry issues with the arrival of star center Dwight Howard, but Washington just hasn't gotten the job done whether he's been part of the rotation or not.
Washington was supposed to again be a threat in the Southeast Division, but a horrifyingly slow start (4-9) has some wondering if they'll even make the playoffs.
The Wizards free-falling out of playoff contention has guys like Otto Porter not even guaranteed their usual minutes these days, while some are calling for a complete blow-up of the roster. If that happens – and even if it doesn't – the front office could opt to hold Brooks accountable first.
As things stand, I think Brooks has the hottest seat right now. There aren't fresh odds out for which NBA coach gets cut loose next, but if you find some, I'd definitely take a long, hard look at Brooks.