Hide Bonus Offers
| | | | | |
| --- | --- | --- | --- | --- |
| #1 | Bovada Sports | 50% Up To $250 | Visit Site | Bovada Sports |
| #2 | BetUS | 125% Up To $2,500 | Visit Site | BetUS |
| #3 | MyBookie | 100% Up To $1,000 | Visit Site | MyBookie |
| #4 | Everygame | 100% Up To $500 | Visit Site | Everygame |
| #5 | BetOnline Sports | 60% Up To $1,000 | Visit Site | BetOnline Sports |
Luke Rockhold vs. Jan Blachowicz Betting Preview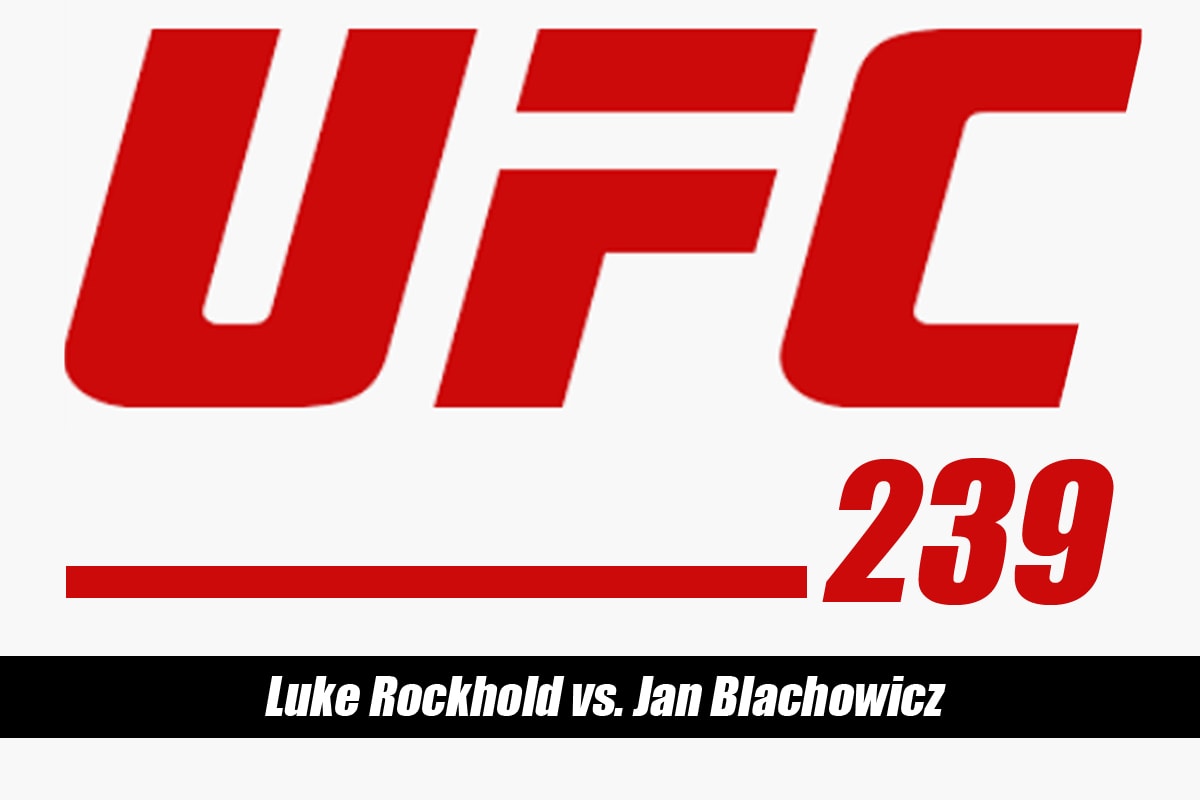 Luke Rockhold, eh? Against Jan Blachowicz, you say? At UFC 239?
Yes, si, oui, ja… whatever the language, the response to this fight will be the same — a popular one. Well, even if the star of the show is about as popular as a combination of a toothache and bankruptcy.
Rockhold has to be one of the most hated fighters in the UFC. Ever. Now, that in itself can lead many to bet on him getting battered. But the problem I have is trying to figure out why so many want to see him lose.
Sure, he can be a bit of a bore at times — and has trash talk so cringeworthy that it makes Tito Ortiz's efforts sound like a combination of Conor McGregor's and Chael Sonnen's — but is that enough to attract so much scorn?
I don't think so. In fact, there are bigger douches in the sport, both past and present, that seem to escape the wrath of your average UFC broski.
Is it that he is a pretty boy? The guy's grill is considered pretty enough for chicks to look at that he landed an official gig as the face of Ralph Lauren cologne, after all.
Being a badass former world champion and having the ability to steal your chick before you can say "Bisping" is never going to go down with the average meathead. Clearly, this is why Rockhold has a legion of haters.
So, how does Rockhold win the love of the UFC fanbase?
Well, beating Jan Blachowicz in his light heavyweight debut at UFC 239 would go a long way, that's for sure.
Latest Rockhold vs. Blachowicz Winner Odds
The odds above are taken from Bovada, one of the elite UFC betting sites we recommend here at GamblingSites.com.
Speaking of elite, Luke Rockhold still has to be considered among the best middleweights in MMA.
Sure, he lost his title to Michael Bisping in their rematch bout in June 2016 — and got knocked out by Yoel Romero in February 2018 — but the man had been consistently class for years before then.
Now trying his hand at light heavyweight, he comes in at -165 to beat the tough Pole Blachowicz, who is a +135 underdog.
While you might struggle to pronounce his name, if you are a fan of the fights, you will undoubtedly know that Blachowicz is no joke. The 36-year-old has been in solid form as of late and will relish the opportunity to hand Rockhold a slap or two when the cage closes.
This one is set to be a sweet fight and one that will lead to a bit of toing and froing when deciding who to bet on.
Let's take a closer look at the fighters for some clues.
Luke Rockhold – The Debutant
Ha!
The debutant makes him sound like a prim, upper-class young lady ready to set the ball on fire. But when it comes to the 34-year-old, there is nothing delicate nor green about his style of fighting.
He is, however, making his first-ever appearance at 205 pounds.
Rockhold was a beast of a middleweight that by all means should have owned the division. But he didn't.
Despite winning the UFC middleweight title in 2015, he lost it in his first defense. It was a shame, given the whooping he handed to Chris Weidman on the undercard of Aldo vs. McGregor at UFC 194 looked like the type of performance that would spark a dominant run.
Instead, Rockhold lost the title to Britain's Michael Bisping, a fighter that he had beaten by submission less than two years prior.
You could say that he had a special hatred for Bisping, so the loss visibly affected Rockhold, and he seemed to lose a little of his spark afterward.
Rockhold did beat David Branch in a comeback fight following a year out with injury. His next fight resulted in a loss to Yoel Romero, however, and his chances of winning the interim UFC middleweight title ended with that third-round KO.
Now, Rockhold is eyeing the light heavyweight strap.
Rockhold's Strengths and Weaknesses
One of the biggest advantages he had at middleweight was his height and reach. At light heavyweight, this will not be as effective.
Still, his smart striking, excellent footwork, and clever use of feints will help him.
A southpaw, Rockhold has solid boxing fundamentals and an excellent kicking game. He tends to rely on one-twos with his fists and roundhouses with his power leg but also has a decent leg kicking game.
On the floor, Rockhold has excellent takedown defense, which is surely down to wrestling with Daniel Cormier and Cain Velasquez at his gym, American Kickboxing Academy.
Rockhold also holds a black belt in BJJ and is very comfortable on his back and in the sprawl. He has a good kimura and guillotine and often exhibits great skill in the mount and back mount, to be specific.
All in all, Rockhold is an exceptionally talented mixed martial artist that is just hated for no apparent reason.
Although there are few major flaws in his game, he can get sloppy at times and leave himself open to counters. Against Blachowicz, he cannot afford to snooze for a second.
Jan Blachowicz – Solid as a Rock
Poland's Blachowicz is as tough as they come.
If not for a recent loss to Thiago Santos, he could have earned his first UFC title shot against Jon Jones. It was a bitter pill to swallow for Blachowicz, especially since it was just his second TKO loss in 31 bouts.
Blachowicz knows that a win over Rockhold at UFC 239 can elevate him back into title contention. The division has lost the likes of Daniel Cormier (to heavyweight) and both Alexander Gustafsson and Jimi Manuwa (to retirement).
Long considered the weakest division in the UFC, the emergence of fighters such as Santos and Anthony Smith has helped to bolster things up a little. Rockhold, too.
The funny thing is that Santos, Smith, and Rockhold are recent middleweight converts. With the first two looking good so far — and both landing fights with UFC light heavyweight champ Jones — Blachowicz won't be making things easy for Rockhold.
Before his loss to Santos in February, the 36-year-old went 4-0 with wins over Devin Clark, Jared Cannonier, Jimi Manuwa, and Nikita Krylov.
A win over Rockhold — a man who some believe can earn his own shot at Jones soon enough — would push him into title contention.
This is a must-win fight for the "Prince of Cieszyn" and perhaps his last chance of earning a title shot in the promotion.
Hyped!
What Blachowicz Brings to the Party
A smart striker with an excellent sense of what it takes to win, Blachowicz can cause real problems to Rockhold's light heavyweight ambitions.
An orthodox counter puncher with a mean left leg, you will often see the Pole switch stances depending on his mode of attack. He is quick to adapt to his opponents' advantages and has a cultured jab that he uses to gain a sense of range early on.
Against Rockhold, Blachowicz will hold a one-inch reach advantage despite being one inch shorter in height. This will suit his style of fighting from long range and looking to capitalize on any shortcomings in the American's approach.
The 36-year-old has some excellent strikes, including his trademark uppercut and round kick.
Although not regarded for his offensive wrestling, Blachowicz has fairly decent takedown defense. His clinching on the feet is decent, too.
Finally, Blachowicz has a black belt in BJJ under Joe Moreira but has only won by submission twice in 11 fights in the UFC, or, to be more precise, twice in six victories.
Betting on Rockhold vs. Blachowicz?
If you are not already placing your bets, you should definitely be thinking about it.
Sure, choosing between Rockhold and Blachowicz is kind of like deciding whether to opt for pizza or Chinese takeout. After all, both can feasibly get the job done, but it's pot luck who would win in a fight.
A chop suey vs. a Hawaiian pizza? Dude. Worth the admission price alone, right?
Of course not! What kind of crazy person compares a brutal mixed martial arts contest to food? Well, me; I did.
I guess that means I'm hungry.
I'm going to leave this here and grab some food. When I come back, I'll reveal who I think will win.
Okay, so I'm back — the joys of reading, eh? It was almost as though I didn't leave.
By the way, the food was great, and I can now think straight once again.
Would you like to know what I had? I thought not.
Ergo, let's get down to business!
Why I'm Backing Rockhold
Why, you ask?
Well, it's got nothing to do with the cologne his pretty-boy face sells, nor does it have to do with his gym. I'm not Rockhold's greatest fan — either as a fighter or as a person — and I can't remember the last time I chose his side in a fight.
Why I am backing Luke Rockhold to beat Jan Blachowicz is because I believe he is the better fighter.
Rockhold is an exceptional mixed martial artist who I believe will enjoy a very successful run at light heavyweight, much like Smith and Santos. Without the grueling weight cuts, the Californian can do a lot of damage at 205.
Sure, Blachowicz is no bum and can put him away, but I see Rockhold's superior skillset — providing it is backed up by a focused mindset and a solid gameplan — trumping anything that the Polish fighter has to throw at him.
Both men understand that this fight is crucial to their chances of success in the UFC and will not want to put a foot wrong. So, the first guy to blink will lose.
Rockhold can get a stoppage in this bout.
Final Thoughts
Clear enough for you?
Luke Rockhold is my pick to emerge with the win over Jan Blachowicz at UFC 239 on July 6.
A victory for the former UFC middleweight champion would edge him one step closer to a showdown with light heavyweight kingpin Jon Jones. What a scrap that would be, eh?
If you are putting money down on the fights, get yourself over to the top UFC betting sites for the best bookies in your region. You will find everything you need at the link above.
As for the main event of the evening, don't forget to check out my Jon Jones vs. Thiago Santos fight breakdown where you will find my take on who comes away with the title and the glory.