LSU Tigers vs. UCF Knights – Odds, Predictions, and Pick for Betting the 2019 Fiesta Bowl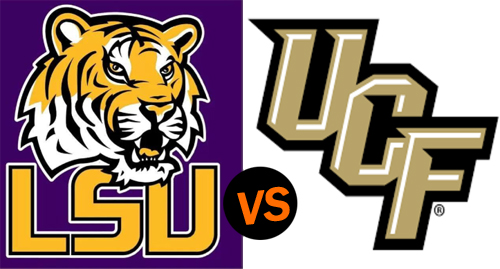 What does Central Florida have to do to get the respect they deserve?
For the second straight year, the Knights finished the regular season undefeated yet were "dismissed" by the selection committee. Once again, UCF was left out of the College Football Playoff.
Instead, they'll get a shot at an SEC powerhouse in the 2019 Fiesta Bowl on New Year's Day. With a chance to show the world how good they really are, I'm certainly among the intrigued.
In a similar spot versus another SEC behemoth in last year's Peach Bowl, UCF had no qualms beating Auburn by a touchdown, despite being a 10.5-point underdog. But their opponent this time around is different.
The LSU Tigers have shown flashes of brilliance and have dynamic athletes all over the field. They played a brutal schedule and have been tested on all fronts. But are they as motivated as the Knights are for this one?
Find out how I see the Fiesta Bowl shaking out on the first day of the new year.
The 2019 PlayStation Fiesta Bowl
Records: LSU Tigers (9-3), UCF Knights (12-0)
Where: State Farm Stadium – Glendale, Arizona
When: Tuesday, January 1st – 1:00 pm EST – ESPN
Before we get into breaking down this matchup, let's take a look at a couple key factors surrounding this contest. You already know that Central Florida QB McKenzie Milton is out after suffering a gruesome leg injury during a victory over USF the day after Thanksgiving.
But did you know that Ed Orgeron and LSU will be without arguably their top two defensive players in the Fiesta Bowl?
Junior defensive tackle Ed Alexander has declared for the Draft and will skip the Fiesta Bowl, as will star cornerback Greedy Williams. Considering Greedy looks to be a top-ten pick by all accounts in April's upcoming Draft, there will no doubt be a major void left in the LSU defensive backfield.
Remember, Orgeron's squad already lost Kristian Fulton, their other starting CB, to an ankle injury. LSU is still loaded with talent on the defensive side, but there's no doubt that UCF now has a little more room to work with.
The Knights might have lost their starting QB in a devastating manner, but don't sleep on what freshman Darriel Mack Jr. did and can do during relief.
During his first start in the American Athletic Conference Championship Game versus Memphis, Mack accounted for 407 yards and six touchdowns. Showing off his dual-threat capabilities, the Norfolk, Virginia, native helped this squad pick up right where they left off.
Closing as a one-point favorite, UCF dusted off Memphis by 15. In fact, if you want to talk numbers to help you see firsthand just how good Central Florida has been, here you go.
During the Knights' current 25-game win streak, they've gone 17-7-1 against the spread (ATS). That is the third-best mark ATS in all of college football since the start of 2017.
I remember everybody saying that Cincinnati would challenge the Knights in a primetime spot when UCF was favored by just 6.5. That one was never close, as Central Florida trounced the Bearcats by 25.
Now the American Athletic champs enter a game where they're on the receiving end of more than a touchdown. Where are you going to put your money?
LSU Tigers vs. UCF Knights – Lines and Pick
Whether it was under the Scott Frost regime in 2017 or under Josh Heupel's guidance in 2018, the UCF Knights have been terrific. Not only have they beaten each and every team on their schedule, but they have made bettors who have stuck along for the ride a fortune along the way.
I know everyone is saying that this LSU team "is so much better" than anyone that UCF has faced, and perhaps that is true about the Tigers D. But when it comes to explosive offenses, the LSU group can't even hold a candle to what UCF brings to the table.
Tigers QB Joe Burrow is underwhelming, to say the least, and Justin Jefferson is the only pass catcher who hauled in more than 20 receptions on the year. Flip the coin, and you'll see an abundance of playmakers for UCF. The Knights have a trio of receivers who each caught 40 or more passes in 2018, and running back Greg McCrae averages a whopping 9.0 yards per carry (YPC)!
LSU was already going to have their hands full slowing this unit down. Without the services of Ed Alexander and Greedy Williams, the task gets even tougher.
Part of me actually thinks UCF can get out in front and win this game comfortably, but I know that may sound a bit naïve. What I don't envision happening is a scenario where LSU shuts the Knights down and is able to pull away by sustaining a bunch of scoring drives of their own.
If Central Florida does go down here, I can assure you they'll go down swinging and putting up a heroic fight.
Just don't be surprised if Coach O's group is the team that looks sluggish and overmatched. Because people who have been sleeping on UCF the past two years have been costing themselves serious money.
Can the Knights Go 13-0 Again?
The Knights have a big opportunity staring them in the face. If they can win a New Year's Six bowl game over an SEC squad for the second consecutive year, expect the College Football Playoff (CFP) selection committee to take a long and hard look at their process of how they rank teams.
LSU might be the program with better recruits and a higher-paid coaching staff, but you can throw all that out the window for the 2019 Fiesta Bowl.
We've got two solid football teams going toe-to-toe, leading me to believe there is a ton of value in betting the Knights +7.5. The "built-in hook" is already there, and UCF most definitely has a chance to come out on top.
In other words, sign me up, folks!
Talking of signing up, make sure you get signed up with one or more of the best college football betting sites as soon as you can. They'll be offering plenty of betting markets for this and other bowl games, so there'll be lots of opportunities for finding good wagers to place.