Los Angeles Lakers vs. Boston Celtics on 02/07 – Odds, Prediction and Betting Picks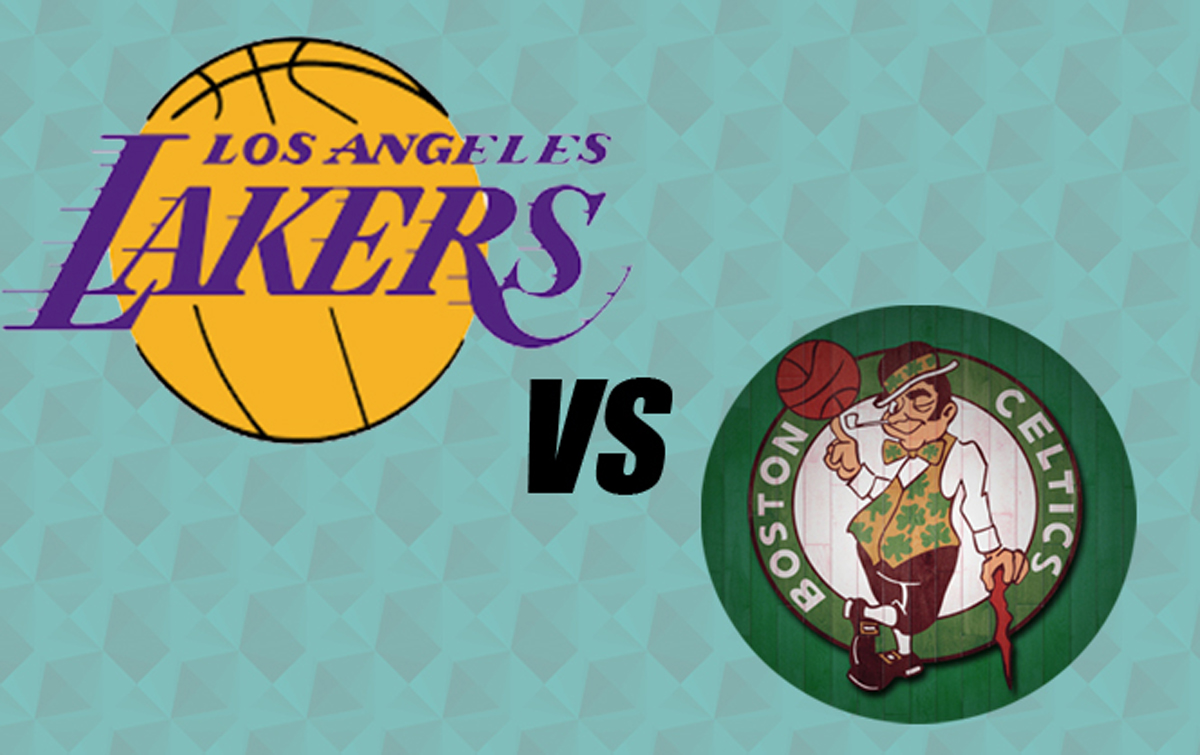 On Thursday, the Boston Celtics will play the Los Angeles Lakers for the first time this season.
I always look forward to their matchups, as the two franchises make up one of the biggest rivalries in NBA history.
Both the Lakers in the West and Celtics in the East have had enormous success in the league.
They currently find themselves in very different positions, though.
The Celtics are on the up with their star Kyrie Irving providing the spark. The Lakers have missed LeBron James for a while, and the young core has had to endure some tough defeats.
LeBron will most likely feature on Thursday, but he will face one of his toughest defenders in Marcus Smart. On the other hand, the Lakers pose a new threat with the emergence of Ivica Zubac.
The center has been in magnificent form since coach Walton started using him, but will he be able to call upon him against Boston? There's not much info on him at the moment, but it seems like he may have injured his finger.
I expect we'll see an exciting contest on the court, but the teams are also locked in a race outside the court. Both franchises have expressed their desire to land Anthony Davis in the past and are rumored to have contacted him as the trade deadline looms.
We don't know whether Davis will be moved before Thursday's game or where he will end up, but the rumors surrounding his future will definitely add even more fuel to the fire.
I personally can't wait for this one, but before I look at how the teams have been doing recently, I want to check what the best NBA betting sites are offering us for this game.
Los Angeles Lakers – Boston Celtics Betting Odds
Los Angeles Lakers +9
-110
Los Angeles Lakers
If we've learned anything from the Lakers this season, it's that their only hope of catching a playoff spot is LeBron James. Even with the abundance of talent there, the team still can't win without the King. Their recent form shows this well enough.
LeBron missed 17 straight games, and the team lost most of those. Even if there were some good performances during this patch, it's evident that these guys are not playoff material. Their defense is practically non-existent on most nights, and they can't find a consistent shooting form.
The difference was immediately felt when LeBron returned against the Clippers. James single-handedly took the game to overtime and won it there. There aren't many players in this league who can miss 17 games and then rack up 24 points, 14 rebounds, and 9 assists on their return.
And it's not only that he can still put up monster stats. It seems as if he makes the other players better when he's on the court. Not that it's a big surprise LeBron is able to do that.
Lebron is the best player in the league and was able to take Cleveland to the finals last year with a roster that shouldn't have been anywhere near that stage.
He is aiming to do the same with the Lakers this year, but one key difference is his health. LeBron played all 82 regular-season games last year, whereas he has already missed a little over 20 matches this season.
This has resulted in the team dropping out of the playoff spots. While there's still time to turn it around, it's clear it will have to happen with James on the court.
One bright light in LeBron's absence has been the young center Ivica Zubac. Luke Walton finally decided to give him a chance, and it has paid off. A player the franchise wanted to move in the summer is quickly turning into a valuable piece.
Some people may say that there are enough young players with potential on the team, so why would Zubac be any different?
I guess the main difference is that the center has been able to hit form right from the start. At 21 years old, he is playing like he's been in the league forever. He can, of course, improve in some areas, but overall, the signs are really positive.
Unfortunately for him and the Lakers, it looks like he's going to be missing from action for some time. With Zubac out, Walton will have to rely on Tyson Chandler and JaVale McGee to cover the center position against the Pacers and Celtics.
So, it's mostly bad news for the LA outfit. On top of that, there might be serious unrest among the young players. With the Lakers being one of Anthony Davis' preferred destinations, some of them will surely be moved if the trade happens.
LeBron's impending return will definitely brighten up the mood, but will it be enough to start a winning streak?
Boston Celtics
Boston is flying at the moment. It looks like they finally found their balance and are climbing up the table fast. The obvious reason is Kyrie Irving, of course. What a player he is! I mean, yes, I understand the concerns people have with him. He's frequently injured and can be a tough character to deal with. But when he's on the court with only basketball on his mind, he's a beast.
He just has this rare talent of seeing everything on the court and executing plays with pinpoint precision. I know he's never seriously entered the MVP talks, but for me, he's arguably the best in the league at what he does.
Boston should do everything in their power to persuade their star man to re-sign. Especially now that rumors are coming out that Kyrie is interested in reuniting with LeBron James.
Kyrie has definitely been the main man, but we just can't neglect coach Stevens' influence.
For years now, he has been able to make players better. Even if the rotation sometimes is not working for some of them, he just finds a way to get them back to their best form.
Just look at the players on their current roster.
Jaylen Brown and Jayson Tatum started the season very poorly. And I mean very poorly! After Tatum's heroics in his rookie year, the expectations were very high. Same goes for Jaylen Brown. It took some time, but they are again looking like they can contribute.
Terry Rozier is another player who was a revelation in last season's playoff games but did not start the season well.
He looked a bit lost in rotation and wasn't creative at all when called upon. But as with the other players, he is now on the up. A good testament of that is his recent performance against the Thunder where he was just 3 boards shy of a double-double.
Another ingenious ploy has been the return of Marcus Smart to the starting lineup. The guy may not be anywhere near All-Star level, but he is very confident and can defend against anyone in the league. I've always thought he's a great player to have, and it looks like Brad Stevens agrees with that.
The big surprise for me has been Daniel Theis. After the many injuries he's had, it wasn't looking like he'd have an NBA career at all.
However, Boston stuck with him, and the player showed great patience. Now, I'm not saying he is the most important figure on the roster, but he's shown some very positive things when given minutes on the court this year.
His field goal percentage for the season is at 54.9%, and he's making 41% of his three-point shots. There's definitely something there, and at 26 years old, he can still improve and see a larger role on the team.
I feel these are all instances that the coach has to be given credit for. Yes, the players put in a great amount of work, but Stevens is the mastermind behind it all and always seems to find the right balance when it matters. You just need a quick look at the table, and you'll agree with me.
Boston is currently on a four-game winning streak and has won nine out of their last ten. They are a serious contender for the hottest team in the league at the moment, and they might prove too hot even for LeBron James.
Prediction and Betting Picks
Obviously, the big question here is whether LeBron James will be on the court. Boston has been devastating in recent games, so the Lakers will need the boost. Given the fact that James lasted for the whole game against the Clippers and started against the Pacers last night, I assume he's fit to play.
The problem is that even with LeBron in the ranks, the Lakers have to face one of the strongest defenses in the league AND Kyrie Irving, who has been in ridiculous form.
As expected, Boston rested the starting point guard and still had enough in them to outclass the lowly Cavaliers yesterday. In Kyrie's absence, Rozier got the start at point guard. Marcus Smart was terrific again and Gordon Hayward had 18 points off the bench.
Jayson Tatum continues his good form as he dropped 25 and was the Celtics' leading scorer. Cavaliers' rookie Collin Sexton had a career-high night, but it wasn't nearly enough and his team remains with only 11 wins.
The big surprise from last was the result from the game between the Lakers and the Pacers. Indiana are a stable team and I expected they will pose a threat even if LeBron James played. Not only did LeBron play for 30 minutes, but he registered his worst defeat in the NBA. Pacers ran out winners with a 42 points margin!
The Lakers had one of those nights where their shooting was awful. Especially when we look at the starters. Lance Stephenson had more points than both Kyle Kuzma and Brandon Ingram. I guess that tells you all you need to know.
I assume there is tension in the team because of the Anthony Davis rumors and this may well be affecting the players. The only positive news is that Ivica Zubac is healthy despite reports he has injured his finger. He started against the Pacers and I expect him to start the game against Boston as well.
I won't share my prediction yet, as the odds are not released, but it doesn't look good for the Lakers right now. Expect an update here, once we have the prices available.
02/07 Update
I'm not surprised by the odds as two teams go into this game in very different situations. Given Boston's strong defense and the fact that the Lakers shooting can be way off on some nights, I believe the best value here is to bet on a low-scoring game.
Final Words
I hope the trade deadline doesn't affect the players' heads too much and that they focus on what they can do on the court.
A battle between LeBron James and Kyrie Irving is always a joy to watch. I expect they will be the center figures, but in such a contest, it's important to get some help from their teammates.
Will Boston's superior chemistry prevail, or will the Lakers' young stars explode in the TD Garden? It remains to be seen, but I can't wait to find out and make some money out of it.