Los Angeles Chargers Draft Predictions for 2021

After locating their franchise quarterback in the 2020 draft, the 2021 edition is all about surrounding Justin Herbert with talent.
LA will be looking for pass-catchers early on, and they'll certainly be keeping tabs on playmaking defenders.
With that being said, the Bolts primary focus will be obtaining protection for their #1 asset.
Starting with the 13th pick, let's explore Chargers draft predictions for all nine of their selections.
Round 1 – Pick #13
Selection: Christian Darrisaw
Position: Offensive Tackle
School: Virginia Tech
To further reiterate the need for a franchise tackle, the Bolts offensive line ranked dead last in the league according to PFF's final 2020 offensive line rankings.
Bryan Bulaga came over from Green Bay and was supposed to be an upgrade – he wasn't (29th graded right tackle in the NFL).
There aren't many versions of Penei Sewell being on the board when the Chargers are picking – assuming Los Angeles doesn't move up in the draft. Likely, Rashawn Slater will have been plucked as well. That leaves Christian Darrisaw as the consolation prize.
The senior from Virginia Tech was a starter as a true freshman in Blacksburg and got better and more dominant year after year.
Thanks to his substantial mass (6'5", 314 pounds) and heavy hands that consistently boxed out defenders, Darrisaw can immediately be inserted at either tackle position and provide a boost to LA's protection scheme.
Round 2 – Pick #47
Selection: Wyatt Davis
Position: Guard
School: Ohio State
Luring Corey Linsley from Green Bay by virtue of making him the highest-paid center in football was the first step. Snagging Darrisaw at #13 was step #2. Drafting Wyatt Davis at #47 would be yet another strong indication that safeguarding Justin Herbert is item #1 on the agenda.
From powerhouse St. John Bosco to Ohio State – the grandson of a Hall of Famer has been destined for a fruitful NFL career since he was an adolescent.
Deemed a "plug in and play" starting right guard from the day he joins an NFL roster; Davis was able to quickly rehab a late-season knee injury and was firing on all cylinders at his Buckeyes pro day.
In terms of a can't-miss NFL guard with perennial Pro Bowl potential, Wyatt ranks near the top of the list in the 2021 class.
Round 3 – Pick #78
Selection: Paulson Adebo
Position: Cornerback
School: Stanford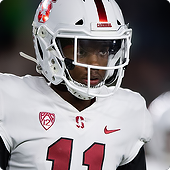 LA's best cornerback (Chris Harris Jr.) is entering the final year of his contract and the Chargers tied for 25th in the NFL in interceptions.
With three selections on day 2 of the draft, it seems almost imperative to use one of the picks on a budding defensive back.
Paulson Adebo was a two-time First-Team All-Pac 12 selection (2018, 2019) in Palo Alto who sat out in 2020 to preserve his elevated status.
Although his play dipped slightly in 2019, the Stanford CB led all the FBS with 24 pass deflections as a RS freshman in 2018.
Adebo has the versatility to fit any NFL scheme, although he shined brightest in zone coverages where his closing burst was on display.
With good size and (6'1" 190 pounds) and an advanced football IQ, Paulson should find ample playing time right away upon entering the league.
Round 3 – Pick #98
Selection: Jordan Smith
Position: EDGE
School: UAB
Since transferring from Florida and getting his feet wet at the JUCO ranks, Jordan Smith has been wreaking non-stop havoc.
The 6'6" edge rusher put on 35 pounds of muscle in the past year and will enter the NFL with a "grown man's body."
Jordan profiles as a perfect fit as an outside linebacker in a hybrid 3-4 scheme – which just so happens to be the exact defensive arrangement that the Bolts will switch to in 2021 under the guidance of new DC Renaldo Hill.
The UAB product racked up 12.5 sacks and 23.5 tackles for loss in 21 games with the Blazers and shows up to work each day with that "chip on my shoulder" mentality.
Add Smith to the list of guys who have a sincere chance to become one of the steals of the 2021 NFL Draft.
Predicting the Chargers Draft Picks on Day 3
Round 4, Pick #119 – Seth Williams, WR, Auburn
Round 5, Pick #160 – Camryn Bynum, CB, California
Round 6, Pick #186 – John Bates, TE, Boise State
Round 6, Pick #199 – Brady Breeze, S, Oregon
Round 7, Pick #242 – Grant Stuard, LB, Houston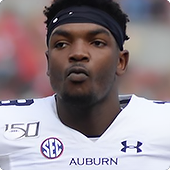 With the main needs addressed during the final two days in April, May 1st (Day 3 of the 2021 Draft) is about boosting the depth chart with talent that can be developed.
Having said that, Seth Williams is a guy who would challenge for playing time right away in 3-WR sets.
Justin Herbert lost Hunter Henry in free agency and could lose Mike Williams at the end of the year – that leaves Keenan Allen in the slot and not a whole lot else.
The former Auburn wideout thrives in crossing patterns thanks to being superior in contested-catch situations. At 6'2" and 224 pounds, Seth can help stretch the sidelines as well as be an integral part of the red zone plan.
As the search for playmakers continues, Camryn Bynum could join Paulson Adebo as a rookie corner out of the Pac-12 primed to make an impact in the Chargers secondary right away in year one.
Bynum is extremely physical at the point of attack and is a sure-handed tackler on the perimeter. As for his durability – Bynum started every single game for the Bears during his four seasons in Berkeley.
I alluded to Hunter Henry being let go in FA. The addition of Jared Cook somewhat curbs that loss, but the reality is that Cook arrives on a one-year deal and is 34 years old.
Donald Parham is ready to be unleashed in all sorts of packages, but LA could certainly aid themselves by drafting a well-rounded tight end in the 6th round.
That's where Boise State's John Bates comes in – a 6'6" 260-pound versatile tight end who was a track star in high school.
A strong showing at the Senior Bowl should ensure that Bates hears his name called sometime during day 3. In the case of this Chargers mock draft, it's at the very top of round six with the 186th pick.
Brady Breeze is resourceful safety who would provide insurance given Derwin James' history of injuries. Breeze was part of the 2016 recruitment class at Oregon that included Justin Herbert and acted as the quarterback of the Ducks D for much of his time in Eugene.
At the very least Brady projects as a core special teams player who isn't afraid to do the dirty work.
With Denzel Perryman moving onto Carolina, Grant Stuard is a guy who can benefit from learning behind Kenneth Murray. A member of the AAC First-Team All-Defense in 2020, Stuard not only led the Cougars in tackles this past season – but he was also the Conference's leader in tackles per game.
He's a little small and a little slow to be considered an elite prospect, but his unmatched determination should allow him to carve out a role with an NFL team. Especially in short-yardage and obvious run situations.
Last Words on These Chargers Draft Predictions
You'll find Chargers mock drafts that have LA selecting a wide receiver or an edge rusher with their first selection. While either scenario is certainly in the cards, nothing is more important than protecting Justin Herbert's blind side.
After watching Joe Burrow get crunched in Cincinnati due to the lack of protection, it'll be tough to sway Tom Telesco away from taking an offensive lineman at #13.
Nabbing Wyatt Davis next means one of the top guards in the class is also on his way to ensure Herbert stays upright.
The Bolts need cornerbacks, and they will find a receiver and a pass rusher with one of their nine choices.
Interested in more NFL team mocks filled with predictions for all seven rounds?
Ask and I shall deliver.