Looking at Klay Thompson's Historic Run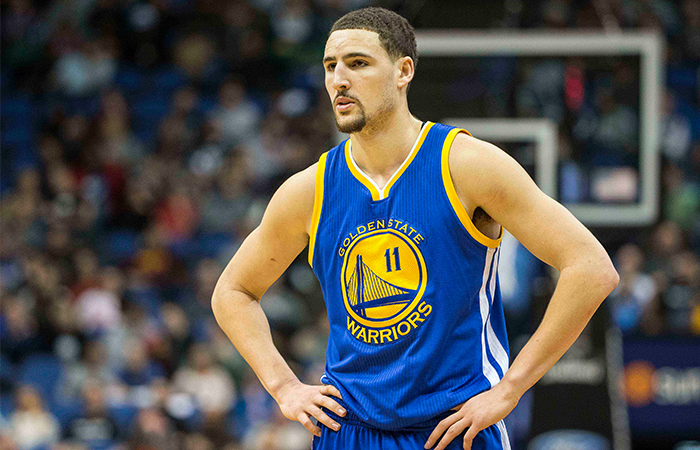 The Golden State Warriors may be the villains of the NBA these days, but that label does not keep them from being a whole lot of fun at times.
Because of their overall basketball wizardry and the fact that there's a good chance you'll witness something incredible, the Warriors are must-see TV whenever they're on the schedule.
Whether it's Stephen Curry pulling up and effortlessly drilling shots from 35 feet, Kevin Durant knifing through a defense as though he's a 6'2" guard or Draymond Green kicking someone in the crotch, there's always something thrilling happening with this bunch.
For as great as those three guys are to watch, none of them really match the experience of watching Klay Thompson go berserk. We've seen it several times over the last few years, but when Thompson is feeling it from the floor it's almost an out-of-body experience. He is just another reason Golden State is nightly appointment viewing if you're a basketball fan.
Klay Went Off
Monday was one of those nights for Klay. He scored 17 points in the first quarter, 23 in the second and 20 more in the third on his way to a 60-point night in the Dubs' demolition of the helpless Indiana Pacers. He chucked 33 shots, of which he hit 21, to go along with eight three-pointers in the rout.
Perhaps the most remarkable aspect of Thompson's performance was the fact that he did all of this in just 29 minutes. With his team up by 33 after the third, Steve Kerr decided to pull the plug and let Thompson and the rest of the starters take a breather for the final 12 minutes.
While Durant and Curry are creating shots for themselves more often than not, Thompson does most of his work coming off of screens and spotting up. Per NBA.com's tracking stats, Thompson held the ball for a total of only 90 seconds and dribbled just 11 times during his 60-point onslaught. He wasn't wasting any time. He was taking the pass, rising up and firing away. And the Pacers were completely unable to do anything about it.
Klay got off to a fairly ragged start to this season as he tried to find his niche alongside a new ball-dominant teammate in Durant. He was visibly frustrated at times and shot just 29 percent from three-point range over the first seven games. Thompson is a guy that can overthink things, and when he's doing that he's at his very worst.
When he's feeling it, though, you can tell that thinking is secondary.
His already-quick release seems to speed up even more when the shots are falling the way they were on Monday night.
The Warriors are a completely unstoppable basketball machine when they're at the top of their collective game, and a Klay Thompson hot streak embodies that to a tee. Oracle Arena is already well known for housing a raucous crowd every night, but when Thompson is in a zone the way he was on Monday the place transforms into a chaotic madhouse.
His previous career-high for points in a game came back in January of 2015 when he dumped 52 on the Kings. That, of course, was the night he went off for 37 points in the third quarter alone, which shattered the previous NBA record for points in a 12-minute stanza that had been held by George Gervin and Carmelo Anthony.
That was the game folks would cite whenever Thompson's infamous streakiness would come up. Until now, at least.
Historical Context
The last time we saw something like this was back in December of 2005 when Kobe Bryant scored 62 points on the Dallas Mavericks in just three quarters of play. Bryant shot well that night, but a whopping 22 of those points came on his 25 trips to the free throw line. Kobe was fun to watch when he was on fire, but even that display wasn't as aesthetically pleasing as Thompson's master class on Monday night at Oracle.
The Pacers had no hopes whatsoever of keeping this game close, but what if they had? What if Kerr had been forced to keep Thompson out there? Should he have let Klay keep rolling in spite of the blowout?
We heard those same questions after Bryant's aforementioned 62-point effort, only to see Phil Jackson unleash him when he was on a similar hot streak about one month later. That night, Kobe dropped 81 on the Raptors.
Even Better Yet?
Could Thompson have cracked 70? 80? The way he was going, it certainly wasn't out of the question. He hadn't scored fewer than 17 in any of the previous three frames, and he'd have likely been squaring off against Indiana bench warmers with the game so out of hand.
Alas, we'll never know. Thompson will just have to settle for pouring in a career-high 60 points. Amazingly, the 29 minutes he did play last night were tied for the third-fewest he's played in any game so far this season. It was also just the second time on the year that he cracked the 30-point barrier, let alone 40, 50 and 60. Klay became the first player in the shot clock era to crack 60 points in fewer than 30 minutes of play.
Thompson is sometimes the forgotten man among a roster laden with superstars, but nights like these remind us that there's nobody else in the league quite like him. The possibility that he's just the fourth-best player on his own team is a cruel reminder for the rest of the NBA that this team is truly a potential dynasty in the making.
We may never see an individual performance like this again. Then again, we didn't realistically think Klay Thompson would upstage is 37-points-in-a-quarter showing against the Kings, did we? Stay tuned.