Hide Bonus Offers
| | | | | |
| --- | --- | --- | --- | --- |
| #1 | Bovada Sports | 50% Up To $250 | Visit Site | Bovada Sports |
| #2 | BetUS | 125% Up To $2,500 | Visit Site | BetUS |
| #3 | MyBookie | 100% Up To $1,000 | Visit Site | MyBookie |
| #4 | Everygame | 100% Up To $500 | Visit Site | Everygame |
| #5 | BetOnline Sports | 60% Up To $1,000 | Visit Site | BetOnline Sports |
Why Lonzo Ball Won't Win the 2017-18 NBA Rookie of the Year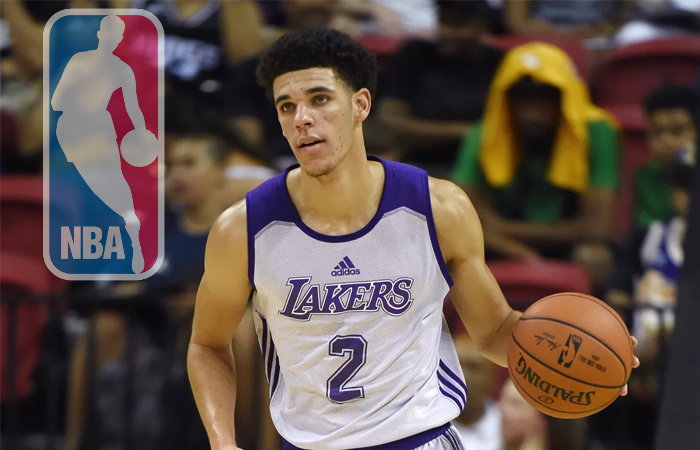 The race for the 2017-18 NBA Rookie of the Year started on draft night in June. Los Angeles Lakers star point guard Lonzo Ball initially entered year one tied with Philadelphia 76ers star forward Ben Simmons as the co-favorites to win the award, but an amazing NBA Summer League run now has Ball front and center as the main ROY favorite at most NBA betting sites.
While logical, there could be a case against betting on Lonzo Ball to win the award. Ball leads the way with +200 odds to be named the 2017-18 NBA Rookie of the Year, but there is a lot of competition up top with him in what is actually a loaded rookie class. Insert Simmons, who will technically be a rookie after missing all 82 games a year ago, and Ball could have his work cut out for him to win the award.
2017 NBA Rookie of the Year Odds
Before we start to build a case against Ball, let's take a look at the latest NBA ROY odds over at Bovada:
Lonzo Ball – Los Angeles Lakers (+200)
Dennis Smith – Dallas Mavericks (+300)
Ben Simmons – Philadelphia 76ers (+500)
Jayson Tatum – Boston Celtics (+500)
Markelle Fultz – Philadelphia 76ers (+1000)
De'Aaron Fox – Sacramento Kings (+1200)
Malik Monk – Charlotte Hornets (+1800)
Josh Jackson – Phoenix Suns (+1800)
Jonathan Isaac – Orlando Magic (+3300)
Justin Jackson – Sacramento Kings (+3300)
Lauri Markkanen – Chicago Bulls (+3300)
John Collins – Atlanta Hawks (+3300)
Ball is the clear favorite, but as you can see, Vegas does see several candidates that aren't that far away from keeping him from winning Rookie of the Year.
The big question, of course, is if it's really that logical to imagine someone other than Ball winning. While it's no lock that ends up being the case, there actually is a valid argument to bet on someone other than the former Bruin to win the award. Here are a few reasons why:
He Might Not Be the Best Player on His Own Team
I'm not sure this argument is bulletproof, but it's very much worth taking a look at, as Brook Lopez came into town via trade and the Lake Show has some solid talent elsewhere. Jordan Clarkson and Kentavious Caldwell-Pope will both be earning minutes at guard and Julius Randle is developing into a talented forward. As promising as Ball's versatile skill-set is, what's the guarantee that he'll necessarily be the best player out of this group?
If it's up to the Lakers, this will be Ball's show. He'll be the leader, passer and tone setter D'Angelo Russell never was and the stats, overall production, and wins will follow. Of course, Ball's game has been compared more to Jason Kidd than an elite scoring point guard, so it's fair to wonder if his numbers will live up to that of a true ROY candidate. If he's somehow not the top player amongst even the Lakers, it's understandably easy to see that being the case.
He Might Not Even Be the Best Point Guard
Ball is probably going to make a huge impact for the Lakers and from a talent and role perspective, he should end up being their best player. Brook Lopez might give him a run for his money, but there's no way of knowing just yet. We certainly can wonder if Ball will for sure even be the most talented rookie at his own position this year, however.
The 2017 NBA Draft gave way to an absolutely loaded point guard class, with Markelle Fultz being drafted #1 overall by the Sixers and three other point guards going inside the top-10. We don't see France's Frank Ntilikina in these Rookie of the Year odds, but he'd be an interesting flier bet on pro basketball betting sites that do list him, while we obviously have to pay attention to Fox, Fultz, and Smith.
Fox already showed Ball up in the March Madness tournament this past year, while Fultz was graded out as a better point guard prospect by just about everyone. Smith is door number three and he seems to be executing with a bit of a chip on his shoulder after sliding to the Mavericks in the draft. Now seen as the new face of the franchise, he should start and have a huge role in year one.
As you can see, Ball isn't alone when it comes to tantalizing point guard talent in this race. Could he put up inferior numbers or not look as good/better than some of these other point guards? Absolutely, and depending on how wide that gap is, it could cause a severe dip come NBA ROY voting time.
The Lakers Might Still Stink
Another big aspect for ROY is how said candidate's team fares. Joel Embiid wasn't a serious option last year because he didn't play enough games and Dario Saric didn't win because his Sixers team wasn't that good. Malcolm Brogdon ended up winning the award because his numbers were solid (although not better than Saric's), while the rookie also played a big hand in the Milwaukee Bucks getting back to the playoffs.
Ball could come out and post huge numbers, but what if his top competitors in the ROY race match or best him and the Lakers don't show marked improvement? It's still very early in the process, but the Lakers made several big changes and there could be other teams ready to rise into the playoff fold in the Western Conference.
Are the Lakers for sure better than teams like the Pelicans, Mavericks, Nuggets, Kings, Timberwolves, and Suns – all of which failed to make the playoffs a year ago? You could quickly put them ahead of the Suns and perhaps the Kings, but from there it starts to get dicey. That's especially a sticky situation when you note that Fox and Smith should play huge roles as rookies with the Kings and Mavs, respectively.
The Competition is Brutal
The most compelling argument against betting on Lonzo Ball as this year's Rookie of the Year is the fact that there are a ton of outs. Vegas clearly agrees, as even though Ball is favored at +200, there are still four total options at +500 or better.
If we're being completely realistic, the NBA Rookie of the Year needs a huge role, they need to put up impressive numbers and they probably need to help their team get better. Whoever has the biggest overall impact with that criteria is going to win.
Fultz and Simmons could cancel each other out, or the Sixers could experience a meteoric rise in a dying Eastern Conference. One will ultimately be better than the other, which could end up providing us with Ball's main competition. Dennis Smith will run the offense in Dallas, while De'Aaron Fox should have a big role in year one with the Kings.
Fox is probably the weakest threat of this group, just because George Hill might hold him back a bit and of this group, his Kings look the least likely to see a spike in wins this coming season. That puts Ball up against Fultz, Simmons, and Smith, realistically.
Will Lonzo Ball Win ROY?
I do still think this is Lonzo Ball's race to lose. He's favored, he looked fantastic in NBA Summer League and his style of play is going to instantly mesh with the players the Lakers already have. L.A. hasn't been good for a few years, either, so if Ball provides a big impact like we (and Vegas) think he can, we're going to see it right away.
While Ball is the logical and safe bet to win NBA Rookie of the Year, we probably should diversify our bets here. Fultz offers really nice value at +1000 and both Dennis Smith and Ben Simmons are viable threats that also deserve bets.
We're still profiting on Ball at +200, though, so while we want to place bets elsewhere, he's still the best route to go the hardest at.