Lomachenko vs. Crolla – Odds, Predictions, and Betting Pick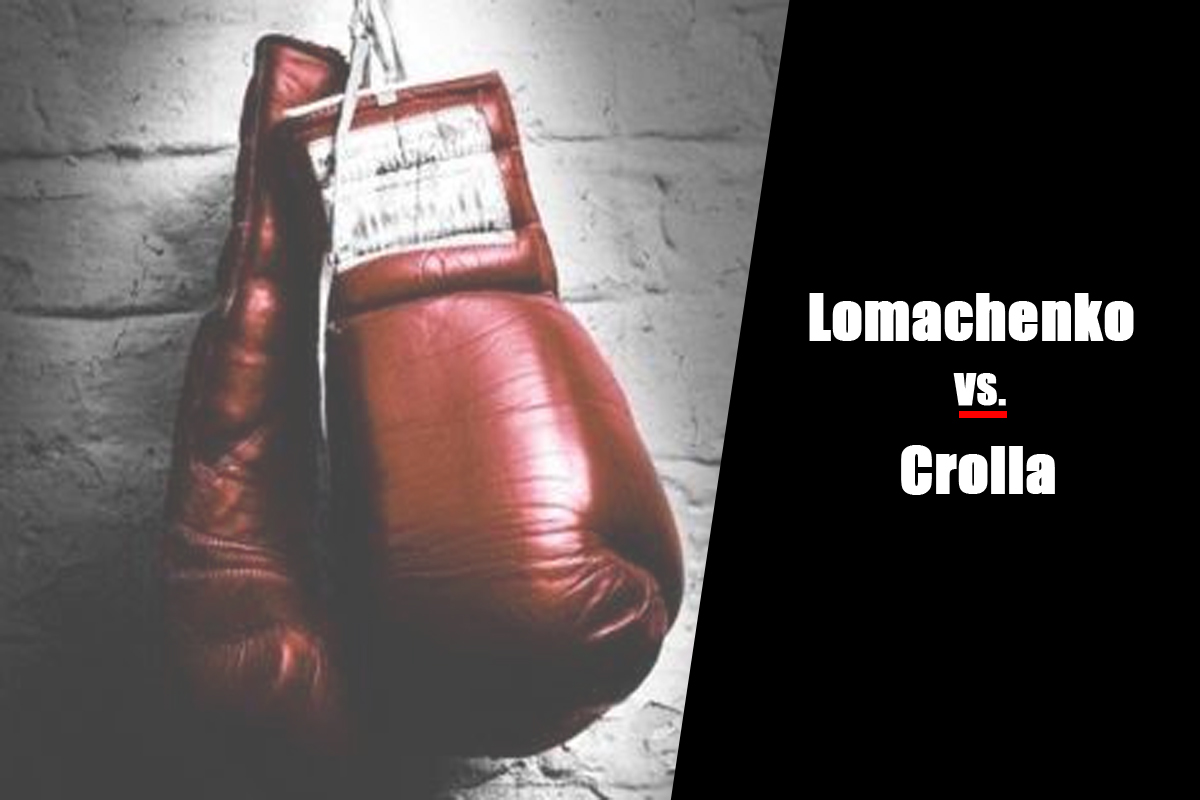 WBA (Super), WBO, and The Ring magazine champion Vasyl Lomachenko is one of the most talented boxers in the history of the sport.
The Ukrainian is already a ring legend, despite having fought just 13 professional fights. As it stands, he is 12-1 to date, with the only loss of his career coming in controversial circumstances to the rough and ready Orlando Salido in 2014.
A two-time Olympic gold medalist, the 31-year-old made the transition to the pro ranks following an incredible amateur career where he amassed a record of 396 wins with just 1 loss.
In just his third professional bout, Lomachenko beat Gary Russell Jr. in June 2014 to win the WBO featherweight title. He is a three-time world champion who will have fought 11 individual champions by the time the final bell sounds at the Staples Center on April 12.
If you are unfamiliar with just how good this guy is, you're missing out. Seriously.
One man who will certainly know the talents of Lomachenko is his next opponent, Anthony Crolla.
The key question in the boxing community regarding this fight surrounds what Crolla can do that no other opponent has done since Salido — beat Lomachenko.
It's difficult to see anyone beating Lomachenko at this time. Crolla, a man with six pro losses in his career, doesn't exactly seem the strongest candidate out there.
There is no doubt that the Brit has a mammoth task on his hands. As it stands, Lomachenko vs. Crolla is seen as one-sided of an affair as you can get, with pundits, bookmakers, and boxing betting sites all heavily favoring the man known as "The Matrix."
After all, if you take your ring name from a late-1990s Keanu Reeves film, there has to be something special about you, right?
In the battle for nicknames, "Million Dolla" Crolla is lagging behind a little.
By the time April 12 comes around, nicknames will be the last of the 32-year-old's worries.
Latest Lomachenko vs. Crolla Odds
The following odds are courtesy of Bovada and are accurate as of March 6.
Vasyl Lomachenko to Win
-10000
Anthony Crolla to Win
+1600
Wowee.
I don't know what's more surprising — the fact that Lomachenko's odds indicate that Crolla is effectively training to lose a fight or that I used the word "wowee" for the first time in my life.
As you can see from Lomachenko's price of -10000, he is a clear and considerable favorite ahead of this bout. Why? Well, because he's Vasyl Lomachenko, that's why.
Of course, anyone betting on this fight deserves a greater explanation as to why bookmakers have priced Lomachenko as low as you're likely to see any fighter in a world title matchup.
Below, I'll break down just how the Ukrainian ringmaster has completely and utterly dominated the boxing game over the past few years.
Additionally, we will take a closer look at Crolla's form heading into the fight and analyze his strengths and weaknesses ahead of the biggest test of his career.
Vasyl Lomachenko – The Greatest Fighter in the World?
Rumor has it that Superman wears Vasyl Lomachenko pajamas to bed at night.
After all, even superheroes need someone to look up to.
In terms of talent, it's hard to argue with Lomachenko being the ultimate boxer on the planet right now.
The pound-for-pound number one is as close to flawless as one can get and fights at a level that continues to confuse, muddle, and befuddle opponents. Footwork, speed, timing, technique, cutting angles that defy the laws of physics, defense, balance, vision… He has it all.
In abundance.
Make no mistake, there are levels to boxing, and Lomachenko occupies the top floor with aplomb.
For all the hyperbole and endless superlatives that are frequently thrown his way, the Ukrainian is sickeningly good.
Having joined his father's boxing gym at just four years old, the Bilhorod-Dnistrovskyi native began competing two years later.
Having won every championship and award available at amateur — including Olympic gold medals at Beijing 2008 and London 2012 — Lomachenko cemented himself as the greatest amateur fighter of all time.
The only stain on his 396-1 resume was a controversial defeat to Albert Selimov of Russia. That loss, in the 2007 World Amateur final in Chicago, was later avenged on two separate occasions.
Lomachenko's Professional Highlights
Having won a world title in his third fight (a record that now sees him tied with former Muay Thai great Saensak Muangsurin), Lomachenko set records as a two-weight world champion in his seventh fight and a three-weight champion in his twelfth fight.
Incredible achievements.
However, I believe his victories over Nicholas Walters, Jason Sosa, Miguel Marriaga, and the excellent Guillermo Rigondeaux deserve a special mention here.
Why? Well, Lomachenko forced all of the above to quit in a four-fight consecutive run between November 2016 and December 2017. Considering the talent among these names, that takes some doing.
Other than the controversial split decision loss to Orlando Salido in 2014, Lomachenko has dominated every opponent he has faced.
His last fight, against José Pedraza in December, saw Lomachenko catch flak for his performance, despite winning the WBO lightweight title in a unanimous decision victory.
If this proves anything, it is that Lomachenko is not just expected to win when he fights but to provide an entertaining shut-out of anyone brave enough to enter the ring with him.
How many other boxers in the world would be criticized for beating a world champion — one that had only one loss on their record prior to that fight?
Yes, boxing fanboys love to postulate on the genius of Lomachenko to the point of exhaustion, but he is a genuine master of the sport and one that will continue to dominate.
The latest man tasked with trying to knock him off his perch is Anthony Crolla.
Does Crolla have any chance? If so, what he can do to surprise the champion?
Who Is Anthony Crolla?
Fighting out of Manchester, England, Anthony Crolla is the former WBA lightweight champion of the world.
A genuinely nice guy of boxing, Crolla has a good fanbase and is highly regarded in British boxing circles.
With 34 wins, 6 losses, and 3 draws, "Million Dolla" is now approaching the final stages of his career, or at least you would think. That said, a win against Lomachenko would pretty much shake the foundations of the sport and make him a global name overnight.
The chances of that happening — as you can clearly tell by how sky-high the odds are stacked against him — are slim. Regardless, Crolla will be entering this fight thinking he can win.
This brand of self-belief took Crolla to the elite level of the lightweight division in November 2015 when he knocked out Colombia's Darleys Pérez in the fifth round of their rematch at the Manchester Arena. Their first encounter had ended in a draw.
Crolla's reign as a champion would last for just one fight against Venezuelan knockout artist Ismael Barroso.
The Brit gave Barroso a taste of his own medicine, knocking him out in the seventh round of their May 2016 meeting in Manchester before losing two fights on the bounce against Jorge Linares in September 2016 and March 2017, respectively.
Linares, of course, was stopped by Lomachenko in May 2018, losing the WBA title he won against Crolla in the process.
Crolla's path to a potentially career-defining fight against Lomachenko was made possible by an upturn in fortunes that saw him score three consecutive unanimous decision victories against Ricky Burns, Edson Ramirez, and Daud Yordan.
Believed to be a couple levels below the Ukrainian, Crolla will need to work hard to justify himself on April 12 in Los Angeles.
While it would be a surprise to encounter any knowledgable boxing fan confident in betting against Lomachenko, Crolla has a chance.
A puncher's chance, maybe, but as long as he's in the ring, he will believe he can do it.
Crolla's Strengths and Weaknesses
If Crolla were to beat Lomachenko, it would be among the biggest upsets in boxing history.
That alone should highlight just how much of a test this is for Crolla.
What the Englishman does have in his favor is a lack of pressure. Basically, no one expects him to win.
Outside of the UK, many boxing fans were initially disappointed with this matchup when it was announced. The reason is that Crolla is not deemed to possess the qualities required to beat Lomachenko.
While he is strong and durable with a solid defense, Crolla's footwork is certainly going to be tested against the electrifying pace and angles of Lomachenko.
Crolla can deal with the Ukrainian's power, at least on paper. In 43 fights, he has only ever been stopped once, and that was against Derry Mathews back in 2012.
The true snap to Lomachenko's punches doesn't come from one-punch knockout power, but rather the speed, direction, angles, and precision of the shots. This is something that Crolla will have never dealt with before.
The Brit has a good engine but will be absolutely exhausted by the end of the fight. Lomachenko has the silky "sweet science" down to an, erm, science, but he is also capable of pressing as well as boxing.
If Crolla allows Lomachenko to press, he runs the risk of giving him the license to completely outshine him on the night. If Crolla keeps close and tight to Lomachenko, he can certainly cause him problems.
Naturally, this is easier said than done when faced with the task of beating the greatest talent in modern-day boxing.
How the Fight Will Likely Pan Out
Let's entertain the idea that Crolla does something that is as rare as a straight answer from a politician — he hurts Lomachenko early.
Even a fighter that is as dominating as Lomachenko, who hasn't really been tested at all, has to overcome adversity at some point, right? Let's imagine Crolla times his punch just right, and like Jose Pedraza did, drops the pound-for-pound number one.
If this happened within the first few rounds, it's fair to say that there could be a fight on the cards. Then, from out of nowhere, Crolla lands another outstanding punch to knock Lomachenko out and shock the world.
A wild imagination, as fun as it is to explore, isn't really congruent to living as a fully-functioning, sane member of society. In this case, the only chance where such a thing happens is in the realms of dreams — where the proper order of things is regularly distorted.
In the real world, there is just no way other than a "Hail Mary punch" for Crolla to win.
Lomachenko's offense will undoubtedly be too much for Crolla. His defense will rarely be tested.
The Ukrainian's understanding of distance, angles, and range set him apart from even the most solid technical boxers on the planet.
His skillset is hyper-advanced. His ability to break down his opponents piece by piece is peerless.
I'm sorry to say, but this is not the fight where we see Lomachenko beaten for the first time since Salido.
Betting on Lomachenko to Beat Crolla
I can't see anything other than Lomachenko completely outclassing Crolla over the course of the first six rounds of the fight before stopping him shortly after.
As much as I like Crolla as a fighter and a human being, he is entering another realm against the Ukrainian.
Having seen the way that Lomachenko has basically swept a number of the biggest talents in the lower weights aside, it's hard to envisage anyone giving him problems.
Now, that's probably not what you want to hear as an Anthony Crolla fan or the type of gambler who regularly backs longshots in the hope of hitting it big.
Sure, betting on Lomachenko to win makes sense, at least in theory. However, price-wise, there is not a lot of value in betting on Lomachenko to beat Crolla at -10000 (an implied probability of 99%).
Yes, a $100 bet on Crolla to beat Lomachenko at +1600 will return $1600 in profit, but if alarm bells are not ringing on account of such high odds in a world title fight, then you should probably get your hearing tested.
These odds exist for a reason, and while almost short to the point of lamentable, they make sense when we factor in the genius Lomachenko brings to the table.
Crolla could have some success at times throughout the fight. If so, it will be crucial to take even the slightest window of opportunity to try and land that flush shot.
The Englishman will not beat Lomachenko on points. The only chance he has of leaving that ring under a warm, hazy glow of boxing immortality is by knocking him out.
Lomachenko has lost just two fights in his career — one in the amateurs and one in his second fight as a professional. Both were highly controversial.
Thankfully, the two men that did beat Lomachenko proved that he is human.
Just about.
Should Crolla find a way to become the third man to register a win over the boxing genius, I will personally campaign for the erection of a statue in his likeness in Manchester city center.
PICK
Lomachenko to Win
-10000