Leinster vs. Toulouse Betting Preview – Semi-Final of the 2019 Heineken Champions Cup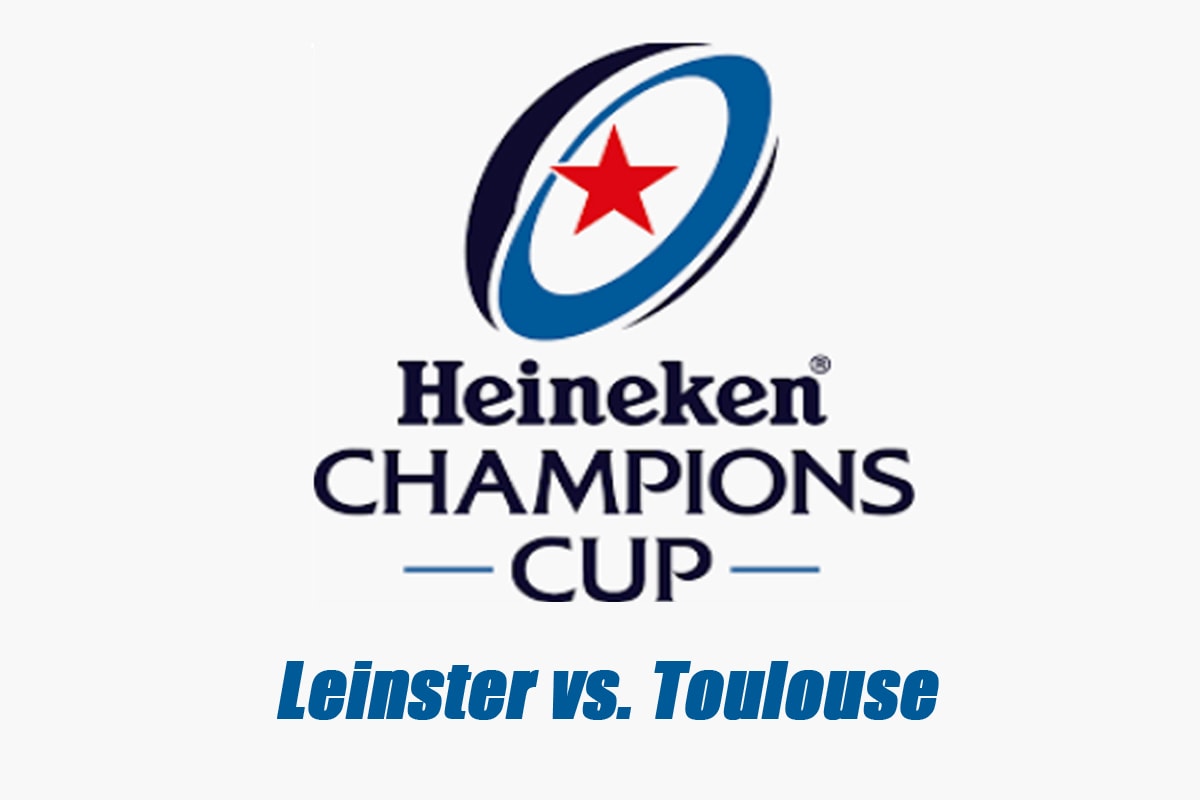 The champs are here.
Well, not literally, of course. That would be a little strange.
However, Johnny Sexton and the boys will be lining up at Dublin's Aviva Stadium against a Toulouse team that will be aiming to dispute Leinster's claim as the best team on the continent.
Toulouse were the former holders of the record for the most European titles won by one club (at four). That was until Leinster — their opponents on Sunday, April 21 — decided to be big old party poopers, winning the title in 2018.
Now, these two teams share that record.
However, a win for either Leinster or Toulouse in this key European Champions Cup Semi-Final will put them within one game of breaking their own mutual record. A victory would push them closer to becoming the first team in the history of European rugby to win the title five times.
No pressure, right?
While this narrative is enough to convince uncountable numbers of betting enthusiasts to get their money on the game through the top rugby betting sites, the game itself should be an absolute classic.
These two are the elite aristocracy of European rugby and will both be gunning to prove why they deserve that fifth star on their jersey more than the other.
Exciting, right? You bet.
Speaking of bets, let's look at the odds for this one as I start my Leinster vs. Toulouse betting preview.
Latest Leinster vs. Toulouse Odds
The below odds are courtesy of Bovada. They are accurate at the time of writing but liable to change before the game.
Leinster are the defending kings of Europe and are top of their conference in the Guinness PRO14.
Aside from having World Rugby Player of the Year Johnny Sexton at 10, they also feature an abundance of world-class talent such as Cian Healy, Tadgh Furlong, James Ryan, Scott Fardy, Robbie Henshaw, Rob Kearney, Garry Ringrose, Sean O'Brien…
You get the picture.
Ergo, the odds of –280 for Leinster to beat Toulouse are pretty understandable.
As are Leinster's odds of -150 to win the European Rugby Champions Cup.
However, they will have to work extremely hard to get past Toulouse, who are priced at +220 to topple the Irish giants.
The French outfit features a stellar cast of their own. With the likes of Antoine Dupont, Yoann Huget, Sofiane Guitoune, Cheslin Kolbe, Romain Ntamack, Thomas Ramos, Francois Cros, and Charlie Faumuina, Toulouse have some exceptional players.
Toulouse, at +600, are the highest priced of all the semi-finalists to win the tournament this year.
To achieve their dream, they will have to beat a Leinster team that is high on confidence and hungry for that fifth title.
Leinster vs. Toulouse – Form in Last Six Games
As any shrewd betting enthusiast will know, the form of a team heading into a game can often tell a lot.
Below, we will take a look at both Leinster and Toulouse's form in their last six games, starting with the home side.
Leinster's Previous Six
Leinster's record in their last six games ahead of this tie stands at 4 wins, 1 draw, and 1 loss.
Leinster have played four of these games at home (h) and two away (a) from home.
Of course, the reigning double champions of the European Champions Cup and Guinness PRO14 will have one more game ahead of the tie against Toulouse. The Dublin-based team will play Glasgow at the RDS on April 13.
Here is how they have played in their previous six.
04/06/2019 – Guinness PRO14: 27 – 27 vs. Benetton Rugby (h)
03/30/2019 – Champions Cup Quarter Final: 21 – 18 vs. Ulster (h)
03/22/2019 – Guinness PRO14: 11 – 28 vs. Edinburgh (a)
03/01/2019 – Guinness PRO14: 19 – 7 vs. Cheetahs (h)
02/22/2019 – Guinness PRO14: 59 – 19 vs. Southern Kings (a)
02/16/2019 – Guinness PRO14: 40 – 24 vs. Zebre (a)
Leinster have one loss in their last six, which came against Edinburgh away on March 22.
Although many of the team's key players would have been rested for that tie, Leo Cullen's men are renowned for their strength in depth and will have expected to win this game.
Still, Leinster has been as strong as ever this year and can scratch that defeat off as one to learn from. This is the convenience that comes with being the league's best team, I guess.
While Ireland's most successful team are exceptionally strong, they are far from unbeatable. It's safe to say that Toulouse will be looking very closely at every occasion Leinster have struggled — or, in other words, failed to win.
Of course, Toulouse can look a little closer to home to their 28-27 victory over Leinster in the pool stages of the European Champions Cup this season for inspiration.
Maxime Medard's late try was enough to hand the French a deserved win in October, and this will be something Medard and his teammates will be desperate to replicate on April 21.
Toulouse's Previous Six
Toulouse have 5 wins and 1 loss in their previous six games.
The French outfit has played two of these games at home and four away from home.
Toulouse will welcome Clermont Auvergne to Stade Ernest-Wallon on April 14, although it is expected that a number of their star players will be rested ahead of their European Cup tie against Leinster scheduled for the following Sunday.
Here is how they have played in their previous six.
04/06/2019 – Top 14: 25 – 10 vs. Toulon (a)
03/30/2019 – Champions Cup Quarter Final: 21 – 22 vs. Racing (a)
03/22/2019 – Top 14: 19 – 23 vs. La Rochelle (a)
03/01/2019 – Top 14: 53 – 21 vs. Lyon (h)
02/22/2019 – Top 14: 9 – 28 vs. Stade Francais (a)
02/16/2019 – Top 14: 27 – 14 vs. Montpellier (h)
Toulouse is a team that is certainly in great form this year.
In their last six encounters, they have lost just once. A 25-10 defeat to rivals Toulon might have been a little flattering for their opponents, given that many of their key men were rested after the Champions Cup Quarter Final win over Racing the week before.
Toulouse coach Ugo Mola will be keen to remind his troops that they have what it takes to carry this momentum into the Leinster game. Additionally, their narrow victory over the reigning Guinness PRO14 and European Champions at home this year will likely serve as the basis of their team talk on the day.
Toulouse is a team that has made excellent progress over the past couple of years.
Once the giants of Europe, the French rugby royalty are showing the right signs of rediscovering the form that made them once the most feared club team in Europe.
A win against Leinster — a team that is bursting at the seams with world-class talent — would be a massive statement.
On that note…
Leinster vs. Toulouse – The Players to Watch
Anything can happen in a game of rugby.
However, the men that will make things happen in this game of rugby are more than likely to be the same players that pop up with the goods when they are needed.
Both Leinster and Toulouse have teams that are rich in talent, strength, guts, and guile. It is these men that will be tasked with getting their teams over the line and pushing one step closer to the biggest prize in European club rugby.
Let's take a look at four of the key players for both teams, starting with Leinster.
Naturally, the most renowned of the Leinster pack are some of the most recognizable faces in world rugby.
Aside from Leinster's extraordinary double-winning season, many of these players also enjoyed a huge 2018 that saw Ireland lift the Six Nations Grand Slam and beat the All Blacks.
Granted, 2019 has been a disappointing year so far for the men in green, but Leinster will be hoping that this year is a carbon copy of 2018.
These are four of the guys that will be doing their best to make that happen.
Johnny Sexton
Johnny Sexton, 2018's World Rugby Player of the Year, is crucial to the success of the Irish province.
Quite simply, on his day, there are few fly-halves that can touch the Dubliner.
A running ten that likes to bring the ball to the line, Sexton's tireless work in creating opportunities for those around him is part of the reason why Leinster have won four European Cups since he has worn the number 10 jersey.
A talisman.
Garry Ringrose
Leinster's number 13 has long been touted as the successor to the legendary Brian O'Driscoll.
The comparisons are easy to make, given both have worn the number 13 jersey for the province and Ireland. However, it is the slick footwork, acceleration, deft passing, eye for a gap, and supreme x-factor that continue to link the master and apprentice.
Ringrose is a player that can turn a game on the toss of a coin. As such, he is very important to Leinster's chances against Toulouse.
Sean Cronin
Surprisingly, Sean Cronin occupies the top try scorers (6) spot of this season's European Champions Cup.
The rapid hooker has been in sublime form this season for Leinster and will surely take over the Irish jersey when Rory Best retires following the World Cup in Japan later this year.
Cronin's work in the lineout, scrum, and in the loose is vitally important to Leinster, who value his excellent ball carrying skills — and rare speed for a front row player — very highly.
James Ryan
Until Ireland's loss to England earlier this year, James Ryan had never tasted the bitterness of defeat.
2018 saw the young lock establish himself as one of the best in the world. His commanding presence and excellence around the park helped Leinster clinch a double last year, with the Guinness PRO14 and European Champions Cup added to his Six Nations Grand Slam title.
Ryan is a habitual winner and is hugely important to Leinster's cause.
Now let's move on to the key men for Toulouse. There are also some pretty big players in this team.
What makes Toulouse such an exciting outfit is the blend of youth and experience in their ranks. However, it is the young guns that will be the makings of a very strong team for years to come.
The four key men for Toulouse ahead of this contest are as follows.
Antoine Dupont
Dupont is one of the most exciting emerging stars of French rugby.
Despite being just 22 years old, Dupont has cemented his place at scrumhalf for Toulouse and will likely be the starting scrumhalf for France in this year's World Cup.
A fast and steady number 9, Dupont is a vital cog in the Toulouse wheel. His handling skills, passing, and ability to keep Toulouse moving forward are all integral to their chances of toppling the champions.
Thomas Ramos
Thomas Ramos has been nothing short of a revelation this season.
Despite featuring just once in Europe prior to this year's championship, Ramos has been one of the standout players of the European Champions Cup. All despite being just 23 years old.
The fullback has lightning pace and a wide array of skills that can cut open defenses and lead to serious trouble for the opposition. He is also a very reliable goalkicker and notched up 60 points alone in the group stages.
Ramos will be one of France's key players in the World Cup this year but will be primarily focused on getting his team to their first European Champions Cup final since 2010, first and foremost.
Jerome Kaino
Jerome Kaino is one of those players that seems to be evergreen.
The Kiwi two-time World Cup-winning legend gave up his international career to join Toulouse last year. It is seemingly a decision that looks like paying off.
Kaino has integrated into the team with ease and has become one of the leading players in Toulouse's ranks so far. His experience and ability to play on either flank, number 8, and even the second row is priceless.
Cheslin Kolbe
Another player that has hit the ground running for Toulouse is Cheslin Kolbe.
The South African back is up for the EPCR European Player of the Year award, too, on account of a string of excellent performances. His ability to play on the wing, centre, or fullback proves he has utility skills, too.
Kolbe will be a player that Leinster will need to keep their eyes on if they want to progress to the final, as this guy is more than capable of spoiling anybody's party.
Leinster vs. Toulouse – The Prediction
Unlike the other semi-final between Saracens and Munster, we have something of a frame of reference when it comes to Leinster vs. Toulouse.
This will be the third clash of this competition between the two, which makes it a little easier to predict what we can expect. Of course, when betting on Leinster vs. Toulouse, it will be a little careless to simply look at those games for absolute answers. However, it is naturally a good place to start.
The first thing that we have to consider is that Leinster have the home advantage.
Rather than playing this game in the RDS — which is their home ground — it will take place a few minutes up the road at the Aviva Stadium, which serves as the national arena for Irish rugby and soccer.
The reason why the game is being played here is that the capacity for this match will be well above that of a standard game.
Leinster's record at the Aviva is 27 games played, with 23 wins and just 4 losses. As a result, beating Leinster at the Aviva Stadium is widely considered European rugby's most difficult task.
Toulouse will certainly be up against it in Dublin.
They lost by 23 points to 9 in their last visit to the Irish capital in January and are certainly the underdogs to topple Leinster this time around, for a reason.
Leinster's Power
Toulouse, like most French teams, do not tend to travel well.
While this has become something of a truism in rugby, this doesn't guarantee a win for Leinster. Far from it.
However, since the arrival of former England coach Stuart Lancaster, the team has looked incredible at times. They are the favorites to win the title this year and will have been much happier to have drawn Toulouse rather than Saracens or Munster.
With a pack containing the likes of Cian Healy, Sean Cronin, Tadgh Furlong, James Ryan, Scott Fardy, and Sean O'Brien, they are a powerful team at the setpiece.
Their back isn't too shabby, either, with Johnny Sexton, Garry Ringrose, Jordan Larmour, Robbie Henshaw, and Rob Kearney all among the best players in Europe.
Toulouse will need to be firing on all cylinders to be able to stand up to the challenge, meaning Dupont, Kaino, Ramos, Kolbe, and Medard will have to play out of their skins to push them all the way.
For inspiration, they can look to the 28-27 win in October. They are certainly capable of challenging but will need the best performance of their season to beat the odds.
In a packed Aviva Stadium, against a number of players still reeling from Ireland's poor Six Nations campaign, it seems a challenge too far.
Toulouse will fight hard but will find it difficult to match the intensity of the Irish province. I believe Leinster will put on a rugby clinic and win this one with 10 points to spare.
You can get Leinster -6.5 points at -115. I believe there is good quality in these odds.
Final Thoughts
Whatever happens in this game, it seems highly likely that Leinster will find their way into their second successive European Champions Cup final.
The Irish province are quite rightly the favorites to lift the cup and will make their case for why they deserve to keep the trophy in Dublin on April 21.
Who are you backing?
If you're interested in betting on the other semi-final, too, be sure to check out my Saracens vs. Munster predictions.