Is LeBron James Destined to Leave Cleveland With Cavs Struggling?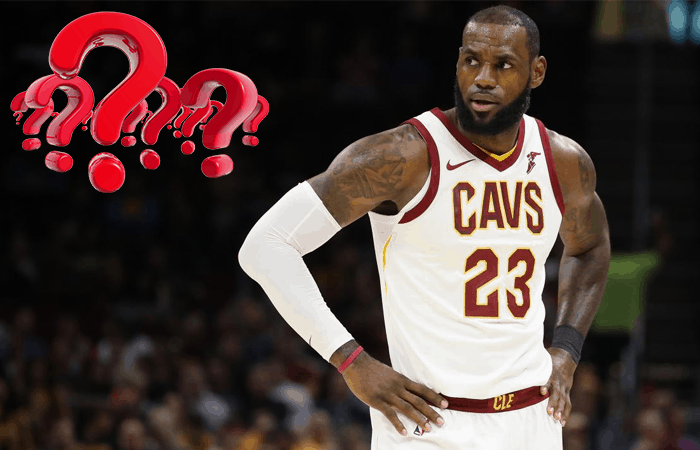 LeBron James has always liked to keep his options open.
Even after bringing Cleveland its first NBA championship a couple of years ago, The King declined to go all-in on a contract extension with the Cavaliers. By signing a 3-year deal with a player option following his second season, James was signaling that he would be looking to re-evaluate his playing future in the summer of 2018 – when Banana Boat buddies Chris Paul and Dwyane Wade just happened to be scheduled to be entering free agency as well.
Going into this season, there were already quite a few reasons to think this might be LeBron's final season in The Land. He's already delivered on the promise of bringing an NBA title to his hometown, he has publicly criticized management's inability to surround him with "playmakers," he was also critical of the firing of former GM David Griffin, and I'm skeptical that he's ever forgiven Cavaliers owner Dan Gilbert for lashing out at James with an open letter when he left Cleveland the first time.
Now, less than a month into the 2017-18 campaign, LeBron's got another big reason to want out of Cleveland: the three-time Eastern Conference Champion Cavaliers don't look like they're any good anymore.
A 117-113 loss at Houston on Thursday night dropped the Cavs to 5-7 on the season. They're being outscored by an average of 4 points per game this season. Their defense is horrible, ranking 28th in points against per game and 29th in field goal percentage allowed. And after Kyrie Irving forced his way out of Cleveland this past summer, LeBron doesn't have that much help right now on the offensive end. He's averaging 11.6 more points per game than his closest teammate (Kevin Love) and 5.1 more assists than anyone else on his team.
"We played a pretty good game, but I'm not here for moral victories," James told reporters after the Cavs' loss on Thursday. "That's not what I'm about."
Which Team Will LeBron James Play for in 2018?
The swirling speculation about LeBron's future, combined with his status as one of the greatest players in NBA history, makes for an interesting wager on where James will start the 2018-19 season.
BetOnline has long had a futures prop on which team LeBron will play his first game next season for. Below are the latest odds on that proposition:
Atlanta Hawks: +10000
Boston Celtics: +2500
Brooklyn Nets: +10000
Charlotte Hornets: +3300
Chicago Bulls: +5000
Cleveland Cavaliers: +125
Dallas Mavericks: +10000
Denver Nuggets: +5000
Detroit Pistons: +10000
Golden State Warriors: +1600
Houston Rockets: +500
Indiana Pacers: +10000
Los Angeles Clippers: +3300
Los Angeles Lakers: +275
Memphis Grizzlies: +5000
Miami Heat: +3300
Milwaukee Bucks: +3300
Minnesota Timberwolves: +1000
New Orleans Pelicans: +3300
New York Knicks: +2000
Oklahoma City Thunder: +2500
Orlando Magic: +10000
Philadelphia 76ers: +2000
Phoenix Suns: +10000
Portland Trail Blazers: +6600
Sacramento Kings: +1000
San Antonio Spurs: +1200
Toronto Raptors: +6600
Utah Jazz: +10000
Washington Wizards: +5000
LeBron James' Most Likely Teams Next Year

1. Cavaliers (+125)
Yeah, the Cavaliers look awful right now. But they also looked pretty bad down the stretch of last season (losing 13 of their last 22 games) before turning things on in the playoffs, going 12-1 in the first 3 rounds to easily win the East once again.
The Cavs' horrific numbers on the defensive end signal a lack of intensity, focus, and effort. That's completely understandable for a team coming off a loss in the NBA Finals just 5 months ago, and for a veteran squad that has played 12 playoff series in the past 3 years. The other team to play that many postseason rounds during that span, Golden State, opened the year with 3 losses in its first 7 games and allowed 110 points or more to 7 of its first 8 opponents.
Cleveland's learning to play without Irving, the Cavs are still working off-season acquisitions like Derrick Rose and Wade into their rotations, and they'll be bolstered next month when Isaiah Thomas is expected to return. Cleveland remains a -175 favorite at BetOnline to win the Eastern Conference after the opening-night injury to Gordon Hayward derailed the Celtics (Boston's won 10 straight after losing its first 2 games, but I don't see the Celtics being able to sustain that pace or win in the playoffs without Hayward), and 4 straight trips to the NBA Finals might make it hard for LeBron to walk away from Cleveland for the second time.

2. Lakers (+275)
LA has always been the most obvious landing spot for LeBron if he were to leave Cleveland again. There's the prestige of wearing the Lakers jersey, a sunny climate similar to Miami, where James first defected to from Cleveland, he already calls Los Angeles "home" and spends the summers there, and being close to Hollywood makes a ton of sense for a guy who has acted in and/or produced several TV shows and movies already.
The Lakers are an even more attractive destination now that they've bottomed out and appear to be on their way up, loaded with the type of young "playmakers" that LeBron has wanted for a few years in Cleveland. LA's also expected to have a lot of salary cap space next summer, meaning the Lakers won't just be able to sign James, they also have the potential to bring in 1 or 2 of his high-priced buddies.

3. Rockets (+500)
LeBron and Chris Paul have made it clear they want to play on the same team at some point in their career. So instead of coaxing Paul to join him in Cleveland or somewhere else, James may simply decide to join Paul and James Harden in Houston instead.
At this point in his career, LeBron's biggest concern is likely cementing his legacy by winning as many championships as possible. 7 straight trips to the NBA Finals (and possibly an eighth this year) is impressive right now, but history remembers champions. Right now, that scoreboard reads Michael Jordan 6, LeBron James 3.
No offense to Kevin Love and Isaiah Thomas, but a Big 3 of James-Paul-Harden would give LeBron a much better chance of overcoming the Golden State Warriors dynasty. He also would have a stronger chance of winning right away with veterans with playoff experience, rather than having to possibly live through a year or two of growing pains with the young Lakers.
Houston can clear some space to sign James if it trades Eric Gordon before next summer, and playing in Texas brings some big-time income tax savings that could allow LeBron and Paul to sign for a little less.

4. Timberwolves (+1000)
You wouldn't think of Minnesota as the fourth-likeliest landing spot in the NBA for LeBron James next season. But that's what the oddsmakers are saying by putting the Wolves' odds of landing LeBron at +1000, which makes me believe they are seeing something that the rest of us aren't. Let's try to figure out what that is.
One possibility is that the Timberwolves have already acquired a couple of players LeBron really wanted to see in Cleveland. The Cavaliers were reportedly close to trading for Jimmy Butler before Dan Gilbert canned GM David Griffin and VP of basketball operations Trent Redden, opening the door for Minnesota to swing a trade for the former Bulls star. The Wolves then beat out Cleveland for the services of Jamal Crawford, who James had also recruited to join the Cavs.
In Minnesota, James would also get to play with perhaps the most talented young duo in the NBA in Karl-Anthony Towns and Andrew Wiggins, and under a well-respected coach in Tom Thibodeau.

5. Spurs (+1200)
Speaking of well-respected coaches, they don't come any more respected than Gregg Popovich. LeBron has always been known for his high basketball IQ and for his respect for the greats in the game, so he'd have to at least entertain the possibility of playing under Pop if the opportunity came along.
In fact, James has already admitted that USA Basketball's selection of Popovich as national team head coach will make him more likely to consider playing for the USA at the 2020 Olympics after sitting out last year's Games in Rio.
The LeBron-to-San-Antonio talk has heated up over the past couple of weeks after the Cavaliers' slow start. Kawhi Leonard is the type of modest, hard-working superstar who would mesh really well with James, and Leonard's got the defensive abilities to help LeBron shut down the dominant Warriors' front court of Kevin Durant and Draymond Green.
Betting Prediction: Will LeBron James Leave Cleveland?
I'm a believer in the adage that where there's smoke, there's fire. And LeBron's been creating plenty of smoke over the past year or so when it comes to expressing his unhappiness in Cleveland, whether it's what he says to reporters or through his social media channels.
It all strikes me as a strategy of preparing Cavaliers fans and basketball followers for his second departure from Cleveland. When people can see it coming in advance, the backlash should be softened, especially after LeBron has already brought a championship back to his hometown. To me, he's done all he could be expected to for northeast Ohio, if not more.
So I'm already assuming that he's headed out of Cleveland next year. But I don't think it'll be to L.A., even with its connections to the film and entertainment industry, because winning championships is James' biggest priority right now. Longtime business partner Maverick Carter made that clear when he recently appeared on The Rich Eisen Show. "Could he sell a few more sneakers if he was in a gigantic market like Boston or Chicago or New York or L.A.? Maybe," Carter said. "But not as much as if he wins. What matters the most is if he wins."
Which landing spot gives LeBron the greatest chance to win an NBA title in 2018? It's actually probably Boston (+2500), since Hayward should be back, and the Celtics wouldn't have to go through the tough Western Conference to get to the Finals. But I don't see James and Irving teaming up again, not after their messy divorce in Cleveland.
That leaves the Rockets and Spurs as the two destinations that make the most sense for LeBron from a win-right-now perspective. Of those two franchises, San Antonio is the one with the more proven track record of winning titles, especially under its current management.
Because of the winning culture in San Antonio, a coach that LeBron publicly admires, and the +1200 price currently available, I'll put my money on James opening the 2018 season in the silver and black of the Spurs.