Hide Bonus Offers
| | | | | |
| --- | --- | --- | --- | --- |
| #1 | Bovada Sports | 50% Up To $250 | Visit Site | Bovada Sports |
| #2 | BetUS | 125% Up To $2,500 | Visit Site | BetUS |
| #3 | MyBookie | 100% Up To $1,000 | Visit Site | MyBookie |
| #4 | Everygame | 100% Up To $500 | Visit Site | Everygame |
| #5 | BetOnline Sports | 60% Up To $1,000 | Visit Site | BetOnline Sports |
Last-Minute Super Bowl 53 Betting Guide – Latest Odds, Best Bets, Top Sites, and More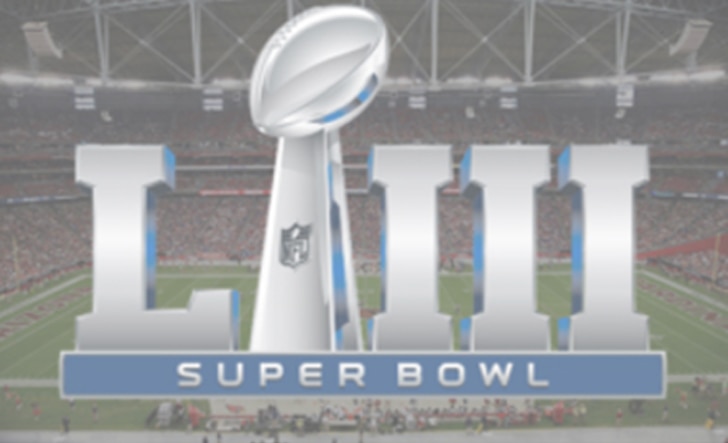 The time is now.
Have you zeroed in on the Super Bowl 53 bets you want to place?
Do you know WHERE to bet on the Super Bowl in 2019?
There's not much time before the big game kicks off, and the last thing you want to do is get shut out from all the wagering opportunities that are staring you in the face.
There are tons of ways to bet on the 2019 Super Bowl, and your options to make money during the game are pretty much endless.
If you were hoping to find a last-minute guide that is detailed and organized and gets you ready to bet on SB 53, here you go!
Your full-fledged guide with lots of Super Bowl insight is here, and all you have to do is follow along.
Feel free to jump directly to the section you are interested in, and good luck betting the big game!
Super Bowl 53 Betting Guide – Page Contents
What Is the Super Bowl 53 Point Spread?
The point spread in Super Bowl 53 is holding pretty steady at Patriots -2.5, although some betting sites have the Pats listed at -3.
Here's what MyBookie has got.
Here's the Super Bowl 53 point spread at SportsBetting.ag.
Bovada has the following line.
Obviously, depending on which side you are leaning, you'll have to make sure you don't leave equity on the table.
For example, if you want to invest in the Rams and the points, you better head to Bovada.lv and lock in +3 rather than +2.5.
Likewise, if you are okay with backing the Pats at -2.5, make sure you don't lay -120 when -115 is out there for your taking.
As for me? Here's my pick for betting the 2019 Super Bowl point spread.
Super Bowl 53 Moneyline Odds
I've spoken to many people who feel like Tom Brady will find a way to win this game, but they don't feel comfortable laying 2.5 points.
Other NFL fans are so confident the Rams will prevail that they don't even want the insurance of getting 3 points – they'd rather bet on the Rams moneyline and get the best price available.
Take a look at the Super Bowl 53 moneyline odds at three of the most trusted NFL betting sites.
| Betting Site | Odds for Patriots to Win | Odds for Rams to Win |
| --- | --- | --- |
| MyBookie.ag | -150 | +125 |
| SportsBetting.ag | -138 | +118 |
| Bovada.lv | -150 | +130 |
The days of when this game opened as a "Pick'Em" and you could lock in New England at -115 on the moneyline are long gone.
You can see the Pats have ballooned all the way to -150 in some spots, but don't go anywhere near that price. At least the -138 number you can grab hold of doesn't take too much advantage of us.
The Rams are hanging out around the +120 to +125 range at most places I checked out, but you can see they are at +130 at one online sportsbook.
If your plan is to attack this game from a moneyline perspective, now you know where to log your action.
Here's how I'll be betting the Super Bowl 53 moneyline.
Betting the Super Bowl 53 Total
As high-powered as both the Rams and Patriots offenses are, betting the over in Super Bowl 53 is going to be a popular wager among the general public.
Here are some of the Super Bowl over/under lines currently available.
| Betting Site | Over | Under |
| --- | --- | --- |
| MyBookie.ag | Over 58, -110 | Under 58, -110 |
| SportsBetting.ag | Over 56.5, -110 | Under 56.5, -110 |
| Bovada.lv | Over 56.5, -115 | Under 56.5, -105 |
Betting that the game goes over 56.5 at -110 is likely the best number you can find, but it gets interesting for those of you intrigued by the under.
Do you think Aaron Donald can get to Tom Brady and disrupt his rhythm? Will Bill Belichick scheme up a game plan that can shut down Jared Goff and the Rams O?
If you believe that this game goes under, MyBookie is the place to bet the Super Bowl 53 total.
You can get the under at 58 points, and you only have to lay -110!
Who Will Win Super Bowl 53?
The first thing you need to do is decide which team you think is going to win the 2019 Super Bowl. The idea is to then compare the prices and decide which bet (or bets) you are most comfortable with placing.
Let's take a look at the options.
Why the Patriots Will Win Super Bowl 53
Whether it's because you believe in Brady, Belichick, or both, there are plenty of legitimate reasons to get on board with backing New England.
I already detailed five reasons to bet on the Patriots to win Super Bowl 53, so feel free to dive into that post.
Not only does it cover the distinct edge the Patriots hold by having "the two B's in the building," but it also alludes to the Pats eating up this "underdog mentality" and how vital Josh McDaniels is to their success.
I also discuss why I think New England actually holds the advantage in the backfield despite Todd Gurley being in a Rams uniform.
Why the Rams Will Win Super Bowl 53
Just like I can try and convince you to bet on the Pats, backing the Rams to win SB 53 has the potential to be a viable strategy as well.
Noah Davis highlighted why he thinks the underdogs can be successful in Sunday's game in Atlanta, so be sure to check that blog out if you fancy the Rams' chances.
Rams wideout Brandin Cooks might be out for revenge, and the Los Angeles camp has proclaimed that Todd Gurley will be locked and loaded and is 100% ready to go. If it weren't for the experience factor of Brady and Belichick, I'm sure we'd see the Rams favored to win the game.
Who Will Win Super Bowl 53 MVP?
Perhaps as popular or enticing of a bet as any of the 2019 Super Bowl wagers, the bet for who will win the Super Bowl 53 MVP Award is a can't-miss bet.
It's available at nearly all the virtual sportsbooks out there that offer Super Bowl betting, and I'll help you out by making sure you get the best price for the player you are targeting.
Here are the prices for the top 15 players on the board at most Super Bowl sportsbooks.
| Player | MyBookie.ag | SportsBetting.ag | Bovada.lv |
| --- | --- | --- | --- |
| Tom Brady | -125 | +140 | +130 |
| Jared Goff | +220 | +250 | +250 |
| Todd Gurley | +800 | +1000 | +1000 |
| Sony Michel | +1000 | +1200 | +1200 |
| Aaron Donald | +1500 | +1600 | +1800 |
| James White | +2000 | +2200 | +2000 |
| C.J. Anderson | +2500 | +2200 | +1600 |
| Julian Edelman | +2500 | +2500 | +2000 |
| Rob Gronkowski | +2500 | +4000 | +2000 |
| Brandin Cooks | +4000 | +3300 | +4000 |
| Robert Woods | +4000 | +3300 | +5000 |
| Stephen Gostkowski | +6000 | +5000 | +6600 |
| Greg Zuerlin | +8500 | +6600 | +6600 |
| Rex Burkhead | +8500 | +5000 | +8000 |
| Ndamukong Suh | +10000 | +6600 | +7500 |
Noah Davis gave you his prediction for the Super Bowl 53 MVP winner last week, and if you check that post out you'll see how much the prices have fluctuated over the 10-day span.
An important thing to note is that while Tom Brady is listed at -125 to bring home his fifth Super Bowl MVP award at one site, he's actually lurking at +140 in another spot!
And why latch onto Gronk to win the SB MVP at +2000 or +2500 when he's sitting at +4000 in plain view?
You get the point. Use this table above and get the best price available.
Super Bowl 53 Prop Bets
By now, you probably already know how many great Super Bowl prop bets are out there, and I even showcased 30 of my favorite Super Bowl 53 props in a blog earlier this week.
If you are browsing around multiple Super Bowl betting sites, you are going to encounter hundreds of prop bets. Some of these will be related to the game, while others are designed purely for entertainment purposes.
Here are a couple examples of some of the props that are tied to the play on the field.
Total Rushing Yards for Rex Burkhead
Passing Yards in the First Half for Jared Goff
Personally, I'm not in love with laying -115 or -120 for bets like this, although there is one game-related prop (over at SportsBetting.ag) I really love. I'll tell you about it below.
Receiving Yards in the First Half for Rob Gronkowski
Now, here's a prop bet I have no qualms about laying -120 on. I am pegging Gronk to show up big in Atlanta, and I've yet to be persuaded into thinking any of the Rams defensive backs or linebackers can slow the big fella' down.
If Tom hits Rob on a seam route down the middle or a post pattern off the edge, he could gobble up 23+ yards in a single play. Considering I believe Brady will be looking Gronkowski's way early and often, I think he'll soar well over this total and have plenty of yards to spare.
This is easily my #1 Super Bowl 53 prop bet pick.
Now, here are a few 2019 Super Bowl prop bets that aren't related to what ensues on the gridiron between the Rams and Patriots players. These were created strictly for us to have fun.
What Will Gladys Knight Use to Sing the National Anthem?
Will CBS Broadcast Mention the Point Spread or Total During the Broadcast?
Will Bon Jovi Be Shown During the Live Broadcast?
How Many Maroon 5 Songs Performed?
More of the Best Super Bowl 53 Bets
Other than the odds for the game and all the props, there are also alternative lines that are available. Some of you may think that the Patriots are going to blow the Rams out by two touchdowns. If that's the case, and you want to put your money where your mouth is, you can do that at MyBookie.ag.
Taking a bigger risk obviously involves a bigger payout, so it's up to you how bold you feel like getting.
For example, booking the Pats at -13 (+275) is an option, but you can get the Pats at -12 at +275 as well. If you want to bet on New England -6.5, you can lock those odds in at +170.
In terms of a safe alternate line to target, here's one that I think we can be very confident with.
Safe Super Bowl 53 Bet – Patriots (+7.5) -350
Laying -350 isn't going to make you rich by any means, but it could put a few bucks in your pocket without having to worry about "a sweat."
I tried to picture a scenario where the Rams won this game by more than a touchdown, but I just couldn't come up with any.
Now for the opposite end of the spectrum. Here's a longshot for an alternate line bet. I wouldn't go crazy with it, but the attractive odds are doing a good job of luring me in for at least a tiny wager.
Longshot Super Bowl 53 Bet – Rams (-6.5) +225
I'm not predicting that Los Angeles wins the Super Bowl, but I'm not naïve enough to think it's not remotely possible. Maybe the Rams go up by 7 late and stop Brady coming down the field attempting to tie the game.
Again, don't go crazy here, but winning bets booked at +225 can put you well ahead of your betting competition.
Shop the Best Super Bowl 53 Betting Sites
It's absolutely crucial to be shopping your lines all over the top Super Bowl betting sites. I have shown you multiple examples of the same bet being priced differently at different sportsbooks, and you can't afford to be betting with the short end of the stick.
However, this doesn't mean it's okay to just haphazardly be placing bets at every site you stop at. Not every online casino that offers sports betting is up to snuff.
If you stick to the recommended sites we listed on our Super Bowl 53 betting page that's linked above, you'll be sure to only place wagers at the most reputable places.
Super Bowl 53 Bonuses and Free Bets – Don't Miss Out!
There are few better times to sign up at an online betting site than just before the Super Bowl. The special bonuses and promotions awarded to those of you who sign up and create an account now are about as good as they'll get at any point during the year.
This is especially true in the United States, where the Super Bowl is the single greatest sporting event of the year. Not just to watch, but to place bets on as well. Getting set up at all the top sportsbooks is a must at this time of the year.
Don't just reap the benefits that one site has to offer; make sure you get to experience it all!
All the appealing Super Bowl 53 bonuses and promotions aren't just catered to new sign-ups, either. Existing customers can receive perks as well when betting on Super Bowl 53.
Get set up at any of the sites below, and you'll see exactly what I mean.
Shopping your lines and being active at the top sites ensures you don't miss out on all the freebies! And what's better than free betting funds in advance of the Super Bowl?
Final Tips for Super Bowl Betting in 2019
Understanding where to find the best odds are for Super Bowl bets is one thing, but it's not a surefire way to guarantee you win money. All you can do is be organized and prepared and trust that you are betting when value presents itself.
I'd like to finish this page up by revealing a few final tips before you start firing away on betting Super Bowl 53.
Set a Budget
The first thing you need to do before you open up the can of worms that is 2019 Super Bowl betting is set aside your budget. Some of you might only be willing to risk $50 on who is going to win the game, while others of you may be spreading thousands of dollars around across a variety of props.
In either case, you need to know how much you are working with before you start betting.
For example, let's say you are willing to lose $100 betting the Super Bowl, and that's it. If that's the case, make sure you take the necessary time to ensure you're investing that $100 as efficiently as possible.
Bet Selectively
This can be tied into your Super Bowl 53 betting budget, but it goes one step further. I told you to be diligent in your process and constantly be checking the trustworthy sites to see what's out there.
But that doesn't mean to just place wagers left and right on every bet you see. Trying to "cover all the bases" is not something I suggest doing, as I have a much better strategy to turn a profit while betting the big game.
Pick out a few bets that you really like, and hammer away. Don't just bet on the Super Bowl for the sake of betting – too many casual fans make that silly mistake. If you see value, place the bet. If not, skip on to the next!
Consider Live Betting Super Bowl 53
I presume that you'll have either your cell phone or a tablet handy on Sunday when you sit down to watch the Rams battle the Patriots in the Super Bowl. And I'll tell you why that's significant.
Did you know that you can place bets during the middle of the game without even relinquishing your spot on the sofa? You can literally bet on the action during the game by the time your friend can pass you the chips and salsa.
Here's what you need to do.
Log into MyBookie.ag or another sportsbook that offers live Super Bowl betting. Then keep an eye on the live betting tab for the 2019 Super Bowl during the game. They'll continually be adding and updating bets throughout the four quarters, and all you do is lock in a bet when you see something you like.
In today's day and age, if you are betting the Super Bowl and not taking advantage of in-game betting, you need to re-think your process and adjust to how technologically advanced online sports betting has become.
Keep in mind – most of the odds for live betting will be "less sharp" than the ones that the oddsmakers had ample time to prepare before the game started. The in-game bets are produced on the fly, and therefore, less data and information is incorporated.
In a nutshell, the process for setting live betting lines is not nearly as fine-tuned.
Be Objective
Don't just bet the Rams because you can't stand seeing Tom Brady and the Patriots win Super Bowls.
Your betting decisions need to be based on where the perceived value lies, not based on personal biases you may or may not have.
There will be plenty of folks who bet on this year's Super Bowl for the wrong reasons, and I'd venture to guess that most of those individuals won't be seeing any return on their investments.
But if you place bets when you know you are getting an edge, you're completing the first step toward setting yourself up for success.
The Wrap-Up – Enjoy Betting Super Bowl 53!
Betting Super Bowl 53 is a lot of fun, but you need to have some rhyme to your reason. I know how overwhelming the process can be, which is exactly why I spent the time preparing this guide for you to read.
I want you having fun while watching the game, and I want you to be placing bets – but it's important that you go about it in a sensible and methodical way.
If you find a bet you like, great. Make sure you shop the line and only lock it in when you know it's the best price available.