Las Vegas Raiders Draft Predictions for 2021

Since Mike Mayock joined forces with Jon Gruden in 2019, the Raiders have made several questionable picks that have left the franchise in disarray.
Despite Derek Carr continuing to put up adequate numbers under center, the organization has fallen short of expectations.
It's easy to point the finger at the coaching staff, but it comes down to poor decisions by the front office that have negatively affected the product on the field.
The good news is Vegas is once again front-loaded with draft picks – four of their eight selections come in the top 81.
Here is a full seven-round Raiders mock draft hinting at what we could see transpire.
Round 1 – Pick #17
Selection: Alijah Vera-Tucker
Position: Left Tackle
School: USC
The Raiders have lots of holes to fill, but none are more apparent than deficiencies on the offensive line.
Per PFF's 2020 Offensive Line Rankings, the Raiders were the 24th-rated unit a season ago. They lost their best protector in Trent Brown, and it's unlikely they'll be able to lean on a 38-year-old Richie Incognito in what's his final season under contract.
Drafting Alijah Vera-Tucker at #17 almost makes too much sense. The explosive prospect from Southern Cal excelled at guard in 2019 and looked even sharper as a tackle in 2020.
Due to his size and overwhelming strength, Alijah is a bully in the run game who can easily drive defenders to the second level. In terms of a pass protector, feast your eyes on this:
Alijah Vera-Tucker in his career: Flexed biceps927 pass-blocking snaps Flexed biceps3 QB hits allowed April 1, 2021
His athleticism and agility are both pluses, as his adaptability to transform into any scheme. He's a true plug in and play offensive linemen who won't escape the first 20 picks in the 2021 NFL Draft.
Round 2 – Pick #48
Selection: Nick Bolton
Position: Linebacker
School: Missouri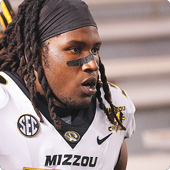 Mayock inked Cory Littleton and Nick Kwiatkoski to deals last offseason in hopes of shoring up the middle level of the defense.
Neither man stood out and the Raiders are back on the search for a big-time middle linebacker.
Adding Nick Bolton would immediately signify a major boost to the linebacking room.
Few defenders were more productive than Bolton over the past two seasons in college football.
Missouri's MIKE linebacker amassed 198 tackle and 16.5 tackles for loss over his final two seasons and will enter the league as a determined and well-rounded entity.
Nick can drop back and handle tight ends in coverage but has shown powerful instincts to penetrate gaps when the running back touches the ball.
The only question Vegas might have about Bolton is whether he'll slip to #48. Mel Kiper Jr. installed Bolton to the Eagles at #37 in his latest mock.
Round 3 – Pick #80
Selection: Richie Grant
Position: Safety
School: Central Florida
The Raiders will be keen on drafting more than one starting-caliber defensive player early in the draft.
Gus Bradley replaces Paul Guenther and will inherit a defense that desperately needs playmakers at all three phases.
Las Vegas Raiders Defense in 2020 – By the Numbers
Stat
Value
NFL Rank
Points Allowed/Game
29.9
30th
Third-Down Defense
48.8%
30th
Takeaways
15
30th
The secondary especially needs a facelift.
Karl Joseph returns to the Silver and Black on a one-year deal and lines up to be the team's starting free safety in 2021.
Having said that, landing Richie Grant in the upcoming draft would put a lot of pressure on Joseph to perform right away.
Grant was a ball hawk during his career at UCF and would bring a much-needed winning mentality to the Raiders organization. Richie's versatility shined at the Senior Bowl demonstrating he can impact a game from a variety of positions.
From a back-end roamer to a slot corner, or even a box safety, Grant can do it all.
Round 3 – Pick #81
Selection: Tutu Atwell
Position: Wide Receiver
School: Louisville
Hunter Renfroe has been a steady contributor for Derek Carr in the slot, but Tutu Atwell would add another dimension to this offense.
Renfroe is a nice player who runs crisp routes and has a trusty pair of hands – he'll maintain a place in the game plan.
On the flip side, Atwell ran a 4.32 40-yard-dash and has breakaway foot speed that's close to being unmatched.
The Raiders are still hoping to develop Henry Ruggs III and Bryan Edwards – adding a burner like Tutu would expedite that process.
Atwell must be always accounted for and can keep the defense guessing by lining up all over the gridiron.
Some teams may consider the Louisville speedster more of a gadget player – my guess is the front office brass in Vegas may envision him as much more than that.
From Darius Heyward-Bey to Henry Ruggs III, Mark Davis has shown that he can become infatuated with fast receivers.
Predictions for Raiders Draft Picks on Day 3
Round 4, Pick #122 – Brady Christensen, OT, BYU
Round 5, Pick #163 – Kendrick Green, C/G, Illinois
Round 5, Pick #168 – Jonathon Cooper, EDGE, Ohio State
Round 6, Pick #201 – Kylen Granson, TE, SMU
As a Las Vegas native, I'd be ecstatic to see rounds one and two of this Raiders mock draft play out as depicted. They get a franchise offensive lineman, a shifty receiver with wheels, and two defensive players who can plug in as starters from the get-go.
Let's now move into Raiders draft predictions for day three. They own four picks in all.
If the plan is to slide Alijah Vera-Tucker into one of the guard positions, the door is open to nab Brady Christensen with their fourth-round pick. Assuming he is available of course, which is hard to project as given how many mixed reviews there are regarding the BYU left tackle.
With an obvious need on the right side on the heels of trading away Trent Brown, Christensen could certainly appeal to Tom Cable as a potential starter at right tackle.
Sticking with the urgency of boosting the protection scheme, Kendrick Green arrived in Champaign as a highly touted defensive tackle. He left Illinois having started 33 straight games at either center or guard.
The allure of grooming Green into an eventual starting interior offensive lineman will be hard to pass up in the fifth round.
Five picks later is when Las Vegas finally adds to their core of pass-rushers.
Yanick Ngakoue arrives on a two-year/$26million deal, and Maxx Crosby has been a nice bonus, but Clelin Ferrell has underwhelmed up until this point in his career.
Plus, when you're playing in a division that has Patrick Mahomes, Justin Herbert, and potentially Justin Fields, you need as many capable pass-rushers as possible.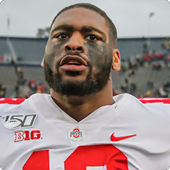 The more the merrier.
Jonathon Cooper comes from the rich pass-rushing bloodlines in Columbus that produced both Bosa brothers and Chase Young.
Cooper doesn't carry nearly as much hype as the aforementioned names, but the lengthy defensive end will be able to wreak plenty of havoc as a situational edge rusher.
Rounding out this Raiders mock is an uber-talented tight end that will probably spend most of his career split out wide ala a wide receiver. Dare I call him a mini version of Darren Waller?
Kylen Granson hauled in 78 balls for 1,057 yards and reached pay dirt 14 times in two seasons with the Mustangs.
A Quick Summary of This Raiders Mock Draft
This could very well be Mike Mayock's last straw. If the Raiders GM strikes out with another set of draft picks, Mark Davis will likely be on the prowl for a new general manager.
The insecurity Mayock is feeling is even more of a reason for him to pump the brakes on taking a wideout at #17 and instead opt for the much safer route.
There seems to be very few versions of Alijah Vera-Tucker not panning out as a longtime NFL starter.
The Raiders front office can continue showing restraint by addressing their defensive woes on day two.
Guys like Nick Bolton and Richie Grant can be integrated into the defense from the outset and help turn the tide. There is enough speed and talent at the wide receiver position to wait until the 81st pick to locate an up-and-coming pass-catcher.
The overhaul of the offensive line should bleed into day three as an edge rusher and backup tight end also join the fray.
And that's a wrap – a full seven-round mock filled with Raiders draft predictions.
For a look at team mocks for Vegas' competition in the AFC West, check out the links below.
September
Casino of the Month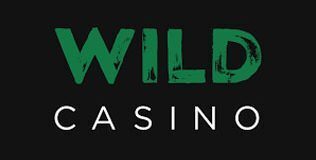 Welcome Bonus
250% up to $5,000