Hide Bonus Offers
| | | | | |
| --- | --- | --- | --- | --- |
| #1 | Bovada Sports | 50% Up To $250 | Visit Site | Bovada Sports |
| #2 | BetUS | 125% Up To $2,500 | Visit Site | BetUS |
| #3 | MyBookie | 100% Up To $1,000 | Visit Site | MyBookie |
| #4 | Everygame | 100% Up To $500 | Visit Site | Everygame |
| #5 | BetOnline Sports | 60% Up To $1,000 | Visit Site | BetOnline Sports |
Does the Kyrie Irving Trade Make the Celtics Locks for the NBA Finals?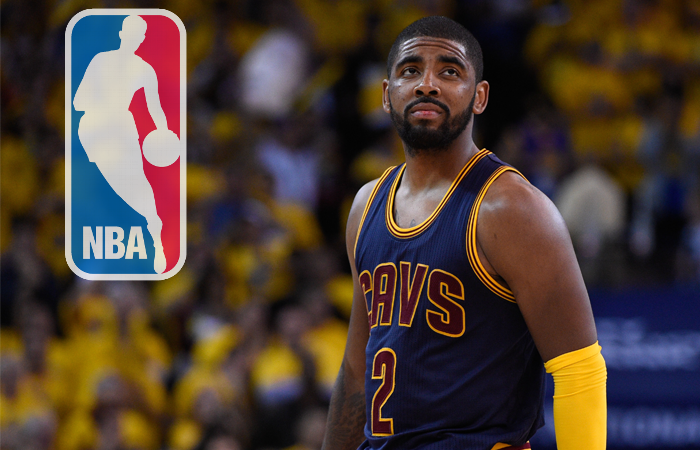 On Tuesday, the Cleveland Cavaliers made the shocking decision to trade All-Star point guard Kyrie Irving to their archrivals, the Boston Celtics. Cleveland's motivations for moving Irving were obvious, but dealing a player of his caliber to their chief competition in the Eastern Conference still raised plenty of eyebrows.
The Cavaliers' reasoning for making this deal is plenty obvious. In acquiring Isaiah Thomas and Jae Crowder, the Cavs are primed to continue to contend for a championship next season with LeBron James and Kevin Love still leading the way. Thomas makes for a dynamic complementary offensive piece alongside James, while Crowder is a top-tier defensive wing that will make LeBron's job easier on the defensive end of the floor. They also got the Nets' 2018 first-rounder from the Celtics, which may well wind up being the top pick in next June's draft.
Cleveland will have some decisions to make next summer, though, as both Thomas and James will become unrestricted free agents. If James leaves, will they pull a Brinks truck to Thomas in order to lure him into staying? Or will they let both leave and just rebuild around what could be a top-three pick in next year's draft?
On the flip side, the Celtics' rationale behind this deal is twofold. Acquiring Irving gives them an in-his-prime 25-year-old point guard locked up for at least the next two seasons. So, they can continue to compete now while also casting an eye toward the future.
Does this make the Celtics a lock to make the Finals next season?
Odds
According to Bovada, the Celtics have the third-best odds to win the 2017-18 NBA championship. They're listed at +750, a hefty ways behind the Golden State Warriors (-160) and, yes, the Cavaliers (+450). To compare, the next-best odds among Eastern Conference teams belong to the Washington Wizards at +5000.
The Celtics are also +200 to win the Eastern Conference, while the Cavs are -160. Does adding Irving and losing Thomas and Crowder put Boston over the top? It's tough to say.
Boston had the best record in the Eastern Conference last season, but they were thwacked in the Conference Finals by the Cavaliers in just five games. They were one of the league's elite teams, but they really had no realistic chance of beating either the Cavaliers or Golden State Warriors as previously constructed.
So, President of Basketball Ops Danny Ainge went out this summer and got aggressive. He balked at making trades for Jimmy Butler and/or Paul George, but wound up making up for that by successfully luring free agent swingman Gordon Hayward out of Salt Lake City. Hayward may well be a better player than both George and Butler, so nabbing him off the free agent wire is a win.
Defense Will Be Problematic
However, the Hayward signing did come at a cost. Because the Celtics couldn't afford to offer Hayward a full max and keep everyone else, Ainge was forced to deal talented two-way guard Avery Bradley to the Detroit Pistons. The Celtics did get a usable forward back in Marcus Morris, but their perimeter defense took a hit.
Ainge finally made his big splash by acquiring Kyrie Irving, but it, too, came at a pretty hefty cost, even if you ignore the future draft pick. Crowder was the team's best remaining perimeter defender, and now he's gone, too. Irving may be a slight defensive upgrade over Thomas, but not by much.
The Celts have a grand total of four players left from last season's roster: Al Horford, Terry Rozier, Marcus Smart and Jaylen Brown. It's going to take some time for this team to gel, so things may not be very pretty early in the season. They are going to struggle specifically on the defensive end of the floor, though, and that's something that may haunt them all season long.
We saw how bad the Cavaliers were defensively last season, yet they still had a more capable defensive roster than the one the Celtics are currently set to roll out. Who is Boston's current best on-ball perimeter defender? Hayward? Hayward's a fine two-way player, but he's not exactly mid-aughts Ron Artest.
This team is going to struggle to keep opponents from getting to the bucket. Against teams like the Cavs, Warriors and CP3-Harden Houston Rockets, that could spell doom. Even the Wizards, with their dynamic Beal-Wall backcourt, are going to give Brad Stevens massive headaches.
LeBron Still Exists
In case you haven't heard, LeBron James still exists. James may be turning 33 this December, but he's still the best player on the planet until further notice. The Celtics probably know this better than any other team in basketball at this point. James has routinely ripped the Celtics' collective heart out in the postseason through the years, and their season ended at his hands once again this past May.
While this trade certainly helps shape the Celtics' future, it also may have made the Cavaliers a better team next season. Irving's demand to be sent out of town is going to give James, even more, bulletin board material than he already had in the first place. You don't think LeBron is going to be motivated to crush Kyrie's dreams now that he's the enemy?
If this really is LeBron's last hurrah in Cleveland, he's not going to bow out like a wimp. He's going to go out guns-a-blazing. As presently constructed, the Cavs' roster looks more deep and well-rounded than the one the Celtics are going to roll out. These are still the two best teams in the East by a longshot, but it's tough to imagine how the Celtics are going to be able to stop the offensive juggernaut that will be Cleveland.
Thomas is a similar offensive presence to Kyrie. He may not be as flashy, but he's a solid spot-up shooter that can keep the offense humming along whenever LeBron is forced to take a breather. Isaiah may be the worst defender in basketball, but there are enough other capable defenders on the roster to where the Cavs may be able to hide his weaknesses a bit.
Until LeBron either leaves Cleveland or starts his inevitable athletic decline, the Celtics are going to have an extremely difficult time getting past the Cavaliers, even after this trade.
It's no fun to pick the favorite, but we believe this trade makes the Cavaliers, not the Celtics, more likely to be able to topple the Warriors in a potential Finals showdown. Sorry to rain on the parade, Celtics fans.