Kyler Murray NFL Draft Predictions – Odds, Analysis, and Betting Pick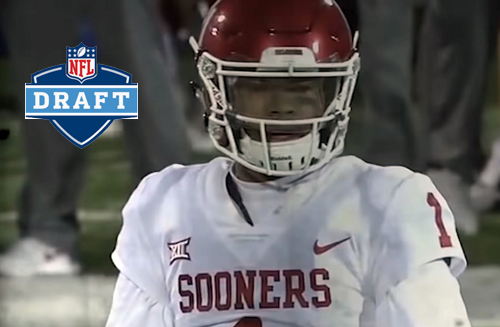 It was just this week that I was responding to a slew of Kyler Murray prop bets by breaking down the Oklahoma Sooners star quarterback's 2019 NFL Draft stock.
Murray has become a scorching hot name in the world of sports betting over the past week and for a variety of reasons.
The most compelling is due to Murray's elite talent both as a football player and baseball prospect, which has him conducting a dance of sorts with the Oakland Athletics.
Reports emerged that Murray had a number in mind to commit to baseball, which he supposedly set at $15 million.
If the A's want Murray to stick with baseball, they may have to go over and beyond to sway him. After all, some NFL experts think Murray's talent and the need for high-level quarterback play could get him selected in the first round of this year's draft.
Some, like myself, suspect he's a lock to be taken inside the top 20 if he fully buys into a career in pro football. If you ask new Arizona Cardinals head coach Kliff Kingsbury, Murray should be taken even higher than that.
I know Murray is small of stature, but short quarterbacks have found success in the league before. Given the great need for quality decision-makers under center, it stands to reason somebody would fall in love with him and build their offensive system around the diminutive signal caller.
Here are my predictions for Kyler Murray in the 2019 NFL Draft, with a look at the odds for possible destinations and a betting pick.
Kyler Murray NFL Draft Odds
Regardless of where Murray gets drafted, however, the better question may be exactly which team pulls the trigger on him. Even better than simply sitting around thinking about Kyler Murray's NFL future is the ability to actually bet on it.
SportsBetting.ag already offered that luxury with those Kyler Murray wagers I touched on earlier, and they're pushing out another one in regards to which NFL team will select him in this year's draft.
Whether you're sold Murray is a lock for round one or you think he slides a bit, you can still bet on where he actually winds up when it's all said and done.
Here are the latest Kyler Murray odds when it comes to his prospective NFL destination.
Tampa Bay Buccaneers
+1200
Three things to consider right away when inspecting these Kyler Murray betting odds: not everyone on this list projects as a viable landing spot at the moment, each of these teams picks within the first 20 draft choices, and there are actually a few teams arguably being left off this list that shouldn't be.
I'm not so worried about the latter, but a few other NFL franchises like the Green Bay Packers, Detroit Lions, and New England Patriots may want to consider their future under center.
Heck, even the Carolina Panthers have to think long and hard about the quarterback position with news that Cam Newton could sit out next season.
I don't know if the Panthers would invest a first-round pick on a quarterback at this point, but Murray would certainly fit the system they run.
The main knock on Murray is his size, but he's not a normal quarterback to begin with.
Anyone even remotely considering making him their franchise passer would have to buy into a system that spreads things out and utilizes his athleticism, whether that be extending plays or looking to gain chunk yardage with him as a runner.
Favorites to Draft Kyler Murray
As I touched on, I also think a few teams are less than realistic buyers here. Because of that, I'd rule out the Buccaneers, Steelers, Bengals, and Broncos at this point.
They all have viable options at quarterback for the moment and have plenty of other pressing concerns to tend to. The same goes for the Washington Redskins, who could better use a first-round pick in the event Alex Smith can return from a broken leg.
That likely leaves us with the Raiders, Jaguars, Giants, Cardinals, and Dolphins as your best bets, assuming Murray doesn't plummet out of the first round or one of the other teams I've banished to the sun doesn't step up and pluck him off of the draft board.
Of that group, Miami feels like the most interesting bet. That isn't just because some mock drafts already have him slotted there but also because the Dolphins pick at the 13th spot and really don't have much to lose.
That isn't a crazy investment for a high-upside player, especially when the Fins have endured several years of pedestrian play out of Ryan Tannehill. With the team finally expected to move on and start over at quarterback, this could be the perfect time to aim high and grab a talented dual-threat quarterback who offers superstar potential.
Murray is no sure thing. He's small, and some scouts aren't quite sold on him as a star in the NFL. However, he put up monster numbers at Oklahoma, has pro athleticism, and has a penchant for the deep ball.
There is very real upside with Murray, and as the Miami Herald notes, the Dolphins would simply be in the exact same situation they are now in a couple of years if he doesn't pan out.
With only a handful of passers looking like worthwhile investments this year, Miami and other teams could swing for the fences on Murray.
If he works out, they nailed an awesome pick, got solid value, and can go try to win a title. If not, they can hope he helps them get a top pick so that they can hunt down someone like Tua Tagovailoa or Trevor Lawrence in the coming drafts.
Who Will Draft Kyler Murray?
You can't believe a word Jon Gruden says anymore, so the Raiders starting the bidding off with a +325 price tag can't be ignored. Due to trades and being awful in general, Oakland owns a handful of first-round draft choices, and they won't be afraid to use them.
If the team decides current quarterback Derek Carr doesn't fit their long-term plans, they could easily ship him off in another trade and look to this draft for a new passer. I doubt they do that, but I see the logic in that happening.
Of course, the Raiders have been deconstructed on both sides of the ball and are void of impact players. They can't just zero in on a new franchise passer when they arguably already have one. That, and there's no guarantee they'd value Murray over someone like Drew Lock.
Still, the Raiders are in play, and you better believe the Jaguars and Giants will be doing their background work on Murray as well.
For me, though, it's Dolphins or bust.
I think the need is there, and Miami has very little to lose by making the splash. They actually have some decent talent on offense already in place but simply need a change at the lead spot in their passing attack.
Miami also offers the most betting value. That shouldn't always be the kicker for you when deciding how to bet on NFL props, but in this case, the combination of player talent, team need, and odds leads me to South Beach.
If you agree with me, I'd recommend that you visit SportsBetting.ag or any of the best online sportsbooks and follow my pick. With +800 odds available, this is a wager worth making.