Hide Bonus Offers
| | | | | |
| --- | --- | --- | --- | --- |
| #1 | Bovada Sports | 50% Up To $250 | Visit Site | Bovada Sports |
| #2 | BetUS | 125% Up To $2,500 | Visit Site | BetUS |
| #3 | MyBookie | 100% Up To $1,000 | Visit Site | MyBookie |
| #4 | Everygame | 100% Up To $500 | Visit Site | Everygame |
| #5 | BetOnline Sports | 60% Up To $1,000 | Visit Site | BetOnline Sports |
Could Kirk Cousins ACTUALLY Take a Team to the Super Bowl Next Year?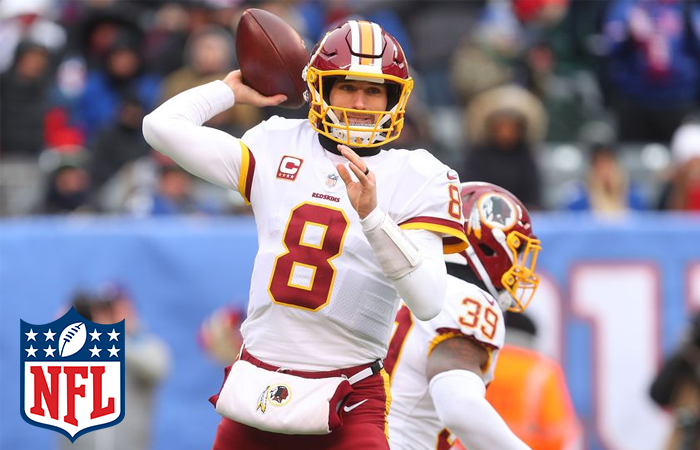 The Washington Redskins pulled off a rare NFL blockbuster deal on Tuesday night, as they swung a trade for veteran quarterback, Alex Smith.
Washington promptly followed that move up by handing the 33-year old Smith a massive four-year, $94 million contract. The deal gives Smith the type of job security he seemingly never had in previous stops in San Francisco and Kansas City and almost certainly ousts long-time starter, Kirk Cousins.
The team had been in a back-and-forth negotiations battle with Cousins for the past few years but had publicly stated that the franchise hoped to make a definitive statement on the quarterback's future with the organization this offseason.
Consider the message received.
All odds that are referenced in this article were taken from BetOnline at 11:14 am CT on 1/31/2018. These odds may have changed since the time of this writing.
Good Move?
Cousins will hit free agency with zero intent to try to remain in Washington, as the Redskins have clearly moved on with Smith as their starter for 2018 and beyond.
As much of a slap in the face as this trade probably is to Cousins, this is actually a potentially brilliant move by the Redskins. The organization clearly never fully supported Cousins, likely because they didn't completely believe he could get the team to where they want to go.
That or the Redskins saw a similarly talented quarterback that they could secure for less cash.
Smith isn't an elite NFL quarterback, but he's an above average option that compares favorably when put up against Cousins. In fact, Smith saved his best ball for 2017, when he was arguably truly unleashed for the first time in his career.
Taking more shots down the field and being more aggressive turned Smith into a real problem for defenses, as he notched career highs across the board in pass completions (341), passing yardage (4,042) and passing touchdowns (26).
It's fair to suggest Smith's most recent season will end up going down as his best as a pro, but the Redskins still got an arguable upgrade. With the contract extension on top of the trade, the Redskins land a reliable passer for the next several seasons.
In turn, Washington could again make a playoff push in 2018 and perhaps make a deep playoff run.
Next Stop?
While this is a big move by the Redskins, there is still a lot to be settled, specifically in the Kirk Cousins camp. Cousins probably would have preferred this to go down a year ago, when a reunion with former Redskins offensive coordinator Kyle Shanahan was a realistic option in San Francisco.
Now that the 49ers are locked in on making Jimmy Garoppolo their new franchise passer, however, it appears that ship has sailed.
Things haven't gone down precisely how Cousins probably would have hoped, but he actually still holds all of the power here. Not only are there a number of quarterback-needy teams that would love to call him their starting quarterback, but this guy is about to get paid.
In addition, Cousins will finally know the comfort of contract security, as well as a franchise that actually wants him and fully backs him. The question, of course, is what team will end up landing him?
The list of Kirk Cousins landing spots is understandably long and it's even something sports bettors can wager on. BetOnline currently provides you with nine interesting options, along with some odds:
Denver Broncos (+180)
New York Jets (+225)
Jacksonville Jaguars (+600)
Cleveland Browns (+650)
Arizona Cardinals (+700)
Buffalo Bills (+1200)
Minnesota Vikings (+1500)
Miami Dolphins (+2000)
New York Giants (+2000)
I would have liked to see alternative options here, as "other" or "none of these teams" would have been worth a look.
Two other options that could have been appealing with steep odds are the New Orleans Saints and San Francisco 49ers. I'm sure the Niners will hand Jimmy G a huge deal and Drew Brees stays home, but what if things don't work out quite as planned?
An "other" option or these two specific teams would have been fun to consider. If you can find those alternative options on other NFL betting sites, they're worth a look.
That being said, BetOnline does a great job covering most of the more realistic bases here. Denver, New York, Cleveland, Arizona, Buffalo and Minnesota – at least for the moment – absolutely need to locate a firm answer under center.
Without a doubt, these are the top favorites to land Cousins when the 2018 NFL free agency period officially starts on March 12th.
The teams here I'd rule out are the Dolphins, Jaguars and Giants. New York has stuck behind veteran gunslinger Eli Manning, while the Jaguars recently made it known that they'd be holding onto Blake Bortles.
Miami seems content with Ryan Tannehill as their franchise passer, as well, so moves for Cousins by any of these teams seems unlikely.
Of the group of favorites, the teams that stand out the most are Denver, Minnesota and Arizona. If Cousins wants to win, these are the teams he's probably giving serious consideration.
The Broncos have a draft pick inside the top-five in the 2018 NFL Draft this year, however, so it stands to reason they'll bypass shelling out a ton of cash and instead just select a top passing prospect.
Minnesota is an odd one, as they got solid play out of Case Keenum and Sam Bradford last year. They're both scheduled to hit free agency along with former Vikings franchise passer Teddy Bridgewater. Cousins could easily leapfrog this trio, but Minnesota might feel obliged to keep things in-house.
Arizona is another realistic option, as the Cards aren't that far from a playoff return. They did lose Carson Palmer and Bruce Arians to retirement, too, so if they want a quick rebuild, starting over under center with a reliable passer like Cousins could make some sense.
If Cousins just wants some fat stacks and a team is looking for a quick answer to their quarterback problems, he could also go play for a loser.
Should that be the case, the two teams everyone needs to track are the Jets and Browns. Both teams desperately need an answer under center and probably wouldn't mind a faster rebuilding process. They also rank inside the top-four in the NFL in terms of salary cap space, per Overthecap.com.
Not so shockingly, reports have already emerged that the Jets will go after Cousins "hard". It certainly doesn't hurt that they have a need at the position, have loads of cash and even have a tie to Cousins:
New York leads the way for me in what will be a very interesting race. Considering how the Jets were actually competitive last year and aren't as far away from contending as some may think, they make sense as the pick at the moment.
New York even trumps the Broncos in terms of betting value, so at the moment I see them as the best option for bettors.
Pick: New York Jets (+225)
Title Boost?
Beyond the monetary gain for Cousins, the team that lands him is obviously hoping he provides many returns for them, as well. The biggest return should be wins and hopefully a run to the playoffs.
That brings in the question of the title of this post – can Cousins actually get his new team to the Super Bowl in 2018?
If you're asking this on a broad scale that doesn't just pertain to 2018, I'd say sure and maybe even a definite yes.
That doesn't mean Cousins will ever win a title, but he's good enough to get his team to the playoffs and if guys like Nick Foles, Blake Bortles and Case Keenum can get wins in some of the biggest games of their lives, a superior talent like Cousins absolutely can, as well.
This question is for 2018, though, and it's another thing bettors will ponder and ultimately place money down on. Of course, it truly depends on where Cousins goes.
If Cousins is simply following the money trail, then no, he's not going to the Super Bowl in 2018. That would almost surely mean he latches on with rebuilding franchises like the Browns or Jets.
Cousins makes them better and maybe helps them sniff the playoffs, but those teams are more than a passing upgrade away from reaching the Super Bowl.
If Denver, Minnesota, Jacksonville, New York, Miami, Arizona or even Buffalo landed Cousins, then yes, I can see him leading his new team to the Super Bowl – possibly immediately.
Again, for me, the Giants, Dolphins and Jags aren't in the mix, barring something random. Minnesota is probably staying in-house, too, while Arizona doesn't seem overly worried about the quarterback position for some reason.
Of this entire crop, the only teams I can really see making the jump are the Broncos, Jets or Browns. Denver is probably content with rolling with a new young arm like Baker Mayfield, though, so Cousins is likely looking at starting over with a rebuilding franchise.
My money would be on New York and if he goes to the Jets, I could see them getting back to the playoffs in 2018. Unfortunately, even a quick turn around like that wouldn't make the Jets likely title threats.
Overall, Cousins is going to get money and security in 2018. Regardless of where he winds up this coming NFL season, though, I don't see him getting to the Super Bowl just yet.