Hide Bonus Offers
| | | | | |
| --- | --- | --- | --- | --- |
| #1 | Bovada Sports | 50% Up To $250 | Visit Site | Bovada Sports |
| #2 | BetUS | 125% Up To $2,500 | Visit Site | BetUS |
| #3 | MyBookie | 100% Up To $1,000 | Visit Site | MyBookie |
| #4 | Everygame | 100% Up To $500 | Visit Site | Everygame |
| #5 | BetOnline Sports | 60% Up To $1,000 | Visit Site | BetOnline Sports |
Khalil Mack and 13 Other NFL Players That Could Be Traded in 2018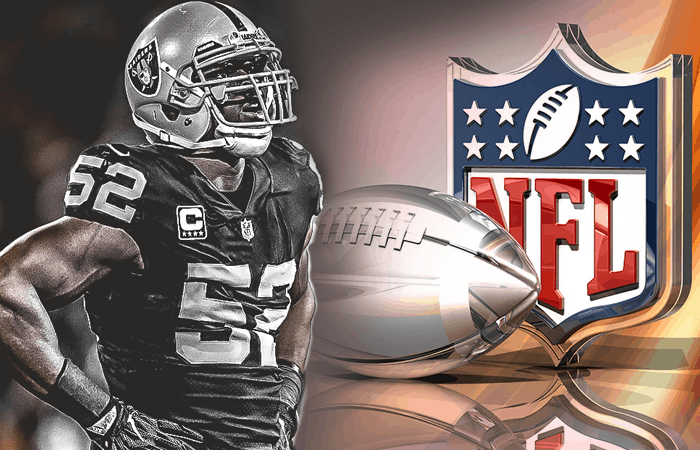 It's very rare that you see a star player traded in the NFL. It's even rarer that it happens, and that player goes on to help his team win a championship.
Rare, but not impossible.
There have actually been some big trades already this offseason. The Cleveland Browns had their hands in two of them, making plays for quarterback Tyrod Taylor and wide receiver Jarvis Landry.
Those two moves probably don't make Cleveland title contenders, but they do put them in position to perhaps compete for a playoff spot.
Last year, the San Francisco 49ers went all in on New England Patriots backup quarterback Jimmy Garoppolo. The Niners went 5-0 with him as the starter, and now they boast +2000 Super Bowl 53 odds at SportsBetting.ag.
The point? Big NFL trades do go down and depending on who makes the deal, it can have a lasting impact.
Going into 2018, there are a number of star players that may be on the way out of their current towns.
Let's take a look at the top players most likely to get dealt this year and how it may impact their new team's betting prospects.

Jacoby Brissett, QB, Indianapolis Colts
The Colts have been steadfast about not wanting to deal Brissett. I can understand why. He flashed solid ability as Andrew Luck's replacement last year, and given Luck's injury history, Indy wouldn't mind having a quality backup option under center.
Luck is back to full strength, though. If teams are really calling for Brissett, Indy should make a deal. They're currently demanding a very high asking price, but if the right team calls, I think they'd listen.
No teams really stand out for his services, simply because right now he projects more as a backup. If Indy lowers their asking price, however, New Orleans could make sense.
Tom Savage is the direct backup to Drew Brees at the moment, and that's just, well, not good.
Nick Foles, QB, Philadelphia Eagles
The Eagles have also kept the Nick Foles trade rumors at bay, largely because their asking price has been too high, and I'm not so sure Foles is jumping at the opportunity to play for a bad team.
Foles does want to see meaningful snaps again, but he's in a nice spot and is being rewarded handsomely to simply hold a clipboard. He may end up just staying on as Carson Wentz's insurance policy for another year, but if the right contending team asks about him, I think a deal could be done.
To me, the team that makes the most sense is the Tampa Bay Buccaneers.
In the event Jameis Winston has finally worn out his welcome, the Bucs could start over by making Foles their franchise passer. That'd allow them to dump Winston, while the Eagles get an upgrade at the backup spot.
Suffice it to say, Winston files in as one of the players that could be traded this year.
Sam Bradford, QB, Arizona Cardinals
The Cardinals brought in Bradford to be their Carson Palmer replacement, but three things could easily happen: he gets hurt, Arizona struggles out of the gates, and/or Josh Rosen steals the starting gig from him.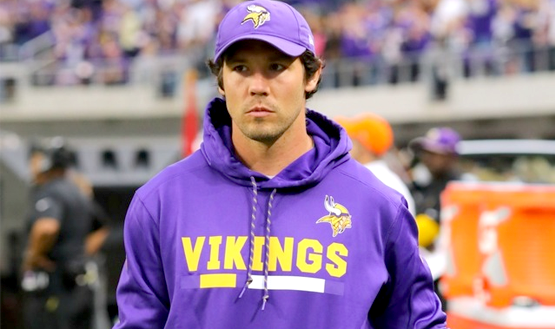 If any of that happens, the Cardinals could look to move his salary and get some value back in return. That'd obviously open things up for Rosen to take over under center as well.
Bradford can still lead a contending team, so perhaps a real Super Bowl threat like the Jaguars (+2000 odds at SportsBetting.ag) could show interest if Blake Bortles struggles like he has in the past.
Tyrod Taylor, QB, Cleveland Browns
I believe the Browns when they say they originally wanted to commit to Tyrod Taylor as their starting quarterback. They've gone through the rookie experience under center the last two years, and it's equated to a 1-31 record.
Maybe they stick to their guns here, and Tyrod Taylor has an amazing season. It's not impossible, but the team made Baker Mayfield the #1 overall pick in the 2018 NFL Draft for a reason, and he's looked awfully good all summer.
In the event the Browns make the switch (as they probably should), I have to assume Taylor is let go or traded to the highest bidder.
Not many teams need a starter right now, but I'd bet the Miami Dolphins wouldn't mind getting a talented dual-threat passer to push the middling Ryan Tannehill.
Brett Hundley, QB, Green Bay Packers
Hundley continues to impress in camp and preseason play, but after looking lost for much of the time as a starter last year, he may be the odd man out in what feels like a stacked quarterback depth chart.
Aaron Rodgers isn't going anywhere anytime soon, and the Packers just traded for DeShone Kizer, who arguably has more upside. Undrafted free agent Nick Boyle has also looked terrific, so the writing could very well be on the wall for Hundley.
This is another project player that wouldn't be starting for his new team right away, but the talent and upside is there if someone is down for a little risk. Considering the Cincinnati Bengals have little to get excited about behind Andy Dalton, they could be a team to watch.
Teddy Bridgewater, QB, New York Jets
Of everyone I've touched on so far, I'd say Bridgewater is the most likely to be dealt.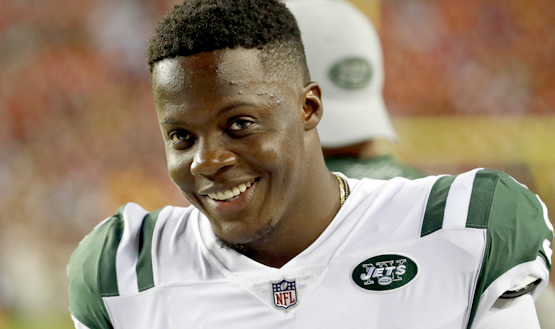 The Jets drafted their franchise passer in Sam Darnold, and veteran quarterback Josh McCown is in town to either start or mentor their young passer.
Bridgewater has proven his worth in camp and preseason play, but he isn't exactly needed in New York. Totally capable of starting elsewhere, I think Bridgewater is first moved to be a backup upgrade, and the rumor mill strongly hints at his next landing spot being Denver.
The Broncos brought in Case Keenum as their starter, but Bridgewater would be a huge upgrade over their current backups and may even eventually push for the starting gig.
LeSean McCoy, RB, Buffalo Bills
Provided Shady's off-the-field issues don't get him suspended before 2018 officially arrives, I have to think a guaranteed loser like the Bills has to consider trade offers for the 30-year-old rusher.
McCoy is still a very effective back in the NFL, if not still an elite option. If he can avoid being a serious distraction, there should be a few teams looking for running back help.
Given a recent injury to stud rookie rusher Derrius Guice, the Washington Redskins stand out to me.
That'd get McCoy back in the NFC East, where he could face his former Eagles squad twice a year and help lift the Redskins, who come into 2018 with intriguing +6600 Super Bowl odds.
Josh Gordon, WR, Cleveland Browns
Flash Gordon is currently on leave to get his mind right for the 2018 season as I write this. That's nice that he's taking measures to ensure he doesn't fall into his old traps, while the Browns seem to be behind him.
Of course, Jarvis Landry is in town, and the Browns seem interested in bringing in veteran receiver Dez Bryant. If Bryant signs, Gordon would seemingly become a lot more expendable.
The talent and upside are tantalizing, but if Cleveland feels the risk outweighs the reward here, why not sell to the highest bidder and move on?
One team that could make serious sense is the Patriots, who really haven't had a reliable field-stretcher since the days of Randy Moss. They'd be assuming some risk, but given the Pats and Browns past deals, it shouldn't be written off completely.
Considering the Pats already have the best Super Bowl 53 odds (+700 at SportsBetting.ag), getting a healthy and active Gordon would only increase their chances of winning it all in 2018.
Demaryius Thomas, WR, Denver Broncos
Another wide receiver I wouldn't be shocked to see dealt is Broncos wideout Demaryius Thomas. Denver seems ready to compete this year, but if they struggle early, they could always opt to blow their roster up.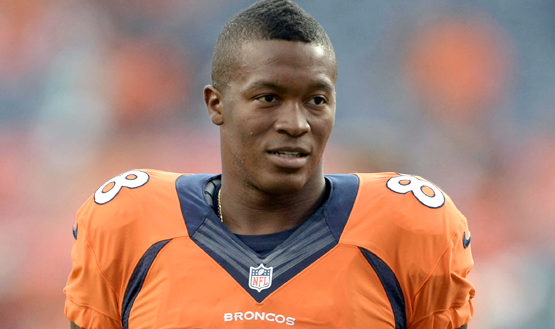 Trading DT away could make some sense, both from a financial perspective and to clear up room for two talented receivers (Courtland Sutton and DaeSean Hamilton) the team drafted this offseason.
Now 30 years old and owed a ton of money, DT could be shipped for the right price thanks to Denver's solid depth at the wide receiver position.
The aforementioned Patriots could be players here if they aren't on Josh Gordon trade talks, but another team that stands out is the Seattle Seahawks. Paul Richardson and Jimmy Graham both left town in free agency, and Russell Wilson is short on weapons.
Landing DT could give Seattle and their +5000 Super Bowl odds a sizable boost.
Earl Thomas, S, Seattle Seahawks
Speaking of Seattle, it feels like a foregone conclusion that they'll be moving on from long-time star safety Earl Thomas.
The team has already shed big-name defensive stars like Michael Bennett, Richard Sherman, and Kam Chancellor, so this move just makes too much sense.
The big question is where Thomas would wind up. He's talked about his infatuation with the Dallas Cowboys in the past, and their defense certainly could use a game-changing safety.
The Cowboys are already appealing Super Bowl sleepers (+2500), and adding a star safety could put their improving defense over the top. Here are a few ways it could happen.
Khalil Mack, DE, Oakland Raiders
There are admittedly a few NFL stars that are more likely to be traded than others.
In terms of impact and sheer talent, I'd say Oakland would never trade their best defensive player. In terms of a legit disconnect and money owed, however, the Khalil Mack trade rumors really aren't that off base.
I'm sure the Raiders would prefer to keep one of the best young defenders in the game, but Mack is going to cost a lot of money to keep around. Jon Gruden said it best when he pointed out that Oakland's defense was atrocious in 2017 even with Mack, so perhaps the Raiders brass isn't settled on paying him what he thinks he deserves.
I doubt Mack gets dealt, but the Packers have a need for an impact defender and do have two first-round picks going into next year's draft.
And to those assuming they wouldn't deal both picks, consider that they own their own and the Saints'. Both teams are projected for the playoffs, likely rendering those selections very late in round one.
Mack to the Packers (or being traded at all) is no lock, but it's a lot more realistic than some people seem to think. If the green and gold made an ambitious move like that, there's little doubt their already interesting +1400 Super Bowl odds would see a significant spike.
Rob Gronkowski, TE, New England Patriots
I don't know if I actually buy all of the retirement talk or the Rob Gronkowski trade rumors. However, as one of the more talked-about NFL stars during the offseason, he absolutely has to grace this list.
The Gronk is quite the trade chip. On one hand, he's the best tight end in the league and plays into New England's Super Bowl odds, but now there's the threat of him retiring at any point.
I think a trade is unlikely, but if he's dealt, it's probably out of the AFC. The Pats landed a deal with San Francisco last year, and it would make sense the Niners would want to upgrade their passing game weapons.
Gronkowski would qualify as such, while he'd be closer to the media juggernaut that is La La Land.
Odell Beckham Jr., WR, New York Giants
Beckham is another guy waiting on a big contract, and it's worth wondering if New York really wants to give it to him. Not only has Beckham Jr. been a bit of a distraction ever since coming into the league, but he hasn't exactly pushed the G-Men to great heights.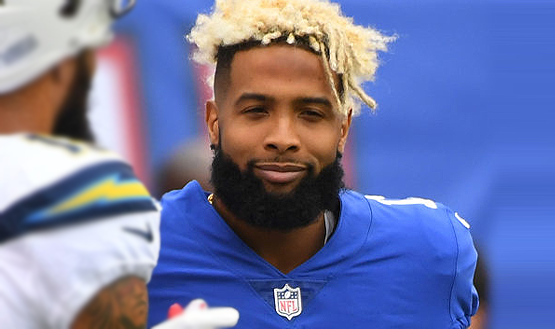 That, and he's fresh off of a season lost to injury.
I think the Giants do prefer to keep their stud receiver in town, but he can be a difference-maker for the right club, and some teams will at least pitch deals to Big Blue.
The Packers have understandably been in loose Odell Beckham Jr. trade rumors, but if New York is smart at all, any deal would send their diva receiver out of the NFC. The Patriots would quickly gain traction as a possible destination, but I actually like the Colts.
Indy has very little at receiver beyond T.Y. Hilton, and the team needs to get serious about loading up Andrew Luck's surrounding talent if they want to win. Getting a superstar like Beckham would be one heck of a step in the right direction.
Le'Veon Bell, RB, Pittsburgh Steelers
Last, but certainly not least, is Le'Veon Bell, who is another big name with a lingering contract issue. The Steelers probably want to lock up their franchise player, but he is not going to be cheap.
For a guy who has dealt with a lot of injuries in the past and plays a risky position to tie money up into, I can see why Pittsburgh is a bit hesitant here.
Bell could be ready to walk in free agency, which may end up forcing Pittsburgh's hand. It's very tough to envision them trading him, but somebody will offer them something big before the 2018 NFL trade deadline rolls around.
The team that pops off the board the most to me is the Jets. They can probably wait and try to sign Bell in free agency, but why risk losing him to someone else?
Summary
Notice the title reads that these NFL stars could be traded this year. I'm not for sure saying they will.
Everyone has different reasons for potentially being dealt.
Some have contract issues, some have beefed up their trade value and deserve a chance to prove themselves elsewhere, and some have simply worn out their welcome with their current team.
One way or another, though, every guy on this list is there for a reason, and it remains entirely possible they get traded.
Some of these moves will have ripple effects. They'll make the team losing the stud player way worse and possibly greatly enhance the new team's title odds.
Whatever the case, all of these stars will be worth tracking over the next couple of months, and if you catch wind of any prospective deal, considering how it might impact your Super Bowl betting isn't a bad idea.