Hide Bonus Offers
| | | | | |
| --- | --- | --- | --- | --- |
| #1 | Bovada Sports | 50% Up To $250 | Visit Site | Bovada Sports |
| #2 | BetUS | 125% Up To $2,500 | Visit Site | BetUS |
| #3 | MyBookie | 100% Up To $1,000 | Visit Site | MyBookie |
| #4 | Everygame | 100% Up To $500 | Visit Site | Everygame |
| #5 | BetOnline Sports | 60% Up To $1,000 | Visit Site | BetOnline Sports |
Kevin Durant Rumors: Predicting Where the Thunder Star Signs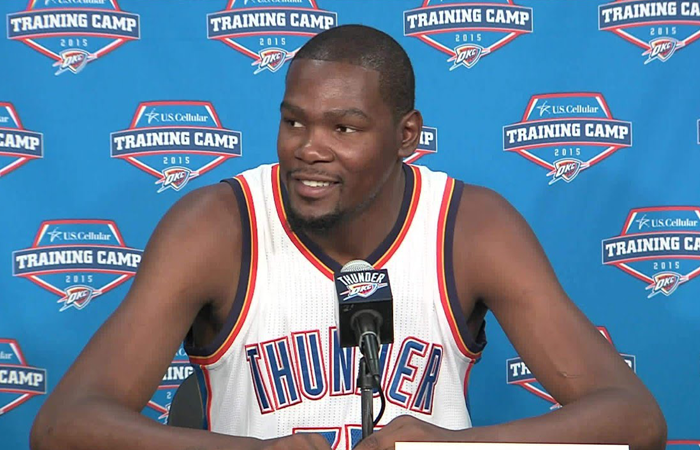 Not even a month ago Kevin Durant suggested he wasn't one to go on a big free agent tour. Tour or not, he's scheduled to meet with several teams already as he contemplates his NBA future.
Oklahoma City's star forward is an unrestricted free agent, which opens the door to limitless possibilities. He can hang his hat on what the Thunder accomplished just last season (getting to within one win from the NBA Finals) or he can scope out greener pastures and take his talents elsewhere.
An argument can be made for numerous destinations. However, several have already been ruled out. The New York Knicks are rumored to at least getting considered for a visit, but the likes of the Los Angeles Lakers and Washington Wizards aren't expected to be so lucky.
Durant has promised the Thunder one last crack at convincing him to stay, but not before he sets up meet and greets with six other teams. The list has grown, but at the moment, the Celtics, Clippers, Heat, Spurs, Warriors and Thunder all look like potential landing spots for KD – potentially in that order.
We aren't in Kevin Durant's head. He may not know what he wants to do yet and even if he does, it doesn't seem like any reporters have a clue yet, either. All we can do is go off of logic and what ties KD has with these respective clubs.
Let's run through all seven and see why Kevin Durant could choose each team:
New York Knicks
The Knicks have risen to be a potential contender, as Phil Jackson is re-creating New York on the fly. He already had Carmelo Anthony and drafted a franchise cornerstone in Kristaps Porzingis last year, and then made another splash by trading for point guard Derrick Rose last week.
Carmelo Anthony also has ties to KD and says they've already been "talking".
Carmelo Anthony tells ESPN that his recruitment of Kevin Durant has already begun, saying: "We've been together. We've been talking."

— Marc Stein (@ESPNSteinLine) June 27, 2016
The big pro here is KD would have the mother of all stages in New York. He's also be operating under a team president that has a history of winning and he'd get to team up with Melo and Rose, two guys Durant reportedly is fond of. Playing with a rising talent like Zinger can't hurt, either.
There is the red flag of New York not being a playoff team, though. The Knicks also have zero depth with guys opting out of contracts and their recent trade for Rose didn't help matters. Durant would be going from a constant playoff and title threat (and one that almost got to the Finals) to a team that has regressed to just hoping to get back into the playoff picture.
It's true that KD latching on with the Knicks would make for a splash. A foursome of he, Melo, Zinger and Rose could be quite formidable. Of course, that's assuming Melo and Rose, guys that have begun physically breaking down in recent years, both stay healthy and perform at a high level.
The question of depth and extra star power is very real, too, but that also could be eased by the addition of Durant. Some solid free agents could sign for less and help fill out the roster.
The market and star power is here, but the safety is not. Durant could be swayed to listen to the Knicks and being friends with Melo gives them a mild chance, but it's just not realistic – or smart – for Durant to take this dive.
Los Angeles Clippers
The Clippers were one of the teams to be granted a chance to pitch to Durant, and are expected to do so sometime soon in New York. It's unclear how Durant feels about the Clippers, but he has to see what everyone else does – this is a team built to win right now and they very well may be one star away from getting it done.
Los Angeles fell apart last year due to numerous injuries, but two years ago were one win from reaching the Western Conference Finals for the first time in team history. Durant has to be excited about the possibility to bridge that gap, especially since the main weakness for the Clippers continues to be their small forward position.
Already blessed with superstar talent in Chris Paul, Blake Griffin and DeAndre Jordan, the Clippers know how to win. They even have a championship-winning coach in Doc Rivers and with Durant in tow, would immediately be one of the top favorites to win next year's NBA Finals.
As fun as this could be, the Clippers don't have an easy path toward making this happen. They don't have the funds currently to land KD for big money and clearing up enough room to do so could involve parting ways with one of their top three players. A move to even get KD would likely have him thinking twice about joining the Clips, so this destination probably won't come to fruition.
Miami Heat
Miami is getting a visit probably out of sheer respect for Dwyane Wade and the process. Pat Riley is also a recruiting and personnel wizard, while Durant had to find it hard to say no to a team that was in the NBA Finals for four straight tries not too long ago.
The only main difference now? LeBron James is in Cleveland and Chris Bosh has been dealing with a blood clot issue. The same story with the Celtics resides here, but Durant would have a more veteran roster around him, as he'd be teaming up with the likes of Goran Dragic, Wade, hopefully Bosh and maybe even Hassan Whiteside.
Of course, Whiteside could leave and/or the Heat might not be able to afford both of them, and suddenly they become a little less attractive.
Reports suggest the Heat are one of the top contenders for the reasons mentioned, though. Miami was already the third best team in the Eastern Conference last year, has solid star power and could be KD and a healthy Bosh away from running the defending champion Cavaliers off the road.
It's an interesting spot and it could work out, but the red flags probably keep it from happening.
Boston Celtics
For some reason Durant appears to be genuinely interested in Boston, likely both for the franchise history and the current foundation. Boston has really done a good job rebuilding their roster ever since dismantling a regressing title contender, and they've been in the playoffs the last two years under head coach Brad Stevens.
They've had difficulty moving onto the second round, however, as they have great coaching, a good system and very good two-way players, but lack an actual superstar. Durant could be intrigued about the Celtics for that reason, as saving a franchise on its way up would have its perks. It also wouldn't be awful to play in the far easier Eastern Conference, where all KD would have to worry about every year is making his way past LeBron James to get to the NBA Finals.
Boston is also interesting because they have cap space and are ready to make a huge move. They deem a good amount of their players expendable, too, so whoever KD wants on the team with him, he might just get them. Who Durant would want to be brought in with him is a secret to this point, but it's worth noting that the Celtics are the only team right now that could afford to grant him his wish.
The Celtics are the only team on Durant's list of five teams that can sign two free agents to a max contract https://t.co/hmncXs6qJm

— Kevin O'Connor (@KevinOConnorNBA) June 25, 2016
San Antonio Spurs
Boston is the first team where you start thinking maybe Durant wouldn't mind starting fresh with a different spin, but the Spurs are probably one of two truly realistic options if he's going to leave a good situation in Oklahoma City.
The Spurs have clearly regressed the past two years and OKC even beat them fairly easily in the playoffs, but they're still completely stacked and ended last year's regular season with the second best record in the league.
Throwing in KD to work with Kawhi Leonard and LaMarcus Aldridge gives San Antonio one of the best Big 3 units the league could offer, while guys like Tony Parker, Tim Duncan, Manu Ginobili, Danny Green and Boris Diaw could round out one of the league's deepest supporting casts.
It is unknown just how seriously Durant is taking the Spurs, but their coaching and team management has been atop the league for years. For the most part, you don't choose them – they choose you. That's how it felt last year with Ridge, who had the entire league hoping for him to sign on the dotted line, and then he decided to buy into the Spursian way.
Will Durant jump ship for a chance to build a new dynasty in San Antonio? It's doubtful, but it's going to be an idea that could be tough for him to dismiss so quickly.
Golden State Warriors
Here is your best bet for Kevin Durant leaving the Thunder. Let's face it, KD went up against the best and failed, even when he had the Dubs in a 3-1 hole. That has to haunt him and it's very possible a "if you can't beat them…" narrative looms large in the back of his mind.
The reality is Golden State is the best team in the Western Conference and had things gone a little differently, they'd probably be celebrated back to back NBA titles.
The Warriors give Durant so much of what he needs, too. He'd form arguably even a Big 4 with Stephen Curry, Klay Thompson and Draymond Green around him, he'd get an intense and loyal fan base at his disposal, he'd be more on the NBA map than ever and he'd be added to an instant title threat – if not a title favorite.
He'd also get the surrounding weapons he'd need to finally make his way back to the NBA Finals and take down LeBron James for his first title. Even more important, with a great head coach in Steve Kerr, a brilliant system and a stacked roster, he'd be latching on to a team that could become a dynasty.
The beauty of this idea is the Warriors don't really need to get too crazy to make it happen, either. Harrison Barnes and Festus Ezeli are both free agents, so Golden State let's them walk. They would have to overpay both of them to keep them, while KD would be a severe upgrade over Barnes, anyways. The team would also then have to part ways with center Andrew Bogut, something they've already seemingly been poking at for the last two years.
Those moves would then free up enough cap space to get Durant and then the Dubs could go to work on figuring out how to land another center to replace Bogut and Ezeli – preferably at a much lower cost.
Oklahoma City Thunder
Oklahoma City still has Kevin Durant's heart. He almost got to his second NBA Finals just this past season, he likes playing with Russell Westbrook and he has to enjoy playing for a franchise that has treated him well and has constantly looked for ways to get better.
What he hasn't loved, though, is the way the team moved on from former coach Scott Brooks, and it also remains to be seen if he didn't mind them dealing big man Serge Ibaka for Victor Oladipo, Ersan Ilyasova and rookie forward, Domantas Sabonis.
In fact, before that trade happened, it was probably a lock that Durant was staying for at least one more year. He'd sign a big two-year deal with an opt-out clause after this season, then go sign a huge deal the year after. Now he needs to re-think things, though.
Does that trade help the Thunder get better for next season, or does it shows OKC possibly trending in a direction Durant isn't comfortable with? On top of that, KD has to wonder if the team he has around him can actually win a title. He got them through the Spurs and brought the Dubs to the brink, and they still couldn't get it done. If Durant thinks his last best shot with the Thunder just came and went, he may have enough reason to jump ship.
Kevin Durant Prediction
It's still very possible that Kevin Durant doesn't want to leave the Thunder. In fact, perhaps he's only taking these meetings to get closure against that notion. If the pitchers are bad or the numbers don't make sense, KD can rest easy, knowing he's making the right call by staying at his home base.
If public perception is what Durant is worried about, he's never leaving. It's not fair for him to be criminalized if he leaves or discredited if he goes and wins a title elsewhere, though. He doesn't owe anything to the Thunder and he needs to go where winning isn't just a top priority, but it's realistic for him to accomplish all of his goals.
Should Durant land on that logic, he's going to the Warriors. It's the path of least resistance when he looks at a title chance, and that's not a coward's way out. After all, Cleveland just won the title – not the Warriors. Golden State needs Kevin Durant just as much as he may need them, and together they can try to battle back against a tough Western Conference for the right to dethrone the Cavs. Even then, Cleveland may end up being the next true dynasty and Durant will fail yet again. But he's not going to get that chance with the Thunder, so signing with the Warriors looks like his only option if he is real with himself.