Kareem Hunt's Next NFL Team – Can He Make a Run at Super Bowl 54?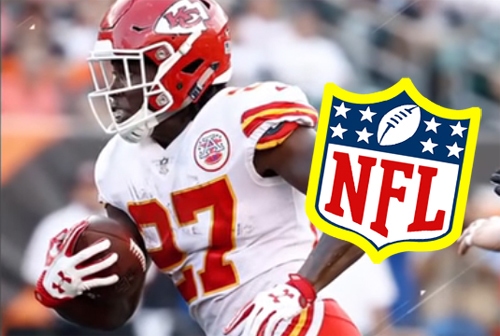 Kareem Hunt remains a hot name heading into the 2019 NFL Free Agency period.
It's true that he faces a suspension from the NFL thanks to a questionable off-field incident, but reports suggest he'll still return to the league at some point in 2019.
I don't want to get into the semantics of domestic violence or break down just how bad Hunt's outburst was or wasn't. He did something he wasn't supposed to do, got cut from the Kansas City Chiefs, and now his future is a bit murky.
As it should be when you break team and league rules. That being said, he's still just 23 years old and has plenty of time to make up for his mistake, both as a person off the field and as a player on it.
Needless to say, nobody is too concerned over whether or not he'll get another opportunity, and most around the league feel that Hunt's next chance will come about rather quickly.
Just how quickly and which NFL team rolls the dice on Hunt remains unclear, but whoever does take that dive inherits an elite running back that could propel them on a run to Super Bowl 54.
Here are the six teams that make the most sense for both sides come next season.
Chicago Bears
This is the spot that stands out the most. Chicago was already a Super Bowl threat this season, and going into next year, they carry solid +1000 Super Bowl 54 odds.
They have a decent stable of rushers in Jordan Howard and Tarik Cohen, but Cohen isn't a feature back, and Howard isn't very explosive.
Hunt would give the Bears both facets, and the fact that he already knows head coach Matt Nagy's system from their days in Kansas City together gives him a nice boost.
The Bears have the elite defense needed to make a title run. Their offense is close, but Hunt could conceivably push them over the top.
New York Jets
Gang Green is constantly involved in Le'Veon Bell rumors, and perhaps they end up paying big bucks to get an even better back with no extra baggage. But Hunt is honestly an amazing consolation prize if you can even call him that, and due to his recent issues, he'd come at a vastly cheaper price.
Hunt can do it all for you on offense and arguably is a little more explosive than Bell.
It's fair to say that Hunt is a more enticing talent than anyone the Jets presently have, and with cash to spend, New York may want to think about adding a star rusher to pair with Sam Darnold.
New York doesn't have tempting Super Bowl 54 odds at the moment (+6600 at SportsBetting.ag), but they could shoot up the rankings in a hurry by adding a marquee talent like Hunt to their offense.
Oakland Raiders
This would be hilarious. Obviously, Hunt would relish the opportunity to get back in the AFC West and dish out some revenge twice a year against his former squad, but this could also be a major steal for Jon Gruden and the Raiders.
It's clear the Silver & Black have been tanking so they can build for the future, but what's more future-themed than getting a 23-year-old star running back at a discounted price?
The writing on the wall suggests Marshawn Lynch is done with the Raiders, which means they'll probably want to start thinking about bringing in some fresh legs at tailback. They could opt to do so in the draft, or they could hand Hunt more money than anyone else and get a proven franchise running back on the cheap.
Would bringing Hunt to Oakland make the Raiders legit title threats? No, but it'd greatly enhance their paltry +6600 Super Bowl odds.
Houston Texans
New York and Oakland are appealing due to need and Hunt's impact to each respective offense, but let's get back to a team that could actually dream big if they brought him in.
The Texans certainly qualify as such, as they won the AFC South this year and had the balance to make a deep playoff run. That didn't happen, but the talent is still there as they gain more experience and round out the rough edges.
One area they could improve is their ground game, where Lamar Miller was pretty pedestrian for much of the season.
Adding a more dynamic rushing threat like Hunt could really open up Houston's offense, making them one of the most feared units in the league.
Houston is already a viable Super Bowl 54 sleeper (+2500 odds), but bringing in Hunt might make them one of the top contenders.
Indianapolis Colts
Indy feels like they're on the cusp of a destiny. Andrew Luck is healthy and looks better than ever, head coach Frank Reich is a bonafide offensive genius, and the Colts can even defend a bit.
The Colts are only going to improve defensively, and with Reich teaming up with Luck, their offense is always going to be a problem for the opposition.
It could get even nastier. Marlon Mack ended up proving to be a very solid option at running back, but he really doesn't have great pass-catching chops.
Hunt would be a sizable upgrade, and instead of investing major funds into someone like Le'Veon Bell, the Colts could stack their running back room and save cash to continue to beef up their defense.
The Colts are already a fun Super Bowl 54 sleeper (+2200), but adding Hunt could give them the extra edge to make a "super" run next year.
Philadelphia Eagles
The Eagles did a pretty good job of avoiding the Super Bowl hangover last year, and by all accounts, they will be back in the playoff picture again in 2019. Vegas doesn't regard them as heavy favorites, but as things stand (+2000), they have as good of a chance as anyone else.
One thing holding the Eagles back is their inconsistent rushing attack. That was a strength during their title run in 2017, but injuries across the board hurt them on the ground. Jay Ajayi is also scheduled to enter free agency, and Darren Sproles is a million years old in running back years.
In general, Philadelphia's running back situation is rather convoluted.
Suffice it to say, bringing in an elite rushing talent like Hunt would spice things up a bit. Then the Eagles would just have to figure out who they want under center between Carson Wentz and Nick Foles.
Where Will Kareem Hunt Play in 2019?
I lied a little bit. I list six teams here that Kareem Hunt could sign with and help push for a championship, while the Raiders probably don't belong here. Still, Hunt should be on their radar, and adding him would absolutely improve their offense as a whole.
Everyone else here is already on the cusp of a playoff run, if not also in the mix for a Super Bowl trip. Any of these teams could go grab Hunt at a discounted price and get a guy who will not only provide an instant spark but should also be on a mission.
The two teams that stand out the most are the Eagles and Bears.
Philly is a big threat here just because of the way they run things and having won a title recently. However, the connection between Hunt and Nagy is impossible to ignore.
If the Bears are smart, they'll realize that franchise quarterback Mitchell Trubisky is still flawed, and he needs all the help he can get. Landing a more complete and explosive running back like Hunt could work wonders for him and enhance an already solid Bears offense.
From there, Chicago's defense just might end up doing the rest en route to a Super Bowl 54 win.
There aren't yet any Kareem Hunt prop bets dissecting where he'll play in 2019, but as free agency heats up, I can't imagine why there wouldn't be. The second you see them, the Bears should be high on your list of teams to wager on.