Hide Bonus Offers
| | | | | |
| --- | --- | --- | --- | --- |
| #1 | Bovada Sports | 50% Up To $250 | Visit Site | Bovada Sports |
| #2 | BetUS | 125% Up To $2,500 | Visit Site | BetUS |
| #3 | MyBookie | 100% Up To $1,000 | Visit Site | MyBookie |
| #4 | Everygame | 100% Up To $500 | Visit Site | Everygame |
| #5 | BetOnline Sports | 60% Up To $1,000 | Visit Site | BetOnline Sports |
Kareem Hunt Should Be Banned – The Browns Can Win Super Bowl 54 Without Him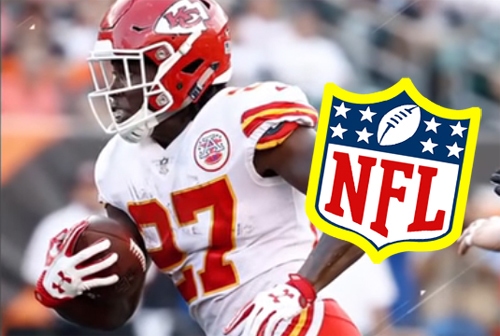 The Cleveland Browns are relevant again.
I'm not entirely sure when they were ever officially relevant, but there was a time when they weren't awful, to be sure.
And now they might not be, well, awful anymore.
Browns fans know how brutal this long stretch of ineptitude has been, which makes the arrival of a true franchise quarterback in Baker Mayfield all the more glorious.
Mayfield himself put Cleveland back on the map during the regular season in 2018 and for a brief moment even had the Browns sniffing the NFL playoffs.
Betting on the Cleveland Browns to do something of merit was no longer a pipedream; it was a reality.
Things could get even better in 2019, though.
Mayfield has a full offseason to progress as the locked-in starter under center, he can continue his productive working relationship with new head coach (and former offensive coordinator) Freddie Kitchens, and his front office can keep trying to improve the roster around him.
Cleveland already has a ton of talent, but GM John Dorsey made a splash recently by signing former Kansas City Chiefs star running back Kareem Hunt.
The move in theory provides a boost to the Browns' already robust (for them) Super Bowl 54 odds.
It's also created some uproar due to Hunt's questionable character and the fact that he was caught on video attacking a young woman last year.
Let's break this thing down from all sides, and in that same breath, analyze if the Cleveland Browns are truly a viable bet to win it all in the 2019 NFL season.
Do the Browns Even Need Kareem Hunt?
This question is actually embedded into perhaps a more important one; should the Browns want Kareem Hunt?
I'll agree that Hunt didn't put Ray Rice-type violence on video, but he was quite aggressive with a woman, and that's just unacceptable.
Second chances are certainly something most people deserve in life, but there is a strong argument that Hunt got his way too quickly. The reality is that it happened for two reasons: Hunt is immensely talented, and Cleveland probably figured if they didn't pounce now, somebody else would have beaten them to it.
Cleveland didn't just add a guy who can completely open up their offense; they kept the competition from getting him.
The Browns are a year removed from being the laughingstock of the NFL, too. Few can really blame them for taking risks to ensure they don't fall back into that pit of darkness again anytime soon.
That, and fellow AFC teams like the New York Jets, Indianapolis Colts, or even AFC North rivals like the Baltimore Ravens could have easily made this same move in a week or two.
The other thing is that the Browns have nowhere to go but up in virtually every regard. Taking on some bad PR for a sensational talent is a low-risk move, and they're doing it at the perfect time.
In theory, all of the negative Kareem Hunt press will get swept up in the 2019 NFL Combine and then the 2019 NFL Draft.
All of the anti-Hunt takes you're perusing online will age, and by the time the 2019 NFL season rolls around, it's possible his violent outburst will be forgotten.
Still, do the Browns really need all of this drama and criticism from the media?
No, not really.
They're breaking in a rookie head coach, and to be frank, they already have a very good running back in second-year rusher Nick Chubb. They also had a perfectly viable scat-back in Duke Johnson, who they inexplicably couldn't figure out how to use for the majority of his career.
Instead of standing pat with an already solid backfield, the Browns aimed high here and did so with some considerable risk.
Why Kareem Hunt Should Be Banned
Okay, so the Browns took a PR hit to improve their backfield, something close followers of the team would argue wasn't even an area they needed to address.
All of the eyebrow raises, I'm sure.
That's happening for two reasons, though. First, as I've touched on, because Cleveland doesn't really even need Hunt. Secondly, because he has a violent past, and his latest brush-up with domestic abuse was caught on video tape.
It really isn't about being able to prove that Hunt did something wrong. The video gives us a visual aid to for sure know what he's capable of when he's not donning an NFL uniform, but three run-ins with the law suggest this is a major (and recurring) flaw in his character.
He's young, he's talented, and perhaps he's even sorry. But Kareem Hunt did something that you simply don't do if you're in control of your thoughts and actions.
You don't chase, attack, slap, push, or hit women — or anyone, for that matter — unless there is something seriously wrong with you.
I'll give you that what exactly Hunt did is subject for analysis. But in that same breath, where does the NFL and society in general start drawing the line?
Are you only penalized for brutal attacks? Do punches need to be thrown? Does it all need to be caught on camera? Does the case need to be in court and the victim battered and bruised in the hospital?
The questions (and undeniably the hot takes) are likely endless, but at the core, we have a debate over what domestic violence is and how it can be acceptable. The reality is we know what it looks like by now, and none of it is okay.
The Browns and the NFL are sweeping this under the rug if Kareem Hunt is free to play again, which should prompt many to call for a Kareem Hunt NFL ban.
Too extreme? I admit that's arguable, but in a sport that demands violence, it's possible that athletes that exhibit this type of behavior will simply never get past it without being removed from that violence-centric environment.
To really stop these types of things, there need to be true consequences and not endless slaps on the wrist that allow the top-shelf talent to coast back into the league.
Cleveland clearly isn't going to send the message themselves. The NFL needs to do so by issuing a lifetime ban on Kareem Hunt and set the precedent once and for all; domestic abuse of any kind will flat-out not be tolerated in this great league.
Kareem Hunt Prop Bet
While banning Kareem Hunt from the league is something the league will (and should) consider, I doubt it actually happens. That bleeds into the new Kareem Hunt wager over at SportsBetting.ag, which asks bettors when the star running back will get back on the field in a regular-season game.
At the very least, a suspension is coming Hunt's way. Whether that's a lifetime ban, a one-year ban, or a multi-week suspension, nobody knows.
Regardless, you can bet on what happens with Kareem Hunt in 2019. Here are the odds in reference to when he'll make his potential return this season.
Ray Rice never played another down in the NFL, and Ezekiel Elliott got suspended six games for an off-the-field incident where there was no concrete proof he did anything wrong.
The NFL could bide their time here as they gauge public perception, but I can't see them handing Hunt a smaller suspension than Elliott got. The Kareem Hunt tape wasn't nearly as disturbing as the Ray Rice video, but it was still evidence of a player being violent, and nobody is going to brush that to the side.
I'd be pretty shocked if Hunt played at any point between weeks 1-4, but with the Browns taking this public risk (assuming the NFL doesn't take a huge stand and ban him for the entire year), I also can't see him sitting out all of 2019.
Your two best options here are the favored weeks 5-8 (+150) or weeks 9-17 (+175). And if you're of the belief like I am that he should simply be banned, the +600 price tag for Hunt sitting out the entire year (if not forever) is very appealing.
My guess is the league operates similarly to how they did with Ezekiel Elliott, though. Given the video evidence and the fact that a team pounced on him so quickly, I think something closer to an 8-game or 10-game ban is possible.
Tossing a little money on Hunt not playing at all (+600) is absolutely worth it, but I'd go harder at the 9-17 week timeline.
Is Kareem Hunt Cleveland's Missing Link?
Betting on when Kareem Hunt will play and wondering if the Browns even need him are two things to think about. But what if this guy can push Cleveland to the promised land?
The Browns actually have a pretty rich history of stacking NFL trophies, but that was before the Super Bowl even existed. It's possible Cleveland can get back to that, though, as they have a pretty interesting offense and a talented defense.
The question is if Hunt is worth all of this risk.
From a talent perspective, you can at least start the debate that he is. Hunt was extremely dynamic for the Chiefs over the past two years, piling up over 1,000 total yards and eight scores before being released after 11 games last year, as well as 1,700+ total yards and 11 total touchdowns as a rookie in 2017.
Hunt can do it all, he's explosive, and he's a flat-out weapon as a receiver. Kansas City did end up proving that their system was responsible for a lot of his production, but everyone knew he was capable of being a star coming out of Toledo.
There's also the notion that Hunt will have a bit of a chip on his shoulder, while former Chiefs GM John Dorsey knows what Hunt can do and personally vouched for him.
I don't think the Browns absolutely need Hunt to succeed, though.
It's true that he'd be a bonus for an already dynamic offense that would simply get even better. Hunt can line up as a receiver and be a terror out of the backfield, while he also can rotate in as a rusher or even take over as the team's true feature back.
The Browns just get deeper, more explosive, and more versatile with this move. Loading up on talent is never a bad thing, and getting one of the game's best young skill position players obviously would make Cleveland tougher to defend.
Hunt could be the missing link between the Browns simply making the playoffs and going on an epic Super Bowl run. I'm just not sure he necessarily has to be.
Why the Browns Can Win Super Bowl 54
There are several reasons why the Browns are legit Super Bowl 54 threats going into 2019. Kareem Hunt would be a viable reason as to why bettors could wager on Cleveland making a deep playoff run, but he doesn't have to be.
For one, it's still entirely possible that Hunt doesn't play until deep into the season (I'm projecting somewhere between weeks 9-17), and it's also not completely crazy to think he sits out the whole year, altogether.
More importantly, Cleveland was among the top Super Bowl 54 sleepers even before this questionable move.
Here are a few reasons why the Browns are worth betting on to win it all in 2019, regardless of how you view this big signing.
Vegas Already Likes Them
The first thing bettors need to note is that Vegas already has shown the Browns a lot of respect.
Knowing how the top NFL sportsbooks operate, we can take this one of two ways: either NFL betting sites figure Cleveland will only be getting better in 2019 and/or they assume bettors will bet on them as a value wager.
I think it's a little bit of both.
Right now, the Browns have pretty fun Super Bowl 54 odds pretty much anywhere you look. Two of the best sites to bet on the Super Bowl right now are Bovada and MyBookie. They offer the exact same price (+3000) if you plan on betting on the Browns to win it all in 2019.
Considering the price is exactly the same — and probably similar no matter where you look — I'd just stick with Bovada if you're predicting the Browns will win the Super Bowl.
Baker Mayfield Is Legit
Super Bowl odds never tell the whole story, but the fact that Vegas isn't handing Cleveland anything remotely close to Miami's Super Bowl 54 odds (+30000!) has to be pretty encouraging.
The other thing supporting this new-found faith in the Browns being anything more than a middling team is the fact that Baker Mayfield is amazing.
I know, I know, a lot of his production came against bad defenses, and he turned the ball over a bit too much at times, but let's keep in mind this kid was a rookie. He was also held back by the walking accident that is Hue Jackson.
Through all of the madness of his first year (as well as the pressure of being the #1 pick in the 2018 NFL Draft), Mayfield broke the single-season record for passing touchdowns (27) by a rookie quarterback.
He did that in just 14 games, and had he been started since week one like he arguably should have been, he may have broken the single-season rookie passing yardage record as well.
Mayfield had his down periods like most rookies do, but he kept the Browns in the majority of their games and displayed high-level poise, confidence, and accuracy. Never short of swagger and talent, Mayfield is the main reason why betting on the Browns to win Super Bowl 54 isn't crazy at all.
Baker Has Some Help
The nice thing is you don't need to go all-in on Baker Mayfield as the reason to bet on the Browns.
Cleveland also has some nice offensive weapons, with star wide receiver Jarvis Landry, athletic tight end David Njoku, and running back Nick Chubb all operating as stellar options to work with.
To be a little more specific, Chubb was ridiculously explosive in his first NFL season, averaging 5.2 yards per carry and accounting for 10 total touchdowns. Chubb was surprisingly versatile and made an impact as a receiver at times, too, while he was another offensive weapon that wasn't fully unleashed until later in the year.
Landry has always been a stable slot receiver but actually began displaying some big-play chops as the season wound down, posting 17+ yards per catch in three of his last five contests.
Njoku has had consistency issues, but he's also been an asset in the red zone and can take any catch to the house due to his speed.
Collectively, the Browns have pieced together a very solid supporting cast around Mayfield, but given his stellar play in 2018, he may have given potential free agents a reason to flock to Ohio.
Cleveland's Defense Is Improving
The Browns look to be a lot of fun on offense next year, but there's actually a lot to like on the other side of the ball. Nobody is going to go very far in the NFL playoffs without something positive on defense, anyways, so bettors will surely want to consider the direction Cleveland is going in with that in mind.
Cleveland's defense definitely isn't elite yet, but it got off to a strong start early in the year and flashed greatness at times in 2018. Myles Garrett remains the key cog in this defense, as he only got better in his second season as a pro, recording a whopping 13.5 sacks.
The Browns still weren't elite at getting after the quarterback, and that contributed to their struggles with slowing down the opposition through the air. They also were bad at stopping the run, but the talent has improved, and there's a good chance they'll bring in another veteran or two to push them over the hump.
Cleveland's defense isn't yet a major positive in regards to their Super Bowl chances, but title contenders often come out of nowhere based on marked improvement in one facet or another. If Cleveland's young defensive talent can take the next step, they could be a big reason why they make a huge leap in 2019.
The AFC North Isn't Scary
Lastly, the Browns play inside a division that simply isn't very scary.
The Cincinnati Bengals let Marvin Lewis go and have been regressing over the past couple of years, the Baltimore Ravens have a starting quarterback who can't throw the ball effectively, and the Pittsburgh Steelers are struggling to get out from under a dark cloud of drama born from ugly situations involving Le'Veon Bell and Antonio Brown.
Even if the Steelers move on from those players (and they surely will), the elite talent that goes with them out the door is tough to replace. Considering Pittsburgh couldn't make the playoffs this past season, the constant inner turmoil could continue to peck away at them.
Most NFL betting sites will probably still project the Steelers or Ravens to win the AFC North, but I'd actually vote for Cleveland to be a fun sleeper play there.
Cleveland wasn't consistent last year, but they had a bad head coach to start the season and relied on young players at crucial positions. Despite that, they tied the Steelers in week one and finished 3-2-1 inside the AFC North.
Pretty much all of those games were competitive, too. Cleveland actually swept the Bengals, split their season series with Baltimore, and almost beat the Steelers to start the year.
With nobody running away with this division and the Browns seemingly set to only get better, betting on Cleveland to win the AFC North is a very realistic wager.
Will Cleveland Win It All in 2019?
The Browns are in a very interesting spot. Adding a talent like Hunt makes them better, and I doubt many can refute that. But at what cost?
This is a highly questionable move by the Browns, a franchise that supposedly was making all the right calls and finally seemed to be "getting it." This signing suggests they aren't quite there yet.
More importantly, they simply don't need Hunt to win. Taking on this risk shows who they are as an organization right now, and they're not even adding a player at a position of desperate need.
While I don't like the move and believe the Browns are fine without him, I do think Hunt will play this year, and you can probably bank on a 10-game suspension that slides him into that 9-17 week window (+175).
But you don't need to worry about Hunt to bet on the Browns in 2019. They were an interesting wager before his signing, and if the league bans him (as they probably should), they'll be fine.
I just don't think I'd bet on them to win Super Bowl 54 quite yet.
The price (+3000) really isn't bad, but this is still the Browns we're talking about. We know very little about their head coach or what adjustments they'll make during the offseason. The signing of Hunt at least shows they are aggressive and serious about winning, though, and those are two things that can't be overlooked.
There is just a lot of competition for the NFL championship each year. The Steelers and Ravens are still viable Super Bowl bets as they stand, while it's awfully tough to go against the defending champion Patriots or even the explosive Kansas City Chiefs.
Other teams like the Houston Texans, Indianapolis Colts, and Los Angeles Chargers feel like better wagers as things stand, too.
Cleveland is still a team you can put some money on in different regards, though. The Browns can make the playoffs as a wild card and perhaps even improve enough to steal the AFC North. Those are two bets I'd jump on once the odds roll out, and I'd also be interested to see where Vegas sets Cleveland's win total for the year.
Betting on the Browns to win Super Bowl 54 feels like a bit of a reach, though.
Even if they did find a way to get past the best teams the AFC has to offer, they're still probably running into someone like the Rams or Saints, and I doubt that ends well.
The future is bright for Cleveland, however, and betting on them (really in any regard) is no longer silly. I just wouldn't let Hunt's arrival sway the way you bet, and with or without him, I don't see them as next year's NFL champion.