Kansas City Chiefs vs. Los Angeles Rams – MNF Betting Preview With Free Pick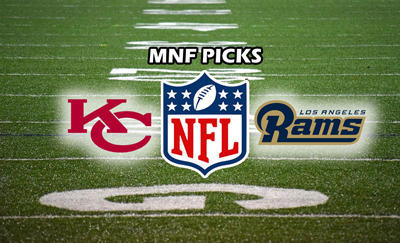 It might not be the Super Bowl yet, but it sure as heck could be a sneak peek at who we'll see in Atlanta on February 3rd.
Tonight marks the Monday Night Football game that everyone has been waiting for, including myself. If you play fantasy football, this matchup has all the goodness and firepower that you could dream of.
And it shouldn't take any convincing on my behalf to get you prepped for what promises to be an electrifying shootout – just look at what the bookies have done.
The total is set way up at 63, a number that I can't recall ever seeing in an NFL game.
In fact, I'm fairly certain this will be the highest total in the history of the NFL.
There was a Rams/49ers contest back on October 29th, 2000, that closed at 61.5 points, and I recollect that the Falcons/Packers playoff game in January of 2017 came in around 61 as well.
But 63?
This is a new standard for the National Football League. The funny part is that considering these two squads clock in scoring 35.3 and 33.5 points per game respectively, this total might be set too low!
Originally intended to take place in Mexico City, the Rams now get a boost by getting to play this game in their home building. The field quality was so poor in Mexico City that the NFL could ill-afford to risk the safety of its players.
The plan is to play this game in La La Land at 5:15 pm local time tonight, and I'll be one of the millions tuning into ESPN to see how it all pans out.
I'm going to break this matchup down in great detail and reveal my betting advice, but that comes later.
Let's first check in with each of these teams individually, as you won't find any other rosters in the league with as much talent as you'll see featured this evening.

Kansas City Chiefs
At 9-1, the Chiefs have been turning heads all season long.
It started when Patrick Mahomes lit up the Chargers for four touchdowns in Week 1, and it continued in Week 2 when Patrick went into Heinz Field and torched the Steelers to the tune of 23-28 for 326 yards and six TDs.
And now entering Week 11 some two months later, Mahomes still hasn't slowed down.
Mahomes is leading the league in passing yards (3,150) and passing touchdowns (31), and the scary part is he's just going to get better and more comfortable as the season wears on.
Patrick's arm talent is off the charts, and he is fast enough to beat you with his feet. And his supporting cast isn't too shabby, either.
Tyreek Hill used to be a fancy toy that the Chiefs sprinkled into specific packages in order to get him touches. Now the 24-year-old speedster is a bonafide stud and arguably the premier deep threat in the NFL.
Simply put, Tyreek has explosive capabilities that most coaches don't have the advantage of deploying.
Well, not only does head coach and play-caller Andy Reid have the option of utilizing Hill down the field, but he also has a three-time Pro-Bowl tight end that opposing defenses are having a hard time bringing down.
Travis Kelce is supplying exceptional reliability in the middle of the field and is leading the team with 57 catches, two more than Tyreek has hauled in.
Plus Mahomes has the luxury of Sammy Watkins running crisp routes on the outside and a workhorse running back who can do it all.
Kareem Hunt is fourth in the NFL in rushing yards and fifth in total yards from scrimmage, and the dude has 13 touchdowns. Only Todd Gurley and Alvin Kamara currently have more.
I love the Saints' offense, and the Rams' O is special as well. But if you ask me who has the best offensive attack in the league, I'm rolling with KC.
And while I can't say that their defense has been stopping teams left and right, I can tell you this.
KC's 31 sacks are the second-most in the league, and they're allowing opponents to convert just 36.4% of their third downs, good for sixth-best in the NFL.
I know the Chiefs are allowing a whole bunch of yards, but keep this in mind. The stats are a bit bloated when you take into account that teams have been forced to air it out when playing catch-up.
Right now, the Chiefs have outscored their opposition by a remarkable 113 points, or 11.3 points/game. That's the most in the NFL, although there is one other team also above the century mark in the statistic.
May I present to you the……
Los Angeles Rams
I know I spent an inordinate amount of time gloating about the Chiefs, namely their offense. And I stand by that I think that it's the strongest in the league.
To be fair, I'd say the Saints are probably next in line, but that's in large part due to me bumping the Rams down a notch after losing a key piece to their puzzle.
Cooper Kupp's season-ending knee injury is going to be a bigger deal than some people think, as Cooper had elevated himself to one of the top slot guys in the league.
Here's what Rams HC Sean McVay stated on the matter.
"It's a huge loss for our football team. He's such an important part of what we do. Great football player, great person, and it's tough."
Second-year pro Josh Reynolds will be called upon to play an increased role, and guys like Brandin Cooks and Robert Woods will have to step up even more.
As difficult as it will be getting by without the services of Kupp, let's not forget that this offense is still built around Goff and Gurley, a couple of absolute studs in their own right.
Todd Gurley has reached pay dirt 17 times so far in 2018, easily the most among any player in the league. His 988 rushing yards?
Not only is that the most in the NFL, but it's 157 yards more than anybody else. Throw in his 40 catches for over 400 yards, and you are looking at the most complete and dominant back we have.
At 6'1" and 224 pounds, his combination of speed and power makes him close to unstoppable coming out of the backfield.
Gurley has been so good, it tends to make people forget about how effective Jared Goff has been during his third year in the league. Goff is hot on Mahomes' heels with 3,134 passing yards, and his 22/6 TD/INT ratio is one of the best in the NFL.
He's doing exactly what Sean McVay has asked of him and then some, and he has all the qualities and leadership tools to take this team to the Super Bowl.
It's the Rams' defense that needs to pick up the slack if this group is going to achieve their ultimate goal.
Aqib Talib has been out since Week 3 and won't return until at least Week 13, and Marcus Peters is still hobbled by a calf injury that forced him to miss time in September. This secondary was supposed to be a "shut-down unit" but instead has been their weakest link.
Aaron Donald is still a monster in the middle of their defensive line, and Ndamukong Suh is making an impact against the run.
But if the defensive backfield can't start locking up receivers a little tighter, then this team is going to have a brutal path getting to Atlanta for Super Bowl 53.
They've faced the Saints, and that didn't turn out so well, and I have a feeling they'll get victimized once again tonight.
Betting Tonight's Showdown
When: 8:15 pm EST
Where: Los Angeles Memorial Coliseum, Los Angeles, CA
Spread: Rams (-3.5) -101, Chiefs (+3.5) -119
Total: Over 63 -115, Over 63 -105
By now, you know all about why these teams enter tonight's battle with identical 9-1 records.
We're looking at two extremely powerful offenses that are led by head coaches who know how to maximize what they've got.
It'd be hard to maintain that there is another young quarterback in this league that has as bright of a future as either of the two signal-callers you'll see take the field this evening.
It's going to be high-level football at its best.
Normally, in a matchup like this, I'd want to lean toward favoring the home team. But traveling to Los Angeles to play a game in gorgeous weather isn't exactly like flying 2,000 miles to play in a frozen tundra.
Patrick Mahomes was built to perform well in spots like this, and there is nothing I have seen from the Rams that tells me they can contain the Chiefs' franchise QB.
I don't expect the Chiefs to hold the Rams out of the end zone, as it's natural to expect LA to hang up their typical 35 points here. But this KC offense is so dynamic and so high-flying that I just can't imagine a single scenario of them not shredding the Rams drive after drive.
Dustin Colquitt might want to find something to do for about three hours tonight because the Chiefs punter might not see the light of the field once.
All of this talk and thinking makes me want to take the over, but that seems like what the general fan will be doing. I envision this game turning into a back-and-forth touchdown fiasco, but I don't want to lay -115 to find out.
It's so hard for me to picture the Chiefs not at least keeping this thing within a field goal, and I actually am pegging them to pull off the "upset."
But getting 3.5 points at BetOnline.ag? That sounds awfully appetizing.
Review
Make sure you clear your schedule and don't make any dinner plans tonight that will take you away from a television. If you like the NFL and enjoy watching high-quality football, then you had better tune into this one.
It's the Chiefs and the Rams on Monday Night Football, and it's making me feel like a 12-year-old on Christmas Eve. I'm oozing with anticipation.
And as exhilarating as it will be to be glued to your sofa watching every play, wait until you place one bet riding on the final outcome!
It won't get much better than that!