Hide Bonus Offers
| | | | | |
| --- | --- | --- | --- | --- |
| #1 | Bovada Sports | 50% Up To $250 | Visit Site | Bovada Sports |
| #2 | BetUS | 125% Up To $2,500 | Visit Site | BetUS |
| #3 | MyBookie | 100% Up To $1,000 | Visit Site | MyBookie |
| #4 | Everygame | 100% Up To $500 | Visit Site | Everygame |
| #5 | BetOnline Sports | 60% Up To $1,000 | Visit Site | BetOnline Sports |
Julian Edelman and His Inspirational Journey to Super Bowl 53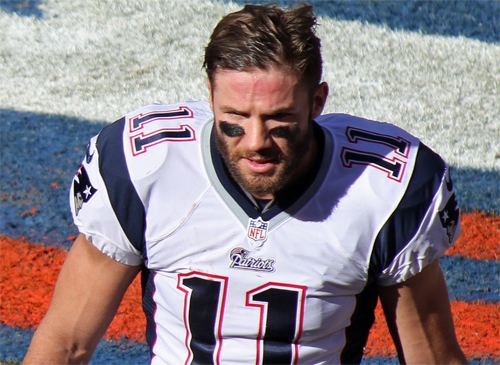 Julian Edelman has been defying odds since his early days in Woodside, California.
All he knows is how to work hard and overcome adversity – that's just the nature of who Julian is.
"I've said it before and I'll say it again. He represents this team as much as any of us. Jules is our fighter. He's inspiring to watch. He's inspiring to be around."
That's captain and longtime Patriots player Matthew Slater speaking about Edelman, but everyone in the New England locker room would echo these same sentiments.
See, Julian's journey to the NFL wasn't easy, and quite frankly, it was unexpected. Guys his size usually work 9-5 jobs in an office somewhere; they don't terrorize NFL cornerbacks on a weekly basis.
So how did he go from being an undersized community college QB to one of the most reliable and tough-nosed wide receivers in the league? And why does Edelman fit the Patriots mold so perfectly?
As he prepares for Super Bowl 53, let's find out.
Julian Edelman's Road to the NFL
I mentioned that Julian played quarterback at the community college level, but allow me to backtrack a moment. See, coming out of high school, "Jules" wasn't the hot commodity who had D-I scholarship offers flying in left and right.
Most thought he was too small or perhaps didn't have the grit that was necessary.
In fact, it wasn't until after proving himself at the College of San Mateo that he got a shot with Kent State, where he emerged as the starting QB for the Golden Flashes right from the get-go.
But even after putting up stellar numbers and proving he could play the game, Edelman went virtually unnoticed throughout the entire 2009 NFL pre-draft process.
Edelman wasn't even invited to the NFL combine that year.
That didn't stop him from completing the short shuttle in 4.01 seconds during his Pro Day, faster than any time recorded at the combine that year. Somehow, the New England Patriots organization was the only one that really took notice, and they finally pounced in round seven.
New England drafted Edelman with pick #232, and coach Belichick was blunt when he broke the news.
"Hey, this is Coach Belichick. We are going to draft you. We really don't know what you are going to play but we know you can play football."
Here we are nearly 10 full years later. And as they say, the rest is history.
Becoming Brady's Most Reliable Weapon
You won't find many WRs in the NFL who are more determined than Julian Edelman. And you might not find a single player who Tom Brady trusts more.
"He's one of my best friends. He's one of the most dependable teammates I've ever had."
Coming from the G.O.A.T. himself, that's a pretty substantial compliment.
But things didn't start out like so, and Julian had to earn the trust of Brady and the rest of Robert Kraft's franchise. Edelman began his career in Foxborough serving primarily as the punt returner, as he was stuck behind Wes Welker in the slot.
But when Wes moved on to Miami at the start of the 2013 season, it was actually a blessing in disguise. It meant that the door had opened up for Jules, and boy, was he ready to run through it. Julian caught 105 balls for 1,056 yards during his first season as a full-time starter, and he hasn't looked back since.
In fact, he's only gotten better and become more trustworthy in the eyes of Brady and this offense.
Julian Edelman Shows Up for the Biggest Games
When you look at his production come playoff time, he seems to turn it up a notch. Edelman has been a key contributor during the biggest games over the past five years, and the proof is in the pudding.
Julian Edelman 10 Playoff Games Since 2014
Date
Opponent
Receptions
Receiving Yards
1/10/15
Baltimore
8
74
1/18/15
Indianapolis
9
98
2/1/15
Seattle (SB)
9
109
1/16/16
Kansas City
10
100
1/24/16
Denver
7
53
1/14/17
Houston
8
137
1/22/17
Pittsburgh
8
118
2/5/17
Atlanta (SB)
5
87
1/13/19
Los Angeles
9
151
1/20/19
Kansas City
7
96
In his most recent ten playoff games (which includes two winning Super Bowls), Julian has caught 80 balls for 1,023 yards. For all of you non-math majors, that's an average of eight catches for 102.3 yards per game.
We all remember Edelman's unforgettable catch in Super Bowl 51 that helped complete the greatest comeback in Super Bowl history.
But what about the plays he made in the Pats' most recent game at Arrowhead Stadium? Julian was an absolute warrior down the stretch, hauling in pass after pass from Brady when his team needed him most.
This catch Julian made in overtime on 3rd and 9 is the epitome of the type of player Edelman is, and I love watching this replay. He knew he was going to get drilled by safety Daniel Sorenson, but he hung onto the ball anyway.
This proved to be the game-winning drive that ultimately sent the Patriots to Super Bowl 53, so you tell me how much he matters to New England.
The truth is, you just can't say enough about what Julian means to this organization. His willingness to prepare and go out and execute his job is contagious. The way teammates and peers rave about Julian is exactly how a coach would want others to speak about one of his players.
It's why Edelman is the perfect Patriot.
Edelman Will Play a Huge Role in Super Bowl 53
Along with other NFL pundits, I have been shelling out Super Bowl 53 betting tips and advice for the last few weeks, trying to get all of you prepped and ready to bet the big game.
But it has taken me until right now to really point out how large of an impact Julian Edelman will have in Sunday's game. Until you see the data regarding how often Brady has relied on Jules during postseason games, you might not have realized how bigtime this dude is.
Julian might be 5'10", and he might not even tip 200 pounds on the scale. But his heart is as big as anybody's in the NFL.
I understand that Aqib Talib has tons of playoff experience and isn't afraid to match up. I am aware that Marcus Peters is eager for the challenge of trying to slow down #11.
But just because a couple of defensive backs have the pedigree to stop Edelman, it doesn't necessarily mean that they will. Attention still has to be paid to Gronk, and James White and Rex Burkhead will eat this D up if the linebackers aren't cautious.
I'm anticipating Edelman being able to maneuver his way from the slot into open areas in the middle of the field, and I suspect he slices and dices this secondary up. It's not like Kansas City didn't know what was coming two weeks ago in the fourth quarter and overtime.
Heck, Tony Romo was even yelling out the plays beforehand in the booth.
But nothing and no one could stop Edelman from making plays when Josh McDaniels and Bill Belichick needed him most.
In case you haven't learned by now, that's just who Julian Edelman is.