How Joshua vs. Ruiz Compares With Other Sports Betting Upsets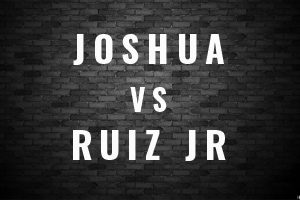 If you are one of the lucky people to have tuned into the 11-1 Andy Ruiz Jr. recent shock victory over unified boxing champion Anthony Joshua, kudos.
After all, you will have witnessed a piece of history, in real time. Something to tell the grandchildren about (not that they will listen to an old ass like you, anyway).
But, holy nachos on a Wednesday, who would have seen that coming?
Reading back on a couple of pieces I had written prior to that fight have made me a little sad. I am disappointed because I had predicted the outcome of that fight with about the same amount of optimism as a redhead in a tanning salon.
It was equally as brutal, too.
A knockout would have been unbelievable, but Ruiz Jr. — a guy that looks as though he has a dangerous one-way romantic relationship with cheese and chocolate — made light work of the guy previously heralded as the best heavyweight in the business.
Oh, and not to forget the funniest thing I have come across since the end of the bout at MSG on Saturday, June 2. That is the number of absolute turd-talking frauds that say they predicted the fight would end that way.
Why, oh why, do these people think they can pull the wool over the eyes of us good folk?
Look, if anyone would have foreseen Ruiz knocking Joshua out in the 7th, they would be driving bigger cars, wearing flashier clothes, and…
Ah, I give up.
Anthony Joshua vs. Andy Ruiz Jr. – Fluke or Fate?
Regardless of what you may think, you are wrong if you believe this was a fluke.
Sure, the fight does have to rank up there with one of the biggest upsets in sports history. Ruiz deserved this win. Mexico deserved this win. Every fat dude that has ever been laughed at when compared to a gym addict deserves this.
Anyone who has ever eaten a couple of Snickers before kicking someone's ass deserves this!
So, to discount it as a fluke is silly. At the same time, it is a bona fide upset because the odds were stacked against Andy (yes, he is Andy to me now). He was expected to lose to Joshua. That's the bottom line.
Still, if you're anything like me, when things like this happen, which is seldom, it should get you thinking.
Where does this upset rank among some of the other head-scratching upsets in history?
I am sure you can reel a few off the top of your head. Let's see if they compare to any of the below.
Oh, and one last thing before we carry on — these are in no particular order!
Greece Wins Euro 2004
When does a team that has never won a game or even scored a goal at a major soccer tournament go out and win the European Championships?
When you're Greece, it seems.
The legendary Euro 2004 win is one of the single most unbelievable stories in the history of international sports. You see, Greece wasn't just unfancied; they were given almost no chance whatsoever at 150-1 to lift the cup.
They were driven by an old-school German coach by the name of Otto Rehhagel who oversaw a radical shakeup in the Grecian ranks.
In qualifying for Euro 2004, Greece remained unbeaten in 15 games. They had also won in Spain, which was an achievement in itself.
In their first game against the much-fancied hosts, Portugal, Greece won 2-1. Their aim for the tournament was to win one game, and they had done it in their first match. So, naturally, they aimed a little higher — to qualify from their group.
An inspiring draw against Spain left Greece in the favorable position of qualifying if they could beat the bottom team, Russia. They lost that game 2-1 but qualified due to Portugal's draw with Spain.
The Knockout Rounds
Greece came up against France, one of the strongest teams in the competition, in the quarterfinals. With France featuring the likes of Zinedine Zidane, Thierry Henry, Robert Pires, and Patrick Vieira, no one gave the Greeks much of a chance.
Greece won 1-0.
In the semi-finals, Greece went toe to toe with the Czech Republic, winning 1-0 by Silver Goal in extra time.
As incredibly nuts as it sounded at the time, Greece had made it to the final of Euro 2004. Their opponents would be the team they beat in the first round and the tournament hosts, Portugal.
To many in Portugal, this was the game that would finally end a barren run for the Iberian nation. Playing at home — and with the emergence of Cristiano Ronaldo as a true force in soccer — they were not expected to lose.
Greece won 1-0 and sent an entire country into hysterics.
You cannot have a conversation about major upsets without mentioning Greece's Euro 2004 heroics. I'm still scratching my head as to how they pulled it off. Simply amazing.
"Miracle on Ice" – USA Beats the USSR
If you are an American, the chances are that you have at least heard of the USA's victory over the USSR at least once before.
It might have been in school, at a bar, or around the Thanksgiving table when your favorite drunk uncle reels off some of the most politically charged sports moments of history.
Besides the obvious East meets West politics, the sheer feat of the 7th-seed USA beating the absolute favorite, USSR, was just insane. But that's exactly what happened at the XIII Winter Olympic Games in Lake Placid, upstate New York, in February 1980.
The Soviets were seen as unbeatable, and there was no chance given to the Americans whatsoever. The fact that it was referred to as the "Miracle on Ice" should tell you all you need to know.
Following a 2-2 tie against Sweden in their first game, the USA slammed Czechoslovakia 7-3 en route to the medal round. As it stood, America was proud of their boys but had no ambitions past what was already seen as an overachievement.
After all, how could a collection of college players and amateurs stand up to the mighty Soviet Union? The team that had won four golds in the past four Olympic games?
You would have been out of your mind to suggest that anything other than a win for the USSR was on the cards, especially since they beat the USA 10-3 in an exhibition just weeks before.
The Stuff of Legends
If you were watching this game, you will surely remember just how tight and tense it was after the first period.
Locked at 2-2 following the first, the Soviets went ahead in the second before Mark Johnson's strike made it 3 apiece.
The home crowd acted like an extra player on the ice, buoyantly cheering on the Americans to attack the fearsome Soviets.
Mike Eruzione's score sent the entire country crazy. The USA had done it; they had beaten USSR in what would undoubtedly go down as one of the most insane upsets in the history of sports.
That day, the entire world outside of the Soviet Union was American.
Leicester City Wins the EPL
If the last two seasons in the English Premier League have shown us anything, it is that it is arguably the toughest league in the world to win.
So, Leicester City's 5000-1 odds at the start of the 2015/16 season pretty much gave them no chance of lifting the famous trophy. If you had suggested that they were contenders, you would have gotten more laughs than a Bill Burr bit.
At the end of the season, no one would have been laughing — that's for sure.
Joining Arsenal, Blackburn Rovers, Chelsea, Manchester City, and Manchester United as EPL winners was Leicester City, which was just crazy.
Their manager, Claudio Ranieri, had managed to get so much out of the likes of Jamie Vardy, Riyad Mahrez, N'Golo Kante, Kasper Schmeichel, and the rest of this special crop of players.
They were, for want of a better word, a team. A true team. Not a band of individuals, but a squad that had each other's backs.
So, when tasked with staying in the EPL rather than being relegated to the second tier of English soccer, Leicester decided to go one better. They won the title.
What Can Happen When You Believe
Leicester's triumph is undoubtedly the single greatest tale of overcoming the odds in the history of English soccer.
But how it had come to be was the same as how any other team won the league. It would take win after win, including a few strokes of luck, the odd drop of attrition, and the confidence and bravery to see it all through.
If anything, the team nicknamed "The Foxes" was shrewd and sly to the tenth degree. Aside from playing some absolutely amazing soccer, they dug deep and did everything that is required of a championship-winning team.
For their efforts, this side will forever be immortalized by the Leicester City faithful. Even though players like Kante and Mahrez would move on, the club is still working to establish itself among the very best the EPL has to offer.
One day, they might win the league again. But repeating the unlikeliest of feats seems pretty impossible.
"Buster" Douglas Knocks Out Mike Tyson
If you ask boxing fans to reel off the greatest upsets in the history of the sport, there is one that will forever be referred to.
Sure, Anthony Joshua's loss to Andy Ruiz Jr. was shocking, but watching Mike Tyson — the "Baddest Man on the Planet" — being beaten up by someone given no chance against him was something else.
The man who pulled off the most infamous shocker in the history of the sport on February 11, 1990, was named James "Buster" Douglas.
The fight went down in Tokyo, Japan, for the WBC, IBF, and WBA titles. It was seen as a formality for Tyson, who had essentially pulverized almost everyone he had ever fought. This time, things would be different.
Douglas showed no fear against Tyson, something that was unusual, given the fearsome reputation he had inside the ropes. As a 42-1 underdog, there would be very few who would have shared his enthusiasm for bravery when it came to placing bets.
Those that did would have won a lot of money as Douglas came out on top in a wonderful display of upsetting the odds. He had the greatest opportunity and seized it with the hunger of a starved lion.
The Story Behind the Fight
The same year that Douglas had attained the greatest achievement of his life had not started out as fortuitous.
His mother had died just over three weeks prior to the fight. His marriage was on the rocks. The mother of his son was seriously ill and hospitalized with a kidney disorder.
If there was to be an annus horribilis for "Buster," 1990 looked as though it would be the year.
But, as with many great stories in life, things can change very fast.
Douglas trained as though his life depended on it while Tyson was rumored to have shown the same interest in his preparations as a seagull does in current affairs. Rumors of the champion partying all night circulated, but this took nothing from Douglas' victory.
It was just an incredible fight to watch, especially for those lucky enough to have tuned in live.
Douglas' four-punch combination dropped the man thought to be unbeatable prior to then before the referee counted him out. It was the making of a legend and one that the boxing world has probably still yet to absorb.
Joshua vs. Ruiz was a shock, but it was nothing compared to this.
How about the others?
How Does Joshua vs. Ruiz Compare?
When asking anyone how Joshua vs. Ruiz Jr. compares to the moments above, I would have to say it doesn't come close to any of them.
Shock horror!
But seriously — hear me out.
I believe that, while it was shocking to see Joshua lose in that manner, there is an argument that he was never as good as he made out to be.
His boxing fundamentals and all-around skillset do not equate with the comparisons to Muhammad Ali, Evander Holyfield, or Lennox Lewis. He is a good fighter but is not — and never was — among the greats of the heavyweight division.
The manner of Ruiz's victory showed that Joshua is lacking in certain departments. Even though he takes an iconic name into the ring, his achievements to date don't warrant the hype that has surrounded him over the past few years.
Once again, it was shocking to see Ruiz win. I sure didn't see it happening.
Still, I think the others above were bigger upsets.
Final Words
Sure, we have seen some pretty extraordinary feats in sports over the years.
You know, the type of results that just defy logic and leave us sports fans with our mouths left wide open.
By nature, sports events are, for the most part, supposed to be competitive. In the case of boxing bouts, why should a fight be a major upset in the first place? Would that not imply that the fighters put together were not a good matchup?
With Joshua and Ruiz, the former was said to be too good to lose against the latter. So, why were they in the ring in the first place? Sure, it sounds naive to ask that question, but it's anything but, when you think about it.
Joshua vs. Ruiz was a shock because we were faced with what was meant to be a foregone conclusion that ended in anything but the way it was supposed to.
That is the beauty of sports and is why — every now and again when you least expect it — we can be shocked.