Josh Gordon Trade Rumors: 10 Teams That Should Trade For the Browns Receiver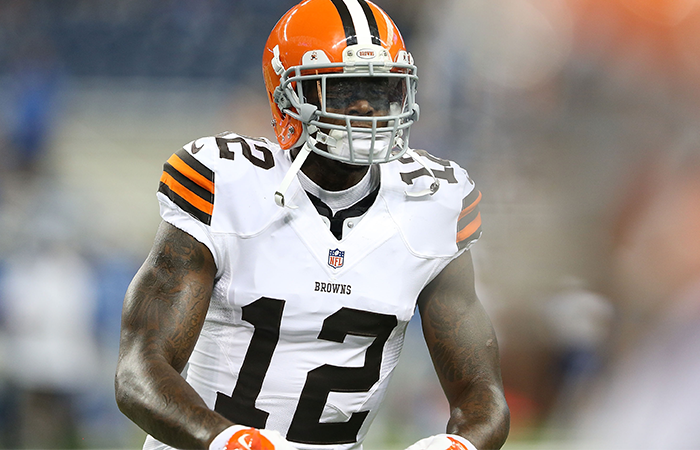 Cleveland Browns star wide receiver Josh Gordon dominated the NFL headlines on Monday, with news breaking that he has officially been reinstated by the league.
Gordon, who had previously served three suspensions handed down by the league for violating the NFL's substance abuse policy, will reportedly have an opportunity to play in 2016. Reports emerged that Gordon had met with NFL commissioner Roger Goodell last week, and that the receiver would be permitted to apply for his reinstatement on August 1st.
The process sped up to start the week, as the NFL has officially allowed Gordon back into the league. Gordon will still be forced to serve a four-game suspension for turning in a diluted drug test earlier this offseason, while he also may face strict drug testing regulations moving forward.
#Browns WR Josh Gordon is being reinstated, source said. He's suspended for the first 4 games.

— Ian Rapoport (@RapSheet) July 25, 2016
Reluctant Acceptance?
While Josh Gordon's return is good news for the troubled star and possibly great news for Browns fans, it also is news that may come with some hesitation on Cleveland's behalf.
Trusting Gordon moving forward could be difficult for the browns, especially since Gordon has received a ban for his drug use in each of the last three seasons.
Enter a new regime with new head coach Hue Jackson calling the shots, plus a plethora of young receivers being added to the roster, and Cleveland may not be so willing to tie their future to a mistake-prone talent.
That, and Josh Gordon is a restricted free agent once the 2017 NFL free agency period rolls around. Gordon coming back, staying clean and crushing skulls could be fun for the Browns, but do they really want to pay the dude top dollar after the year is over?
It's doubtful.
Cleveland just drafted a ton of receivers – namely Baylor product Corey Coleman – to help replace the disaster Gordon left behind. There is still a chance they throw caution to the wind and welcome back the heaping talent Gordon has to offer, but they'd be assuming serious risk.
Top Josh Gordon Trade Suitors
A trade is very possibly coming. Even if the Browns weren't worried about Gordon messing up again, they'll have to come to terms with the fact that he's going to cost a ton of money to keep around. That's just not a risk Cleveland can risk, especially now that they've addressed the wide receiver position so much this offseason.
Because of that, the Josh Gordon trade rumors can and should heat up like crazy over the coming weeks.
If Gordon is indeed on the move, the big question then pops up; where would he go? Considering his past suspension, the assumed risk and the big payday at the end of the tunnel, the amount of teams lining up to swing a big trade could be a lot shorter than some would think.
Then again, superstar talent is not easy to find and there should be a handful of receiver-starved teams willing to roll the dice on the 25-year old stud. So, who are they? Let's take a look at the most likely ones below:
New England Patriots
The Patriots are always one of the first teams that come to mind, perhaps because their most dominant season ever came with an elite field stretcher in Randy Moss. They've had plenty of success since parting ways with Moss, but they've never quite replaced him with a suitable, consistent deep threat.
The other element here is the Pats love to take on reclamation projects of all varieties. This could be the perfect environment for Gordon to thrive, both as a person and a player. New England could extend him during the season and Tom Brady to Josh Gordon could be a thing of terror.
Besides, what would be better than Brady and Gordon both returning in week five to unleash a fiery fury on the Browns?
Philadelphia Eagles
The Eagles can't be ruled out, as they still don't have a clear cut #1 wide receiver after letting the likes of DeSean Jackson and Jeremy Maclin leave town over the past few years.
Jordan Matthews is a solid talent, but he's not really cut from the #1 receiver cloth, while second-year receiver Nelson Agholor so far looks like a potential bust. Rookie head coach Doug Pederson and franchise passer Carson Wentz wouldn't hate a new toy, and Gordon could fit in as a long-term deep threat option.
Detroit Lions
The Lions appear content with Golden Tate and Marvin Jones as their starters, but Calvin Johnson just retired and you don't completely ignore the possibility of adding a talent like Josh Gordon.
The need might not be there quite as much as the Megatron supporters suggest, but there is still an argument that says Tate and Jones can't get the job done alone.
Green Bay Packers
This one would be about as fun as it gets, as Green Bay experienced last year what life is like without a guy who can stretch the field and keep defenses guessing.
Jordy Nelson returns this year, but he's already 31 and we saw first hand in 2015 that the Packers don't have a proven body beyond him. Adding Gordon would be beyond un-Ted Thompson-like, but it'd be just the splash that could turn Green Bay back into a full-fledged Super Bowl favorite.
Chicago Bears
Chicago doesn't seem like a team hell bent on throwing caution to the wind, not after letting veteran talents Brandon Marshall and Matt Forte go over the past two years. However, Jay Cutler needs weapons and the team doesn't seem overly interested in paying current #1 receiver Alshon Jeffery big money.
It may seem counter intuitive for the team to trade for Gordon only to pay him instead of Jeffery, but crazier things have happened in the league. The flat reality is Chicago may not want to keep Jeffery and beyond Kevin White being the beast they drafted him to be last year, their receiving corps could be in serious trouble.
Atlanta Falcons
Julio Jones and Josh Gordon in the same lineup. We could stop there, right? Probably as those two speedsters would eliminate any and all double teams by opposing defenses, while also opening up Atlanta's running game. Throw in slot man Mohamed Sanu, and Matt Ryan can't help but succeed in 2016.
Carolina Panthers
Kelvin Benjamin returns in 2016 and the Panthers did get by just fine with a severely depleted receiving corps last year, but Josh Gordon teaming up with Cam Newton is too much fun.
Carolina can get over the Super Bowl hangover by adding some fresh blood, while Gordon probably wouldn't need too much prodding to sign a long-term deal to catch deep balls from Newton. The Panthers would remain legit title contenders and the NFC would forever be afraid.
New Orleans Saints
New Orleans doesn't feel like a realistic landing spot for Josh Gordon on the surface, seeing as the need just really isn't there. The Saints already have Brandin Cooks and rookie Michael Thomas, plus they've been trying to get more balanced on offense.
Adding Gordon would give their deep ball game an obvious boost, but it'd also take away from some pretty talented youngsters already in place. Still, just imagine what Sean Payton and Drew Brees could draw up with Gordon backing their air arsenal.
Los Angeles Rams
The Rams do not have a single game-changer on offense still, yet they expect to enter 2016 with rookie passer Jared Goff and win games. Fat chance.
If the Rams want to win now in a division as nasty as the NFC West, they need a guy that can keep defenses guessing and also keep them honest. Todd Gurley's ability to move the pile makes them a threat, but all they have at receiver is Tavon Austin, Brian Quick and Kenny Britt. That just won't do.
Los Angeles made a big splash when they moved and another when they took Goff. Trading for Gordon would get Goff the long-term deep threat he sorely needs and it just might have make L.A. a lot more relevant a lot quicker, too.
San Francisco 49ers
Let's keep this discussion in California, shall we? Head coach Chip Kelly inherits an offense where he still doesn't know who his quarterback is, along with a wide receiver corps that has Torrey Smith and not a whole lot else.
Just imagine Josh Gordon playing the D-Jax or Maclin role in Kelly's offense. This would quickly be a lights out offense with two field stretchers on either side and we'd get to see Kelly's system operate as it should.
The Niners have also loosely been connected to Gordon, piecing need and desire together for a solid potential landing spot.
Josh Gordon Prediction
Gauging where Josh Gordon could be traded is obviously difficult, seeing as the news of his reinstatement is brand new, we don't even know Cleveland's intentions with him and he hasn't been directly tied to anyone publicly.
Still, if Gordon becomes available, a trade could come rather swiftly. For now, there aren't any leaders, but the team that might stand out the most in terms of need, fit and upside could be the Eagles. Philly is rebuilding their team completely and they could really use a player with his talents. What Philly could trade to land Gordon is anyone's guess, but it'd be a splashy move and one that could be huge for their future.
Think Josh Gordon stays with the Browns? Think someone other than the Eagles trade for him? Give us your opinion in the comments below!