Hide Bonus Offers
| | | | | |
| --- | --- | --- | --- | --- |
| #1 | Bovada Sports | 50% Up To $250 | Visit Site | Bovada Sports |
| #2 | BetUS | 125% Up To $2,500 | Visit Site | BetUS |
| #3 | MyBookie | 100% Up To $1,000 | Visit Site | MyBookie |
| #4 | Everygame | 100% Up To $500 | Visit Site | Everygame |
| #5 | BetOnline Sports | 60% Up To $1,000 | Visit Site | BetOnline Sports |
Jorge Masvidal vs. Ben Askren – Betting Odds and Prediction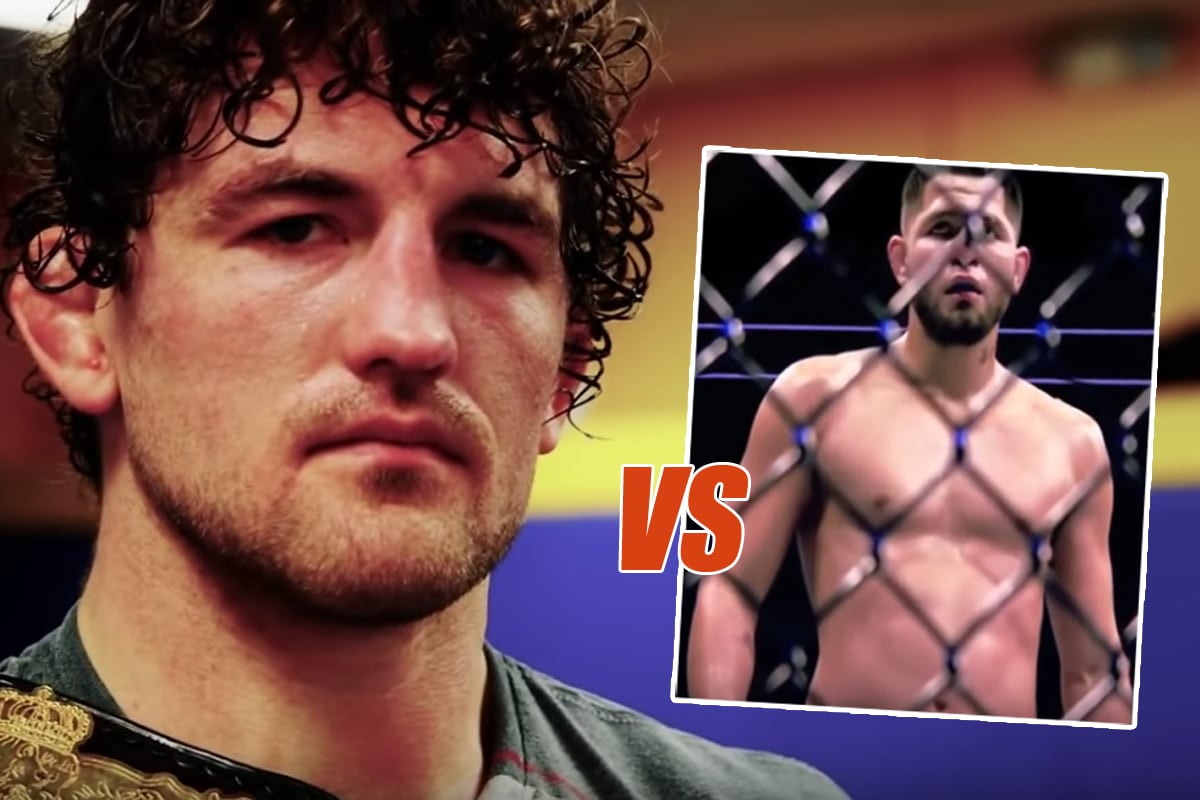 Jorge Masvidal vs. Ben Askren at the T-Mobile Arena in Las Vegas on July 6?
Yessir! This is the type of matchup I'm talking about.
Masvidal vs. Askren is a perfect stylistic matchup. The former is a cultured striker with a great all-around game that can wreak havoc on Askren, the superstar wrestler with the ability to take your back in the blink of an eye.
Man, I haven't been as excited for a Masvidal bout since he took on Donald Cerrone in 2017. At that point, Askren was still fighting in Asia's ONE FC, where he remained undefeated and pretty much a peerless force in the welterweight division.
On the surface, this fight is a bit of a head-scratcher, from a betting perspective.
Still, you're here to get some helpful betting information, and you've definitely come to the right place.
In this Masvidal vs. Askren preview, I'm going to tell you everything you need to know about betting on this fight. We'll take a little look at each guy and how their styles match up, as well as breaking down the key areas of battle.
First, let's see how healthy the odds look for the big fight.
Latest Masvidal vs. Askren Odds
Jorge Masvidal to Win
+150
These odds are taken from MyBookie and are accurate at the time of writing.
So what do you think of these odds?
Personally, I think they are pretty much spot on. I mean, Askren was always going to be the favorite given his unbeaten record and strong wrestling game.
Masvidal is coming off an incredible win in his last bout, which snapped a two-fight losing skid.
Regardless of the odds, these guys are made for each other in terms of a stylistic matchup. When betting on Masvidal vs. Askren, the winning margin isn't likely to be major, but hell, the chance of a knockout or a submission win is always there.
Well, all you have to do to back that sentiment up is to take a look at the weapons that these two very, very dangerous fighters have in their arsenal.
Breaking Down Jorge Masvidal
Breaking down Jorge Masvidal is one thing, but breaking him is another.
The unflappable Florida native is one of the biggest badasses in MMA and has a backyard fist-fighting background to boot. There are no airs or graces to Masvidal, who is one of the most down-to-earth fighters on the roster.
Now, don't get it twisted — Masvidal is not some laid back, hippy-esque figure. He will rip you apart if you say the wrong thing or try to test him. Just ask Leon Edwards…
"Gamebred," as he is known in the UFC, is a skilled striker with excellent kickboxing. While he prefers to punch — and is more than up for a brawl on the feet at any time — he is a much smarter fighter than many give him credit for.
Excellent range control, a solid concept of distance, and slick defense make him a very difficult opponent to trade with. His boxing fundamentals are excellent and seldom see him in the wrong position or making the wrong choices with his shots.
I believe Masvidal is one of the best — if not the best — boxers in the UFC. His cultured jab, great bodywork, use of footwork and feints, and, of course, his power are all sure signs of someone with a deep appreciation for the "Sweet Science."
His great understanding of movement helps Masvidal set up dangerous shots outside of the crosses, hooks, and bodywork he is known for. One of his favorite tricks is to lead an opponent onto the right high kick, which can be devastating.
Tactically, he is very shrewd, and this is something that Askren will need to factor into his gameplan.
Wrestling and Grappling
Given that Masvidal is such a cultured striker, you might believe he is lacking in the wrestling and grappling departments.
That couldn't be further from the truth.
Masvidal doesn't have a remarkable wrestling background, but his takedown defense is very strong. Although, against Askren — who is one of the best wrestlers in MMA — he will likely prefer to avoid being taken down at all.
Masvidal's work in the clinch is well-known. He can inflict serious damage with elbows and knees if he can drive you up against the cage. Once again, this is something that he will struggle to do against "Funky."
With his stall stance, Masvidal's wrestling defense is quite unique. He is hard to land deep single legs against as his hips are solid. Dumping him is difficult, given his solid balance. He is good in the scramble, too.
As we saw against BJJ whizz Demian Maia, Masvidal can be held down and bossed by a fighter that can smoothly and cerebrally transition to dominant positions. Maia's shots did not always come off, however, and we did see Masvidal stuff takedowns and make some impressive escapes.
Masvidal is a very good grappler. Seriously.
Breaking Down Ben Askren
What can you say about this guy?
With a hairstyle like The Simpsons' "Disco Stu" and a frame that looks less like that of a fighter — especially the longer you look at it — Ben Askren is a truly unique character.
An individual, certainly. Like most individuals, "Funky" is very polarizing; you either love him or hate him.
On July 6, Askren will have the chance to go face to face with another big puncher and fan favorite, having just about escaped with a win against Robbie Lawler in his UFC debut.
What makes Askren such an intriguing guy is his unorthodox wrestling style. His "funky" wrestling style, to be exact.
To those who aren't wrestling aficionados, funk wrestling is essentially using particular techniques that go against strength and explosiveness in certain situations. Given Askren is not the biggest or strongest guy in the world, this suits him to a tee.
Askren has proven his style is effective over a 19-fight pro MMA career. He has held titles in both ONE FC and Bellator's welterweight divisions and would become the first fighter in history to fight for all three if he could land a title shot in the UFC.
Before he can think about that, Askren must first dispatch Masvidal. I'm not sure there is any other way for him to beat Masvidal other than by wrestling him to a pulp.
Striking Offense and Defense
You can't deny that Askren is going to be severely outmatched in the striking department.
In his first UFC bout against Robbie Lawler, we saw Askren fail to engage in standup. He was lit up by Lawler, and if I'm to be brutally honest, I was shocked to see him survive on his feet.
Now, that fight might have ended in a controversial stoppage, but credit where credit is due. Askren came through those couple of minutes of brutality to win the fight.
Can he do the same against Masvidal?
"Gamebred" will be testing Askren's chin with some excellent boxing, and "Funky" will know better than to be anything less than super careful when working into the right range for takedown shots.
Askren is not known for much other than his wrestling, unfortunately, so don't expect him to win by KO.
Betting on Masvidal vs. Askren
What do you think about this fight?
It's going to be an excellent, technical scrap that could be over within minutes if either man makes the wrong move.
Askren is going to have to get within range to shoot for takedowns, as there is no way he is going to be able to consistently push Masvidal against the fence. As such, he is going to provide Masvidal with plenty of opportunities to crack him.
On the other hand, if Masvidal is careless with his strikes, he will provide Askren with the openings he needs to take him down. All "Funky" requires is a tiny window of opportunity to shoot.
Ah, man, this one is a difficult one to call.
I like both of these guys and was very impressed with the two of them in their last fights, for different reasons.
Masvidal's knockout of giant welterweight Darren Till was incredible, while Askren somehow managed to survive the onslaught of Robbie Lawler before landing a bulldog choke on him at UFC 235.
Still, a decision must be made on this one, so here goes.
Who Wins?
Given how close this one is going to be, I see real value in Masvidal at +150.
I think he has excellent variety in his shots and a fighter's patience that, when combined, could lure Askren into a false sense of security.
Once Askren gets clipped by Masvidal — which you can be almost certain that he will — the man known as "Funky" will stiffen up.
I see "Gamebred" using his superior standup to intimidate Askren into making a crucial mistake, from where he will be caught and eventually stopped.
Masvidal, if he wins this bout, has reportedly been promised a title shot by the UFC top brass. You have to think that the same offer was given to Askren, which makes this a welterweight title eliminator bout.
Neither man will want to lose this fight, but one will. Unfortunately for Ben Askren, I believe it will be him.
Get on Masvidal to win this bout.
Final Thoughts
I hope you enjoyed reading this Masvidal vs. Askren preview.
It can be a thankless task having to choose between two fighters of this quality, but that's life.
On July 6 at UFC 239, we will find out who comes out on top between these two warriors. My money is on Masvidal, and I will be keen to see if he overturns Askren just how I predict he will.
Now, if you're betting on any of the bouts at UFC 239, make sure to check out my preview of the headline fight, Jon Jones vs. Thiago Santos.
As always, make sure to bet wisely. Check out our top UFC betting sites where you can find the best odds ahead of the fights!