Hide Bonus Offers
| | | | | |
| --- | --- | --- | --- | --- |
| #1 | Bovada Sports | 50% Up To $250 | Visit Site | Bovada Sports |
| #2 | BetUS | 125% Up To $2,500 | Visit Site | BetUS |
| #3 | MyBookie | 100% Up To $1,000 | Visit Site | MyBookie |
| #4 | Everygame | 100% Up To $500 | Visit Site | Everygame |
| #5 | BetOnline Sports | 60% Up To $1,000 | Visit Site | BetOnline Sports |
Johnny Manziel Odds: Will the Troubled Quarterback Play in the NFL in 2018?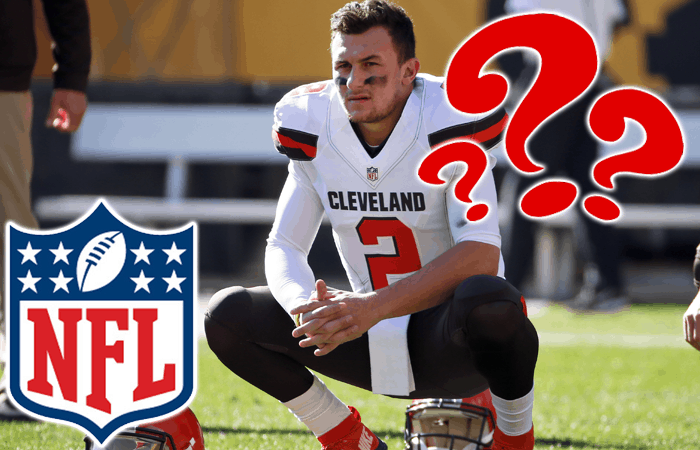 Johnny Manziel's comeback tour is over. The former NFL draft bust has done all he could to work his way back into pro football's good graces and left a positive impression with solid play during the Spring League.
Manziel wrapped up his #ComebackSZN with two rushing scores in his second TSL game on Thursday night, putting an emphatic stamp on what has been a long road back from an epic fall from grace.
Once a first-round draft pick by the Cleveland Browns, Manziel has dealt with unrealistic expectations, a toxic work environment, his own mental hurdles, and a domestic abuse case.
Through it all, Manziel has been surprisingly transparent, and while he remains a highly polarizing personality, he finally appears to be coming off as genuine.
All odds that are referenced in this article were taken from Bovada at 10:40 am CT on 4/13/2018. These odds may have changed since the time of this writing.
Manziel 2018 Odds
The question, of course, is if NFL decision-makers buy it. Or more importantly, it's if they even care.
Top NFL betting sites like Bovada are wondering that out loud for anyone trying to make a buck. Yes, Johnny Football is trying to earn his way back into pro football, but bettors can earn some cash whether he makes it back or not.
It's a simple yes-or-no situation. Will Manziel be on an NFL roster in any capacity in 2018? Bovada surprisingly doesn't hate his chances too much.
This is where the Johnny Manziel comeback odds were the last time I checked, but Bovada has pulled them twice.
Given Manziel's solid play on Thursday night and rumors heating up that several teams could be interested in bringing him in for meetings, I fully expect the odds to tighten the next time they go up.
Needless to say, bettors should start getting serious about betting on a Johnny Football return.
The Comeback
Manziel dug himself quite a hole back in 2015. He didn't show up to work, he didn't study the film, and even when he was around, he wasn't sober or didn't care.
That, accompanied by mixed results on the football field and a domestic abuse case, led to Manziel's release from the Browns.
When the worst organization in the league wants nothing to do with you, it's easy to see how things get worse from there.
It looked for a while like Manziel would never sniff an NFL field again.
Heck, maybe that's still his reality. However, Manziel's comeback tour has been one of self-deprecation, sobering realization, and visible evidence that he's a talent pro football can't quite quit just yet.
Some will say Manziel is still the same guy that spurned the Browns and that any team remotely considering him is making a mistake. Manziel would be the first to tell you he's burned enough bridges to know this is his very last chance to make it right, however.
Manziel's Next Move
The road back still looks long, potentially.
Manziel admitted in a recent interview that he and his camp probably have about a month or two before they really have to make a firm decision.
The CFL has been drooling over Johnny Football for the past two years. He wasn't really ready to commit to the league in the past, but he's finally in a good place physically and mentally where a trip up to the CFL could make good sense.
Considering other smaller quarterbacks have shredded up the CFL in the past (Doug Flutie, anyone?), there is a strong belief Manziel would thrive there.
Should he go there and indeed prove he can dominate on that stage, the NFL would (probably) have no choice but to kick his tires one more time.
Of course, signing with a CFL team would be a two-year commitment. It might be necessary to prove to NFL executives that Manziel is truly serious about his comeback and willing to do whatever it takes to get back.
However, he'd be obligated to stay in the CFL for two full seasons and wouldn't be a free agent again until the winter of 2019. By then, who is to say the NFL would care anymore?
Another option could be the fledgling Alliance of American Football league, which is showcasing the return of 72-year-old head coaching legend Steve Spurrier.
Either way, Manziel is probably looking at a long wait before he can go to the level he desires. That is, of course, unless a franchise likes what they've seen already and is prepared to pull the trigger.
Is Manziel Worth It?
This certainly makes for quite the story. Manziel has a dark, heavy past, and any team bringing him in would at best be kicking the tires to see if he can be a serviceable backup.
In the name of Tim Tebow, is a media circus worth it just to see if Manziel can be a competent clipboard holder?
That feels like a reach. Instead, anybody taking on the risk that comes with Manziel has to see him as a potential future starter.
The talent is actually there.
Manziel's persona and decisions in the past have helped many forget just how dynamic of a player he was in college, while he actually made some fantastic plays even while in Cleveland.
Just look at this gutsy bomb that helped the Browns close out the Titans in his final season in Ohio:
For anyone that shrugs off Manziel as a lackluster talent, they need to accept something: not everyone could have made that play.
Manziel wasn't just clutch here. His athleticism and ability to react and adjust on the fly were all on full display, while he also located his guy down the field and threw a perfect ball for a much-needed 50-yard touchdown.
It was just one play, but in limited time as a starter at the highest level, Manziel actually displayed some nice touch, a solid arm, and underrated athleticism.
Manziel's college football speed never really translated to the pros, but his quickness, agility, and elusiveness have.
He's still a tiny quarterback who may never be able to stand up to the regular beating an NFL schedule dishes out, but he's proven to be a gamer that will lead his team into the fray.
Just look at this underrated performance against a good Pittsburgh Steelers team or his gritty effort against a good Kansas City Chiefs defense.
This was all done by a kid who didn't have a good head on his shoulders and wasn't putting enough time into perfecting his craft. He was also basically a rookie on an awful team.
Now Manziel has his head right. He's doing and saying all of the right things, and in his second TSL game, he displayed all of the traits that made him a tantalizing prospect in the first place.
Manziel is far from perfect as a passing talent, but he is a problem for defenses.
He can roll out as good as anyone, he can sell the play-action, he can attack defenses down the field, and he can evade pressure.
In addition, Manziel can simply react to defenses in a manner not every quarterback can, and he can also make difficult throws not every passer is able to – especially on the run.
There are still flaws to Manziel's game. He's not yet proven to be a consistent passer from within the pocket, he often bolts at the first sign of pressure, and his decision-making has to get better.
Manziel can't magically get bigger or stronger, either, while he'll have to convince his next employer that he's truly "all in" on being a more studious NFL quarterback. Manziel himself said he previously wasn't an "x's and o's guy," and that is something that has to change.
Overall, though, Manziel has the talent and swagger to be an NFL starting quarterback. It will simply depend on whether or not NFL executives agree and think he can be good enough to assume the risk.
Will Manziel Be in the NFL in 2018?
If you'd asked me a year ago, I'd say Manziel had virtually no chance of playing in the NFL again.
I was hopeful because I think he has some talent, but he had a lot of baggage, and he did not seem to be mentally fit to lead a team.
As the months have gone by recently, I've slowly bought into Manziel's entire comeback pitch. His media blitz could be that of a desperate 25-year-old realizing his money maker is about to dry up.
If he didn't pretend to clean up his act now, he'd probably never get another crack at this, right?
If Manziel is faking this, it won't last, and his final chance will be a distant memory in a hurry.
Fortunately, I believe what he's selling right now. It comes off a bit gimmicky, but I think he really does love the game and something did click for him at some point.
He's a huge risk, though.
Manziel has serious issues with depression and substance abuse. I don't think playing for a perennial loser like the Browns helped him one bit, but he seems to have taken ownership of his role in his NFL demise.
If that is legit, Manziel could work hard and round his talent out to the point where he's either a fantastic backup or a very solid NFL starter. Is he destined to be some superstar like other iterations of him (Drew Brees or Russell Wilson)? Right now, I'd say no.
But he can play, and the interest is probably real.
Manziel beat Alabama in college, put up sick stats, and flashed that same brilliance in his second season with the Browns. NFL teams are smart enough to realize that in the right system, he can still salvage a career.
He'd initially be a troubling PR move to take on, but if he's reformed and plays well, whoever signs him will look like geniuses, and they'll also have a hand in quite possibly the greatest NFL comeback we've ever seen.
It's too early to commit to that, but the potential is there.
All of this rolls up into a "you betcha" answer to whether or not Manziel can or should get one last try with the NFL this year.
I think he's humbled himself enough for someone to pretend to believe him, and even in two TSL games, I feel like he flashed enough talent to make him worth the risk.
The last thing to consider is need.
Which teams can actually survive the media circus that comes with bringing in Johnny Football, and which teams actually have a bad enough need under center to explain that gamble away?
It's probably a longer list than you'd think.
There are several teams with unresolved starting quarterback situations, whether you look at 2018 or in the near future.
Some teams have locked in starters that won't be challenged, but they could improve at the backup spot or may want a young prospect to mold into a future starter.
That may put the following teams in play to at least some degree:
New England Patriots
New York Jets
Buffalo Bills
Miami Dolphins
Pittsburgh Steelers
Jacksonville Jaguars
Denver Broncos
Oakland Raiders
Los Angeles Chargers
New York Giants
Green Bay Packers
New Orleans Saints
Arizona Cardinals
Seattle Seahawks
Manziel seems content with getting his foot back in the NFL door in any way possible. If he latches on with the Pats, Dolphins, Jags, Steelers, Raiders, Chargers, Giants, Packers, Saints, or Seahawks, he'd be doing so as a backup.
In some of those situations, he'd be falling into a great environment and perhaps could be groomed as an eventual long-term replacement option.
Other teams like the Jets, Bills, Broncos, and perhaps the Cardinals (given Sam Bradford's shaky health) could look at Manziel as a possible starter.
There is enough here to bite on the "yes" side of this bet. The last time this Johnny Manziel prop bet was available, +250 looked like a very enticing price for a guy who has the talent and is finally doing things the right way.
Whether it's someone like Jon Gruden just doing him a favor, the Patriots or Saints grabbing a possible replacement for an aging veteran, or a team like the Broncos looking for a future passer, I think he gets a job.
It might not happen right away. Several of these teams do pick early in the 2018 NFL Draft and may prefer to nab a signal caller of their choice, should they get the one they want.
However, once the draft is over, Manziel could quickly look mighty appealing to a handful of teams. Currently, the Patriots, Saints, Broncos, Bills, and Chargers stand out the most to me.
Regardless, I do think Manziel has the ability to play in the league, and at some point before training camps start, he'll get one last shot to prove he's ready for the big time.